Welcome to the gigantic rock arena "Creux du Van", the so-called "Grand Canyon Switzerland".
Text by Marc Gottwald, pictures by Maria Lupuleasa and Marc Gottwald
The Natural Wonder Creux du Van
Welcome to the gigantic rock arena " Creux du Van ". The word "Van" means rock. It holds a rock arch about 4 kilometers long with a diameter of approximately 1.4 kilometers and a striking 160-meter high vertical rock face. This masterpiece was created by the relentless eroding power of water and ice centuries ago .
"Creux du Van" is located at the "Val de Travers" district in the splendid Swiss canton of Neuchatel. This natural amphitheater has an exceptionally rare climate that supports the growth of gorgeous arctic-alpine flora and the inhabitation of numerous wild animals like alpine Ibex, chamois, and lynx. The Creux du Van houses a 25 square kilometer protected nature reserve, an unusual sinkhole called the "Fontaine Froide" spring source. The surprising fact about this spring is that it is always 4 degrees cold throughout the year.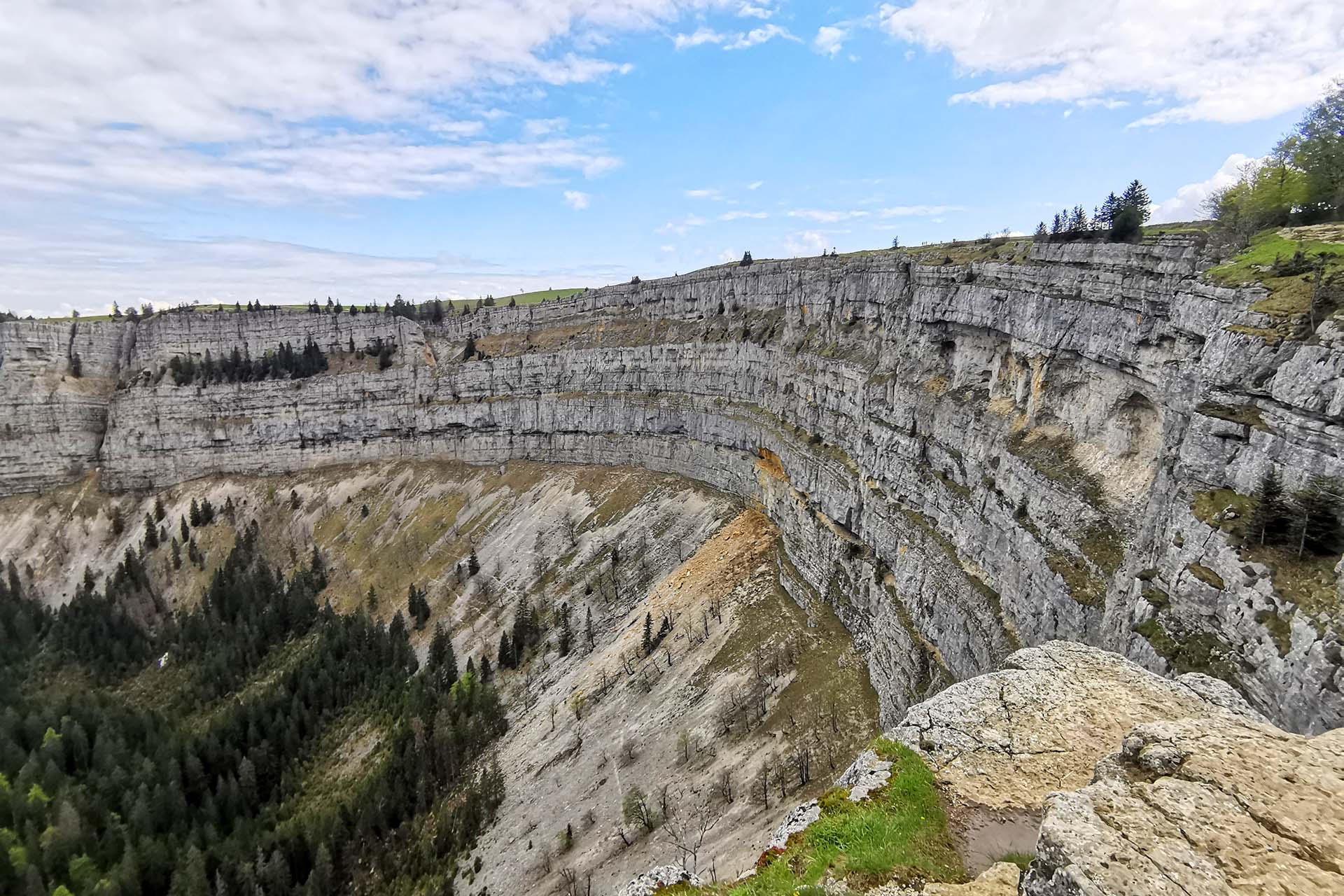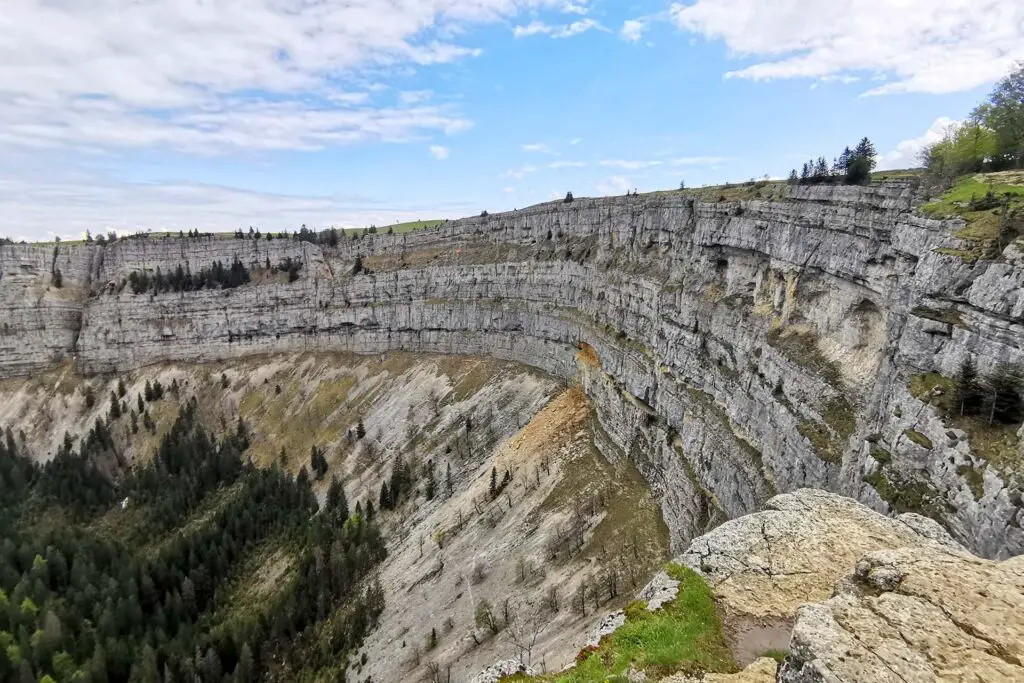 In this "Ultimate Creux du Van Guide" we show what you can do.
1. Creux Du Van Hike
The " Creux du Van hike " is one of the most beautiful hikes you can do in Switzerland. The relatively tough circular hike from Noiraigue to the "Creux du Van" and back to Noiraigue has a varied topography, a rich alpine flora, a picturesque forest and the famous rock arch "Creux du Van". Also worthwhile are breaks to enjoy the delicious local cuisine in the various restaurants.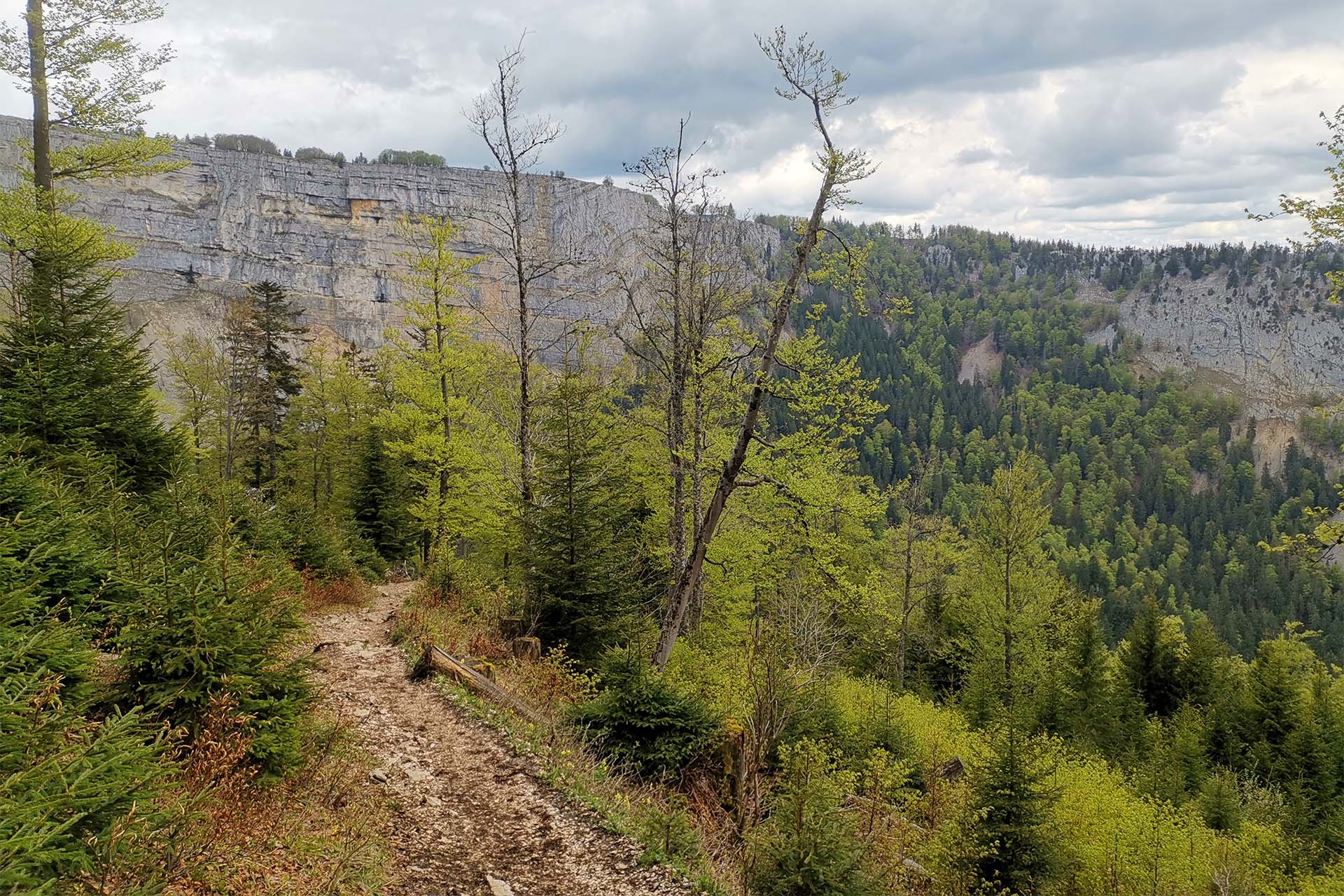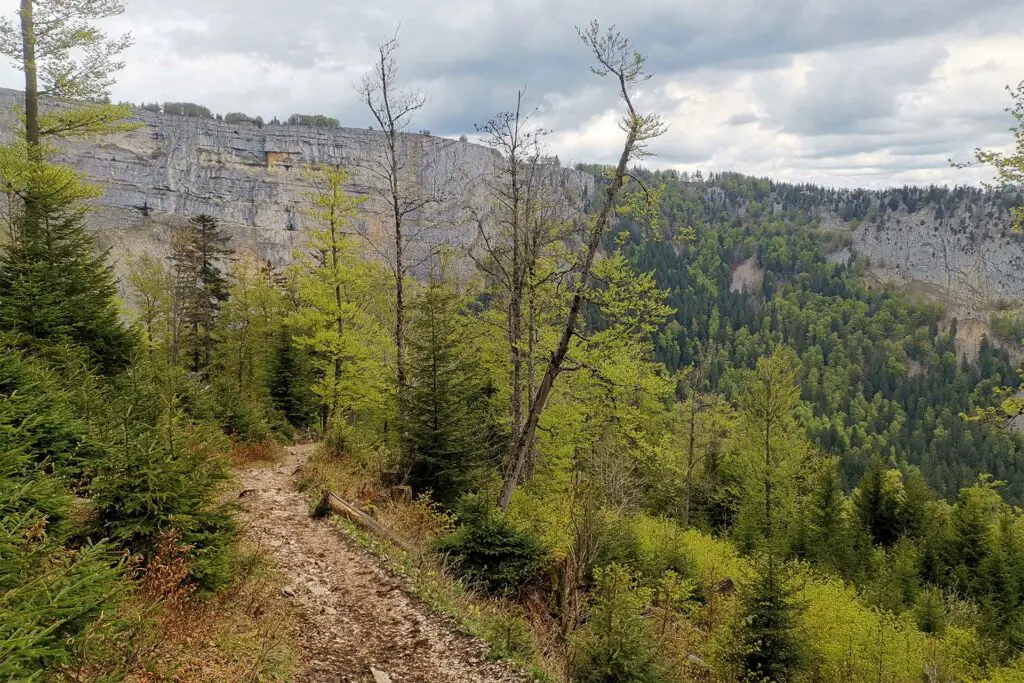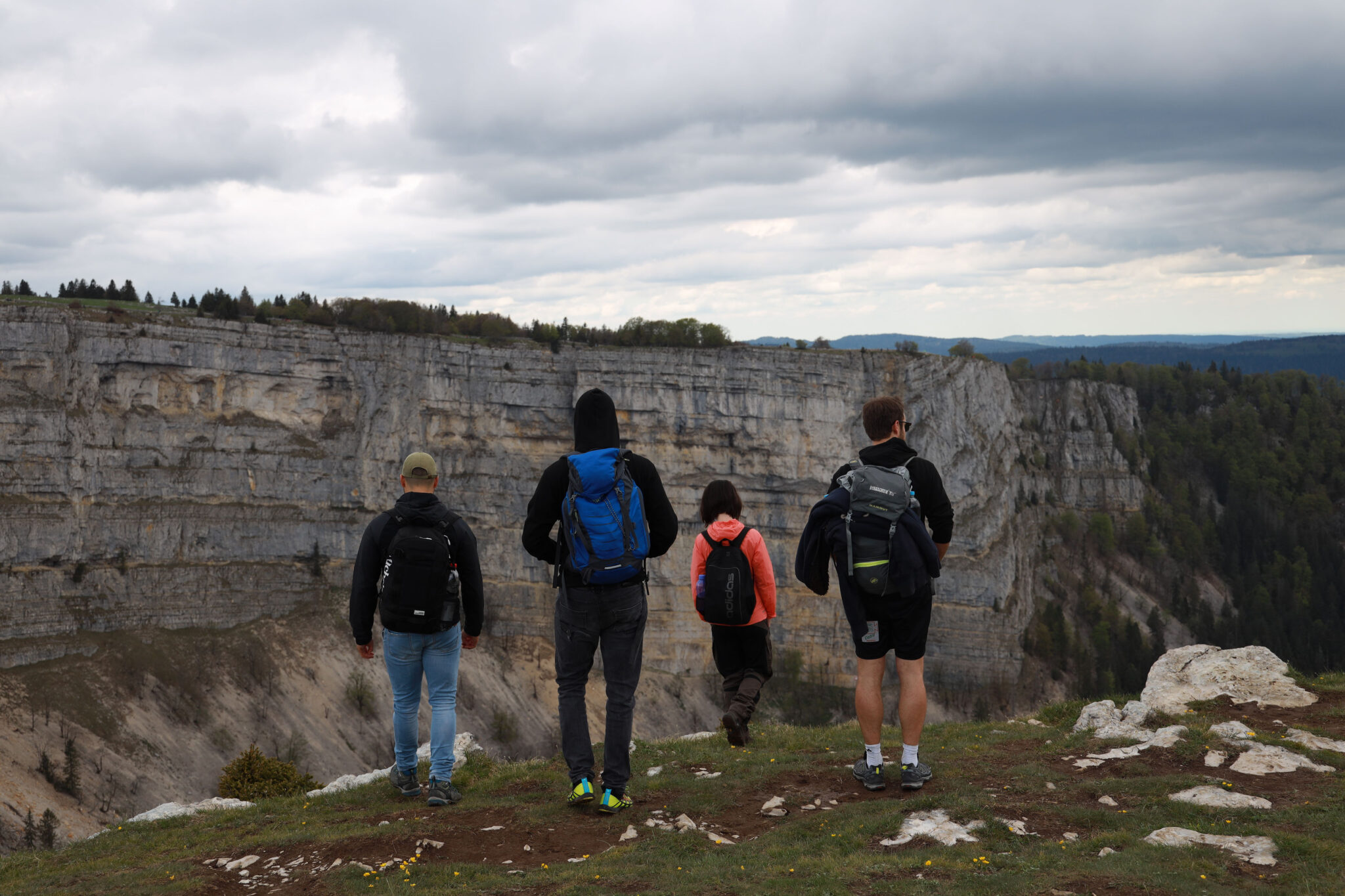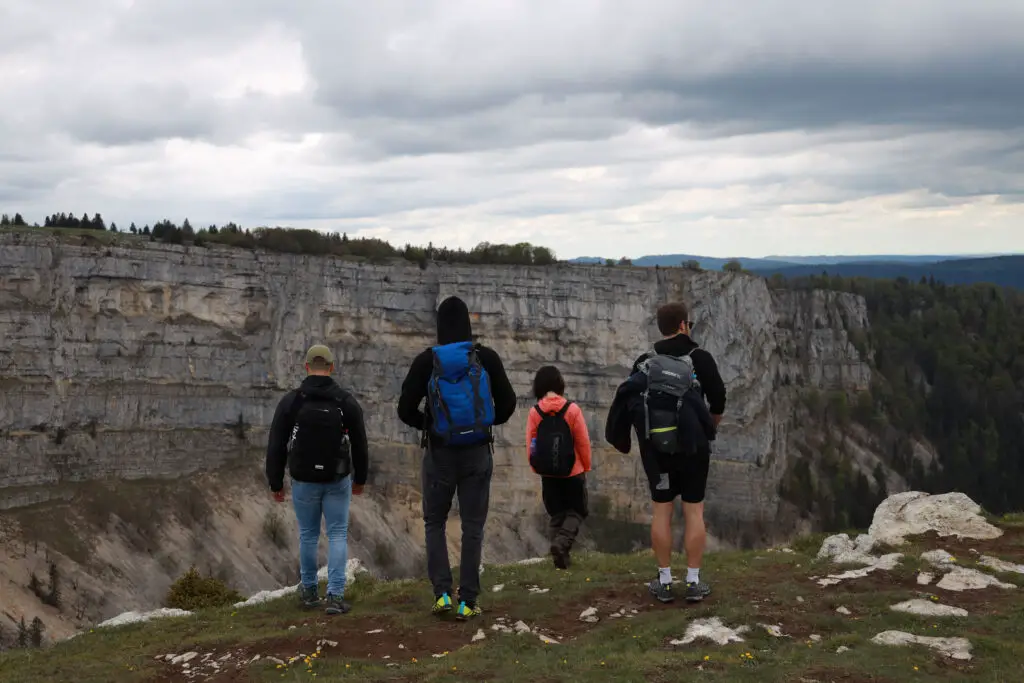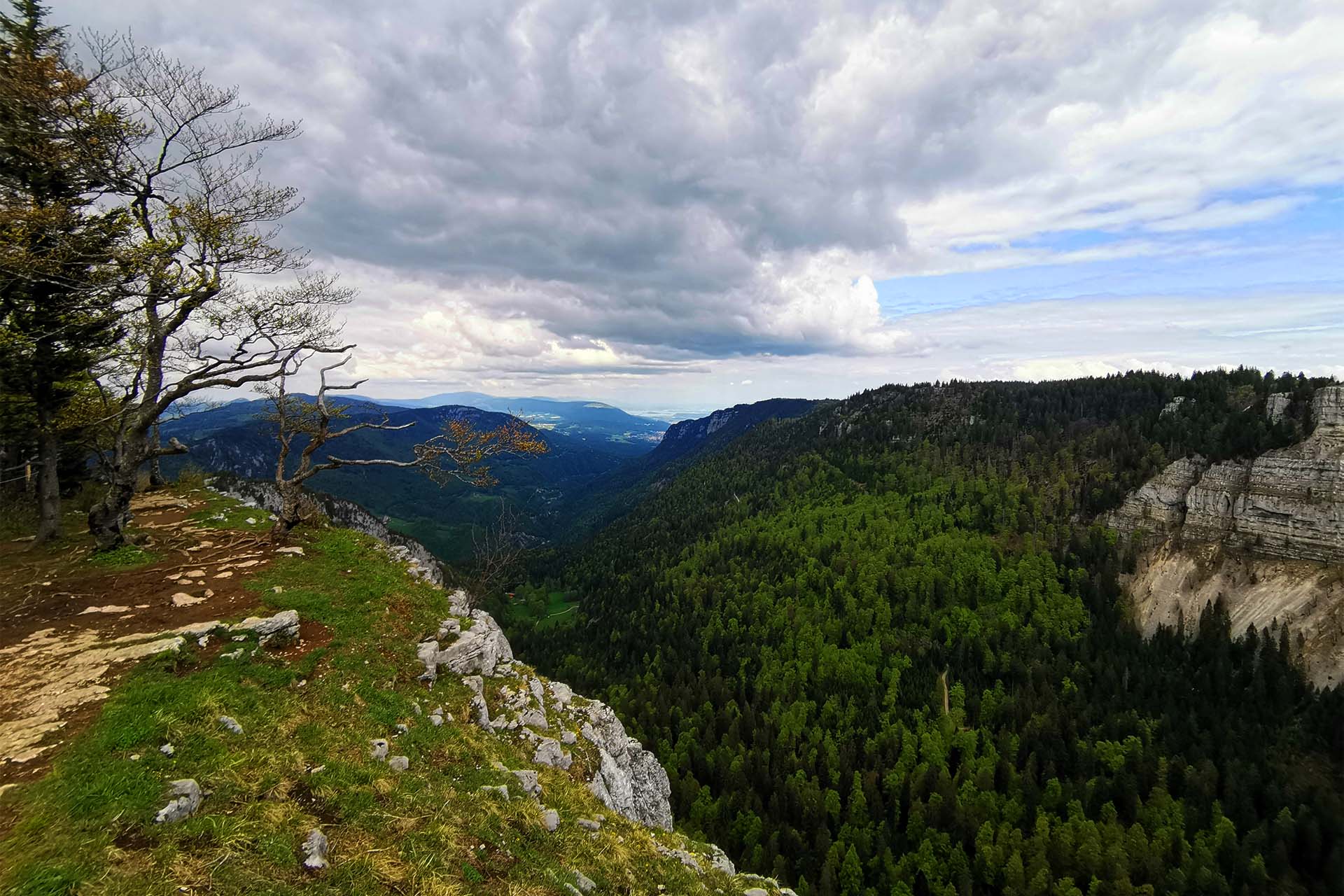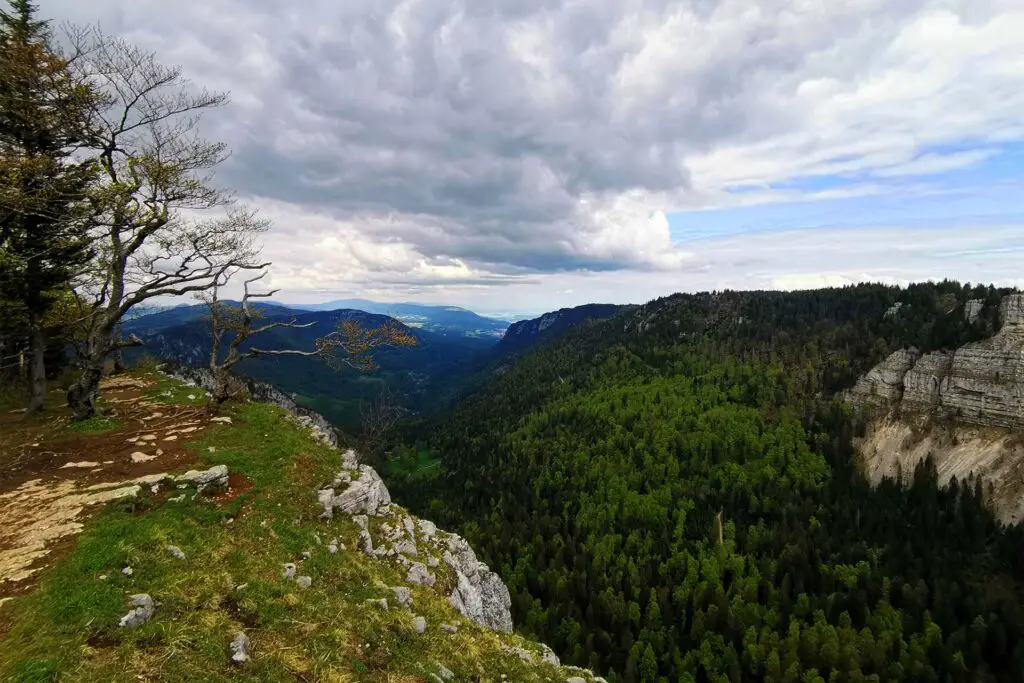 The panoramic view from the gigantic rock arena is a highlight. There are several other hikes that I can recommend:
The second hike starts at this parking lot (see link below). Afterwards you take the hiking trail via "Les Petites Fauconnières" to the "Creux du Van". This hike "takes one hour each way and is very pleasant. Please note that cell phone signal reception is very poor. So it is better to print a hiking map in advance.
This is just a walk but a road leads up to the "Ferme du Soliat" where you then only have to walk 300 meters to the rock arch. In the Ferme du Soliat you can also have a meal. In winter when there is snow this road is closed, in summer it is open.
2. Relax And Enjoy The Natural Wonder of "Creux du Van"
At this unique place it is easy to relax and get in touch with nature, as there are many possibilities available to you. There are various activities to do such as nature and wildlife watching or hiking.
"Creux Du Van" is one of the most beautiful places in Switzerland to experience the best of mother earth. Once you visit this area, I am sure you will come back soon.
What I particularly like is to simply lie down, relax, disconnect and listen to the sounds of nature. This is easily possible at Creux du Van, if you are a bit away from the crowds.
3.

Creux du Van Wildlife Watching
The alpine Ibex and the chamois, to name just a few, are among the most incredible animals that inhabit the "Creux du Van" area and can be watched closely. Mother Nature creates a perfect excursion for families, photographers, and nature lovers who want to spend time getting to see the wild side of nature at its best. It is, however, essential to note that respect the wildlife has a priority. Please do not bait and or feed the animals at any given time.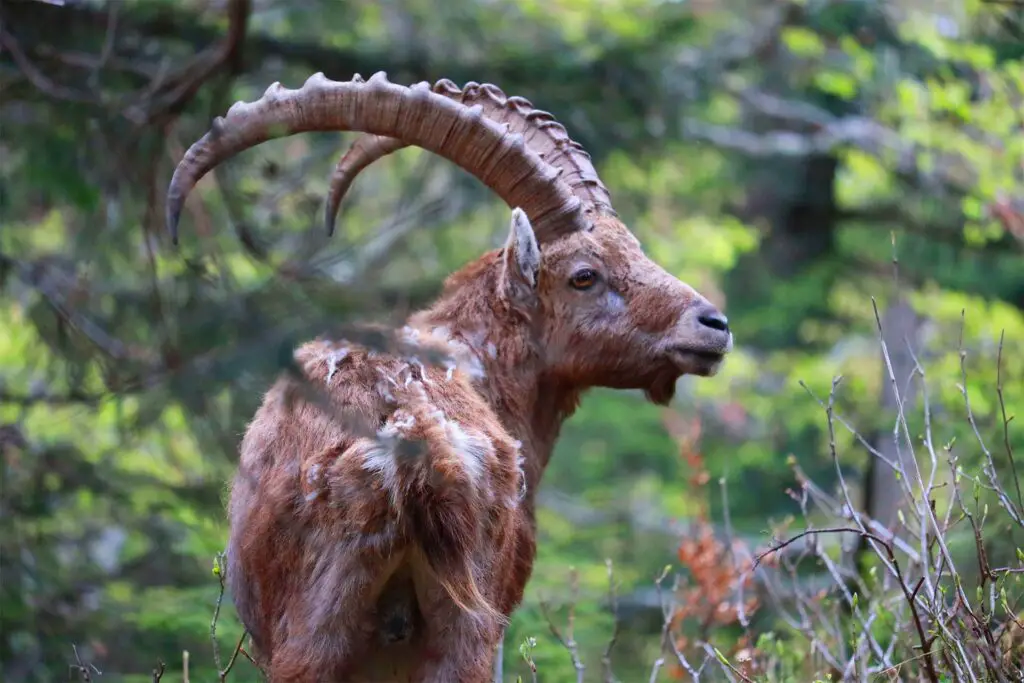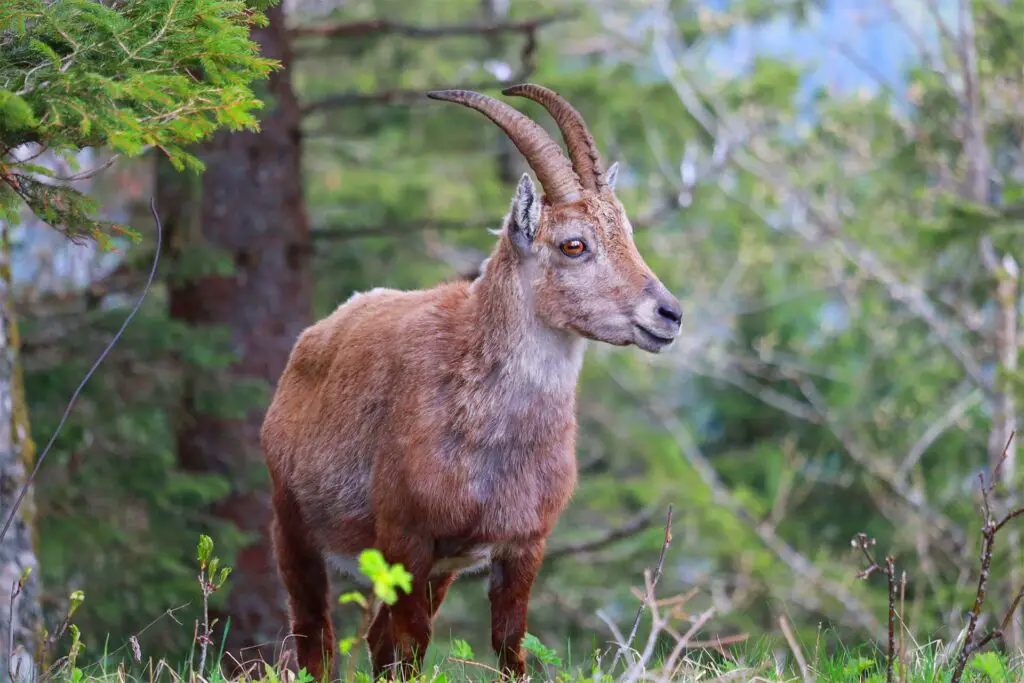 4. Creux du Van restaurants
In this tranquil place, meals are prepared to suit every craving of your taste buds. Below I have listed some of the closest restaurants you will find in the area:
Le soliat
Are you looking for a restaurant that is easy to locate, affordable pricing, and very attentive staff? Well, then look no further. Located 1386 meters above sea level and 300 meters from Creux-du-Van, the "Le Soliat" is a great "restaurant" open every day in summer (end of April to the beginning of November). The restaurant's specialty is Swiss cuisine like fondue or gratins. Your meal will be served in the rooms or outside.
Les petites fauconnieres
The "Les petites fauconnieres" is an Alpage located at 1342 meters above sea level in Couvet, just outside the Creux du Van. It is an easy to access farm restaurant opened for locals and tourists from Monday to Sunday from the beginning of May to the end of November. Food like homemade macaroni is popular but also fondue and rösti are offered among other things. As it's an SAC hut (Swiss Alpine Club) you can also stay there for the night and observe a beautiful sunset in the evening or a sunrise in the morning. There are 25 sleeping places here in 2-person or 4-person rooms.
La Boranne
Located in Montalchez at an altitude of 1376 meters above sea level. La Boranne is a farm restaurant with culinary experts that serve a range of food from regional to Swiss, Rostis, salads. It has 35 rooms, 50 terrace seats and free parking for all its clients.
5. Overnight stay on the Creux du Van
Accommodation is affordable, however since the " Les Petites Fauconnieres " has only a few beds it is highly recommended to reserve as early as possible.
If you want to camp at the "Creux du Van" you need first the farmer's authorization as it is their land. If the affirmation is given, you will see one of the most beautiful sunsets and sunrises of Switzerland. It is advisable to carry your flashlight and you bring a sleeping bag. For this I recommend the Power Bank from NATURE LOVE . It not only has a built-in flashlight, but can also charge up to four devices at once and has a built-in UV sanitizer to kill viruses and bacteria.
6. Creux du Van biking
The cycling terrain in "Creux du Van" is very beautiful but sometimes steep which is especially appreciated by the skilled riders. Recently things have been taking a different turn with the introduction of e-bikes. You will get to the highlights of the trip at a fraction of the energy than before. Just hire an e-bike and take a trip to river Areuse Gorge and through the Val de Travers . With the electromotor boost, climb up to Creux du Van and enjoy a breathtaking view over the Jura landscape.
7. Creux du Van photography
Do you want to share the experience with your loved ones at home, share it on social media or just take great souvenir photos? Well, here at Creux du Van you have almost endless possibilities. You can even take pictures in different seasons or at different times of the day and they will always look different. At this Swiss landmark you have so many different places to take pictures.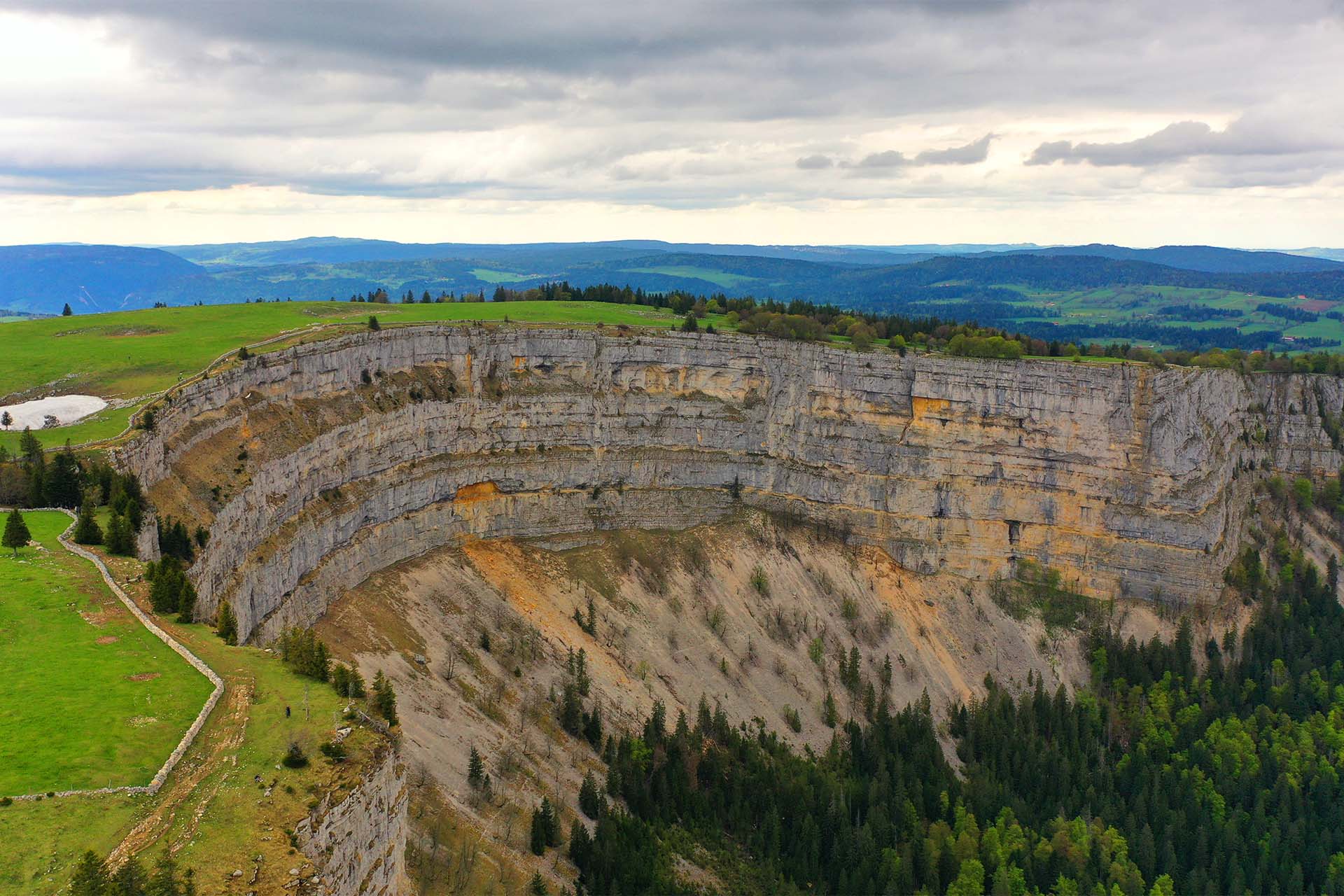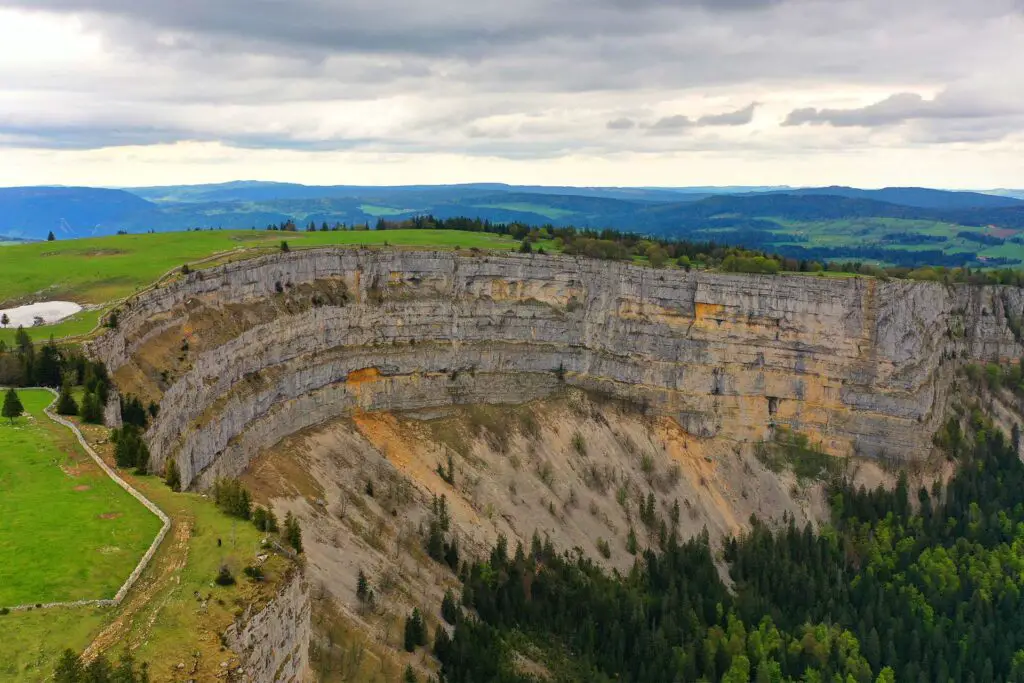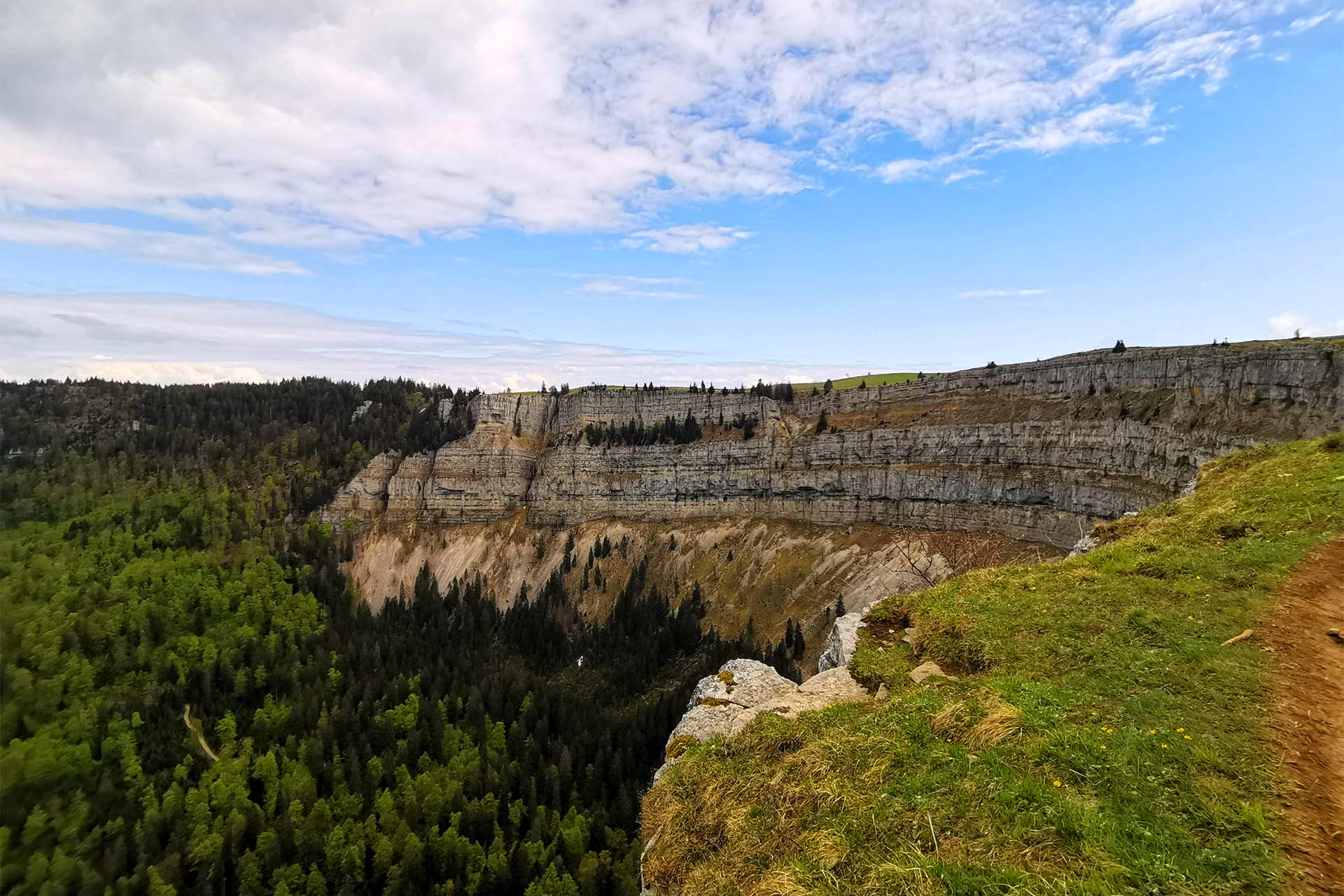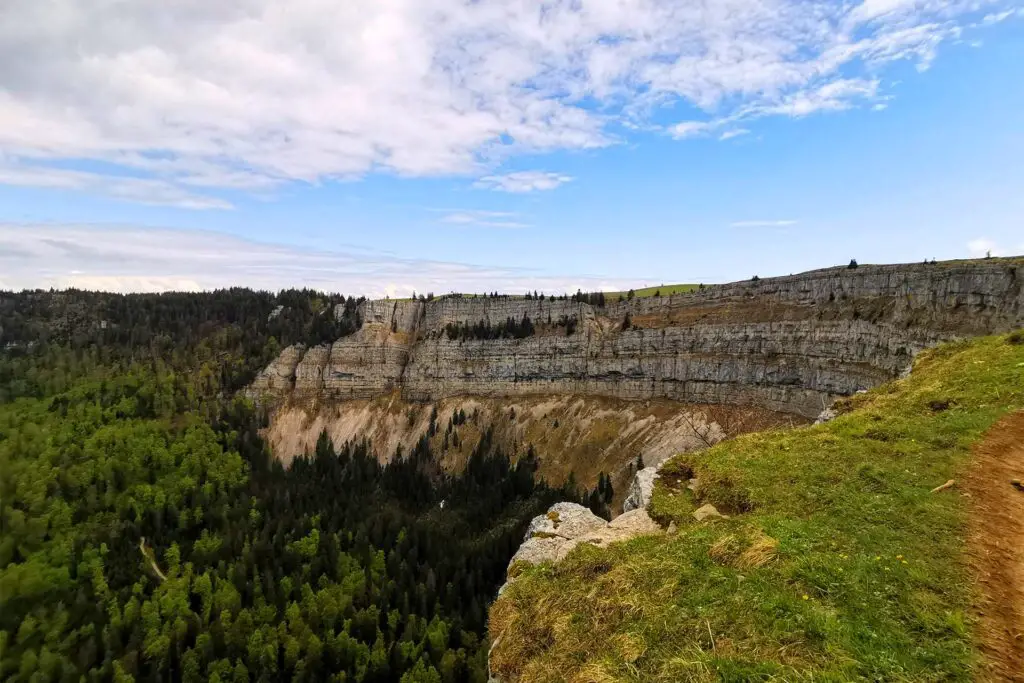 8. Combine Creux du Van with nearby sights
Around the "Creux du Van" there are many sights you can visit. The places are all accessible by car, combined with a walking time of 30 to 50 minutes per sight. If you have the time and strength, you can also do the 5-hour hike to see all these landmarks. Whether on foot, by car or by bike, check out these sites and make them part of your great adventure.
Gorges de l'Areuse
To get there, you need to take a train from Neuchatel to Noiraigue or you come by car. The hike starts with the enchanting route that follows the course of the river Areuse. The trail has narrow passages and stairways through the cliffs. Ensure you practice caution during wet weather as Areuse Gorges tend to come slippery. A very beautiful stone bridge is waiting for you. For me it is one of the best places to visit in Western Switzerland besides the "Creux du Van".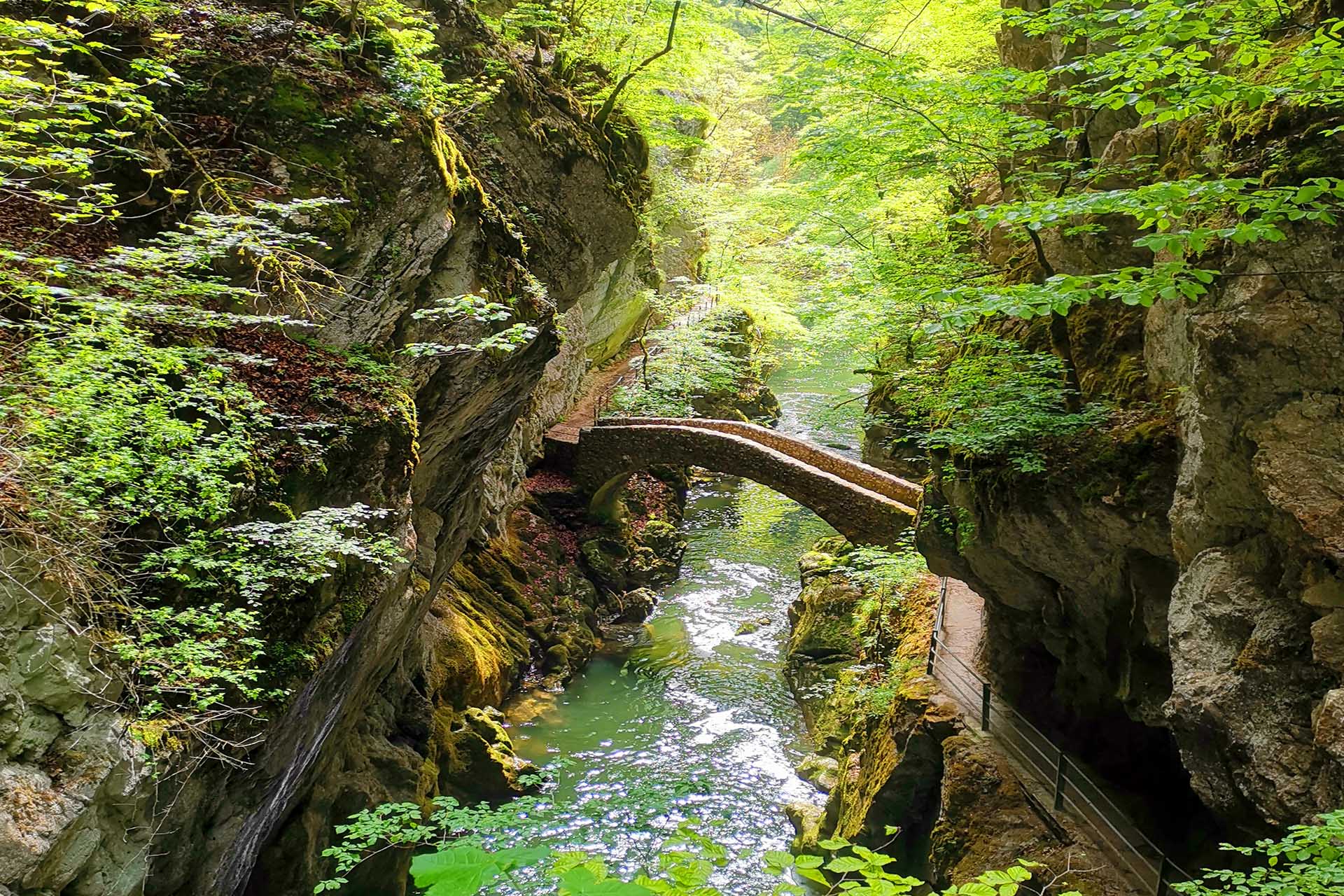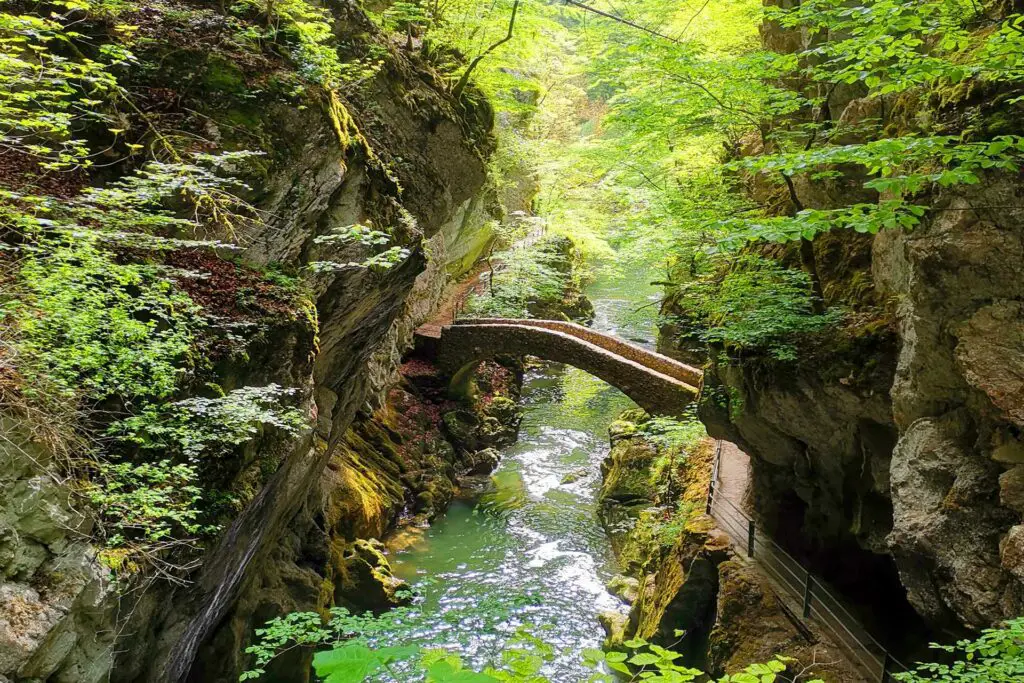 Fontaine Froide
This is a natural spring with its source in the middle of a sinkhole a bit below the "Creux du Van". The water's unique ability to remain at a constant four degrees throughout the year makes it an ideal spot to visit, especially in the winter. The reason is that there is still perma frost.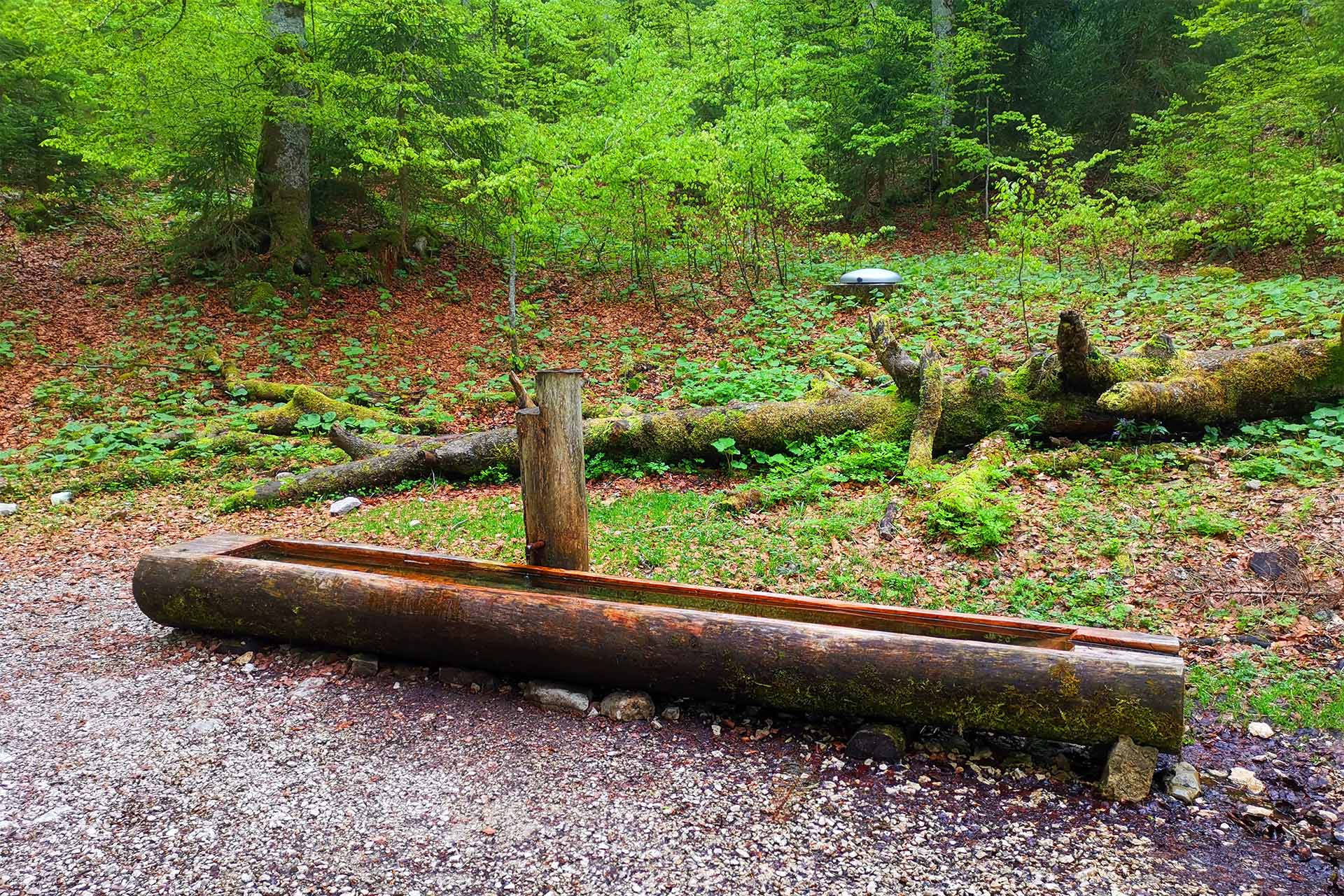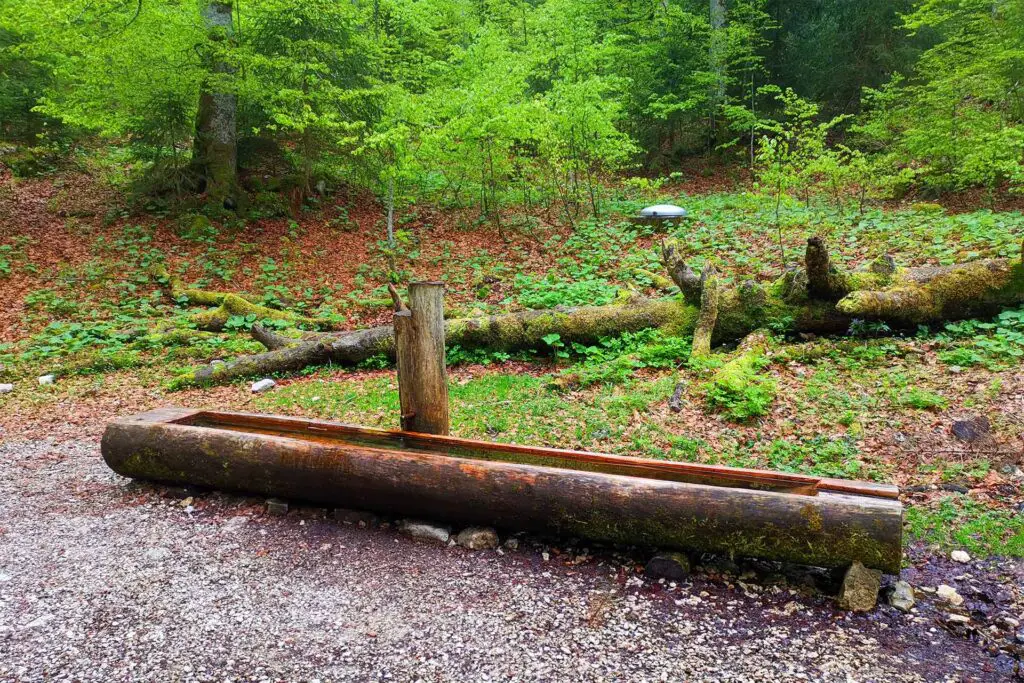 Roche Devant
From the la Roche-Devant restaurant, one can enjoy a wonderful view over Lake Neuchatel and the Swiss Alps. The scenery is picture-perfect. I recommend this vantage point especially for sunrise or sunset. This is a true hidden gem I really love.
Conclusion
It seems endless, the mighty rock arch of the "Creux du Van"! It stretches over 600 meters in altitude. In the valley below, a lush green mixed forest of spruce, silver fir and beech, each in thirds, stands peacefully. The bright yellow sun, the crystal clear blue sky, the brownish-gray rock and the snow-white mountains of the Swiss Alps complete the color palette of this unique view.
When crocus and daffodils are still blooming in spring, even painters like Picasso or Monnet would be jealous not to have found such a great scenery for their painting. A wonderful color spectacle on the "Creux du Van".
Mountain animals such as ibexes and chamois are also sometimes easy to observe in summer and autumn. In winter, when the ground is covered with snow, they tend to be in the forest where they find food. Therefore, they are more difficult to observe then.
All these factors shape the "Creux du Van" into an area of ​​pure power. A place of rest, of recharging batteries and of enjoyment. It is not for nothing that it is called the Grand Canyon of Switzerland.
It is definitely one of the most spectacular geological formations that Switzerland has to offer. Because of the good accessibility, the place is relatively popular, especially in summer. In spring and autumn, during the week, you sometimes have almost the whole arch to yourself.
Whether you are into hiking, cycling, or sightseeing, "Creux du Van" is a sight in Switzerland you must have seen.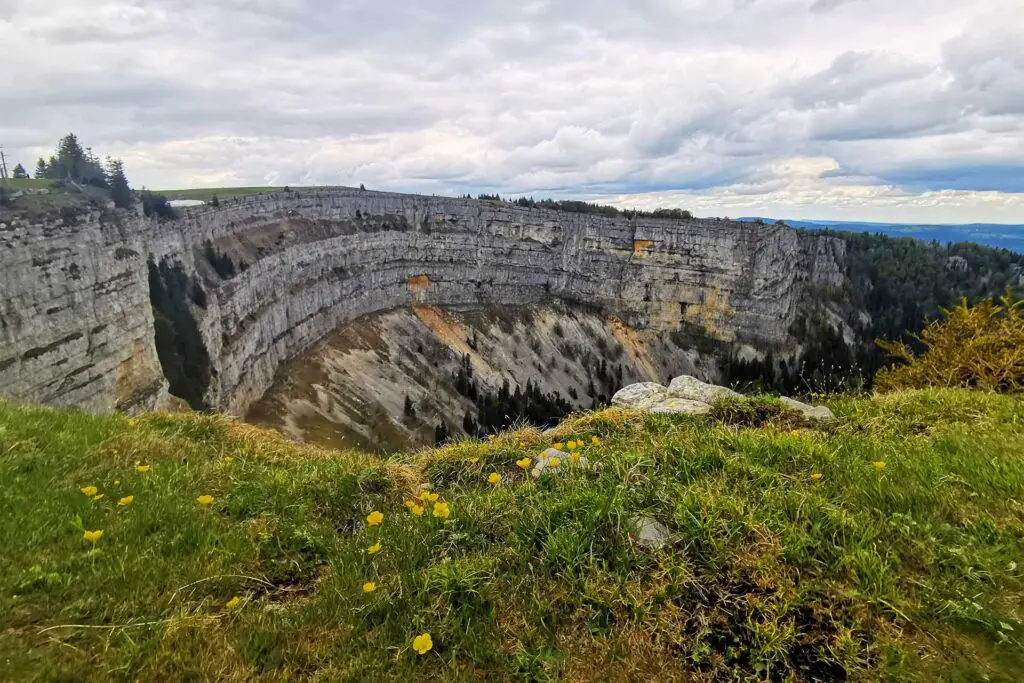 Let yourself be pampered with a meal by a friendly host in a restaurant while enjoying the exceptional nature. There is much to discover at the "Creux du Van" and will create unforgettable moments for you forever.