Experience and discover 12 fantastic places around Lake Lucerne – many of them insider tips – and plan your next trip to the region of Central Switzerland.
Text and pictures by Marc Gottwald
Lake Lucerne – a pure dream
We are not the only ones who are thrilled by the endless beauty of Lake Lucerne. Big names such as Queen Victoria and Winston Churchill have also visited this Swiss lake. Lake Lucerne is not only one of the most beautiful lakes in Switzerland, but also one of the largest and most diverse. In german Lake Lucerne is called Vierwaldstättersee which means 4-Forest-Lake.
Why is it actually called like that? Because the four Waldstetten, i.e. the cantons of Uri, Schwyz, Unterwalden (today Ob- & Nidwalden) and Lucerne border on the lake. These are the cantons that are today referred to as Urschweiz. Accordingly, you can still find origins and many traditions around Lake Lucerne.
In this article, I will mainly present you unknown gems and hikes. Whether it's swimming in the summer, fine dining in a restaurant with a view of the lake or a breathtaking hike: there's something for everyone here at Lake Lucerne.
1). Hinterbergen – a view over Lake Lucerne
Hinterbergen is a true gem above Vitznau. Although its beauty is hard to beat, the place is overshadowed by its big sister called Rigi – simply because of the marketing budget. But Hinterbergen definitely doesn't have to hide.
An adventurous gondola takes you up the steep slope at breakneck speed. Yes, for people with a fear of heights, the ride may not be very pleasant. Alternatively, you can hike up. But once you reach the top, a paradisiacal view of Lake Lucerne and the Swiss Alps awaits you. The Pilatus airport in Buochs is also clearly visible.
If you want to enjoy the view, you can take a seat on a bench and let your mind wander. It is really worth it. But of course, hikers also get their money's worth. For example, the hike over the Vitznauerstock and Gersauerstock to the next cable car station on the Wissifluh. On the Vitznauerstock, again, a dreamlike panoramic view over Lake Lucerne awaits you from a different angle.
I decided to continue hiking to Gersau. The hike is really beautiful thanks to the view of the lake. But you definitely have more variety if you choose the path towards Wissifluh.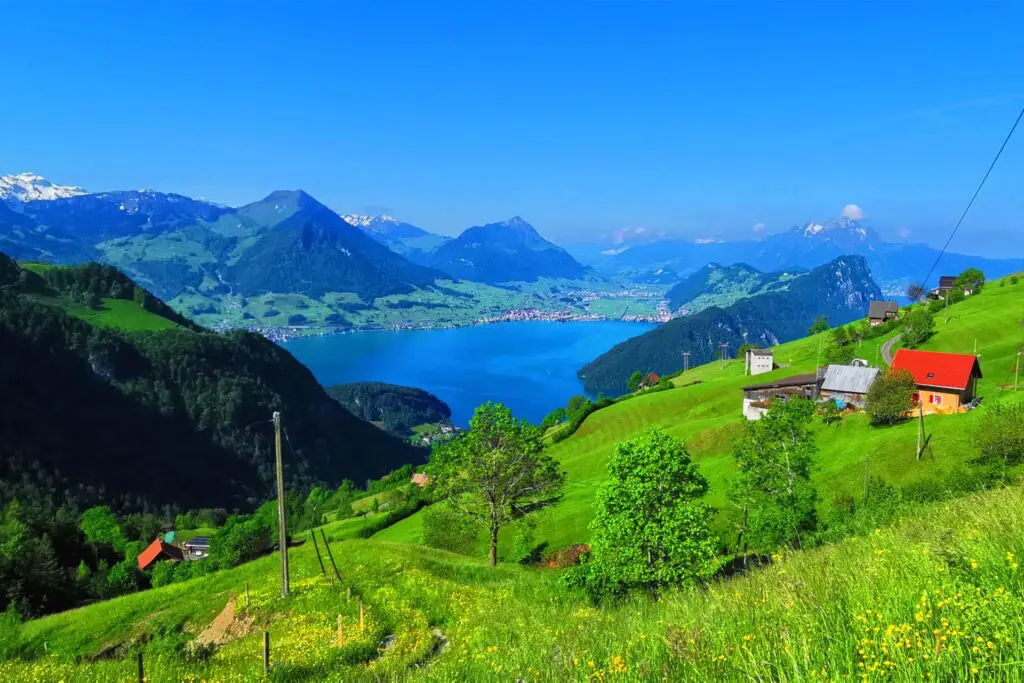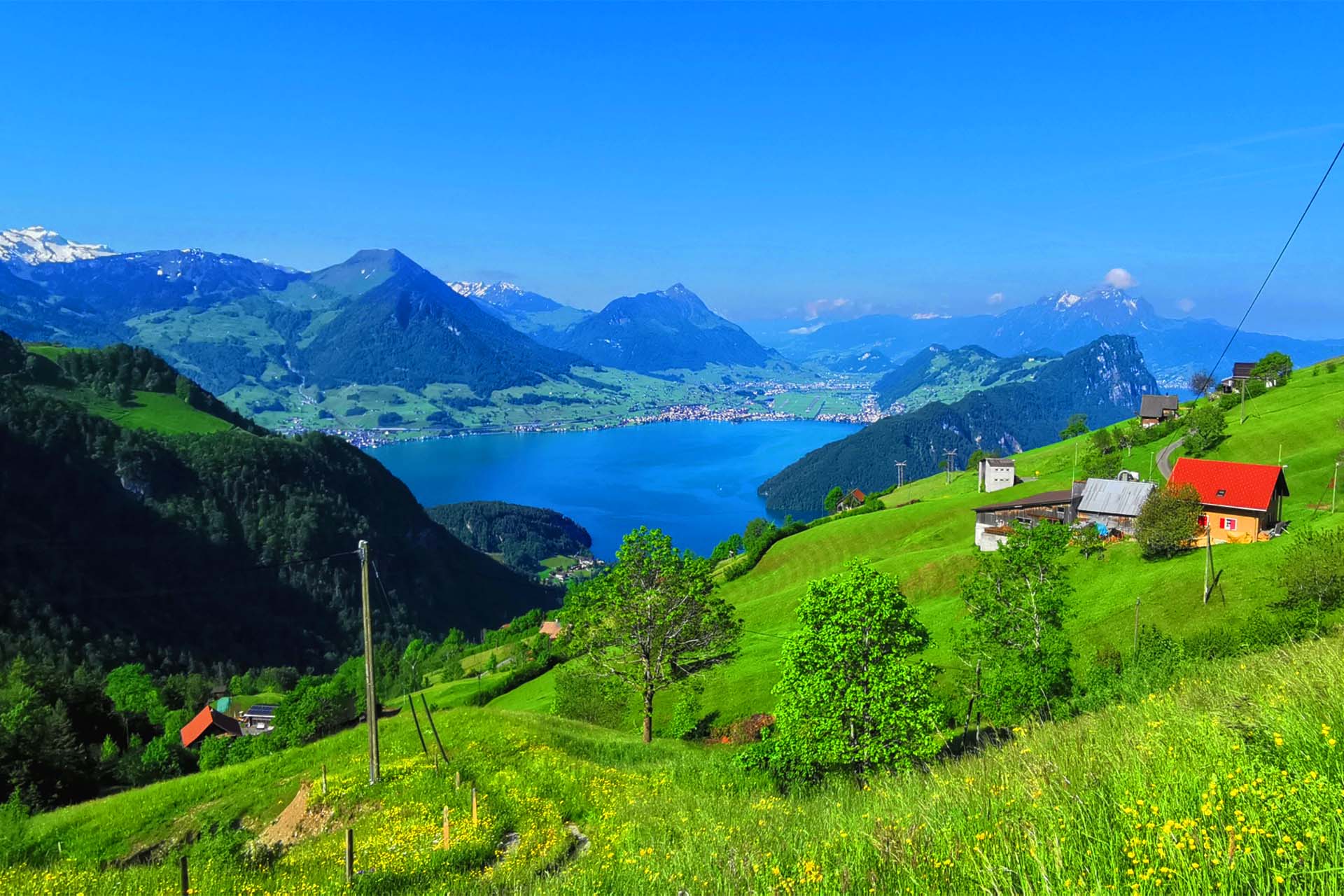 2). Greppen
Greppen is another pearl on Lake Lucerne and is located right next to Küssnacht am Rigi. While Küssnacht is very busy in the summer, Greppen has its own tranquillity. The dreamlike place invites you to swim and enjoy according to the motto "small but nice".
The avenue in Greppen leading to Lake Lucerne is striking. In summer there are also 1-2 boat trips per day, but the best way to reach the town is by bus.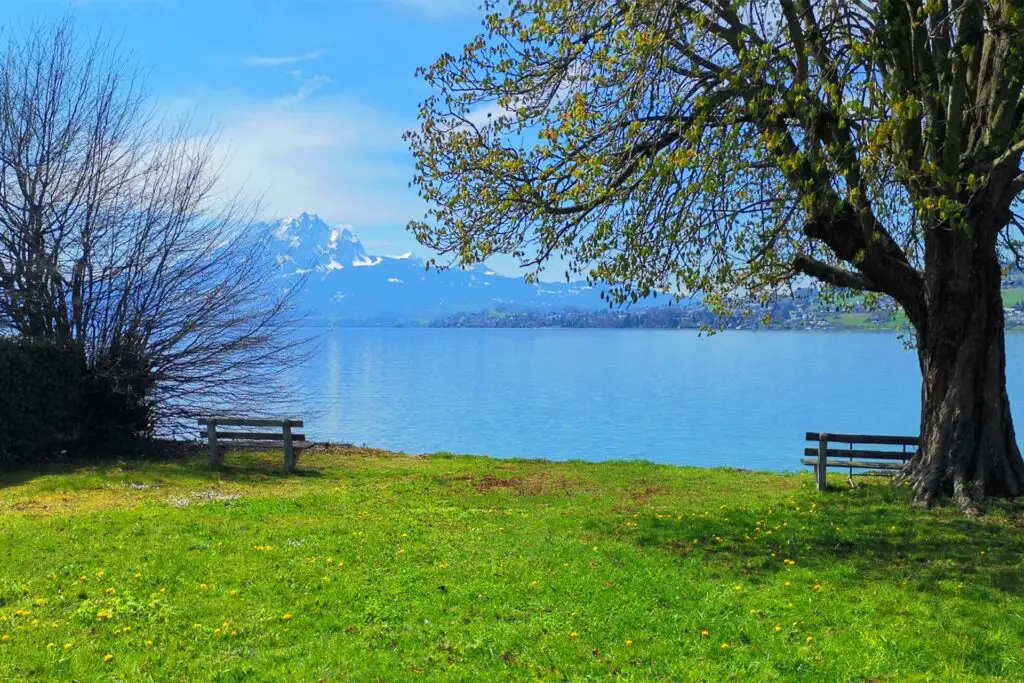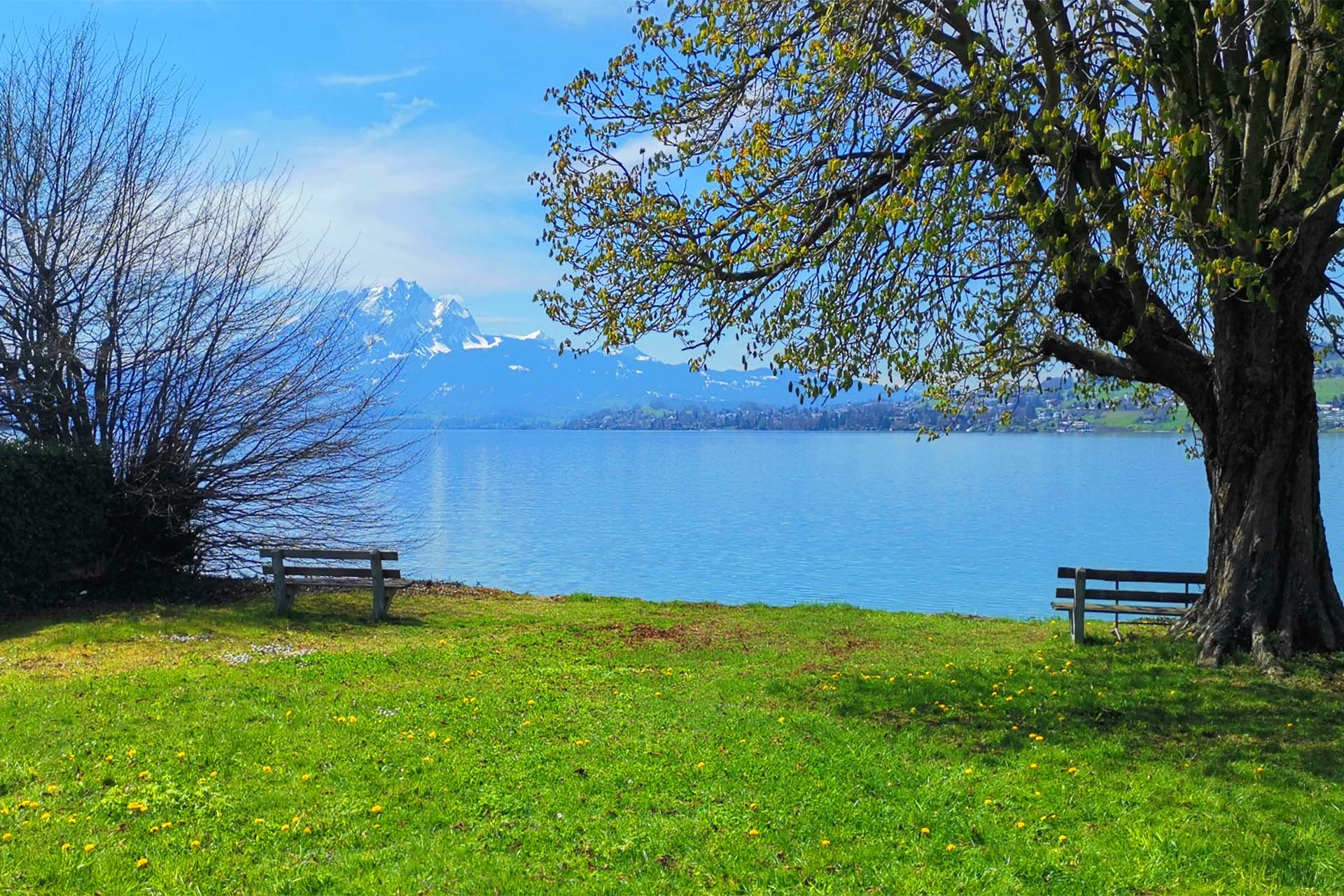 3). Bauen – the most beautiful village at Lake Lucerne
Another place directly on Lake Lucerne, or more precisely on the Lake of Uri, is Bauen. Bauen can only be reached by car or boat, there is no bus service to the beautiful village. But the village has a southern charm unlike anything else on Lake Lucerne. Palm trees as well as other southern plants grow here, which, combined with the lake, exude a flair of dolce vita.
Also very memorable are the old houses in Bauen, which bear names like Schiller. Bauen was one of the earliest settled places on Lake Lucerne. The people of Bauen experienced not only beauty but also wars, for example, when the Austrians fought against the French and sacked Bauen. Afterwards, the imposing church was built.
Fine dining is a word of honour in Bauen. The houses like the Hotel Schiller or the Zwyssighaus go to great lengths to pamper their guests. If you want, you can even spend the night there.
Day visitors can also simply visit the free swimming pool and spend the day on Lake Lucerne. There are many ways to enjoy life in Bauen. A strenuous hike up the mountain "Nierbauen Chulm" could also be undertaken from Bauen.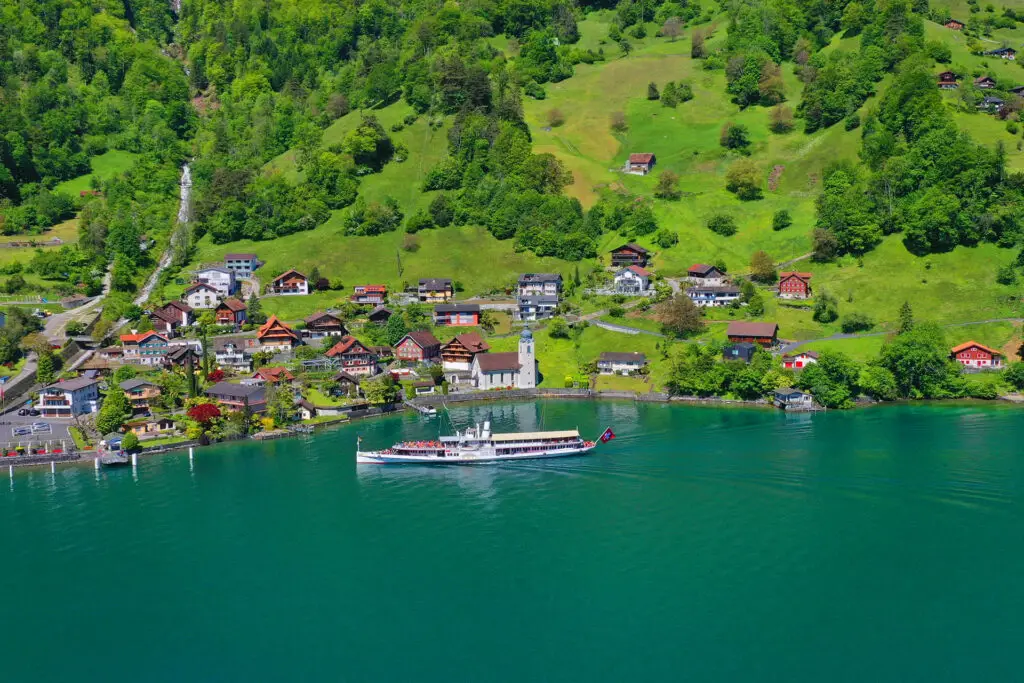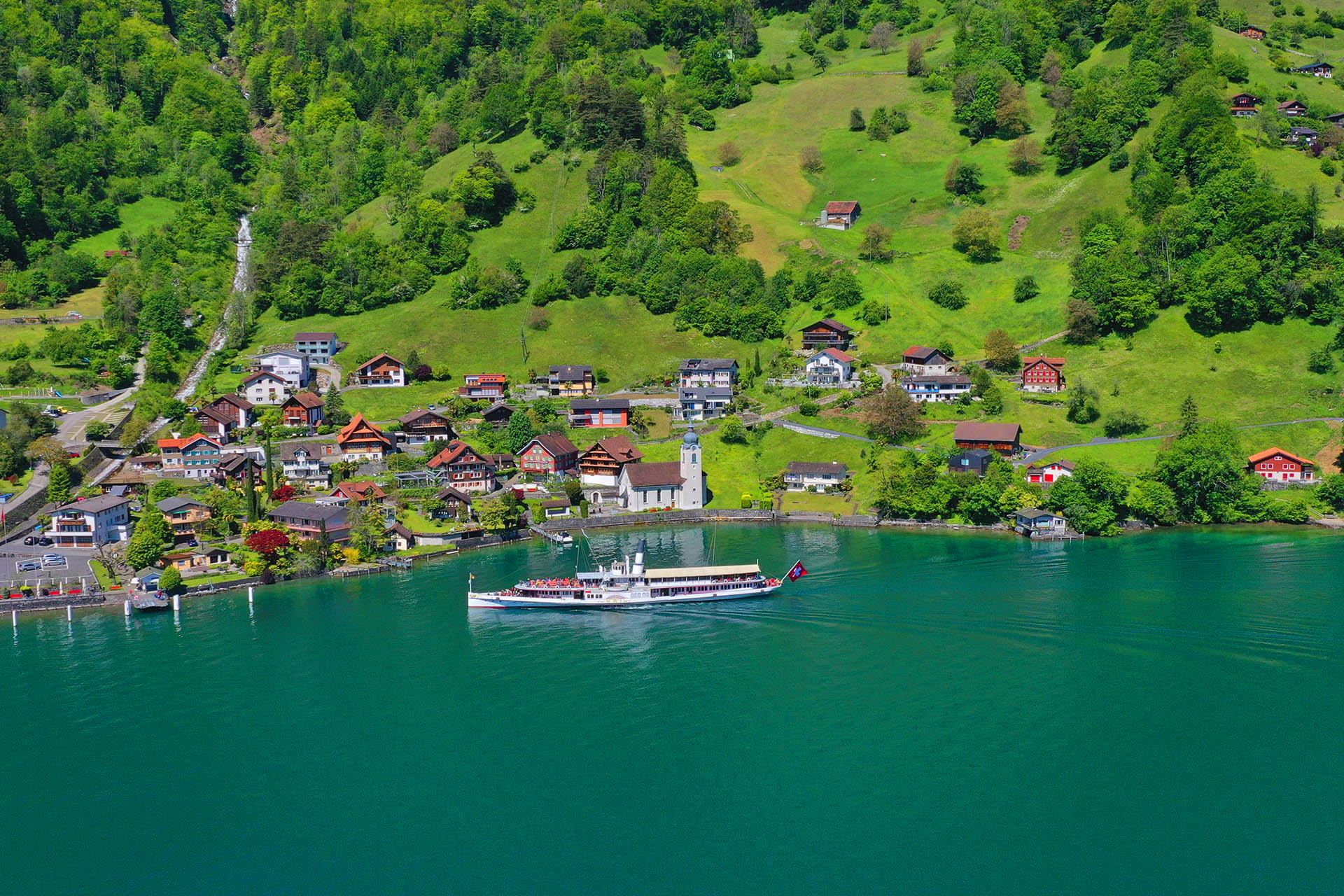 4). Niederbauen Chulm
Not only Hinterbergen offers a fantastic panoramic view of Lake Lucerne, but also Niederbauen Chulm. That's why this insider tip should not be missed. The quickest way to reach the mountain is with a short cable car ride from Emmetten.
The Niederbauen mountain restaurant welcomes you directly at the mountain station. Insiders say it is one of the best mountain restaurants in Switzerland. For example, romantic candlelight dinners are offered.
If you want to stroll, you can reach a beautiful meadow in a few minutes. At good weather, parachutes take off here. What could be more beautiful than watching this hustle and bustle?
A highlight for hikers is definitely the 3.5-hour round hike to the Niederbauen Chulm. There you can enjoy a panoramic view of Lake Lucerne and the Swiss Alps like for example the "Grosser Mythen". From there you can either hike back to the Niederbauen cable car station or to Seelisberg.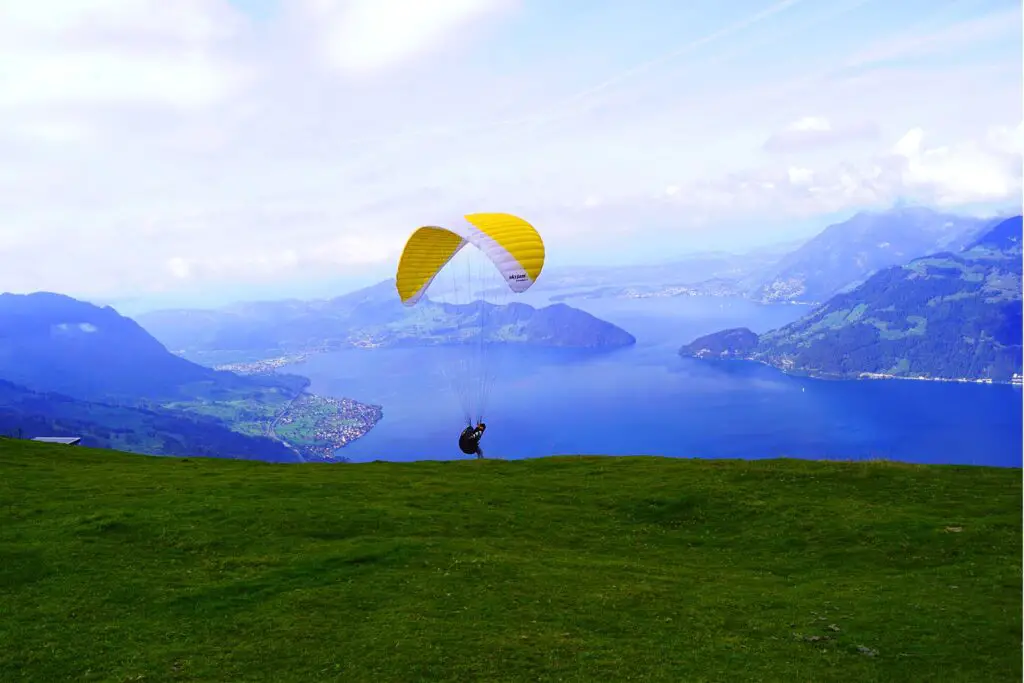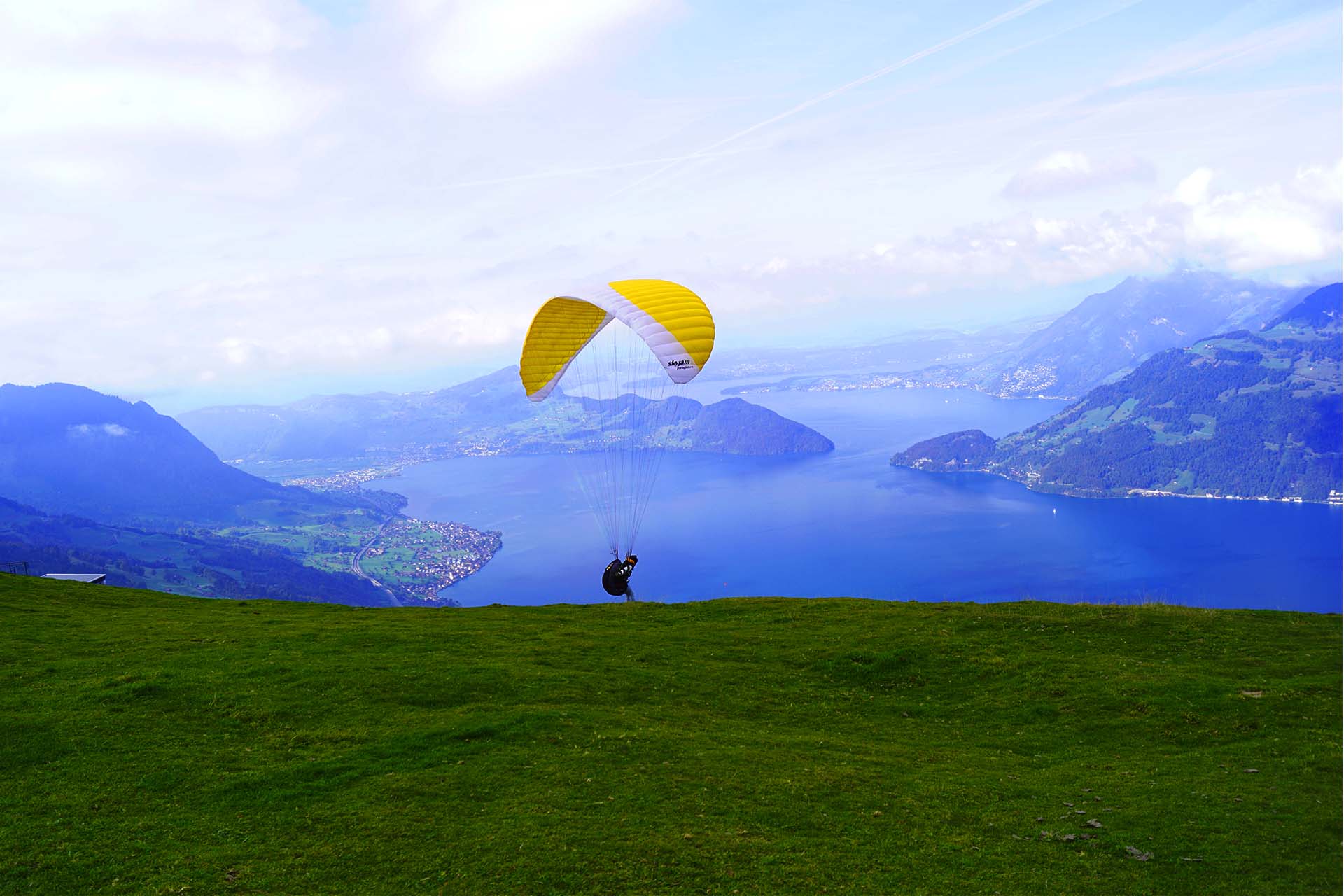 5). Seelisberg
And Seelisberg is the next dreamlike place around Lake Lucerne. On the one hand, the town attracts visitors with its beautiful lake called Seeli. At the bathing area you pay an entrance fee, but you get to enjoy a natural jewel.
However, there is also the possibility of hiking to the origin of Switzerland, the Rütli. If you live in Switzerland or come here as a tourist, you almost have to see this historic site once. To save yourself the steep climb back to Seelisberg, you can take the boat in the direction of Lucerne or Flüelen.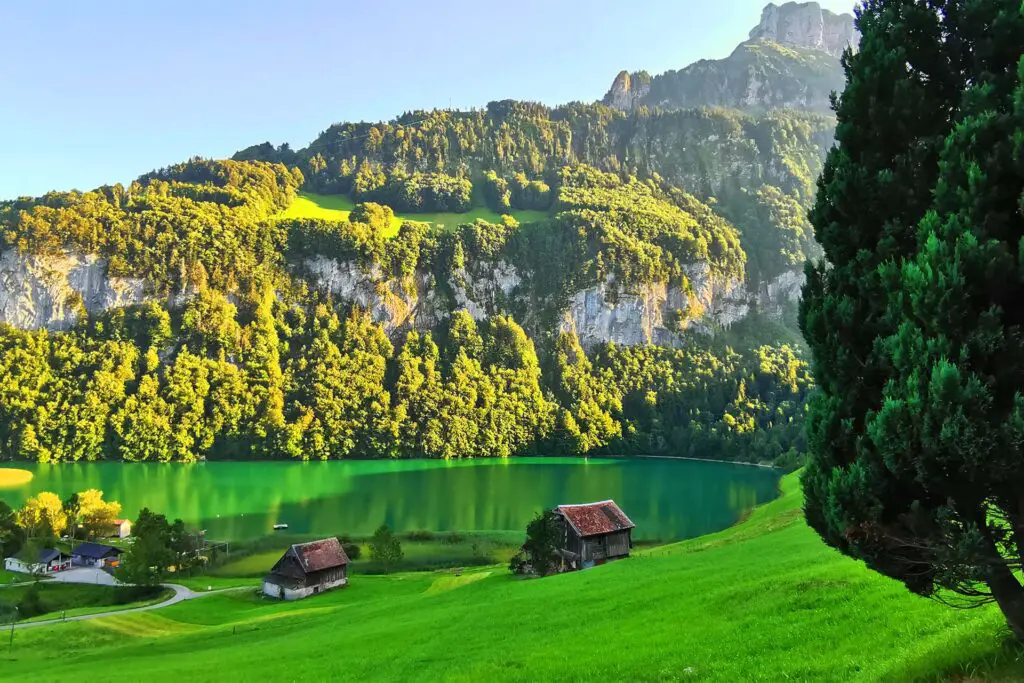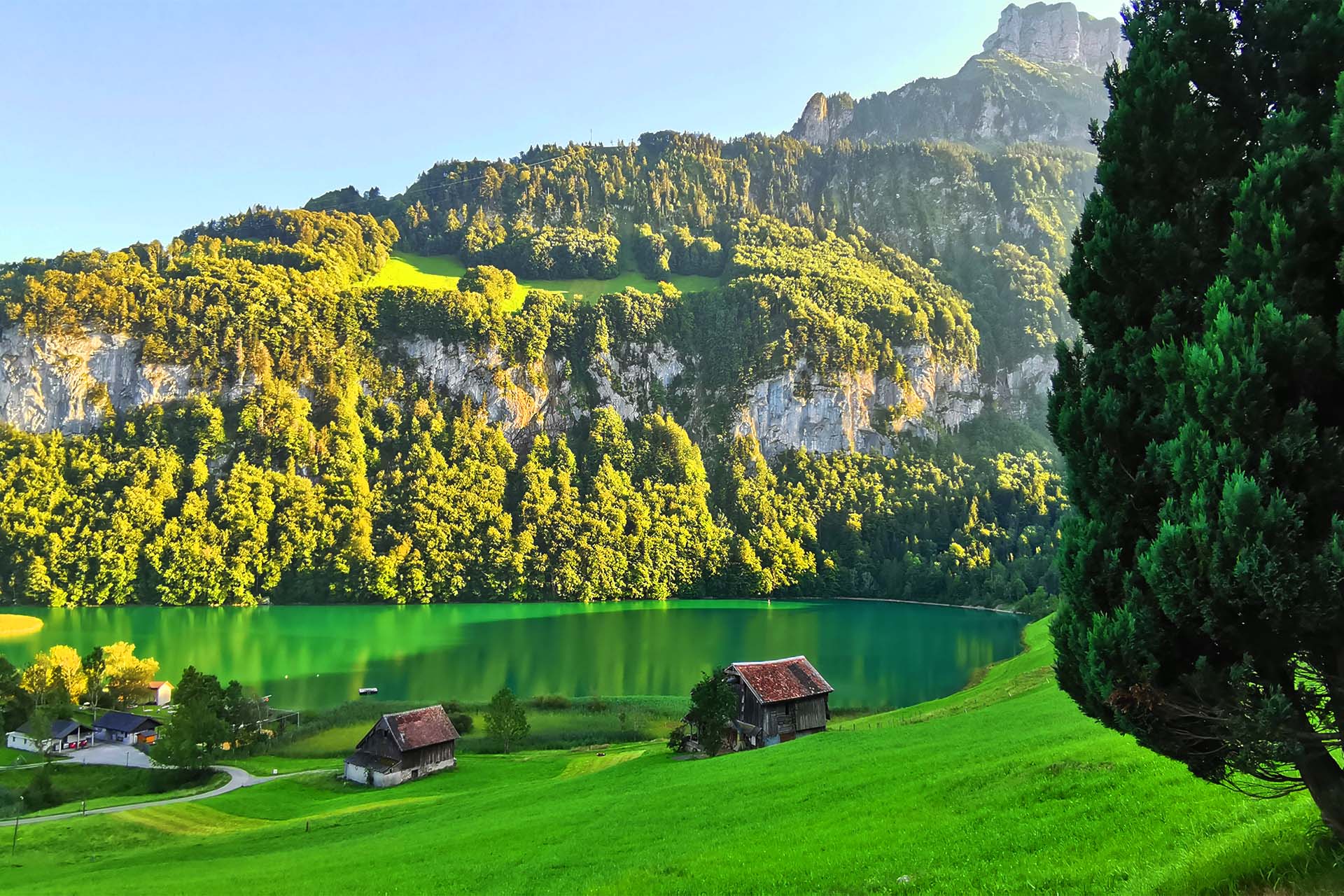 6). Morschach – Sisikon (Panoramic dream hike above Lake Lucerne)
This is my dream hike par excellence. Famous people like Queen Elizabeth have already spent their holidays in Morschach. When you see this beautiful panoramic view of Lake Lucerne, it's clear why. Because Morschach has one of the most beautiful and romantic views over the great Swiss lake.
The photogenic places on the hike from Morschach to Sisikon are not only a wonder for photographers, but also a balm for the soul for everyone else. About halfway through the hike, you pass a large bench with a table for a picnic. But also later there are various possibilities to have a snack with an even better view.
After arriving in Sisikon about 2 hours later, you can still jump into the refreshing Lake Lucerne in summer.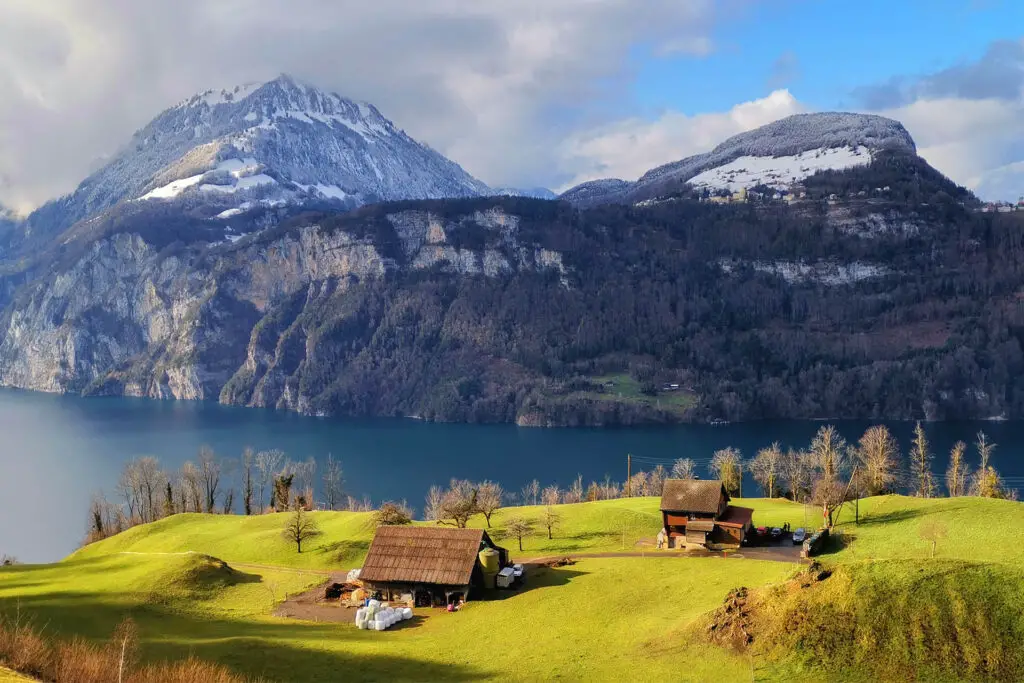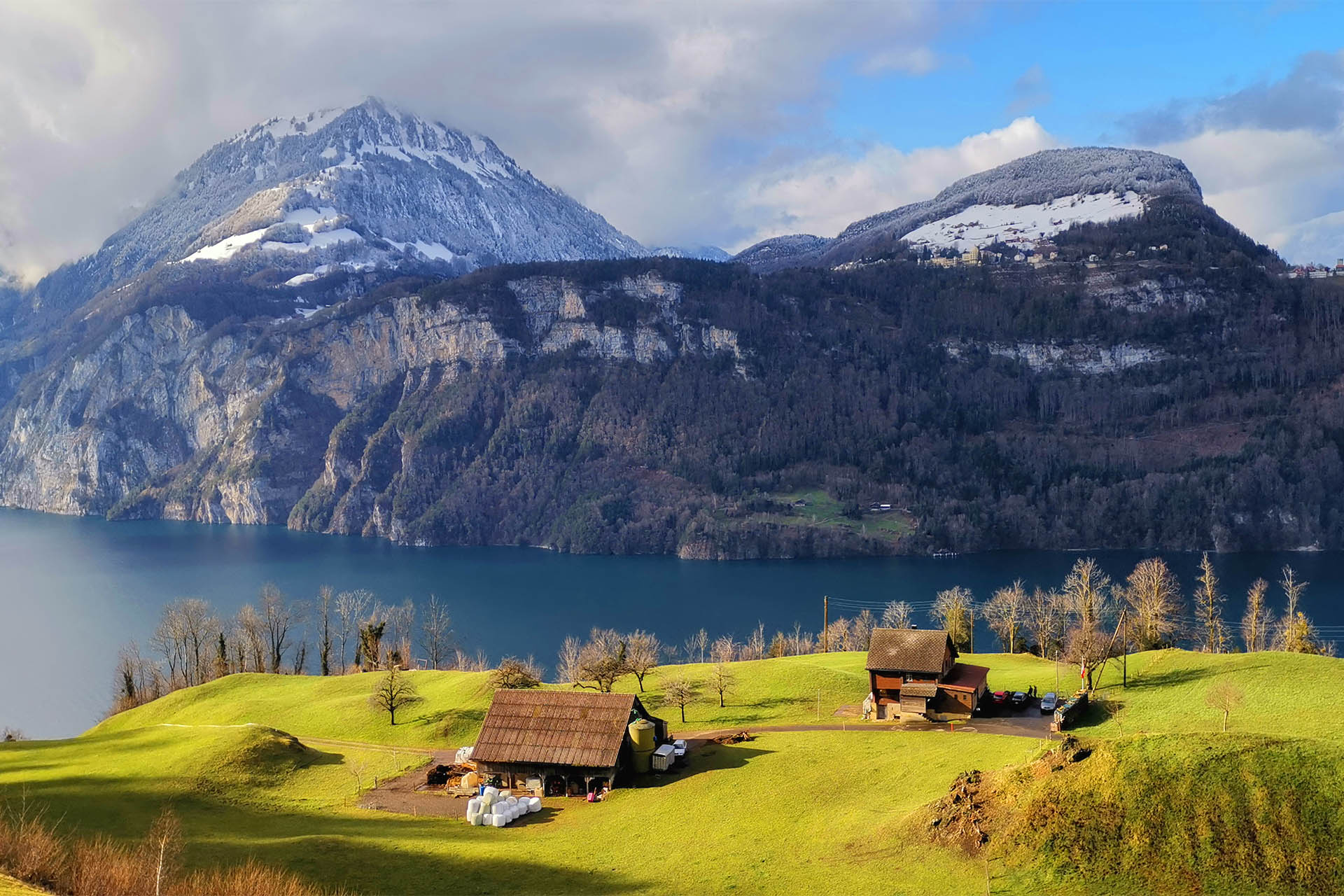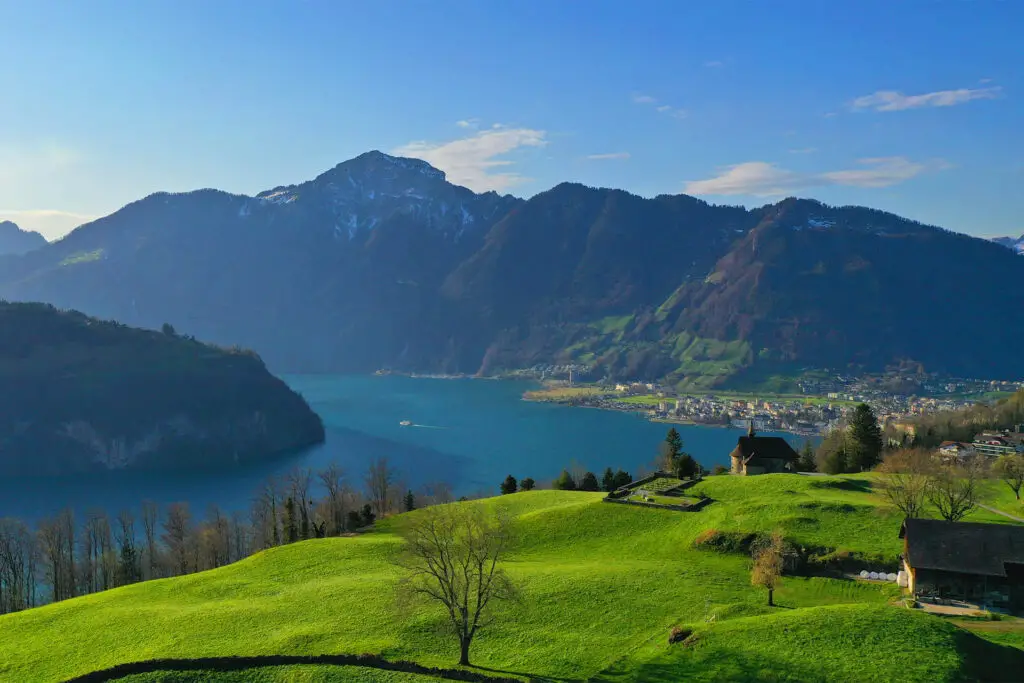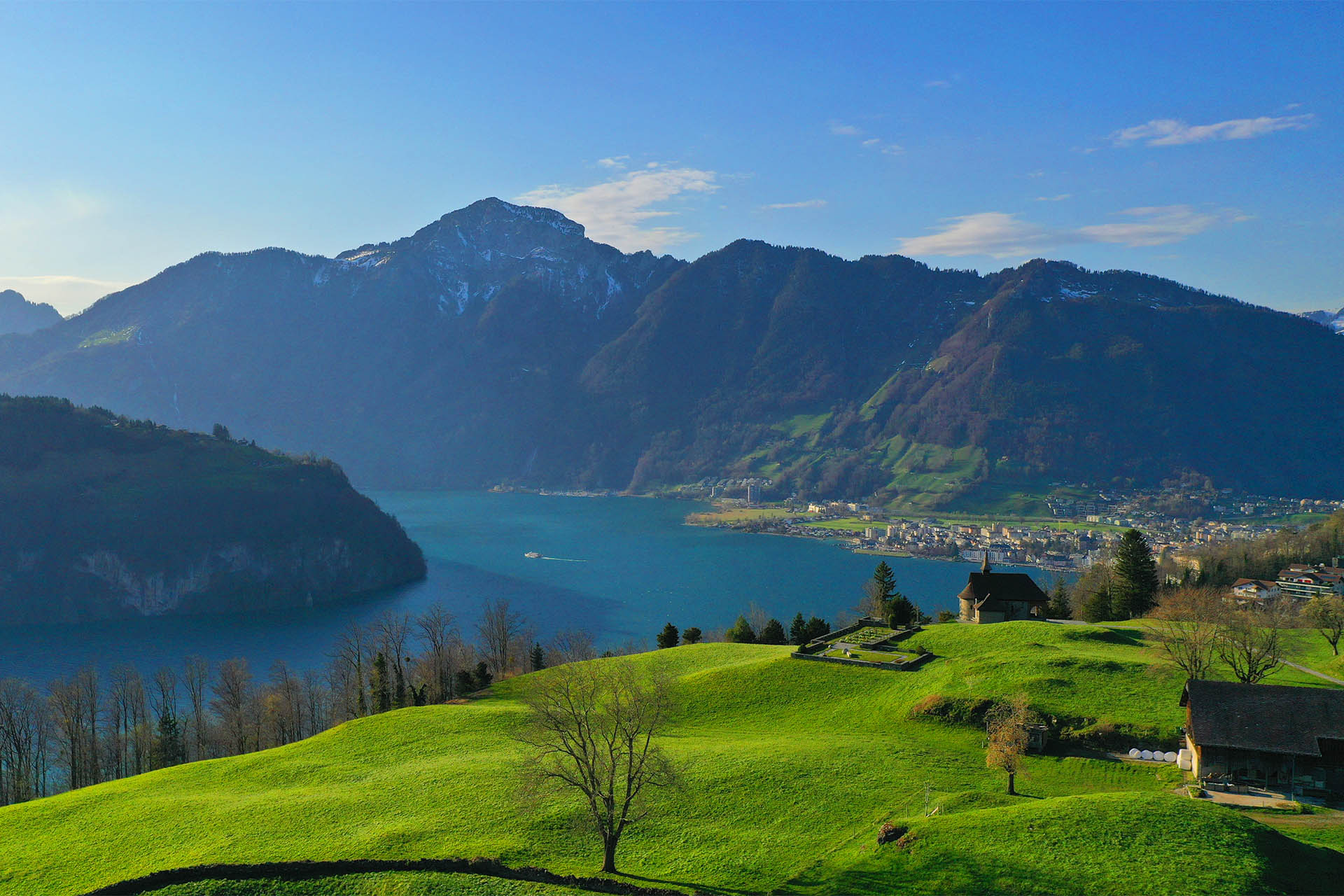 7). Tell plate – Swiss history at Lake Lucerne
Or if you are already in Sisikon and have done the previous hike from Morschach to Sisikon, it is worth making a detour to Tellsplatte. The place, steeped in history, namely offers an incredibly beautiful panoramic view. The walk is a gem at any time of the year, but the place is especially recommended in spring with the apple blossoms.
This is the place where William Tell is said to have jumped from the ship and saved himself from the evil enemy.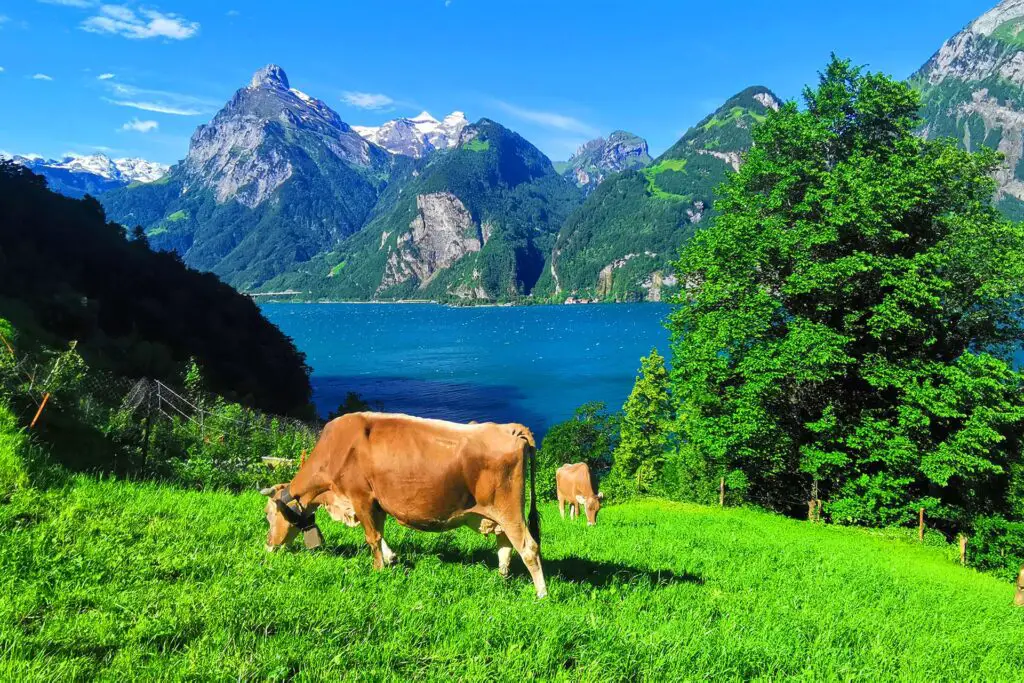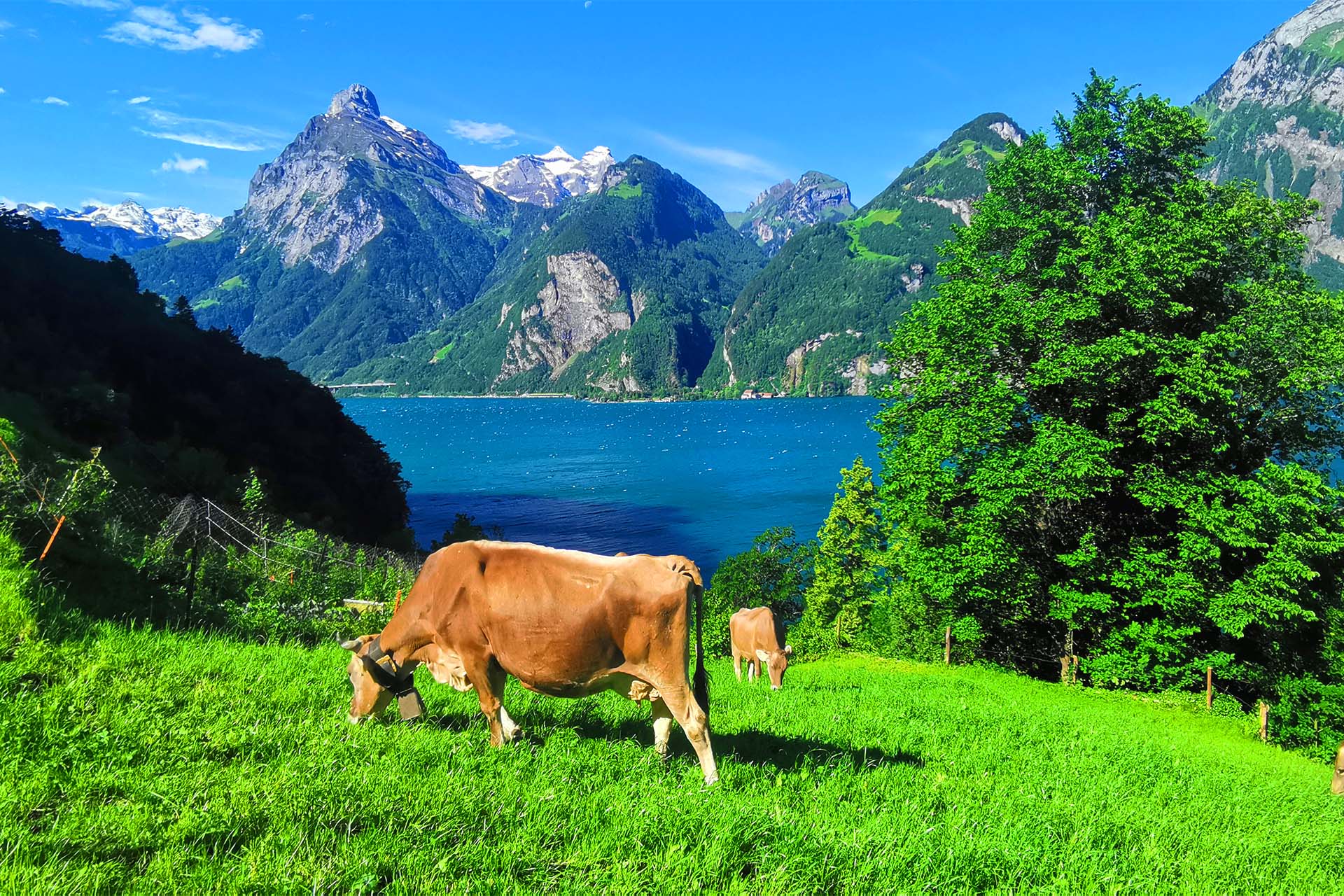 8). Eggberge
If you drive a little further from Sisikon, you will come to Flüelen. Above Flüelen there is a traditional and beautiful village called "Eggberge". Here you also have a great view of Lake Uri, as this is part of Lake Lucerne.
Great hikes with incredible panoramic views start from the Eggberge. I can especially recommend the two-hour hike to Biel-Chinzig.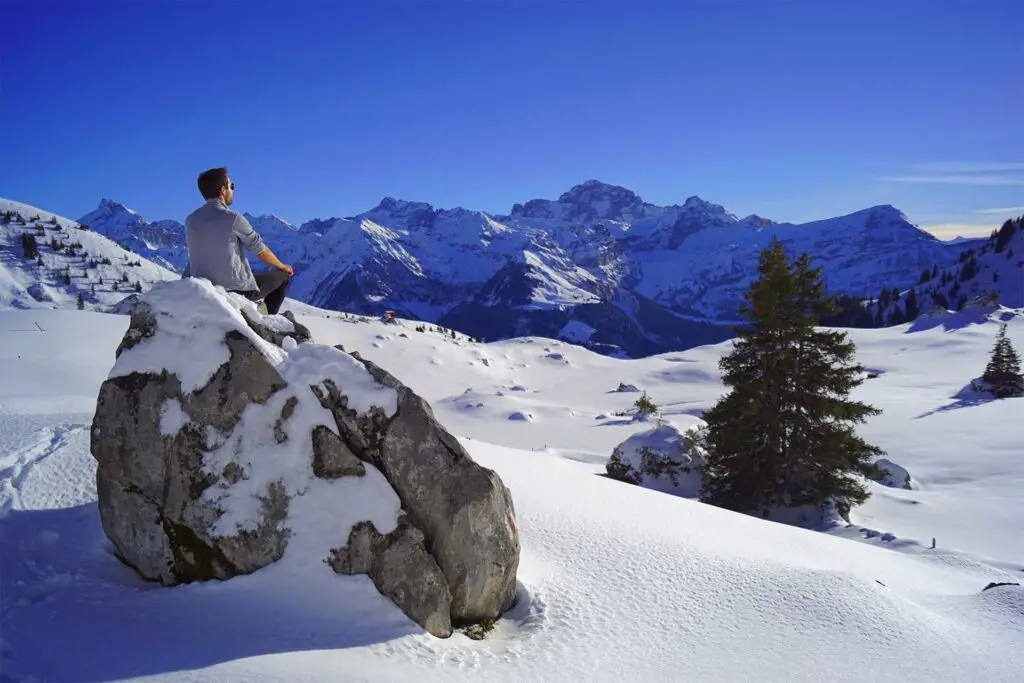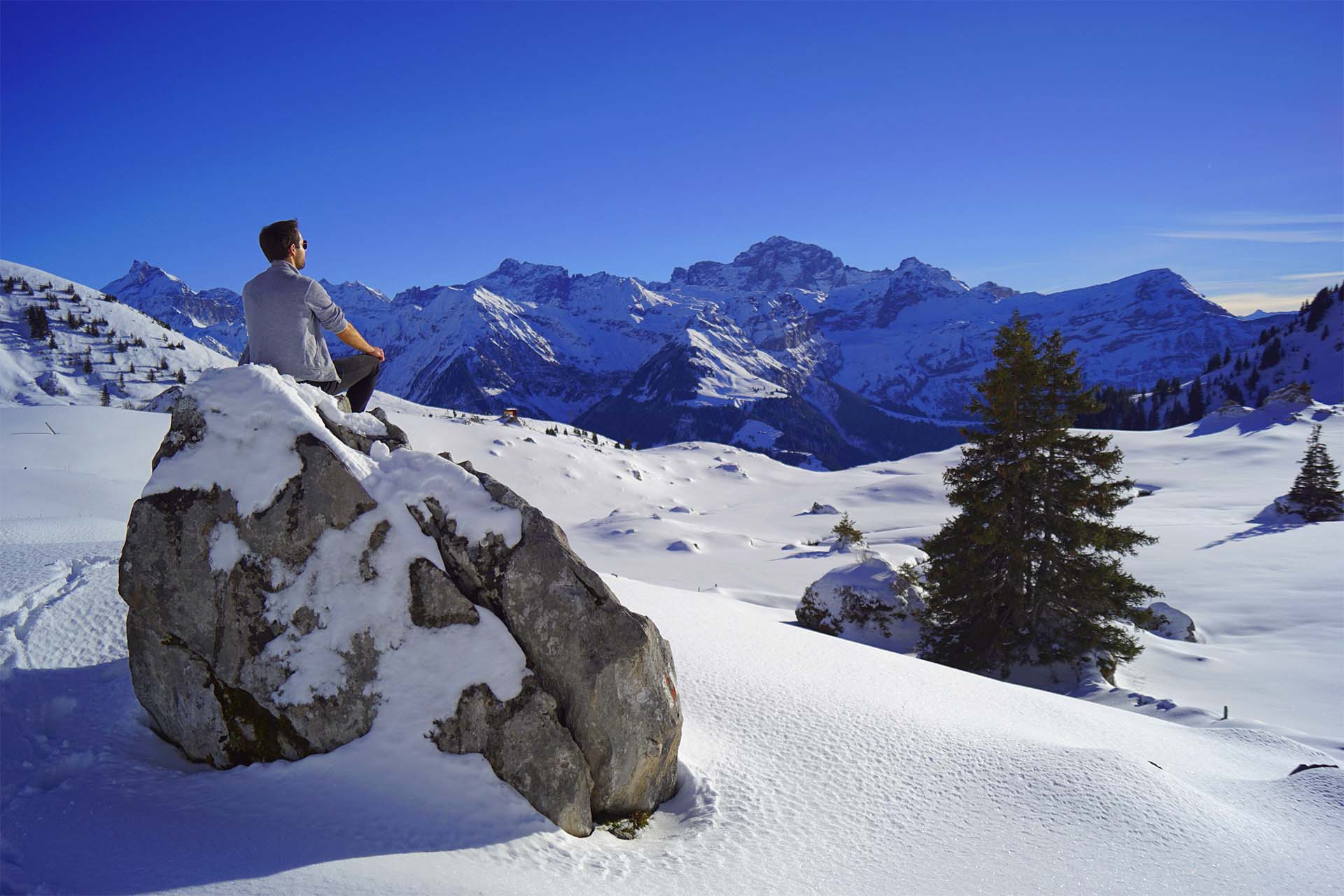 9). Timpelweid
Another highlight with a magnificent view is Timpelweid. From Brunnen, take the cable car or walk to the mountain station. On Timpel you can then stop at a restaurant and enjoy the panoramic view over Lake Lucerne. There is also the option of climbing the mountain called Stockflue. Although it is only about 20 minutes from the cable car station, there is an alpine hiking trail. Because you can't get to the summit without climbing.
Another great hike leads from Timpel to Rigi Hoflue. Here as well, there is an alpine hiking trail from the halfway point. If you want to take it easier, you can hike to Lauerz, for example, where you also have a great view during the hike.
10). Hergiswil
Hergiswil is a well-known place, but it simply has to be in this article. Because only very few people know that Hergiswil is an Eldorado of parks. In no other place on Lake Lucerne I have seen so many parks as in Hergiswil.
Especially in summer, this is the perfect place to enjoy a nice day, get a tan and occasionally cool off in the lake.
And Hergiswil is always good for a surprise, even if you already know the beautiful spot. For example, seaplanes took off one weekend in June in 2021. A very rare experience in Switzerland.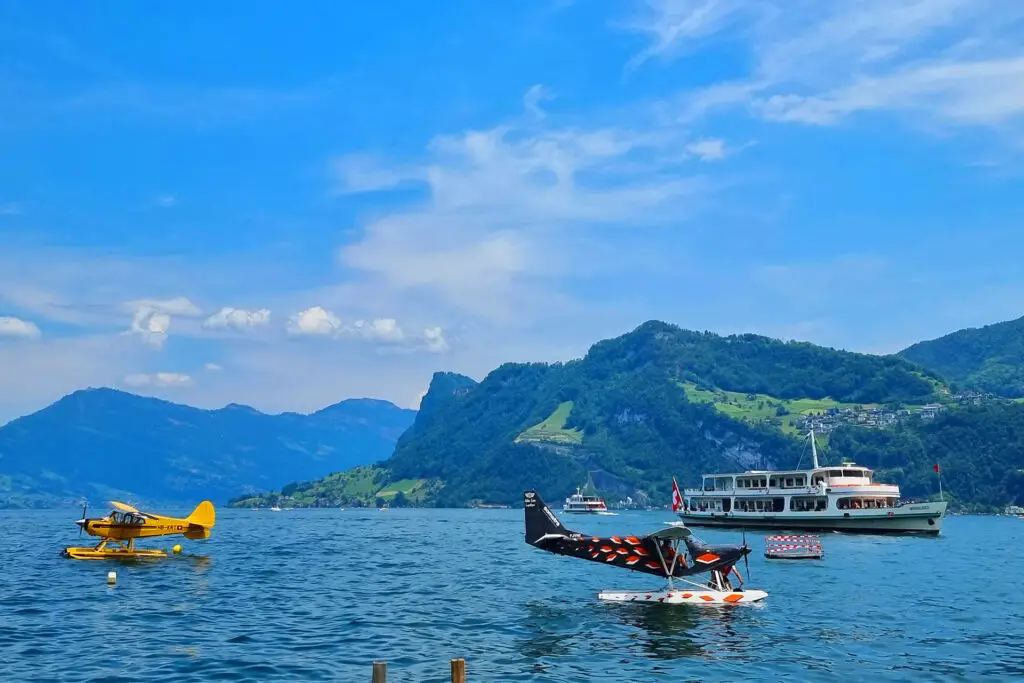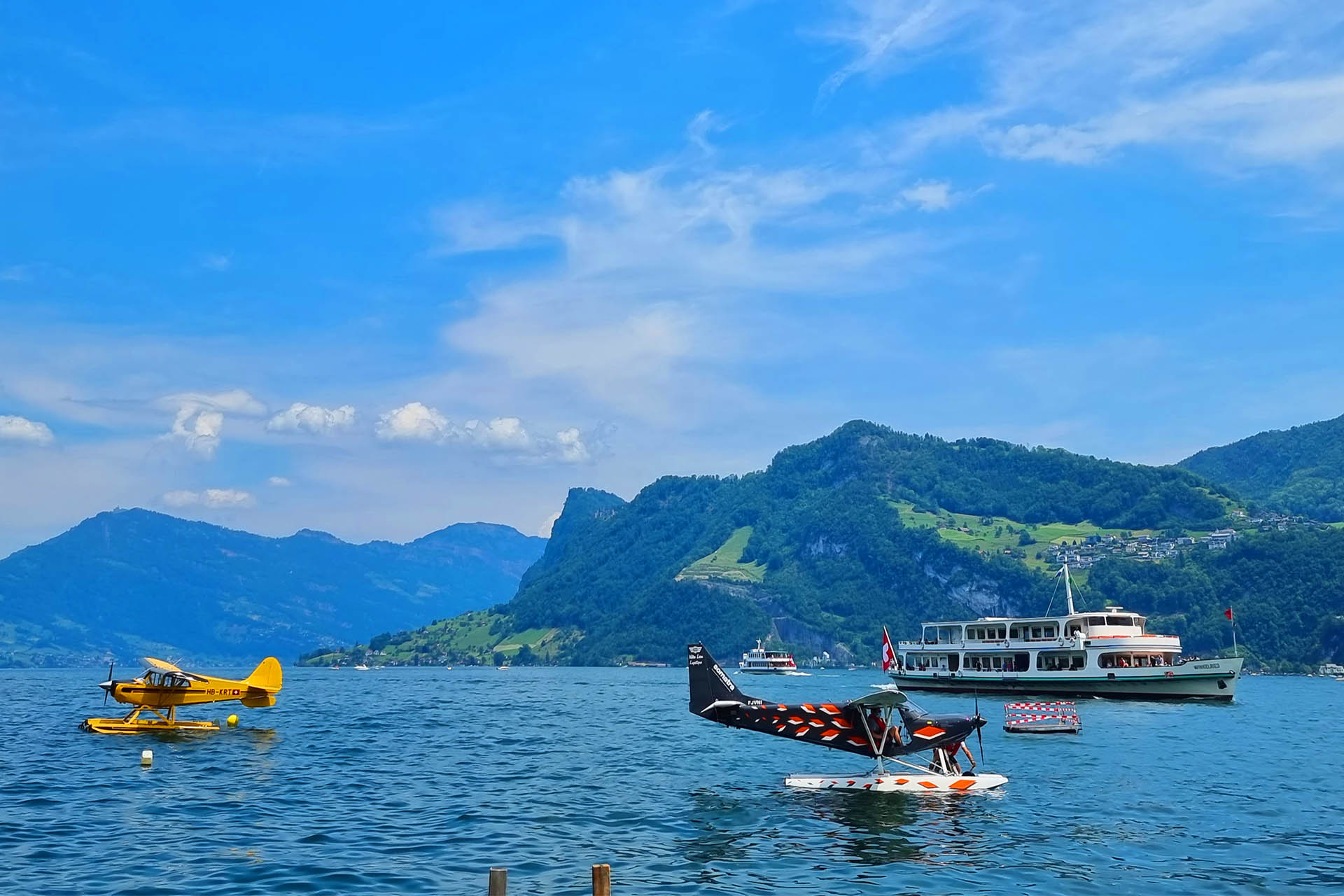 11) Risleten Gorge
Even in the Belle Époque, people knew about the beauty of the gorge on Lake Lucerne. The Risleten gorge was diligently visited from Emmetten. Today it is more of an insider tip, although some people do get lost there at weekends. The picnic area 5 minutes from the gorge is unique. The artificial bathing bay invites you to take a refreshing swim in Lake Lucerne. A steep rock face that was once a quarry bears witness to dinosaur tracks. These lived around 120 million years ago, when the site of today's lake was still a tropical sea.
The Risleten Gorge can be reached with a hike from Beckenried in 1h 20 minutes or from Rütenen in 40 minutes.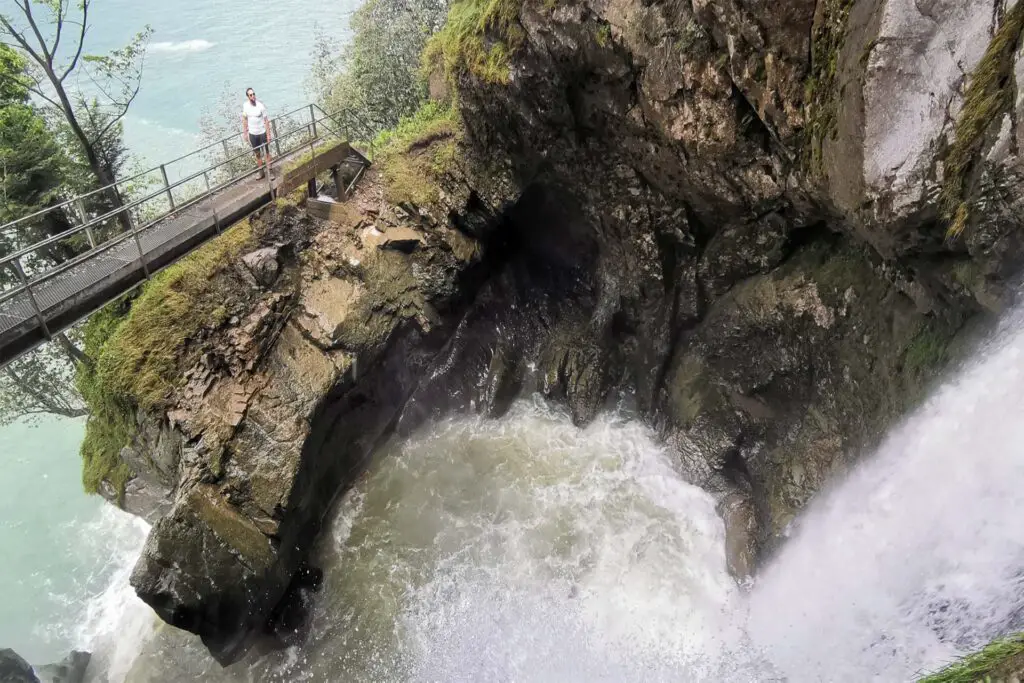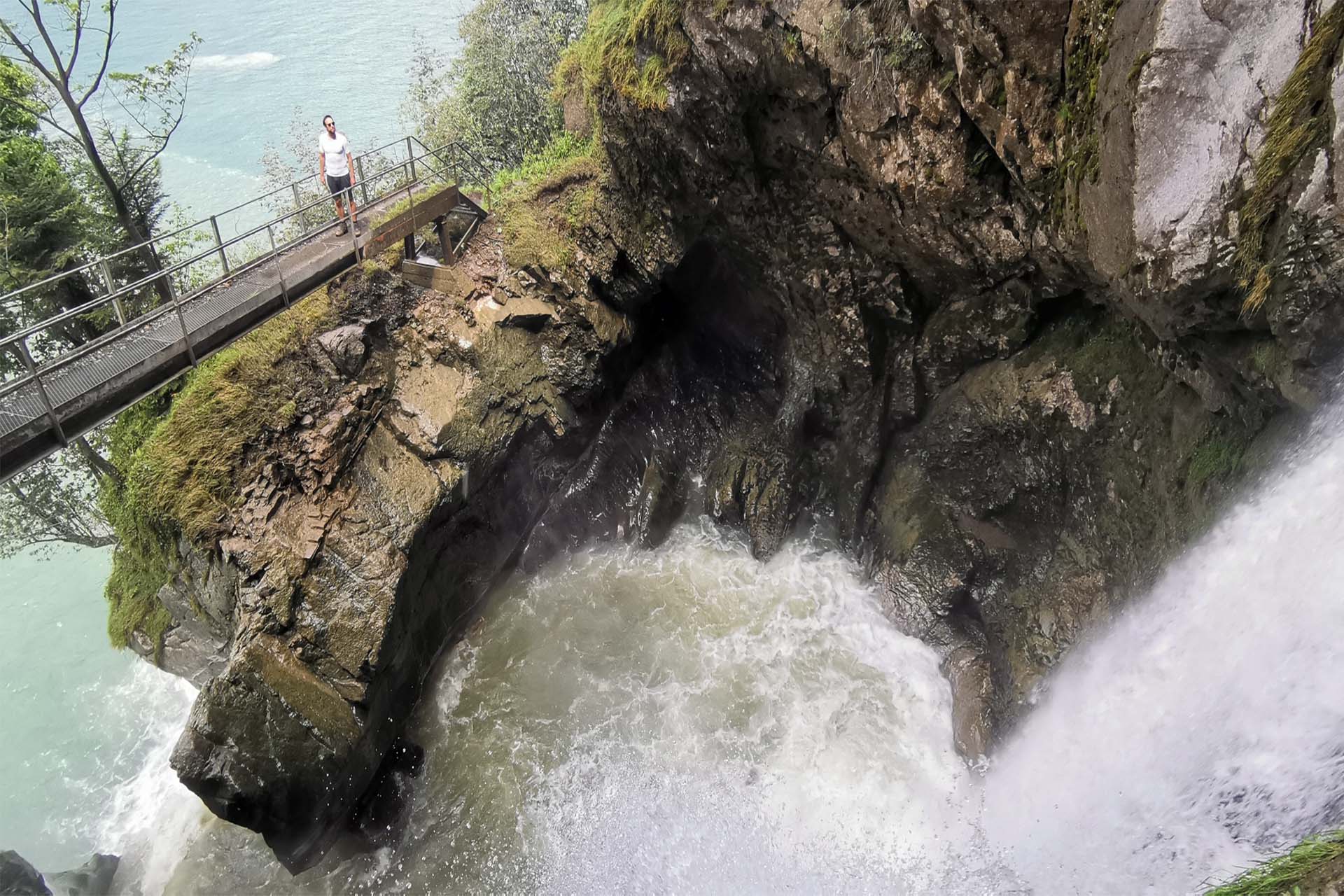 12). Reuss delta in Flüelen – natural paradise with bathing spots on Lake Lucerne
The Reuss delta in Uri is one of the most beautiful natural paradises in Switzerland. Surrounded by imposing mountains and situated directly on Lake Lucerne, this place is a real insider tip. If you love animals, you can watch birds here at any time of the year in the observation tower, and in spring and summer especially amphibians, dragonflies and rare plants. After all, about 500 species of plants grow in the area.
In summer, the place is also popular for swimming. Along the nature reserve there are several bathing beaches and also benches and fireplaces, which makes the place also a perfect destination for families.
The best way to get there is by train to Flüelen, from where you can walk to the Reuss delta. There are also parking spaces in the village.