There is a lot to discover! This ultimate travel guide presents you the Top 7 activities and places to see in Grindelwald First.
Pictures and text by Marc Gottwald
Grindelwald First is among the top destinations for visitors when exploring Grindelwald in Switzerland. Spending several days in the region will have you make the absolute best of your time. The place is located above 2100 metres and offers you adventures, beautiful mountain views on Eiger, Mönch and Jungfrau and several hiking trails like in a dream. Therefore, dive in into this epic mountain world with our travel guide. Here are some of the itinerary suggestions on how you can spend a day or more at Grindelwald First.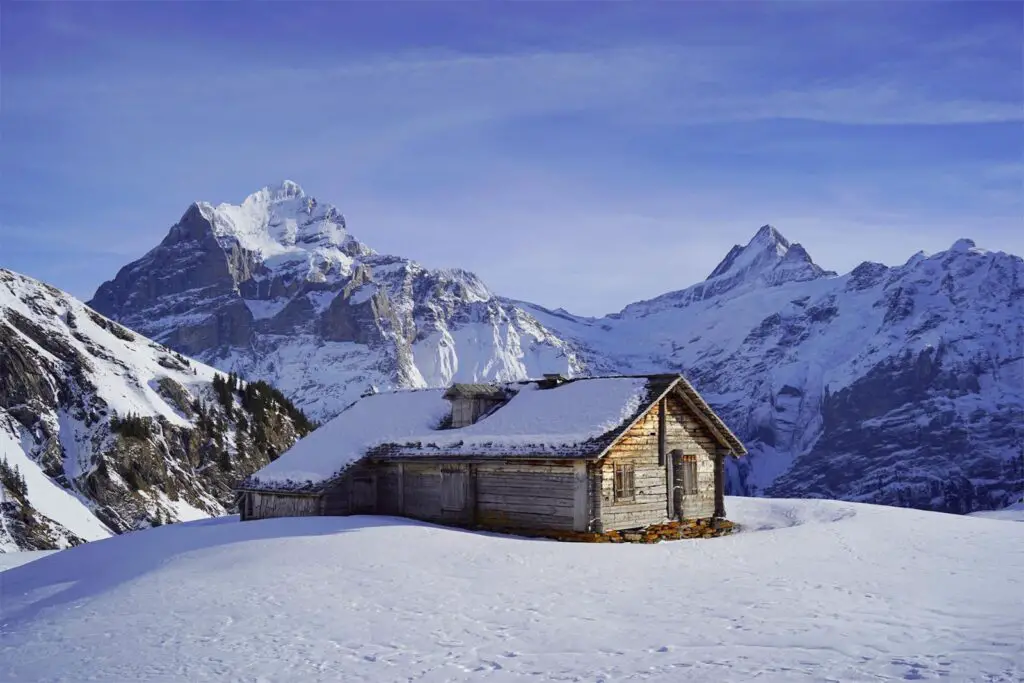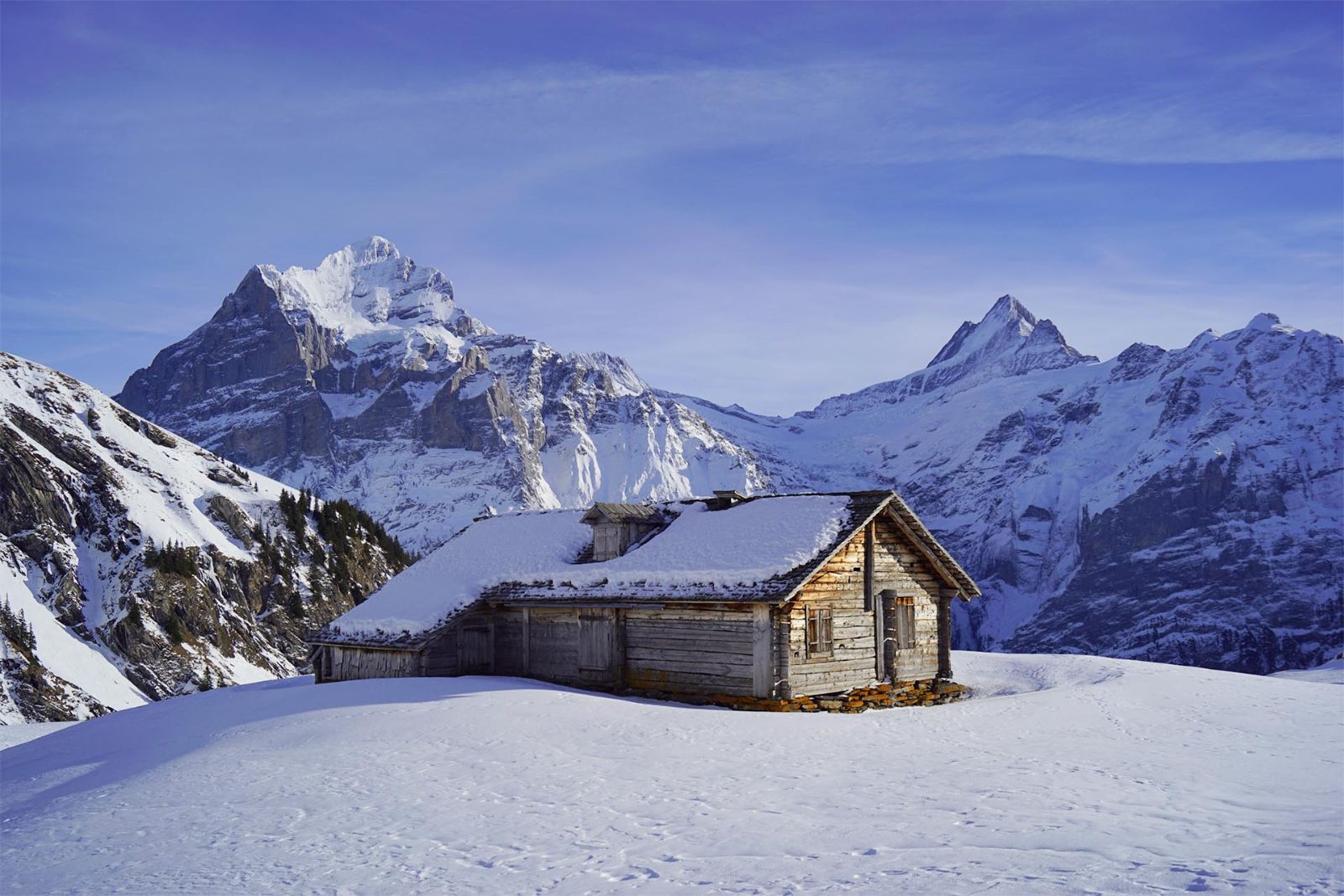 1). "First Cliff Walk"
The Cliff Walk is our favorite and an activity that any tourist should do before leaving Grindelwald. And honestly, it is the simplest and most popular one. You will just walk there and enjoy the stunning view. Furthermore, the action does not require any special tools, equipment, or assistance. But the memories that last are unforgettable.
The metal walkway and swinging bridge provide an amazing view the valley and the famous mountains like "Eiger, Mönch and Jungfrau". The availability of a viewing platform nearby is advantageous to people who have a fear of heights. A cool walk alongside the cliff provides another great view over the Swiss Alps. All in all you might have around 15-20 minutes for that.
As the cliff walk is directly located at the cable car station of "Grindelwald First" it is pretty crowded. To take the best pictures or videos we recommend to visit the Cliff walk in the early mornings. The opening hours of the attraction are exactly during those of the cable car.

2). Hike from Grindelwald First to Lake Bachalpsee
Our Travel Guide shows you besides the "Cliff Walk" a second very popular activity: a walk to the lake Bachalpsee. The Bachalpsee is a pretty mountain lake located just a around 2 kilometres from Grindelwald First. To access the lake easily, it is advisable to use the cable car from Grindelwald till the First mountain station. Then you take a 30 minutes hike to reach the famous tourist attraction.
What a beautiful lake with a perfect view on some of the highest mountain peaks in the region. Any visitor would love to spend hours admiring and taking pictures of it.
Perfect views on the hike
Usually, the hike to Lake Bachalpsee is always part of every visitor's hiking list due to its short length and less difficulty. Nevertheless, it has on a short way a steep climb. Several benches around the area provide the perfect viewpoints and make you enjoy the waters' cool serenity. This means you can take a swim in the water but be aware that it is really ice cold, even in summer! It was one of the coldest mountain lakes, where I took a swim.
If you love flowers I have a huge tip: In Switzerland we have around 75 different wild orchid species. That is not a lot if you know, that in the world exist more than 30'000 orchid species. One very rare orchid you can find on this hike is the chocolate orchid called "Nigritella rhellicani": It is a very small burgundy orchid, which smells like chocolate. Please do not pick the orchid as it is strictly protected and you could be punished.
If you want to see less people, then feel free to continue your hike to the Faulhorn or visiting a very unknown and beautiful mountain lake called "Hagelseeli". That's the ultimate insider tip I give you for Hikes from Grindelwald First. But please be aware that those hikes require a good fitness level.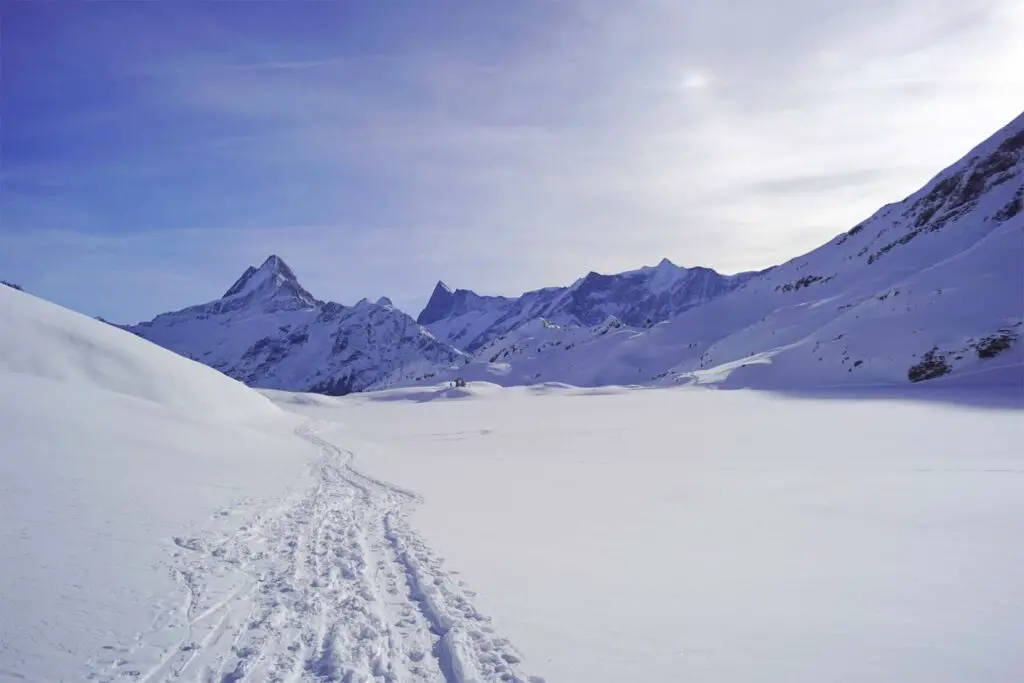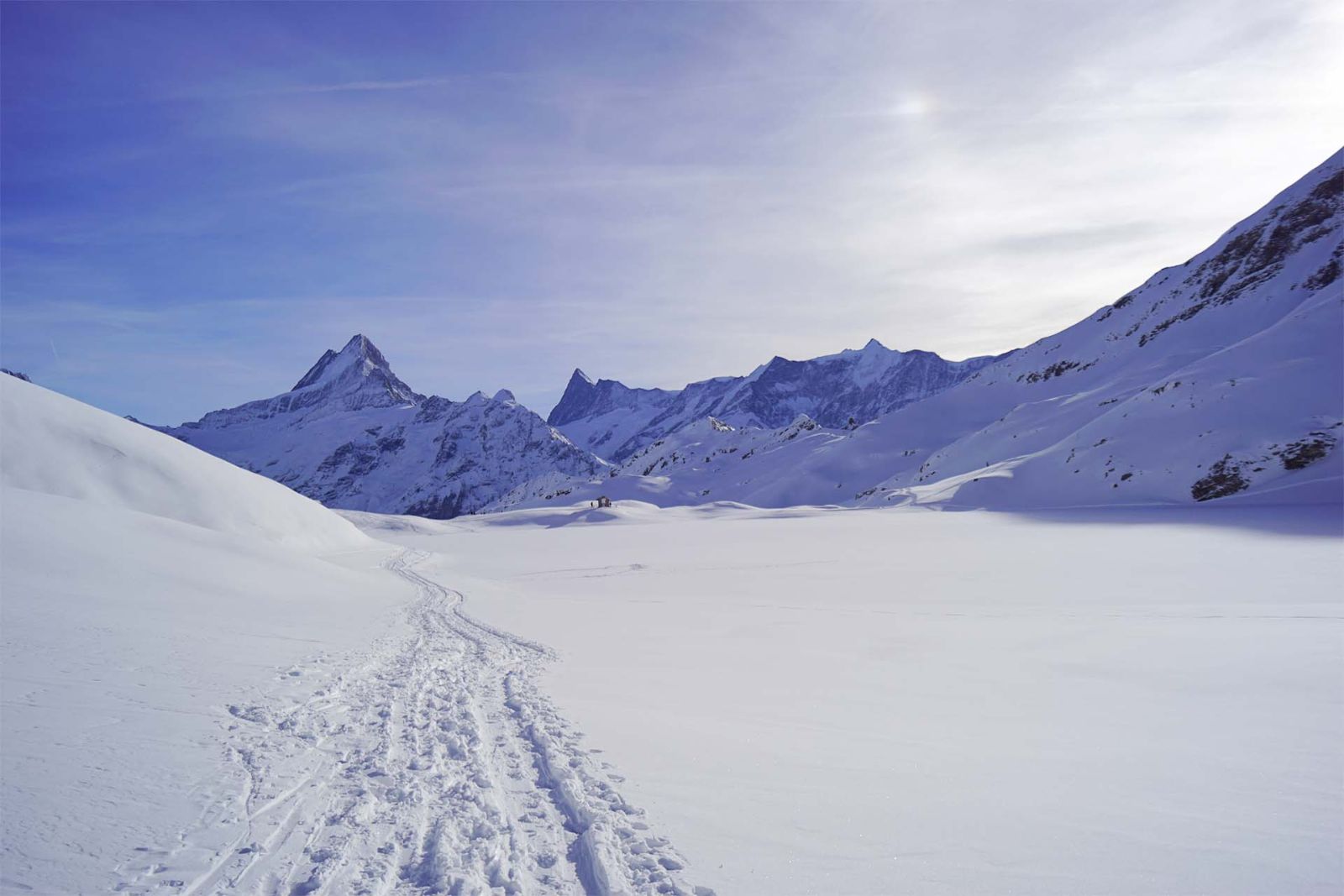 3). Hike Down to "Grindelwald Bort" and Take a Trottiscooter
While at Grindelwald First, you can optionally take the cable car back down to Bort for even more interesting moments and experiences. Of course you can also hike down to that place directly from the Bachalpsee via Bachläger. If you love adventures then do not miss the activity of riding trottiscooters from Bort to Grindelwald. Riding the scooters is totally fun and so cool! Trottibikes (trottiscooters with large wheels) can be rented at an affordable price near the cable car station. So, ride down the mountain and speed it to explore more hidden places near Grindelwald Bort.
And hey: What I love in this area most are the old barns combined with flowers, the stunning mountain peaks and the glaciers. It's the ideal region for your perfect picture.
When you ride the scooters, please be very careful that you do not stop only with the front brakes. Use the back brakes as well. I have seen some people who have rolled over and that can end dramatically.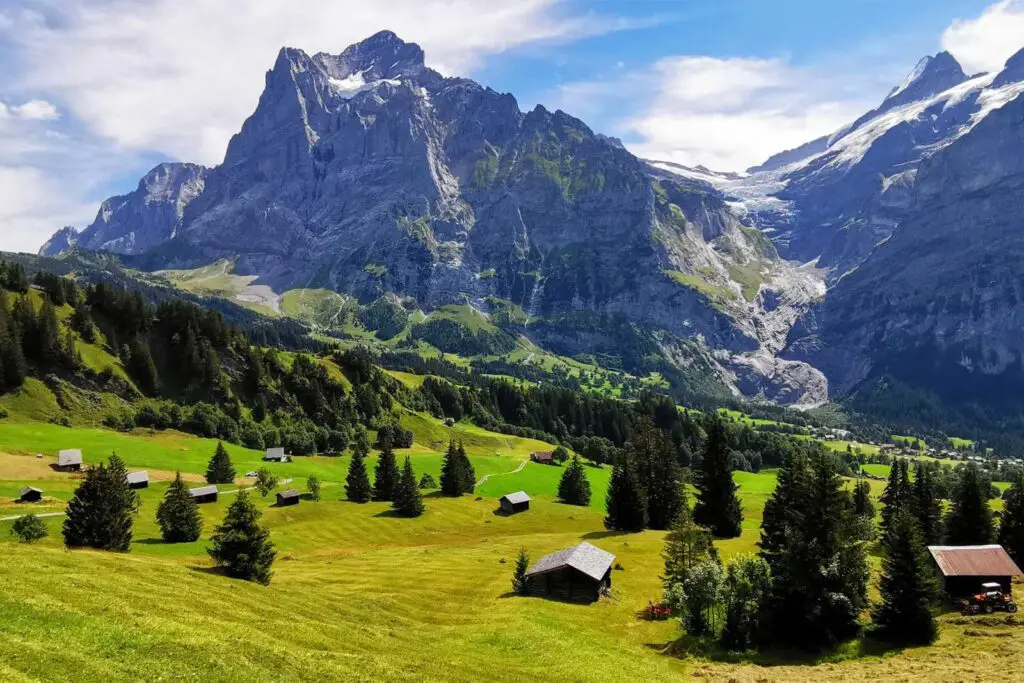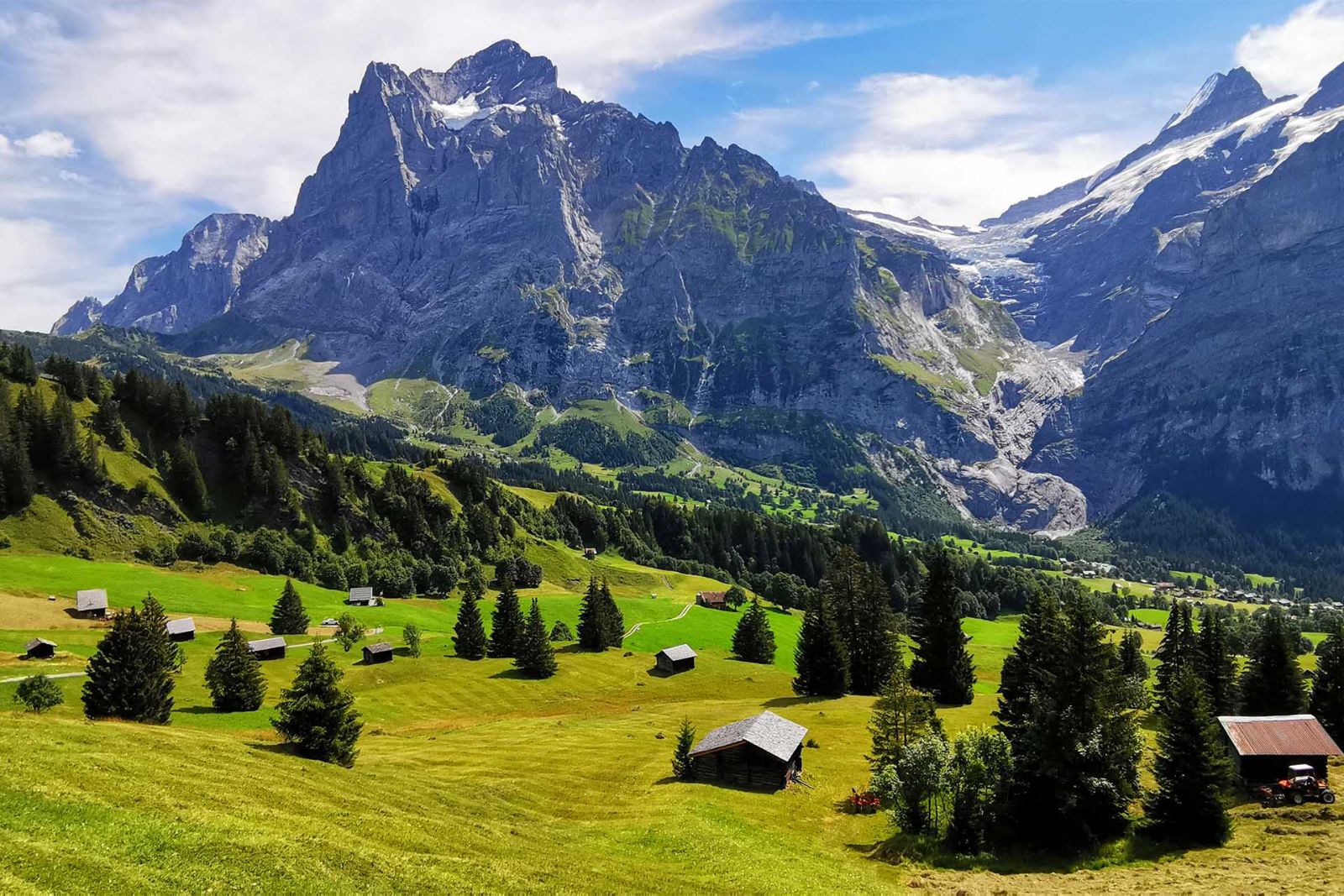 4). Enjoying the Scenic Views at Eiger, Mönch, and Jungfrau
The Eiger, Mönch and Jungfrau are probably the most famous mountains in Switzerland besides the Matterhorn in Zermatt. Of course, it is a great experience to explore the Jungfraujoch but you must know, it's very touristic and has mostly a lot of people. I prefer to see those mountain ranges from a bit  away which gives you an amazingly great scenery.
One of that places to observe the "Eiger, Mönch and Jungfrau" is from Grindelwald First. Believe me, if you walk a little bit away from First in direction of "Grosse Scheidegg", you will be most of the time alone. And that's why I mention "Grosse Scheidegg" as a great hiking trip to do from "Grindelwald First".
By the way: If you say, you want to see the mountains more closely, you can take the funicular up to Jungfraujoch. You can also choose the newly opened "Eiger Express" and saving more than 40 minutes to the Jungfraujoch. The famous mountain top has a broad range of luxury restaurants with a great customer service. Getting a view of the environment and the glaciers from the restaurant's top is a moment on its own, pure bliss.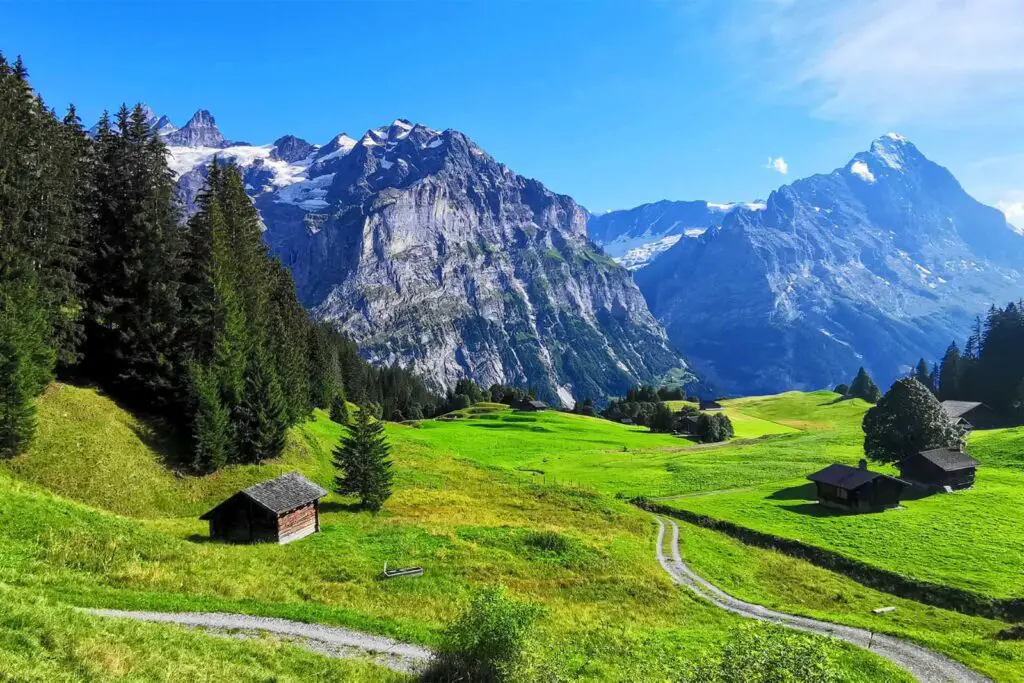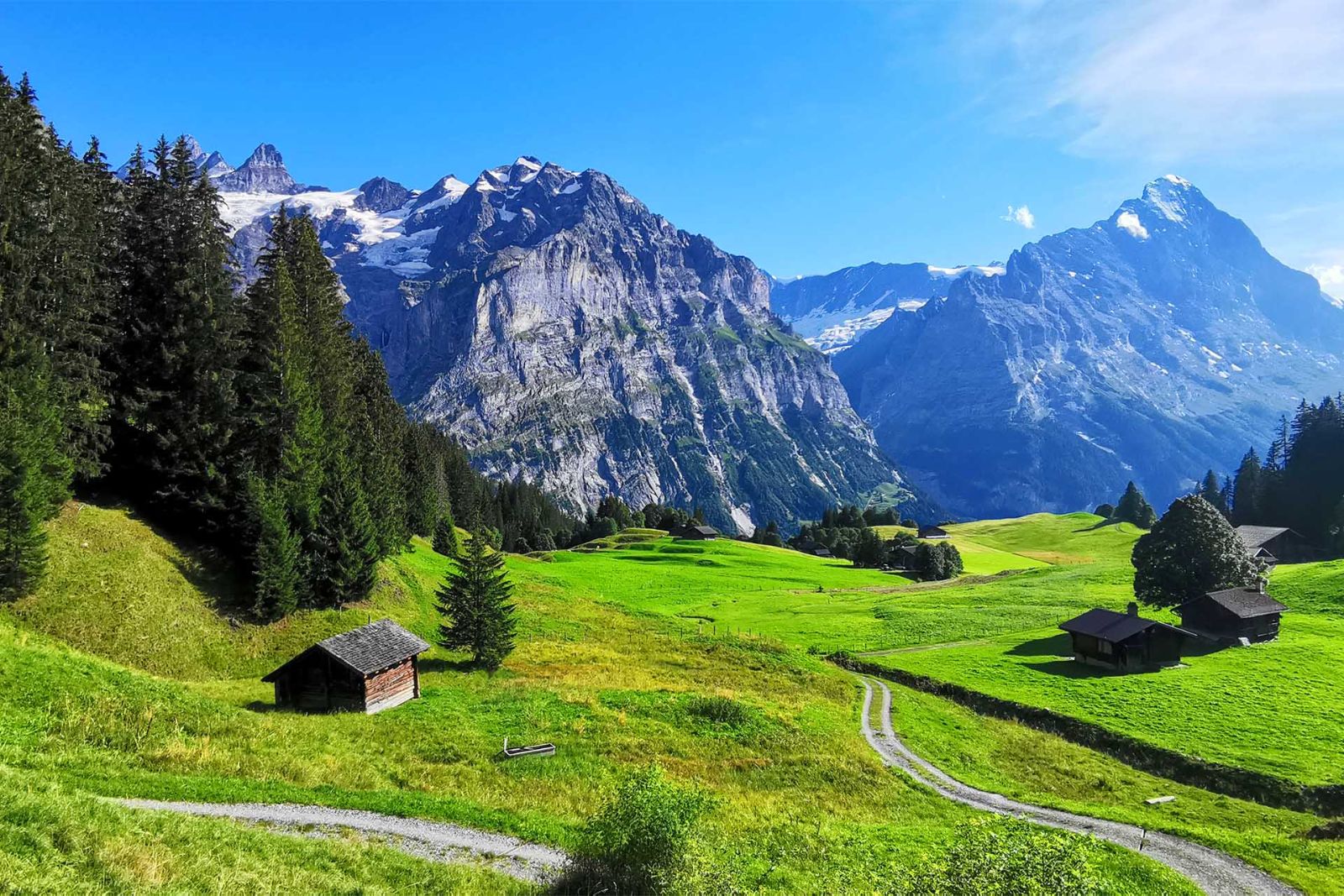 5). Hike from Grindelwald First to Grosse Scheidegg
That's one of my great tips in this Travel Guide: The hike from First to "Grosse Scheidegg". It takes around 2 hours and is a scenic mountain dream above Grindelwald Switzerland. The roaring waterfalls, the ice from the glacier, huge rocks, high mountains, and deeply forested countryside makes the place a destination to stay. And of course, don't forget the sound of cowbells that will accompany you during this hike.
The green forests and the pretty flowers near the glacier make the place very attractive. If you love flowers I recommend to go to the place before the cows come up into the mountains. This will be around end of June normally. The thing is, they will eat most of the flowers which means you will experience a much lower biodiversity.
The hike is a great activity to experience a Swiss scenic hike with cows and amazing views. Furthermore, the hike is suitable for almost any person, including children or families.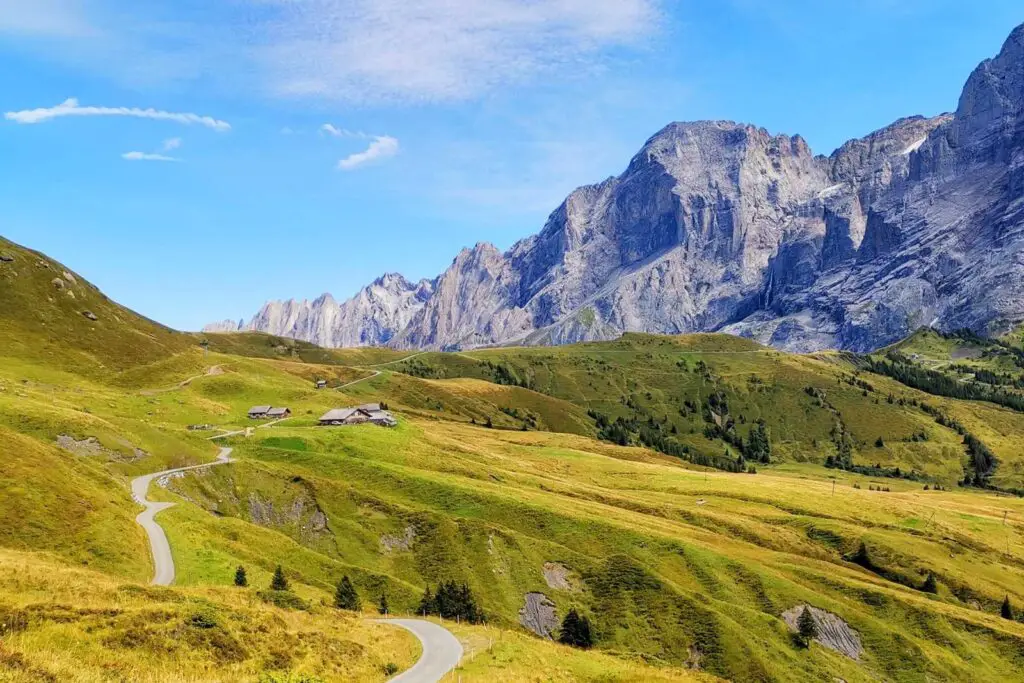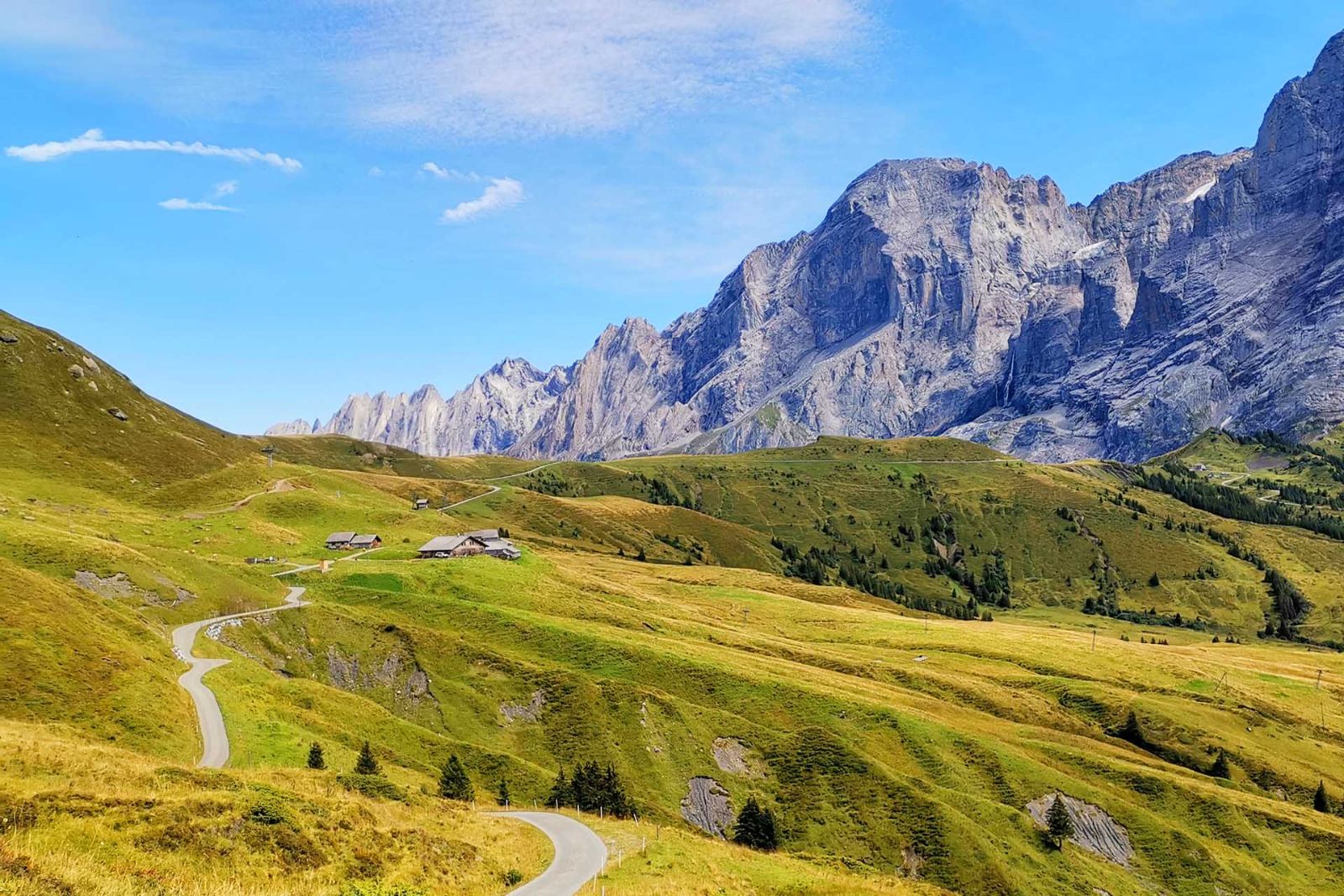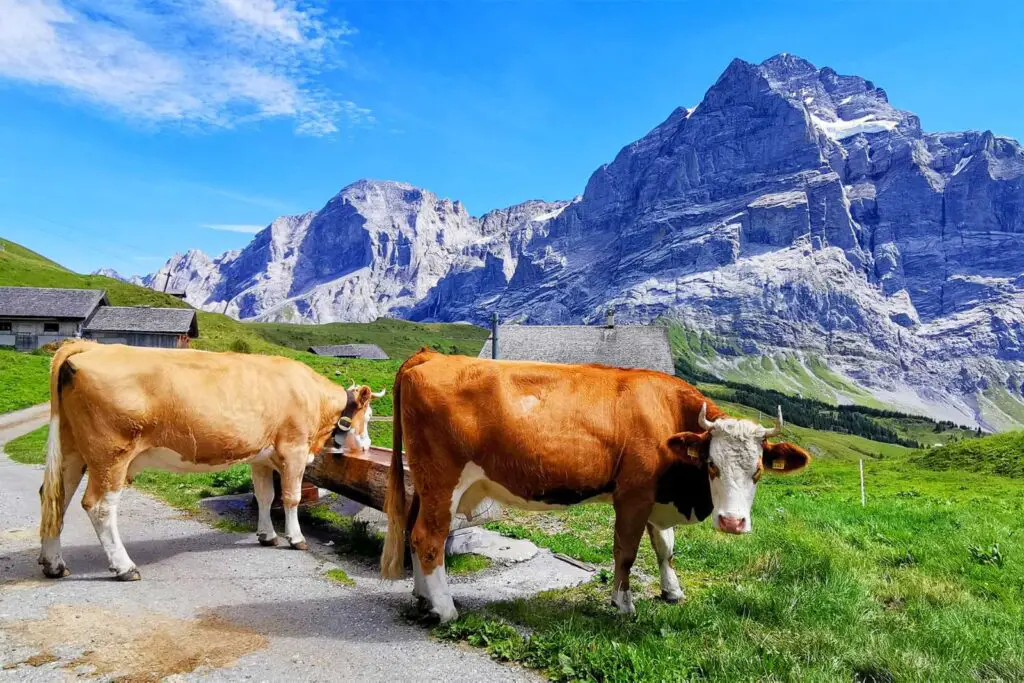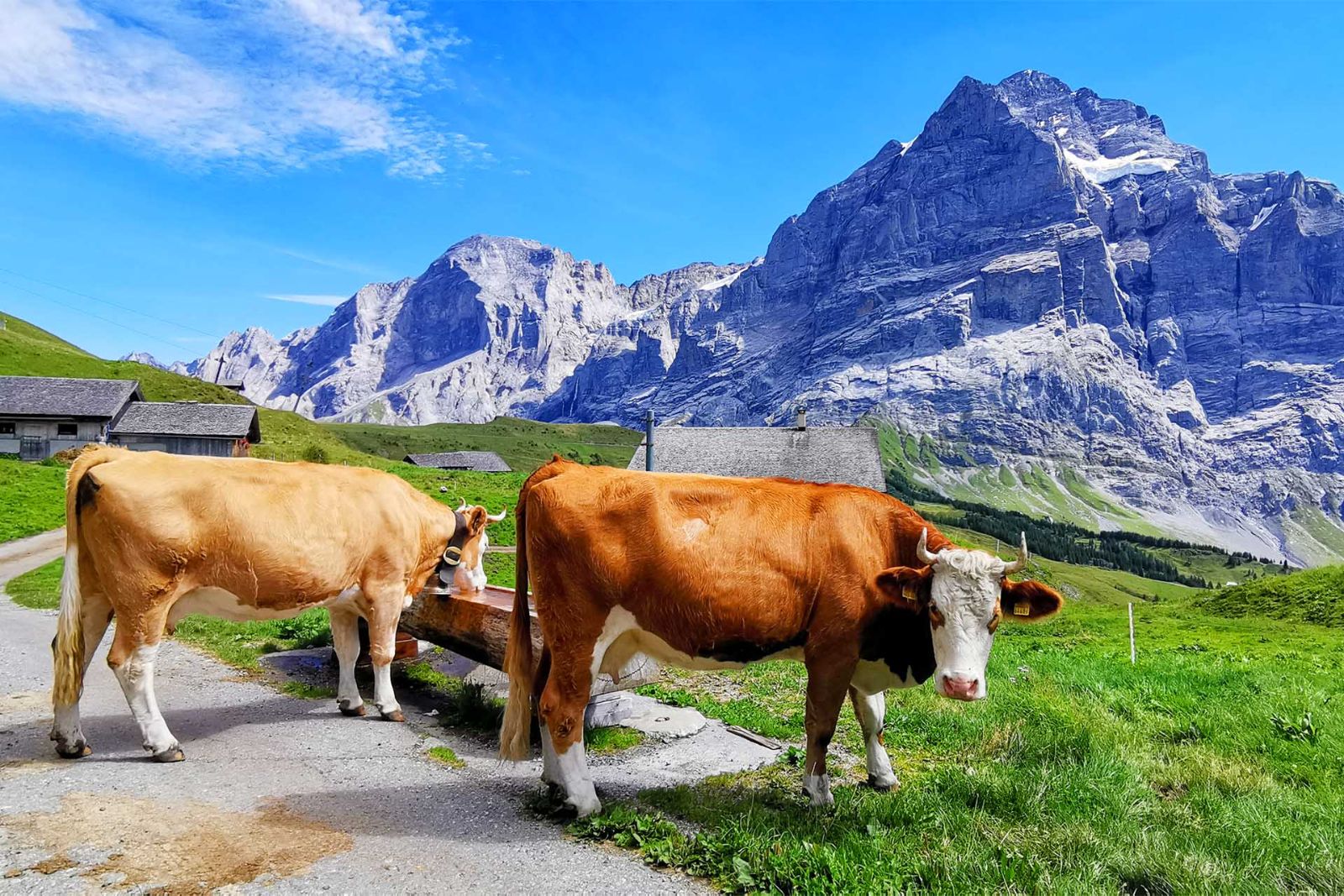 6). Skiing in Grindelwald First
The ski area of Jungfrau region is with a total of 214km one of the biggest winter destinations in Switzerland and perfect for any snow activities. In total 3 ski areas are waiting for you in the Jungfrau Region: Grindelwald First (56km), Grindelwald-Wengen (103km) and Mürren-Schilthorn (56km). Every area has it's own beauty and but in this article we stay at Grindelwald First. Below this link you can find all the actual information about the opened ski slopes, ski lifts, sledding slopes and snow hiking paths.
7). Longest Sledding run in the world (combined with a snow hike)
If you are up for a great sledding adventure our Grindelwald First Guide highly recommends you the 30 minutes walk from the cable car station to Bachalpsee lake. The lake will be frozen normally in the winter but from there you have an amazing sledding run down to Grindelwald. What a great activity as we have been a minimum of 25 minutes on our sledges. In case there is not enough snow, you probably have to do the last part by foot which might be the reason in early spring. It's better to ask in the tourist center for the conditions but in winter mostly the conditions are great.
If you are in good shape and yes, I mean in a really good shape, then I have the ultimate activity in Grindelwald for you. First you hike to Faulhorn, which take you around 2.5-3 hours. 
From there you have the longest toboggan run in the world with more than 14 kilometers! This means you are a minimum of 30-45 minutes on your sledges depending on the speed you have and the stops you are doing. That's a crazy adventure, I promise you!
Ask first "Grindelwald Tourismus" if the hiking and sledding run is open, sometimes there is not enough snow or too much snow (avalanches).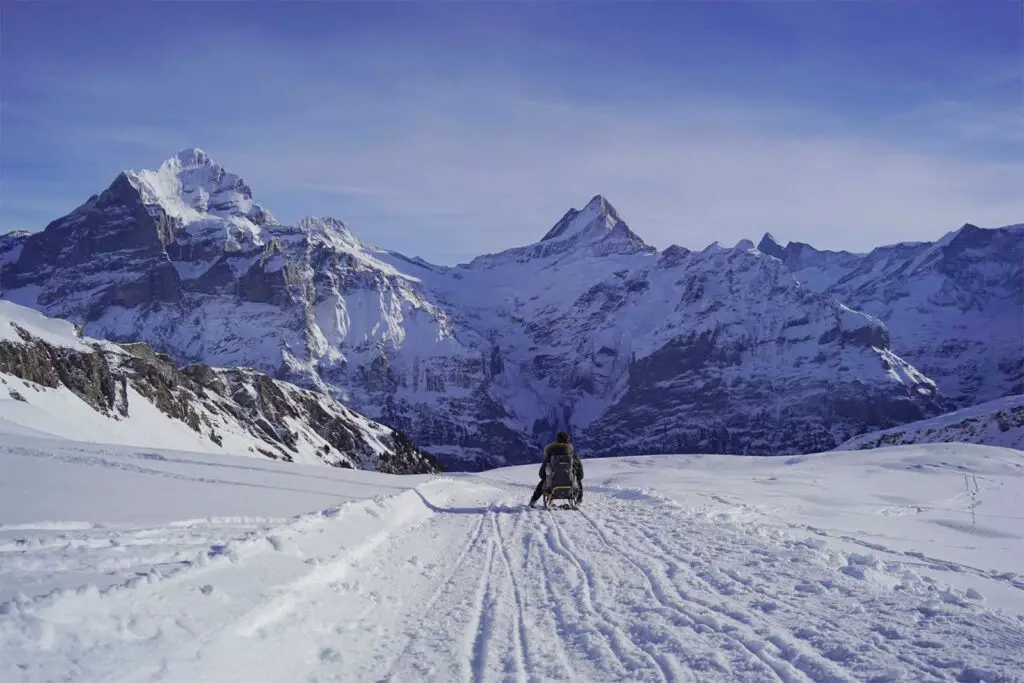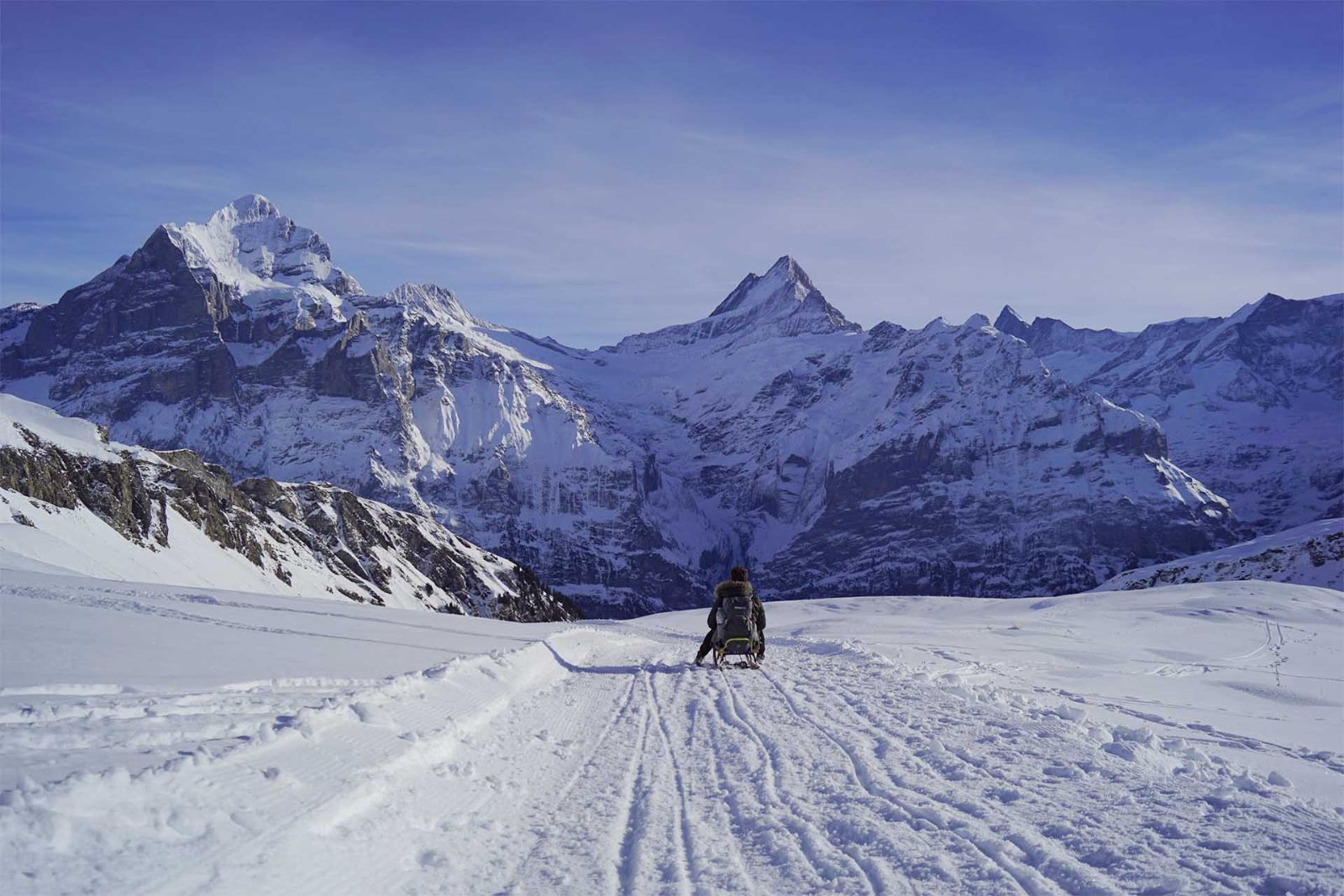 Final thoughts about Grindelwald First
"Grindelwald First" is the perfect place and area to visit during your Switzerland vacations. Whether going on the touristic places like the famous Lake Bachalpsee, Cliff Walk or to do a rather unknown hike to the Hagelseeli, it has a wide variety of outdoor activities and place to visit for any visitor, no matter the season.
Whether it is summer or winter, the region around Grindelwald First is worth your time! Spend one or more days here and get to explore Grindelwald differently. To visit the place within a day trip from Zurich is also possible. You will reach the destination in 2 hourse and 50 minutes.
If you want to discover more beautiful places in Switzerland, we highly recommend to download our free e-Book.