Get to know 7 of the best spots where to see glaciers in Switzerland without hiking for hours.
Pictures and text by Marc Gottwald
Glaciers in Switzerland
To explore Switzerland is always exciting, because it is one of the most beautiful countries in the world. There are lots of amazing locations to explore, not to mention a plethora of glaciers. Not many of them are easy accessible but in this article we will show the ones which are. This means you don't have to go hiking for hours and hours. With that in mind, I will show you some of the ultimate spots for seeing glaciers in Switzerland. All of them are amazing and belong to my favorites in Switzerland. For each place you will receive insider tips from me, so that you can enjoy the moments away from the crowds.
1). Morteratsch Glacier (an easy to reach glacier in Switzerland)
If you scroll over the map of Switzerland, you'll notice that the Morteratsch Glacier stands out quite a bit. Fortunately, it's easy to reach the glacier because of the Bernina train line between Tirano, Italy and St. Moritz, Switzerland. The great thing for travelers is the fact that the train journey passes lakes, mountains and glaciers. It's a breathtaking ride that you can explore and enjoy on your own. Since it is a train ride up to 2253 meters above sea level, it is definitely worth the experience.
In summer, the Bernina train line has even some observation coaches without roof (between 2 and 3 coaches). This means if you love to take pictures this is the very best moment to shoot an tremendous amount of great fotos. Honestly, for me it's the best train line to take in Switzerland as it covers everything from mountain cities like St.Moritz, Samedan or Tirano to beautiful lakes and glaciers.
A wonderful glacier in Switzerland
One of the stunning places is the Morteratsch glacier. Seeing a natural wonder without having to hike for hours and hours is simply unique. Since the Morteratsch Glacier is a sight to behold, it's a great idea to reach it with the Swiss train, it will give you an extraordinary experience and plenty of exciting moments. You definitely need to consider giving it a try, especially in case you have an adventurous soul.
If you love hiking or even come for hiking to Switzerland, then I give you an ultimative insider tip. Instead of doing the comfortable easy 30 minutes walk to the glacier tongue, you can go for a 2 hours hike to the Chamanna da Boval CAS. There you enjoy an incredible view over the ice and mountain peaks like the stunning Piz Bernina.
If you have time I recommend to do further stops on the Bernina Railway. One is for sure at the Lago Bianco (train stop: Lago Bianco) where you can walk in around 1h 20 min to Alp Grüm. Also the little village of Poschiavo is a sight to see.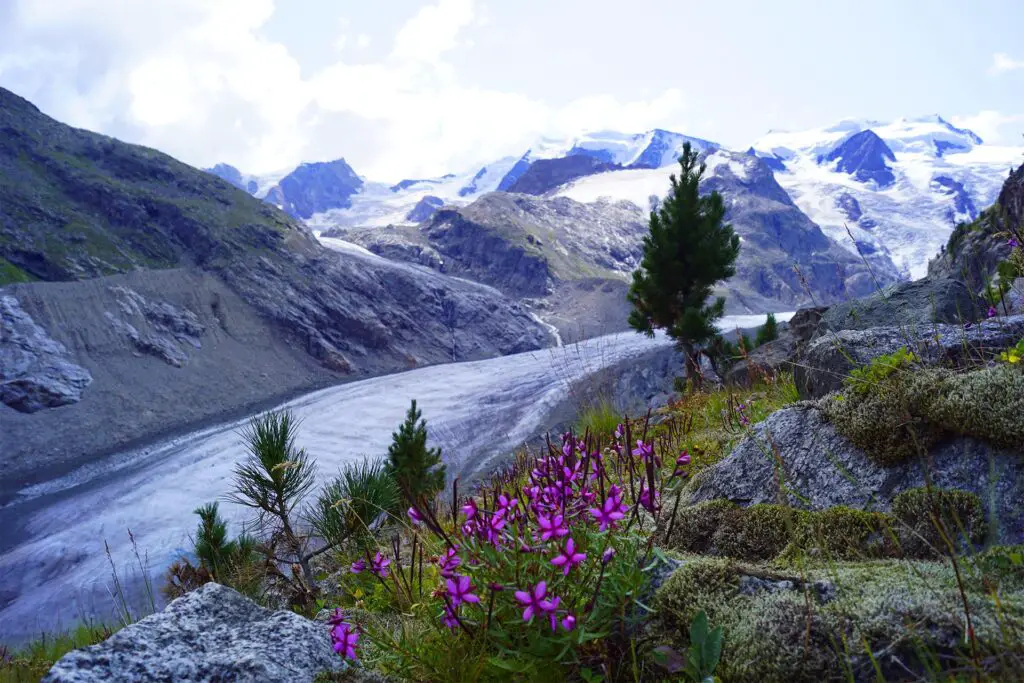 2). Aletsch Glacier – the biggest glacier in Switzerland
There are many reasons you want to visit the Aletsch Glacier, and the main one is that this is the longest glacier in the Alps. It's around 22 km in length, and a sight to behold on its own. The place has jagged and sharp edges and does have a massive lateral moraine where there's also a trail on it (just for experienced alpinists). On top of that, the glacier itself has 11 billion tons of ice, and is also 900 meters thick.
Furthermore, the place is easy to spot on the Switzerland map, since it has 86 square km, so it's huge. You can take the cable car to visit the place without having to hike for a long time. This helps you save a lot of time that can be used browsing and exploring the glacier at your own pace. It's one of the Swiss glaciers where you will spend your time for hours and hours, especially since it's so long and visually impressive.
I recommend to take the train to Mörel, where you can take the cable car up to the Riederalp. There you switch to another gondola which brings you on top of the mountain of the Moosfluh. From now on you have one of the most impressive mountain panoramas of Switzerland. During the whole hike you see the 22km long tongue. You can hike to the Bettmerhorn, which is very easy. If you are a good hiker (alpine trail) you can even continue to Eggishorn.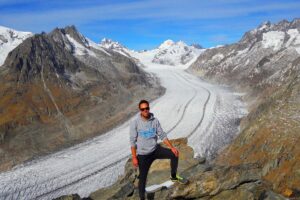 3). Rhone Glacier – one of the most beautiful glaciers in Switzerland
Like the Aletsch Glacier, also the Rhone Glacier is located in a valley. It is situated in the NE of the Valais canton. The Rhone Glacier itself has around 8 km in length, and the width is roughly 2 km. It's important to note that the place covers roughly 15 square kilometers. It has become a major tourist attraction during the 19th and more specifically during the 20th century. 
It's said that the ice might actually disappear until the end of this century. In Switzerland, the ice volume shrinks every year around 2.5%. Here, a link to the Rhone Glacier, how it looked 1875. Therefore, the spot is one of the most researched glaciers in Switzerland. Especially my former university ETH Zurich is known for it's glacial science. They have tested if they can reduce ice melting when covering the tongue with a 100 metres long white towel.
One of the great things about Rhone Glacier is that once you get to it, you do have an amazing viewpoint. What you will notice however, is that there is an artificial ice grotto that has its own path. This is a great, pretty impressive experience on its own.
The place is easy reachable with a car ride from Andermatt (via Furkapass) or from Meiringen (via Grimselpass). Especially if you are doing a Swiss road trip this is the place to go.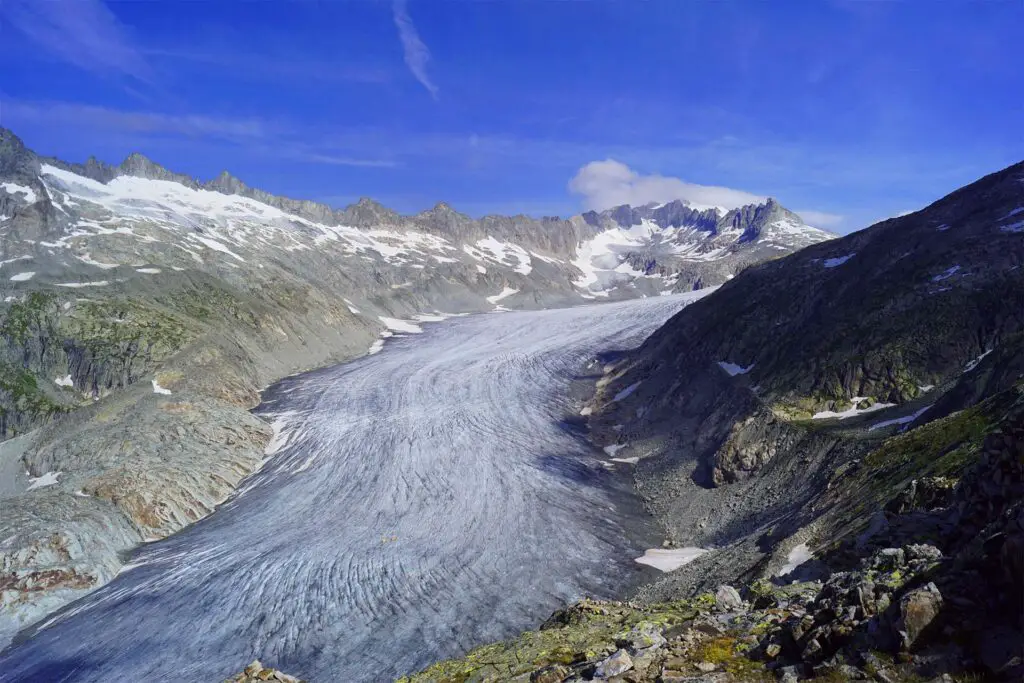 4). Grindelwald
If you do a day trip to Grindelwald, then you can see a variety of glaciers. You can see the Oberer & Unterer Grindelwaldgletscher but also mountains like Eiger, Mönch & Jungfraujoch. They are all a sight to behold, especially the lower Grindelwald glacier which is known for its unique visuals.
Thankfully, visiting the endless ice in this region is simple, mainly because you have multiple access points by train. You can go on bike runs nearby, you also have mountain carts, or you can just go for a walk. All of them are amazing experiences that a lot of people try, and they are indeed very beautiful. It doesn't matter where you are in Grindelwald, you almost have everywhere a stunning view.
Glacier world on Jungfraujoch, Top of Europe
If you want to come very close to a glacier there is the easy comfortable option that you take the train from Grindelwald to Jungfraujoch. This is for sure one of the most booked train rides in Switzerland. If you don't like the masses, then I have a great insider tip for you. And yes, even in the touristic Grindelwald you can find your own peace.
You take the cable car up to Grindelwald Bort or Grindelwald First. From there you start hiking in direction of Grosse Scheidegg. You barely see a lot of people on the way while always enjoying a huge Swiss mountain panorama. In summer you will also cross many cows, which is one of the sights in Grindelwald and overall Switzerland.
Granted, the glaciers in Grindelwald are just like others on a steady retreat, which is why it's important to tackle global warming as quickly as possible to prevent any such issues from happening. We don't want to lose these glaciers.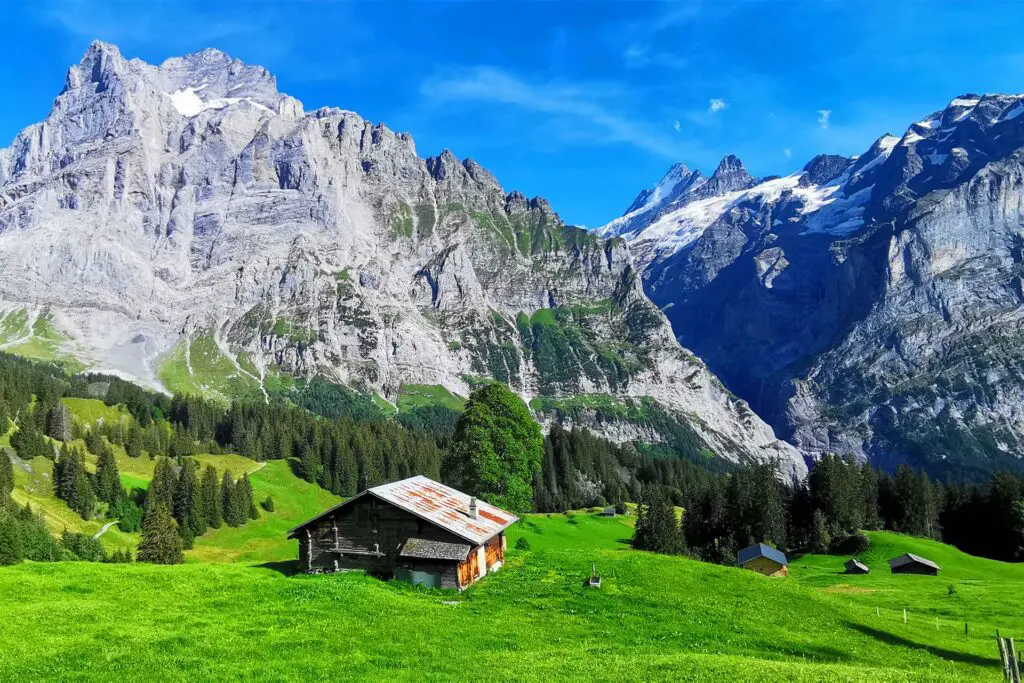 5. Mürren – stunning view on the top glaciers in Switzerland
Mürren is easy to access by train or cable car and you can find a lot of amazing mountains views. So if you are a fan of glaciers in Switzerland, this is by far one of the best places for you to explore and enjoy. In Mürren you don't have directly a glacier but it's much more the view which is so amazing. If you are a photographer or you just want to enjoy those unique moments of Switzerland, then you will love this! So: What glacier views can you find in Mürren? There are quite a lot of them.
First, there's the view on the Rottal Glacier which is known for its height and being quite hard to access. Combined with some mountain flowers or old wood houses it's the perfect picture. If you are up for an adventure and you want to access the place, then it's a lot of hiking (from Stechelberg) on an alpine trail which means that only very experienced hikers can access this glacier. There is even a hut for sleeping from the Swiss Alpine Club at 2700+ meters.
You can also check the view in direction to the Breithorn glacier. The mountain peak behind is the "Breithorn", the boarder to Italy. You can find a lot more glaciers in the Jungfrau region, which belongs to the UNESCO World Heritage.
My favorite hike in Mürren, Switzerland is the one to Gimmelwald. It's very easy and takes around 1h20min. You will find enough places to sit and relax and enjoying the scenic view. Honestly, it is one of the most beautiful hikes in Switzerland. If you want to go back to Mürren you can take the cable car.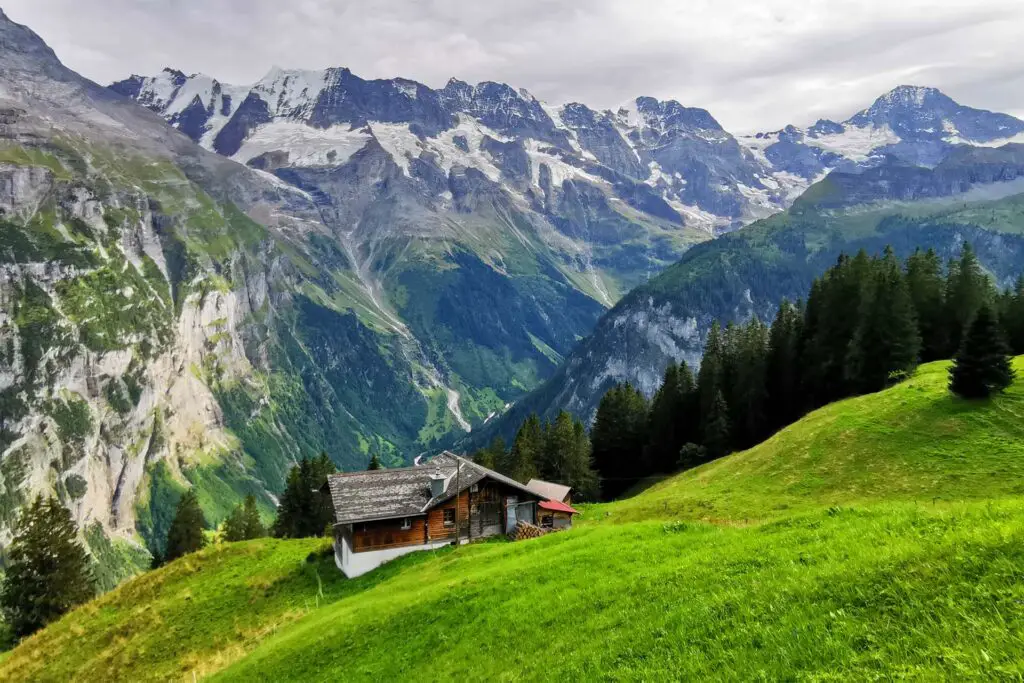 6). Sustenpass
The Sustenpass is by far one of the best places to see ice, while also having fun with some hiking and other great experiences. Thankfully, Sustenpass offers you easy access to many great places and hikes. It's by the way also a must to visit that place if you are doing a road trip in Switzerland. The place called Steingletscher has a length of 5 km, and people love it because it's easy to access, not to mention it looks downright amazing. On top of that, there are many interesting rock formations, a unique landscape and pretty much everything you can expect from a large glacier in Switzerland. There's also some wildlife, which you can sometimes see in the distance. However, it's another spot which suffered heavily from global warming, since the ice was 1 km longer during the 19th century.
If you are doing a road trip then it's a great tip to stop at the lake of Stein glacier and relax. You can even drive further to the end of the road to see two other glaciers. The region around Sustenpass is also a great tip to do a hike to hidden gems where you will see barely any people.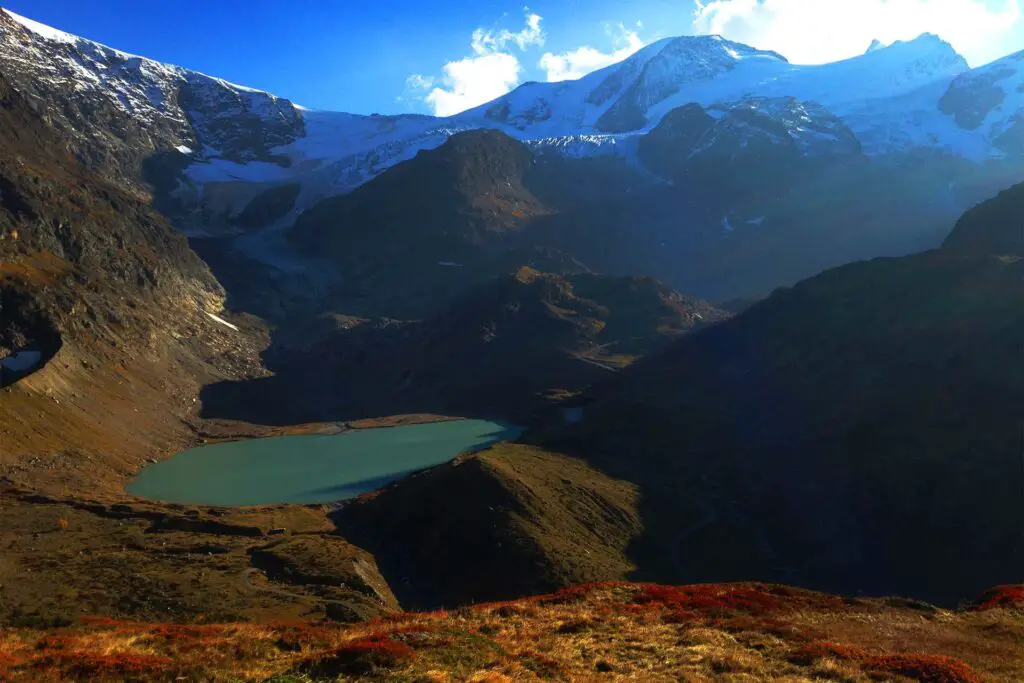 7). Engelberg
Engelberg is a very popular resort village and is famous for the mountain "Titlis". Named according to the mountain, the "Titlis Glacier" is located starting on the top of Titlis at a height of 3238 meters above sea level. The ice covers around 1.8 square km, but it's great to see. Furthermore, part of the ski area and chairlift. That means you can access the glacier very easily. Either you take the cable car up to the mountain or you can also observe the spot from Engelberg.
If you take the cable car from Engelberg to Titlis you can go walk through the ice grotto of the "Titlis glacier" or doing the spectacular cliff walk. It's also a great one day trip from Lucerne.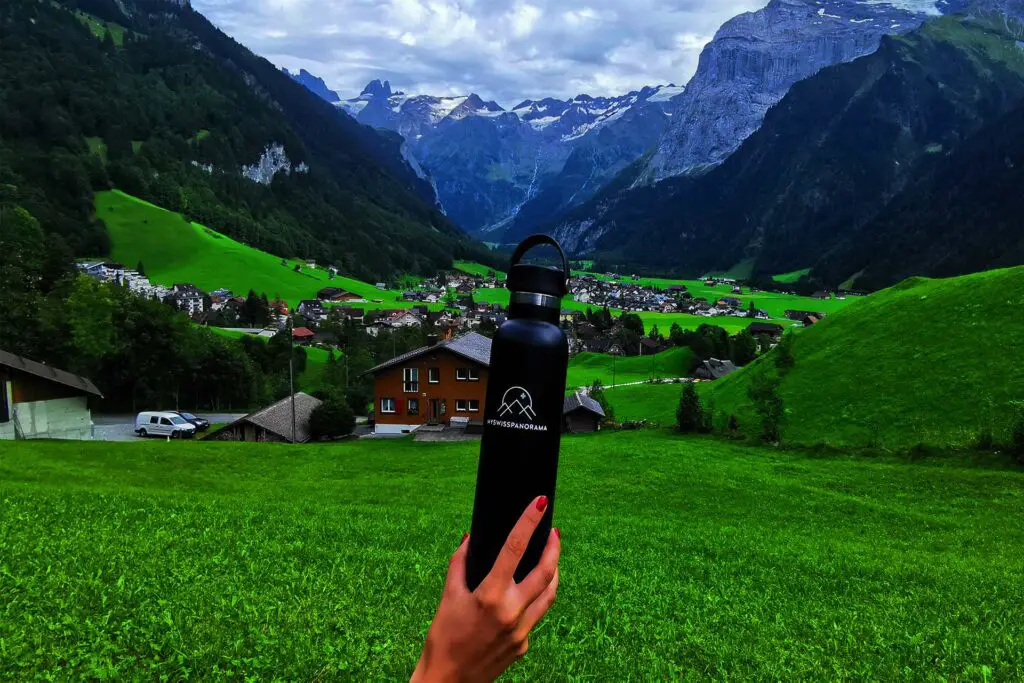 Conclusion Glaciers in Switzerland
If you want to see glaciers in Switzerland you should consider exploring and checking out some of these great spots like the Aletsch, the Rhone or the Morteratsch glacier. Due to global warming the ice is melting drastically. In Switzerland every year 2.5% of the ice volume are lost. Scientists say that most glaciers in Switzerland will be disappeared in 100 years. So it's not only time to see them but also to contribute to a more sustainable world.