Switzerland has so much to offer. This is great but makes it a hard choice to choose the best fitting places to visit in Switzerland. Therefore, I want to show you 14 favorite regions, where you can do your next vacations.
Text and pictures by Marc Gottwald
Traveling turns one into a storyteller. If you are devising your "to-do list before you die", we recommend you plan a visit to Switzerland. And if you have already planned your vacations in Switzerland or you are living here, I highly recommend to read this article till the end. 
With mountains over 4000m, Switzerland is known as the roof of Europe. The country is famous for its historical cities, wild rivers, snowy mountains, picturesque lakes. Switzerland extends beyond the Alps, lakes, meadows, and snowy mountains. Switzerland is so diverse in such a small space. This means Switzerland is the perfect place for Travel and Vacations.
Apart from natural beauty, the country is famous for chocolates, coffee, fondue, cheese, watches, culture, subway, and most of all Swiss people. 
Switzerland is also very attractive in terms of its culture and has many museums, farmer markets, local and national events that are an excellent way to meet and interact with people. Those who wish to explore this gem will not fail to find the best places to visit in Switzerland.
Are you trying to figure out where to go in Switzerland? Check out our top 14 list! We will show you the top tourist destinations for "Travel and Vacations Switzerland".
1. Zürich (Nr.1 City for Top Vacations in Switzerland)
"Zurich Switzerland", one of the most living-worthy city of the world! Directly situated at the beautiful "Lake Zurich", Zurich is probably the most known city of Switzerland besides Geneva. Not only for Switzerland tourists who arrive at Zurich airport it's worth to stay a view days, also for Swiss it's a city full of highlight. But not only this:
Close to Zurich and the "Lake Zurich" there are so many beautiful spots you can visit in just one hour, many of them are hidden gems, even most locals don't know. At those spots, where some are even natural wonders you hardly find any people. Some of those hidden spots we reveal in our free Switzerland ebook. 
In case you want a private tour with a local expert and enjoying the best Switzerland experiences of your life, you are here at the right address. We can make your Switzerland dream come true and create a customized high-end tour from Zurich or other places of Switzerland. We only fulfill the highest quality level, that's why we are guiding also guests from some of the best luxury hotels of Zurich. Find out more here.
I want to show you know with three spots, how beautiful the region of Zurich is.
It's not a secret that I love the "Lake Zurich". Already in the city of Zurich you have so many beautiful spots to relax at or eat in a restaurant. A few examples are the "Bellevue" or the "Chinawiese".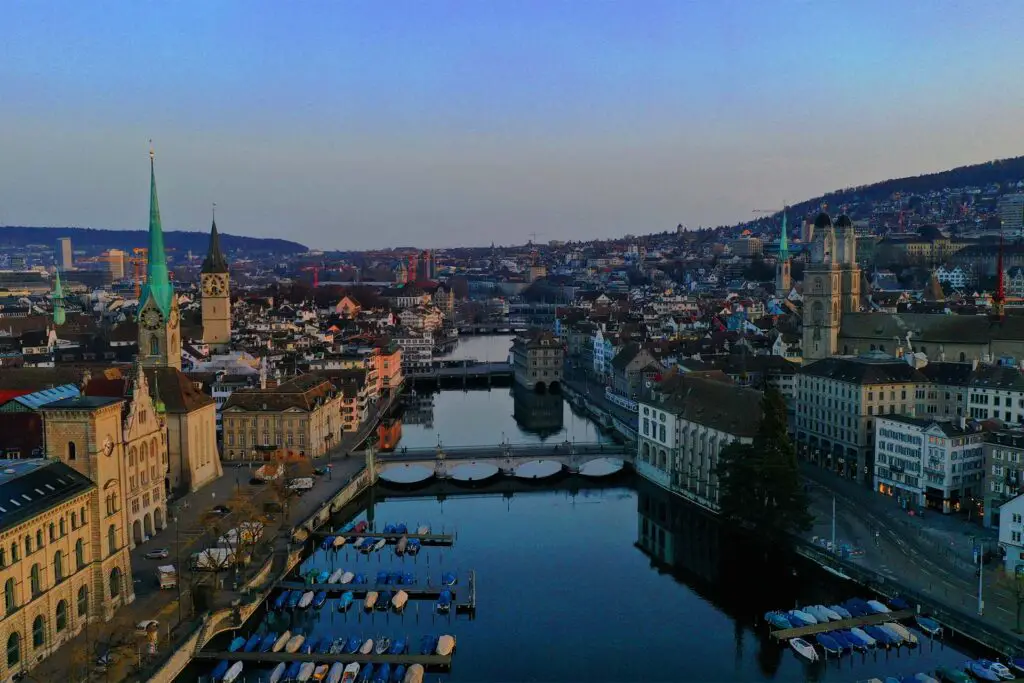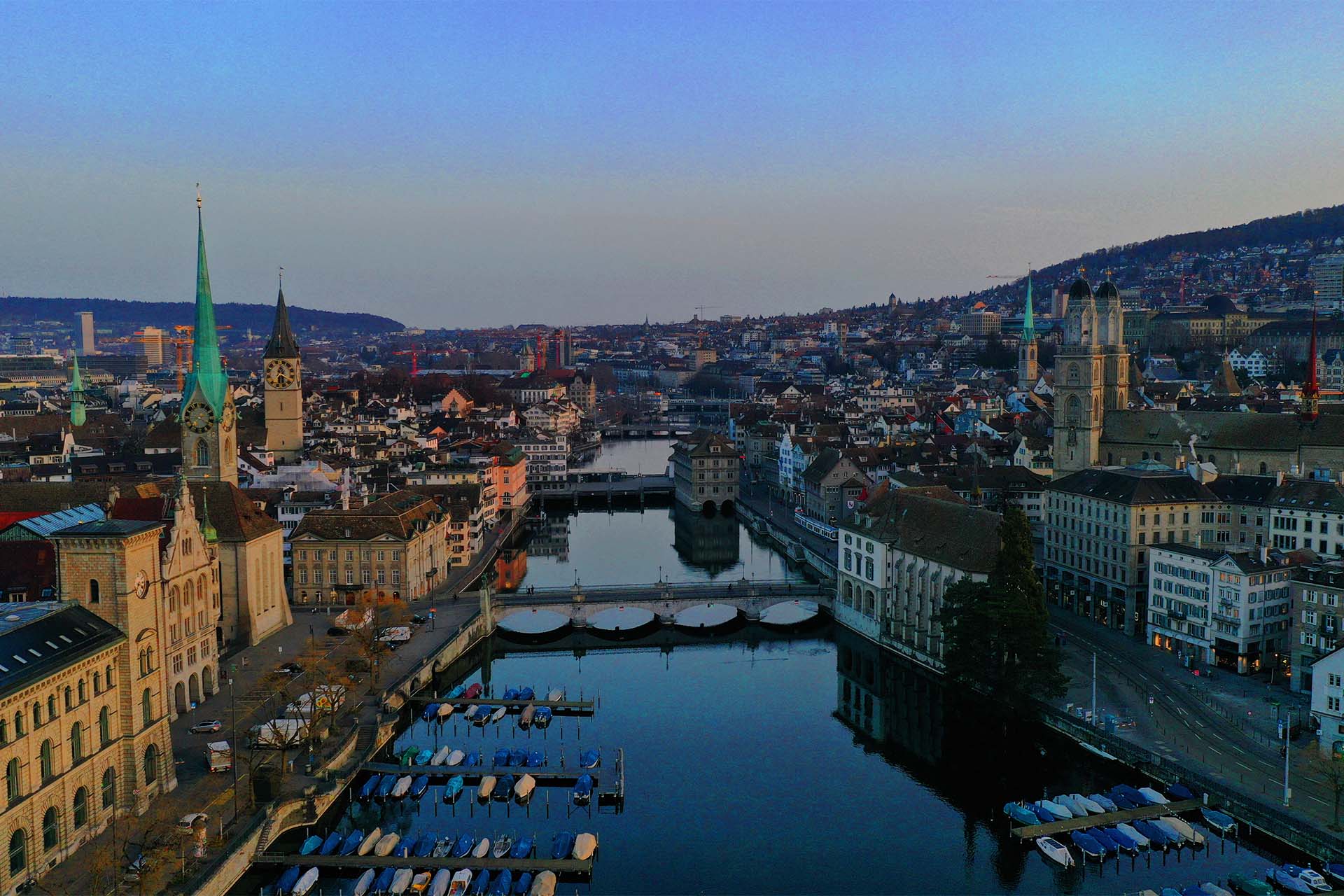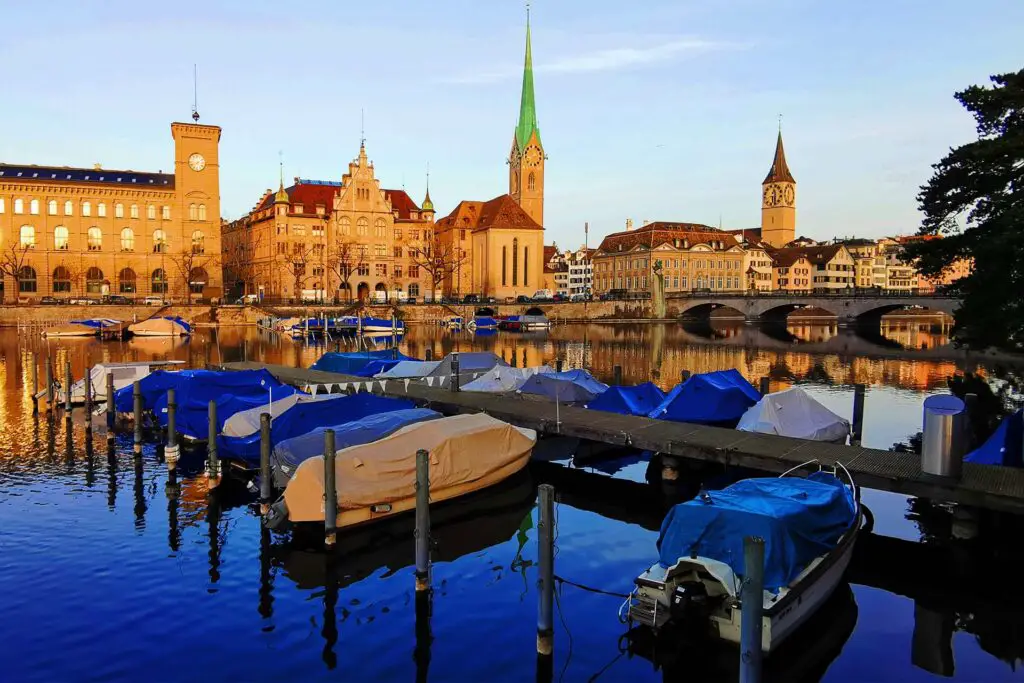 But the "Zurich Lake" offers much more than that. On some places you find a wood brigde path for example in Rapperswil which is sometimes over the water. With the water, the beautiful view it is such a beautiful experience and highly recommended.
Destinations to visit near Zurich
One of the other places to visit in Switzerland near Zurich are the Seerenbach Falls a waterfall at "Walensee" or "Lake Walen", Switzerland which is considered the highest cascade in Switzerland. It is easily accessible from Weesen by car or by foot. Trust me, the lakeside walk is wonderful and so peaceful! You even must pass some tiny tunnels to get there.
By the way, did you know that the "Zurich Lake" and the Walensee have been once one huge lake with over 80 kilometres length? It is hard to imagine! Due to the sedimentation process of material brought from the alps, the two lakes slowly got separated. That's why the part between Lake Zurich and Lake Walen is so flat.
Well, moving on, you can see the waterfall from a long way. The waterfall has in total three steps with a height of more than 600 metres together. The "Seerenbachfälle" at lake Walen is a great place to hike with your family. You are surrounded by the lovely sound of falls when you are approaching your destination. What's great about hiking is that the trail is not very steep. Most of the way is flat except the very end (last ten minutes).
Very close to the waterfall you also find a beautiful farm called "Landgasthof Paradiesli" where you can eat something typical Swiss, of course with regional products or directly produced on the farm. For a family the perfect experience on a day trip from Zurich.
Lake Klöntal – a must see in your Switzerland Vacations
A third place to go in your "Switzerland guide" from "Zurich" is the Klöntalersee. I have been so many times at the Klöntalersee and it's high on my bucket-list worthy places to visit in Switzerland! Klöntalersee is a big, beautiful lake in the middle of the glarus alps and a reservoir for electricity production.
It is a quiet spot for picnics and walks. You'll be fascinated by how beautiful this place is. You will have the chance to view very steep mountains with numerous waterfalls. 
On one side of the lake, you have the main road, which is also a bus route, and on the other a hiking trail. There are plenty of other tourist attractions nearby that you can visit. If you are in Zurich Switzerland and have enough time, it's definitely worth to visit the surrounding region.
2. Zermatt Switzerland
A village with a rich history is "Zermatt" which is situated at the end of Matter Valley. With conifer forests, skiing, and some of the highest peaks of the Alpine range. Zermatt is a favorite place for doing Travel and Vacations in Switzerland. If you walk around the town of Zermatt, you will find many original buildings and a catholic church from the 1800s still standing. This place is surrounded by high snowy alpine peaks, some of them can be easily reached by cable car. Especially in summer you can find a lot of beautiful and comfortable hiking paths when you descend. Of course you can hike also the other way round. 
There are so many hiking possibilities in Zermatt. One is the favorite 5-lake-trail, where you have a beautiful view from all 5 lakes to the Matterhorn. During the day you will have a lot of tourists there.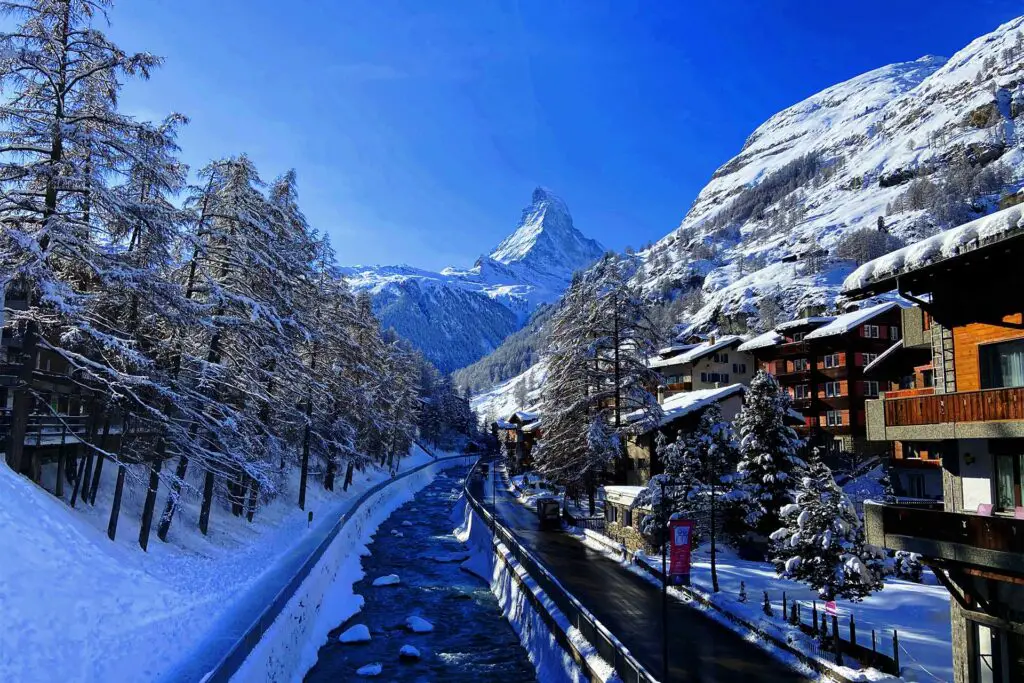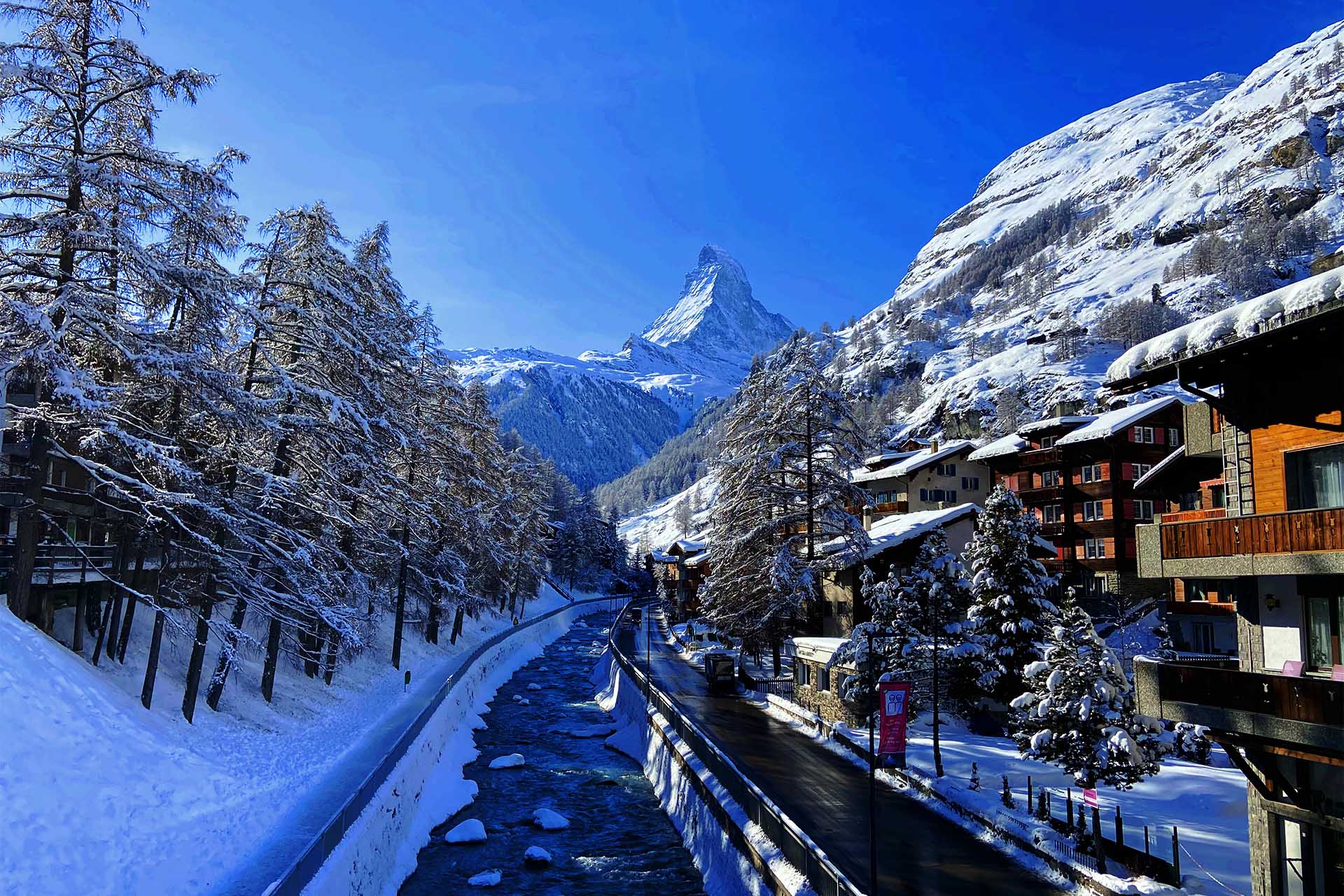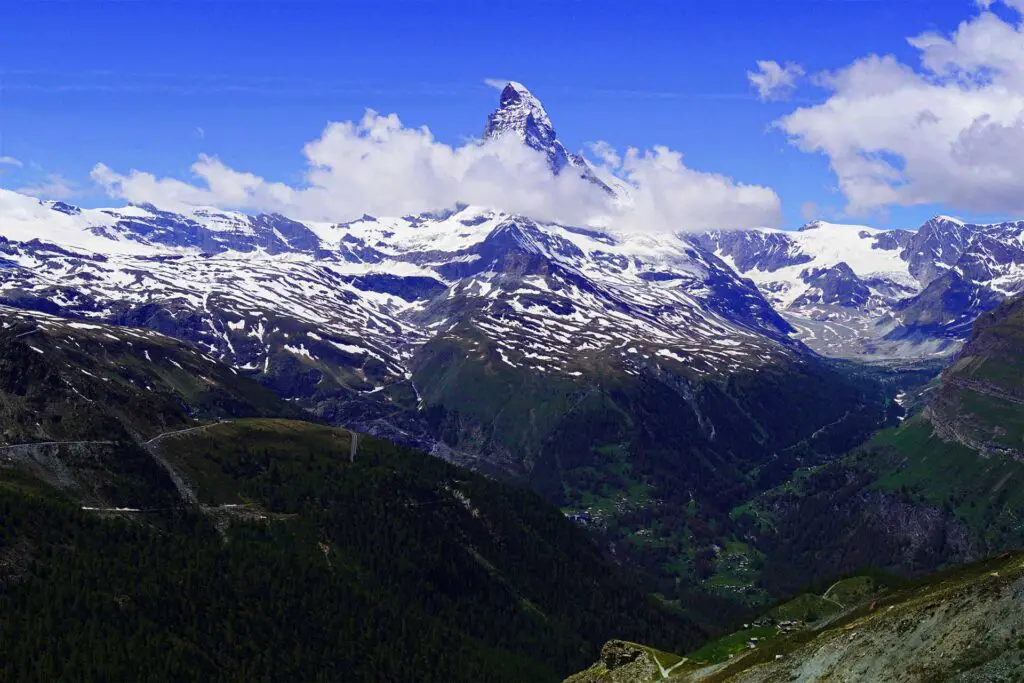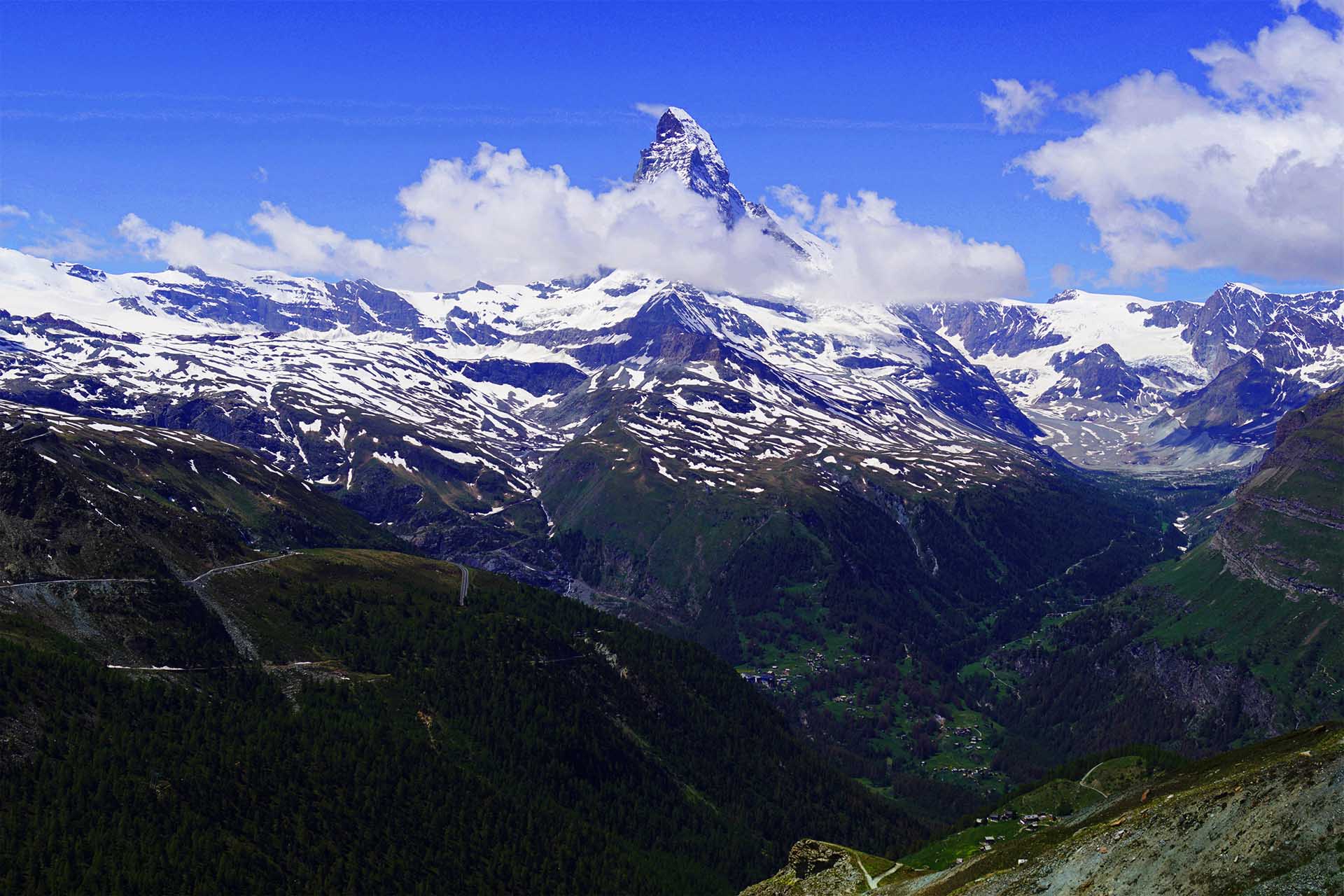 This town is accessible by panoramic train lines that link it to the outside world. Klein Matterhorn, Gornergrat, and Sunnegga, around Zermatt town can be visited in clear weather by cable car and rack rail.
Uncrowded places in Zermatt
You want a place which is more calm? Then I tell you one of my favorite hiking trails in Zermatt Switzerland. Take the cable car to Trockener Steg. From there you hike in direction to Schwarzsee. It's a very easy hike which takes around 1.5-2 hours. But what you see there is just unbelievable! You are right next to the Matterhorn of Zermatt. It's not just a 5-lake-hike, no it's a 15 lake hike! Not even this, you also see many glaciers! One of the most beautiful hikes and places to visit in Switzerland.
If you ever get the chance to visit Zermatt in winter, you absolutely cannot go back there without skiing, which is then the main tourist attraction. The city is situated around 1600m above sea level. You can ski even in summer in Zermatt! It's the only ski area in Switzerland, where you can ski 365 days a year! Due to this reasons I already have seen many ski stars from other nations like Canada, Korea or Kazachstan, which are doing their training in Summer and Autumn in Zermatt The unique feature of doing ski in Zermatt is also that you can ski freely across Switzerland and Italy!! 
Are you looking for the best hotel in Zermatt Switzerland? Yes, there are plenty of them. One of my favorites is the Matterhorn Focus Hotel or the Riffelalp Hotel. In both wellness hotels you have a suberbe view on the famous Matterhorn and the comfort and friendliness is outstanding.
3. Mürren
Ever heard about Mürren? Probably not, because in this region especially Lauterbrunnen and Grindelwald are the most famous places to visit in Switzerland. But honestly, it's probably the most beautiful villages of the Swiss Alps and my personal favorite for doing vacations in Switzerland. A must for every travel trip! The charming Mürren is one of the only car free villages of Switzerland besides Zermatt, Bettmeralp and Braunwald.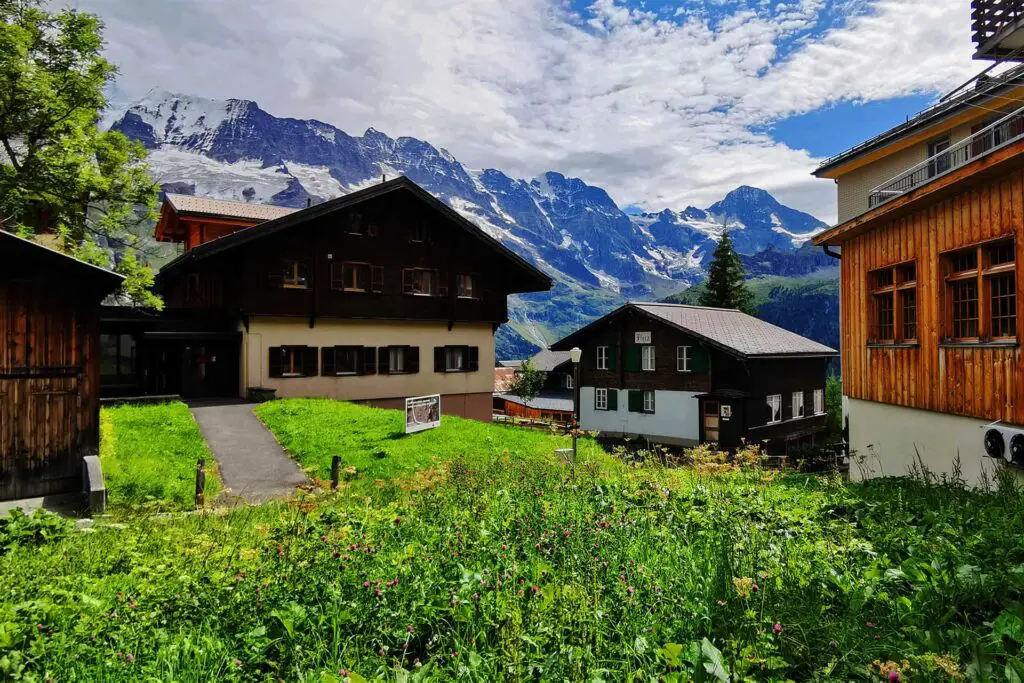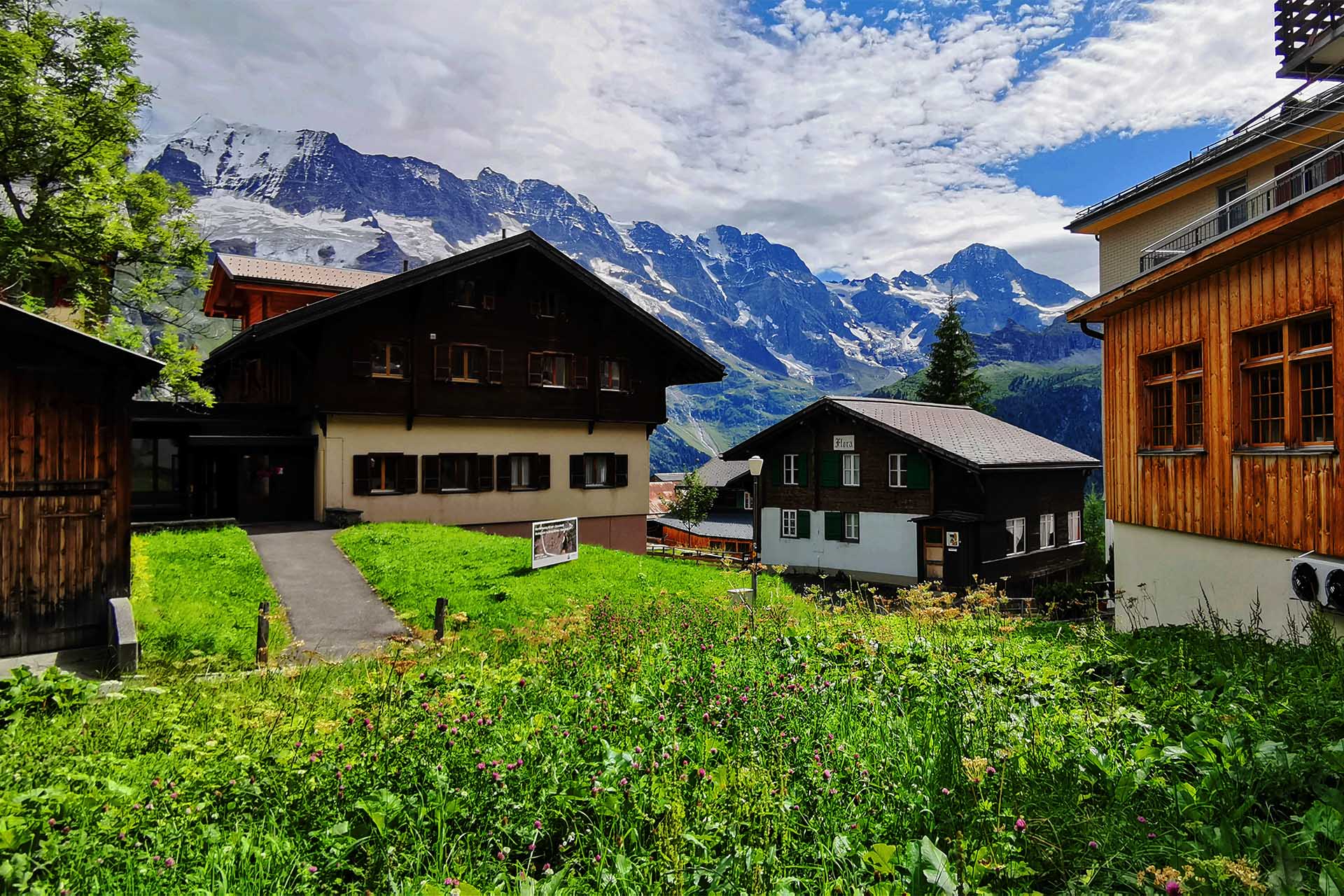 With a total of 450 residents which live the whole year there, it's a little mountain village, the rest of the people comes with the tourism. But what I can tell you: a destination like Mürren is absolutely hard to find. Without any traffic and noise but with an overwhelming mountain panorama, this eco-friendly town can be your destination in Switzerland if you are seeking inner peace. Murren is famous for the view on Eiger, Mönch and Jungfraujoch. With eventful summers and sporty winters, I suggest you add Murren to your bucket list of Switzerland.
One of my favorite scenic hikes in Switzerland is the very easy walk to Gimmelwald. This destination you reach in just one hour by foot and awards you with a dramatic mountain view on some of the highest peaks in Switzerland. In winter you can even sledge down to Gimmelwald – that is huge fun I promise! For wheater lovers, this is the place to be. 
Sometimes the wheater changes really fast, which is normal for the alps. But then the clouds are so close to you that you could almost reach them and feel them. Dreamy!!
4. Lake Thunersee Switzerland
Clear water, historic buildings, green pastures, and a wonderful scenery are only a few reasons to visit the Swiss Lake "Lake Thunersee".
"Lake Thunersee" may be a place to relax during a day or longer. Deep blue lake Thun blends naturally in the spectacular mountain scenery of the Niesen or famous Eiger, Mönch and Jungfrau. A boat trip from Thun along the lake in direction to Spiez or Interlaken is an excellent way to discover the region at an enjoyable pace. Therefore, if you have not decided to visit this beautiful region, you should.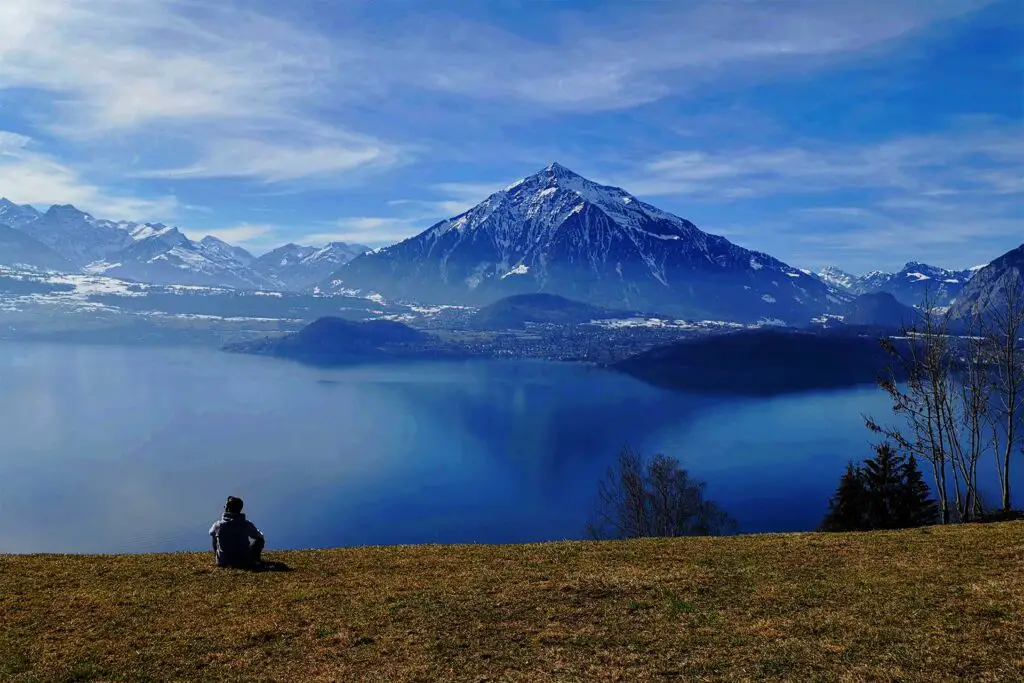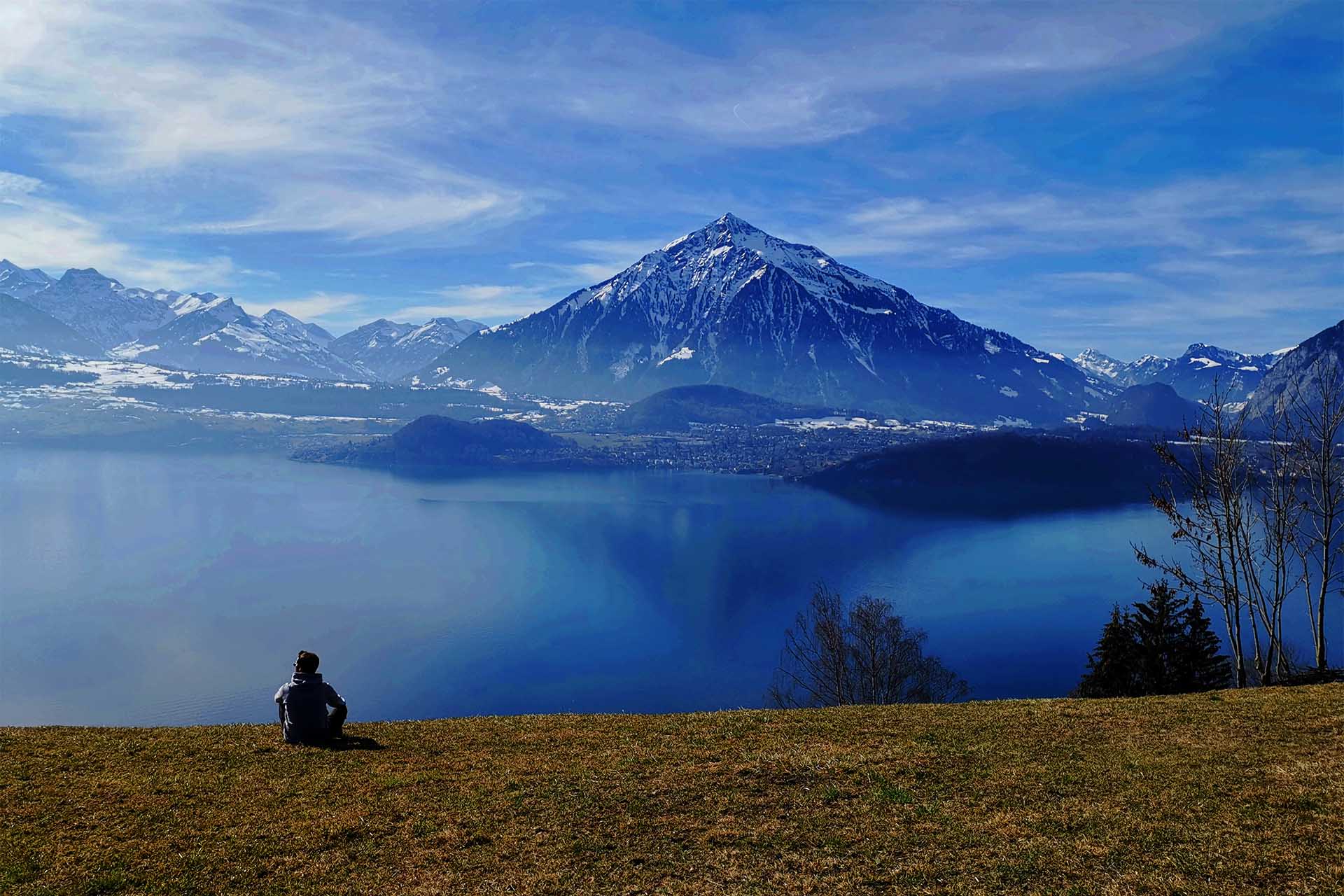 What else you should do at "Lake Thun"? I reveal one of my secret tips:
Above "Lake Thun" there is a beautiful village called Sigriswil. From there you can easily walk down in around 1h20 to Gunten. It's my favorite hike over Lake Thun. Why? Because you have an endless scenic hike and view on all the mountains which are reflected in Lake Thun. I stayed already a few times in Sigriswil for my vacations in Switzerland.
Thun, the town located at lake Thun
But also the town "Thun" is beautiful and has so much charme. Some of the historic buildings are dated back to 1200 like for example the castle of Thun, where you can find inside a museum. The most impressive about Thun is the endless beauty combined with the local coolness. At the Mühleschleuse you can observe some surfers, which are surfing near the beautiful spot. And I tell you, they even do that in winter when the water coming from the Lake Thun is ice cold.
Other attractions around Lake Thun are the Giessbach falls. This waterfall has in total over 14 steps before it goes into the lake. What I like most about this waterfall is, that you can even walk behind the falling water. That is so impressive. 
The town of Spiez, Oberhofen Castle, Thun Town Church, and Spiez Castle.
5. Lauterbrunnen Switzerland and the Valley of 72 Waterfalls
"Lauterbrunnen Switzerland" is a piece of paradise with a population of only around two to three thousand inhabitants and only 20 minutes away from Interlaken. The small town is nestled in a textured green valley of trees and has 72 waterfalls, the so called "Lauterbrunnen Valley". This wonderful land is surrounded by steep cliffs and massive mountains, some of the walls are going up more than 600 metres! That is so massive. You will see waterfalls in profusion, snowy peaks and glaciers from and Lauterbrunnen.  It's one of the best places to visit in Switzerland.
When you think of Switzerland, you probably think of something similar to Lauterbrunnen — a mystical land of snow, water, towering trees, and clean air. You got that right. You can't comprehend what makes Switzerland so incredible as long as you don't see it on your own. Even all the videos and pictures you can see on Instagram are not the same.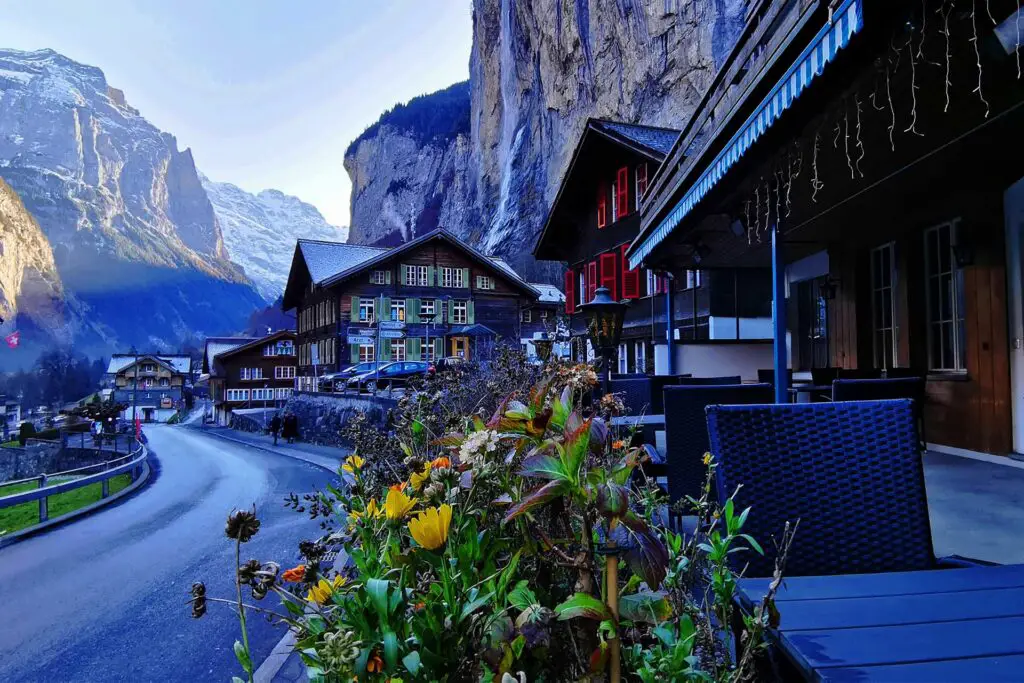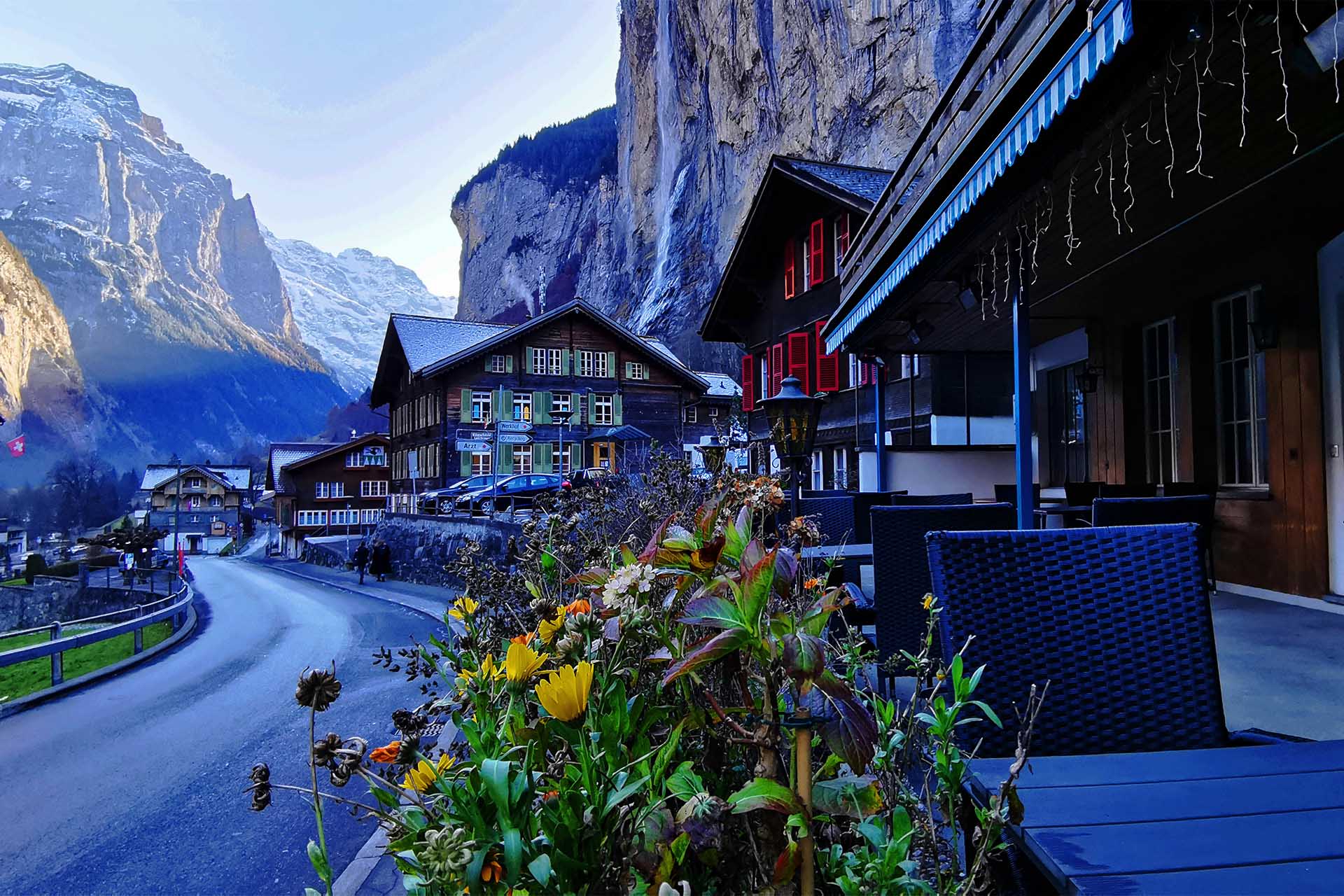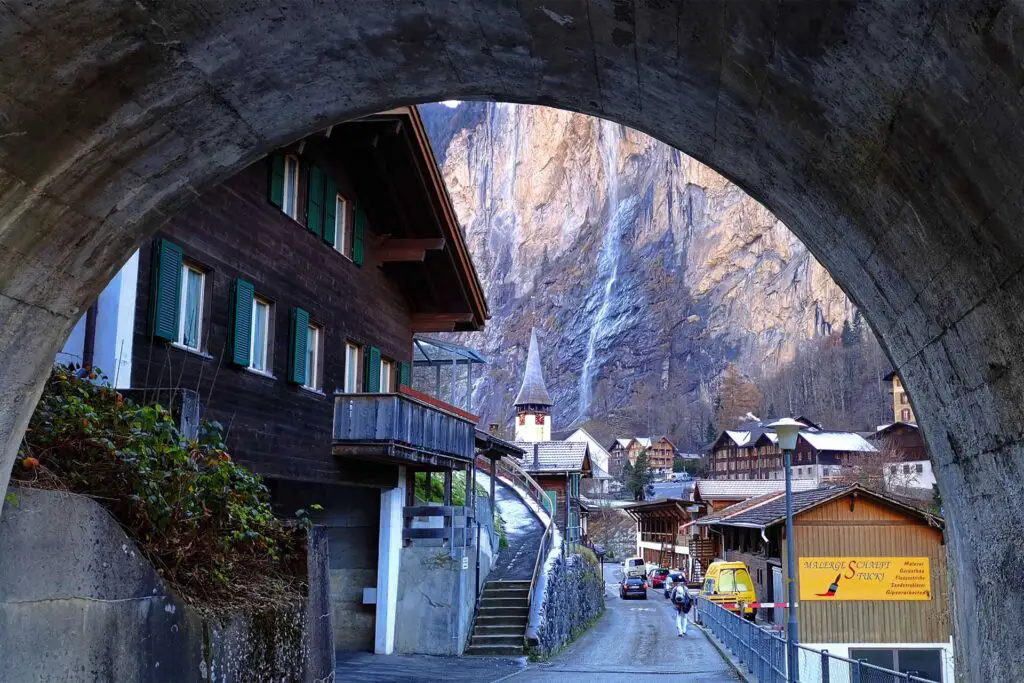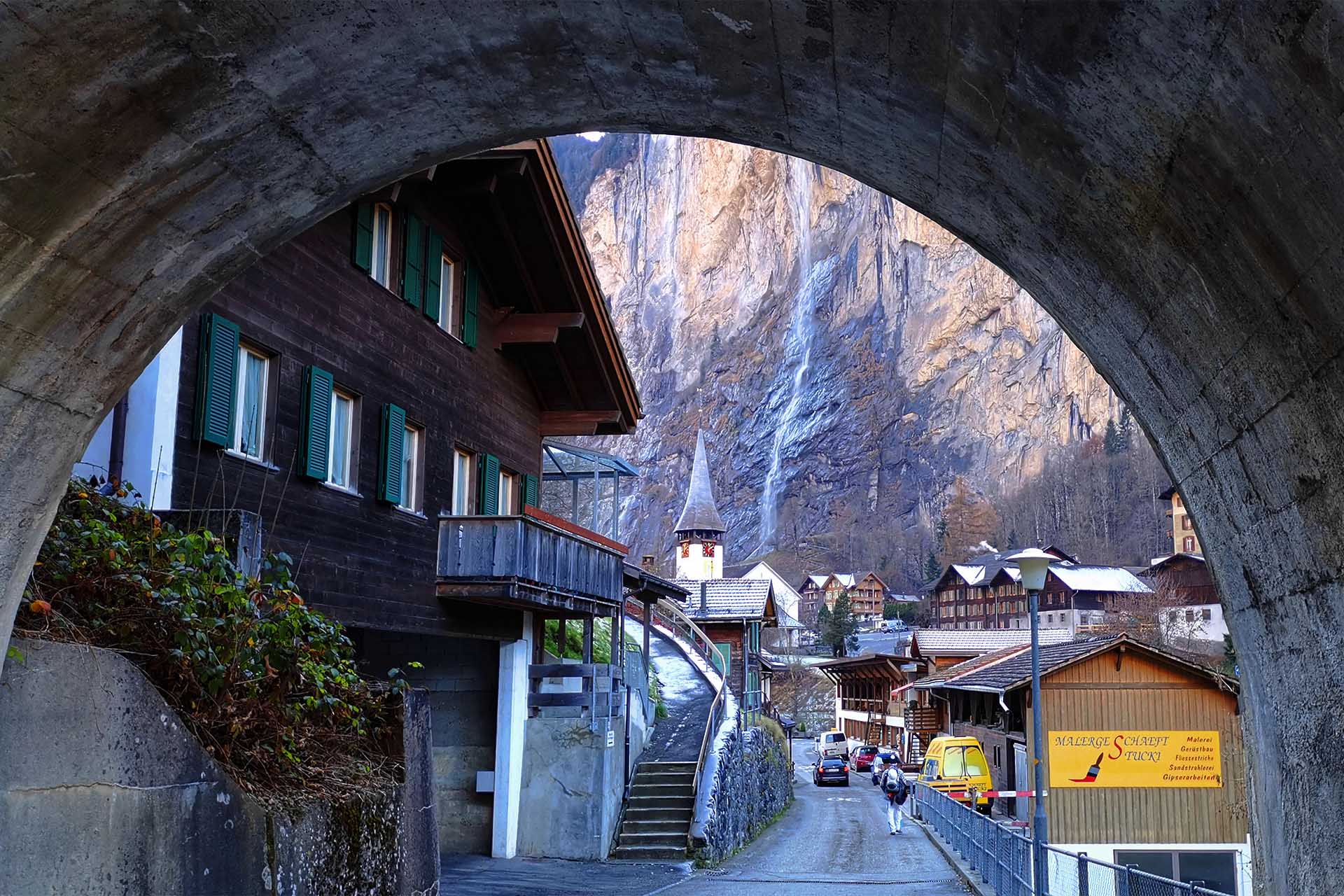 There's something about Lauterbrunnen Switzerland that truly feels outside the world. Something Magical! Perhaps that's the waterfall called "Staubbach falls", which is the highest waterfall of Switzerland. 
Well, on top of that, Lauterbrunnen is also the start of your travel journey in Switzerland. To one of the highest mountains you can visit in Switzerland: the Jungfraujoch, called "Top of Europe". During a beautiful train ride you enjoy the view along the "Lauterbrunnen valley" and reach Wengen. From there you drive further to Kleine Scheidegg and the train station Eigergletscher. It's pretty pricy to drive to Jungfraujoch. But honestly, also a drive to "Kleine Scheidegg"or to the station of the Eigergletscher is really worth to travel there. 
If you are a very experienced hiker you can take from the Eigergletscher the alpine hiking trail to the Guggihütte SAC, where you could stay for the night or hike back at the same day. As I love this region so much, it's a great place to stay for your vacations in Switzerland. Where to stay is a hard decision, whether Grindelwald, Interlaken, Lauterbrunnen, Wengen or Mürren. Every place has its own beauty.
6. Grindelwald, one of the most famous places for vacations in Switzerland
Grindelwald is one of Switzerland's top mountain villages and a popular tourist destination for travelers from all over the world. It's almost on every bucketlist for places to visit in Switzerland. And it is one of my favorite regions of Switzerland. What makes Grindelwald a special place to visit? Skiing in winter and hiking in summer. 
The beautiful village of Grindelwald is located in the Swiss Alps of the beautiful Bernese Highlands. The place provides stunning views with a scenic mountain panorama on glaciers and the famous "Eiger, Mönch & Jungfrau". Furthermore, Grindelwald knows how to attract tourists. They have plenty of very different activities to engage tourists such a the "Cliff Walk" at Grindelwald First.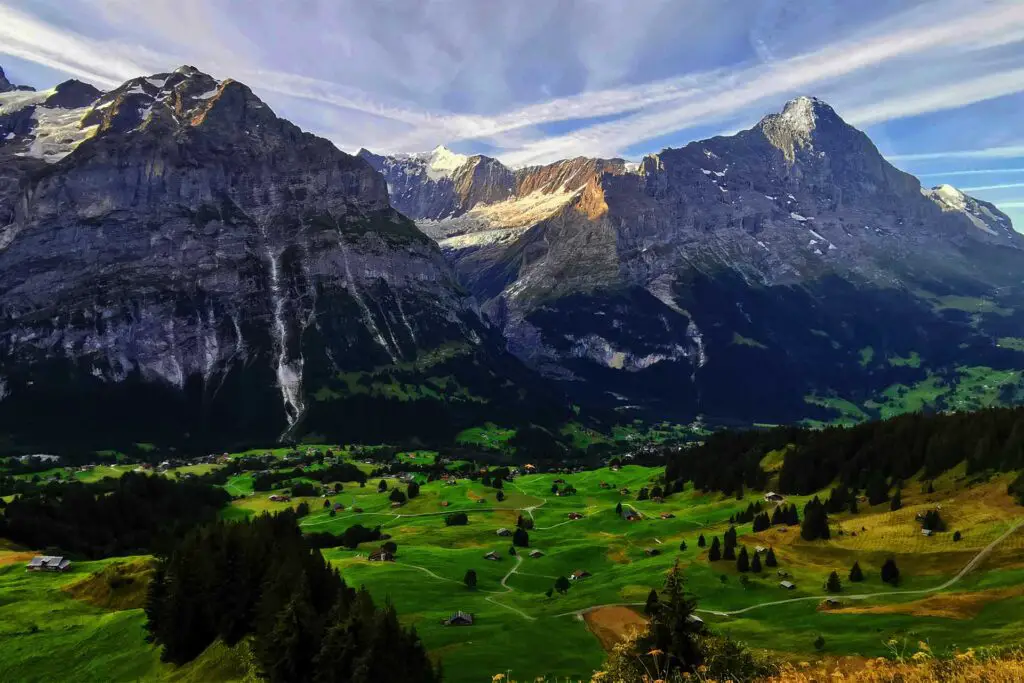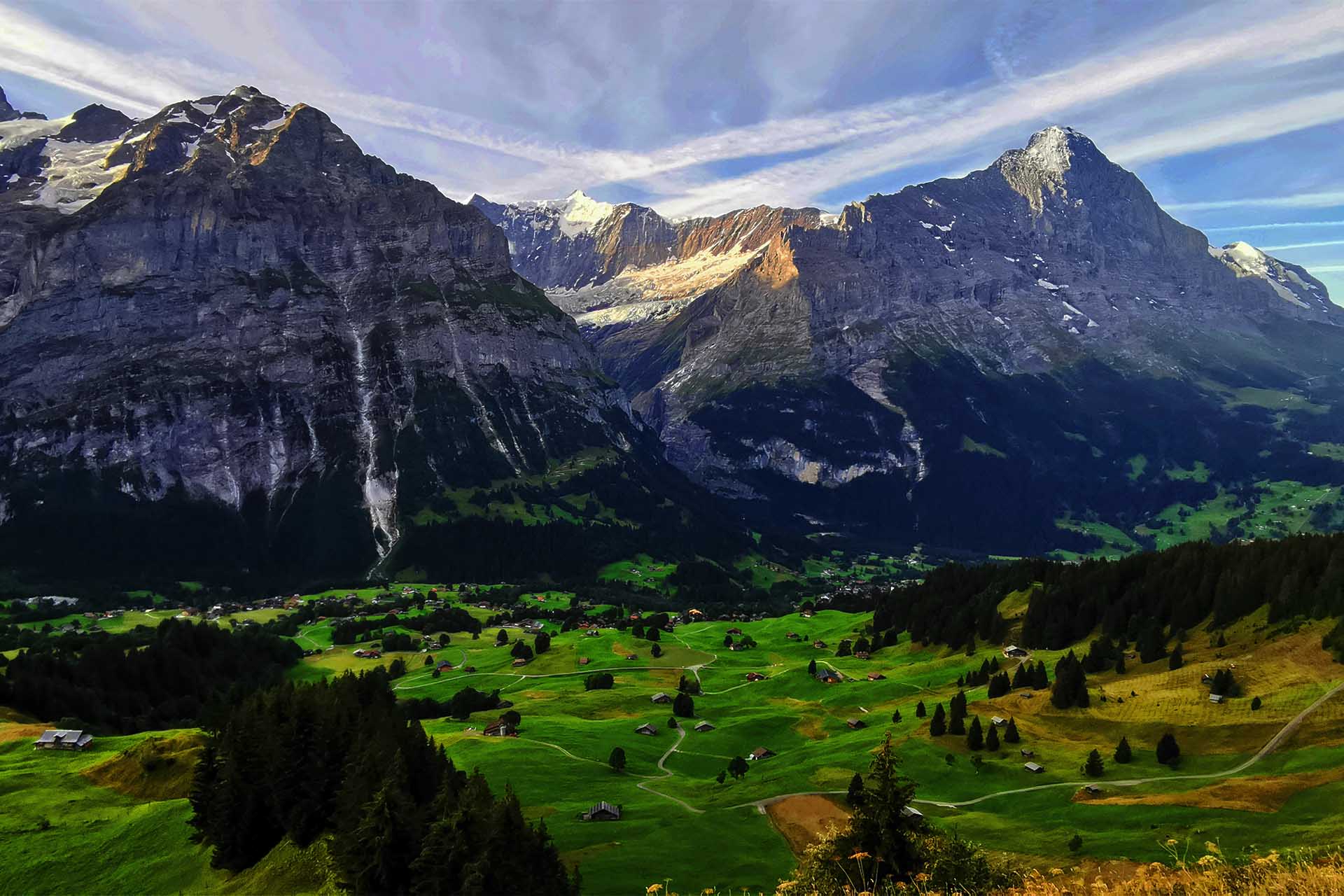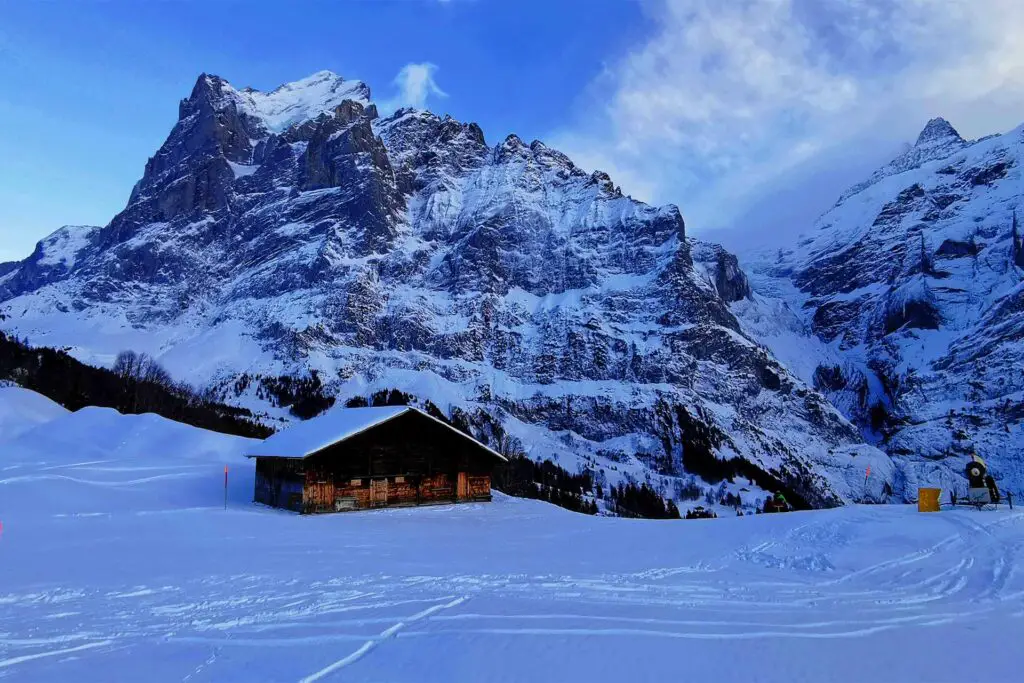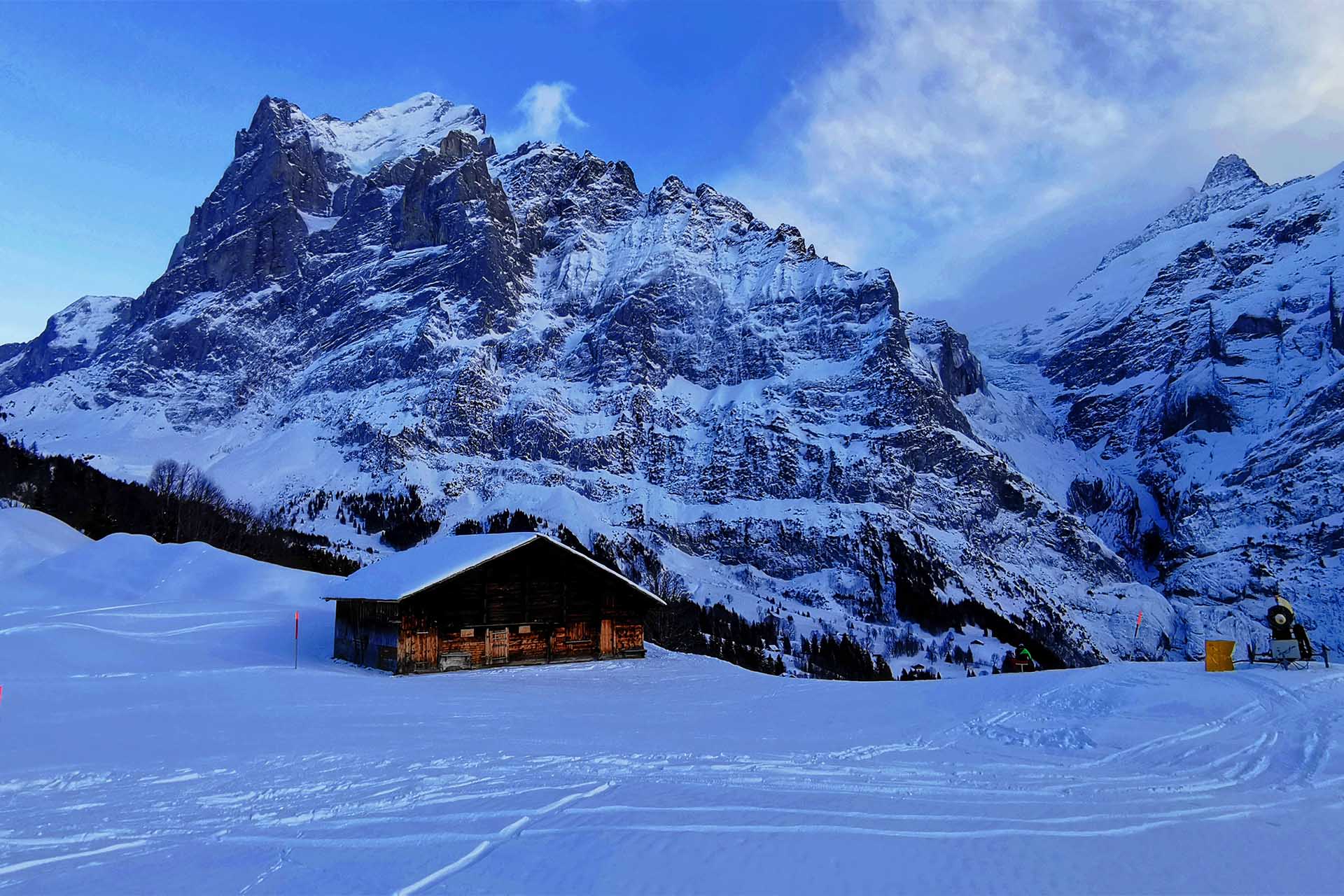 The great diversity of landscapes and beautiful mountains are a treat to watch at least once in your lifetime. The most prominent mountain of this unique alpine landscape is Eiger with the famous Eiger North face. In the morning or evening hours you can shoot some great pictures with the perfect light! Because that's the best light to take pictures in Grindelwald, especially in Summer. In Winter everything is a bit more difficult, as the sun doesn't reach Grindelwald itself. But no worries, in the mountains for skiing, hiking or sledding you will also enjoy in winter the sunlight. 
Grindelwald first – a stunning place in the Swiss Alps
A wonderful way to delve into the beauty of the region is to hike from "Grindelwald First" to Bachalpsee. It's probably one of the most shared spots of Grindelwald on Instagram. Are you a motivated hiker? Then you can continue your hike to the Faulhorn, where a restaurant and even hotel is awaiting you.
But Grindelwald offers numerous more picturesque hiking trails. When the weather at Grindelwald, Switzerland is pretty clear, you can enjoy a splendid view of the valley and the Alps. 
Grindelwald Canyon Swing is the best choice if you are in search of a real adventure when you visit Switzerland.
7. Lake Geneva Switzerland and the "Les Lavaux" – Switzerland Vacations in the French Speaking area
Want a glimpse into Lavaux? Lavaux is one of the most picturesque places to visit in Switzerland which is famous for its good vines. The Lavaux vineyards are a UNESCO World Heritage Site, situated in south-western Switzerland near Lausanne and Geneva. The specialty of Lavaux wines is that it is handmade. 
What I really love about this region is the scenic view on "Lake Geneva", over all the vineyards and the mountains in France. And now a secret tip from my side. If you come from Geneva take the ship or train to Cully or St.Saphorin. Those are two beautiful middle age towns directly situated at "Lake Geneva". Especially St.Saphorin is one of the most beautiful villages of Switzerland. From there you can start hiking through the "Les Lavaux" which is my personal favorite option. You can be so spontaneous and enjoy the views or wines wherever you want along the "Swiss Wine Route". Yes, you have heard right, a Swiss Wine Route! There are so many wine caves along the hiking route, where you can buy and degustate wines. The second option is to take the "Lavaux Express" This little "train" brings you to the most beautiful places in the "Lavaux" area.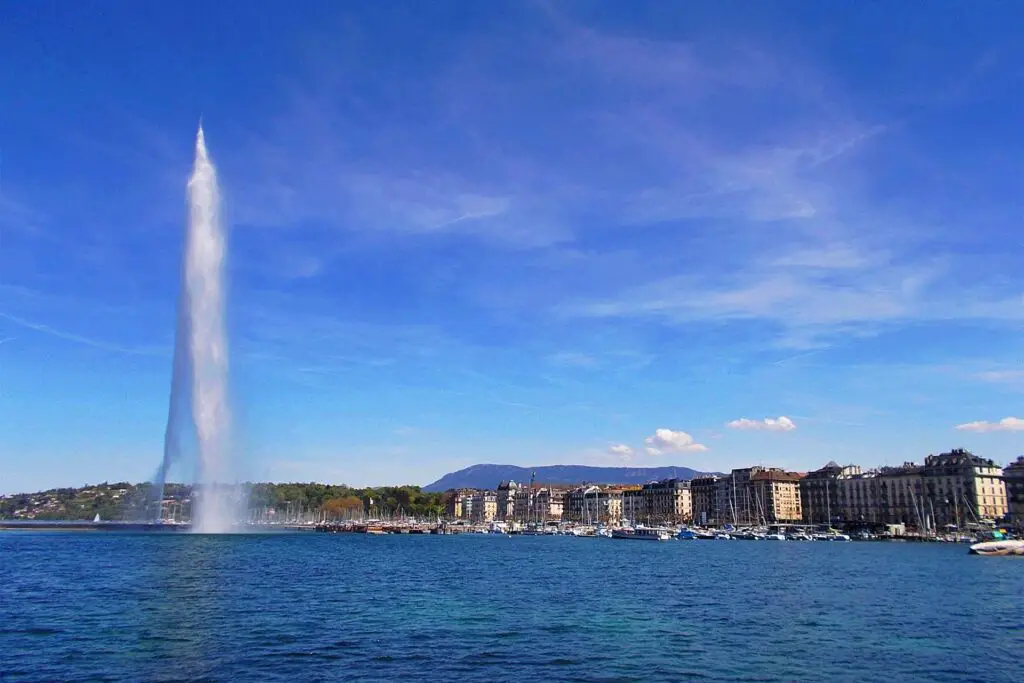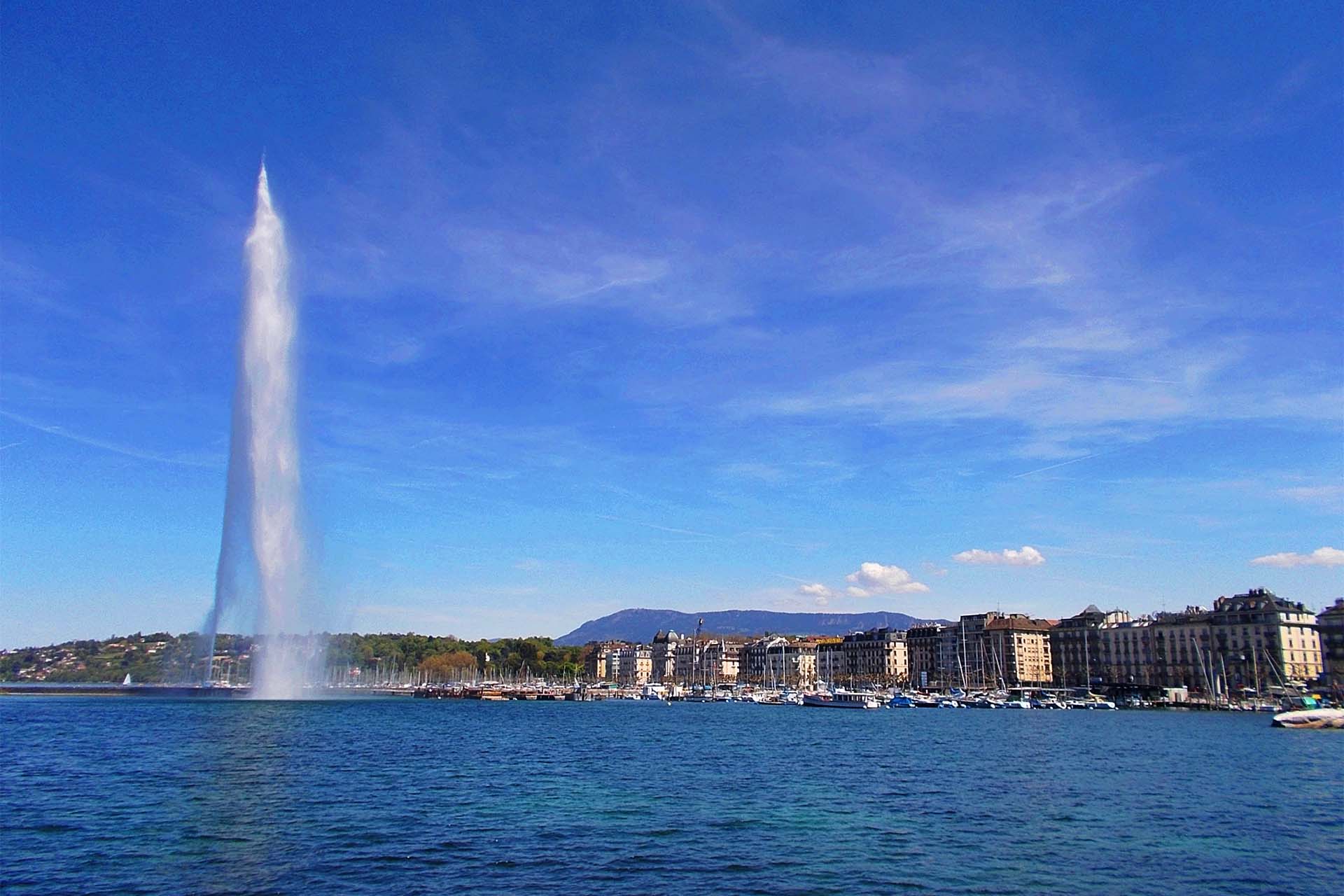 The perfect place in Switzerland for all wine lovers
The region of "Lake Geneva" and "Les Lavaux" has a deeply rooted history of winemaking and has a large number of families that have been winegrowing for generations. The paths winding through the vines lead to the villages along the steep hills. A lot of people come here to admire the beauty of Switzerland's wine region and take pictures in the vineyards. Apart from the vine, you can visit the place called Montreux Riviera, a town that has inspired poets, politicians, artists, celebrities, and musicians. Montreux is besides Geneva or Lausanne also a good place to book your hotel. 
In my view, the best time to visit Lavaux, Switzerland, is in autumn. You will be able to witness the grape harvest and taste some of the region's iconic wines. But also summer is a gread season if the days are not too hot. Because it can get really hot there.
8. "Neuchatel and the "Creux du Van" 
The charming middle age town "Neuchatel" is a great region to stay for your vacations in Switzerland when you want to explore the French part of this country, called Romandie. Neuchatel is directly situated at the Lac de Neuchatel, which is the biggest lake of Switzerland. Many think it's the "Lake Zurich" or "Lake Lucerne, but that's wrong. Neuenburg, the German expression of the city of Neuchatel, is known for the castle and the gotic church. Both have been built in the middle age like many other Swiss cities. Due to its beauty the city of Neuenburg was very famous during the belle epoque. 
There are two incredible sights (natural wonders) next to Neuchatel you can visit on a day trip. The "Creux du Van" and the "Gorge de l'Areuse". If you have a car, they can both visited in one day. If you are a fit hiker, you can explore them as well in a day. I am sure you will love them as I do.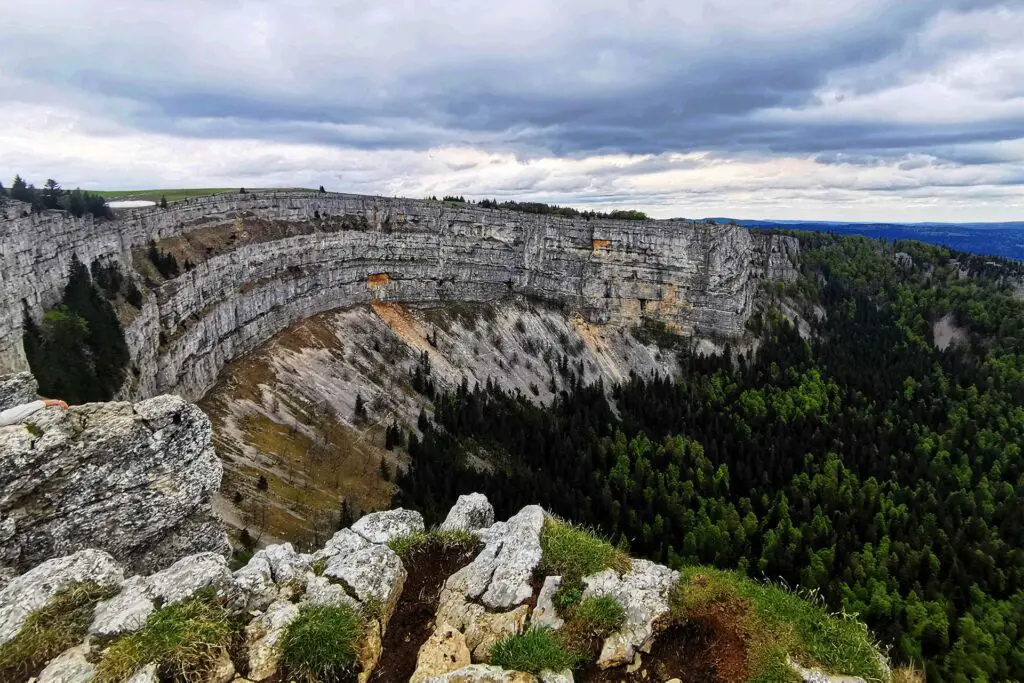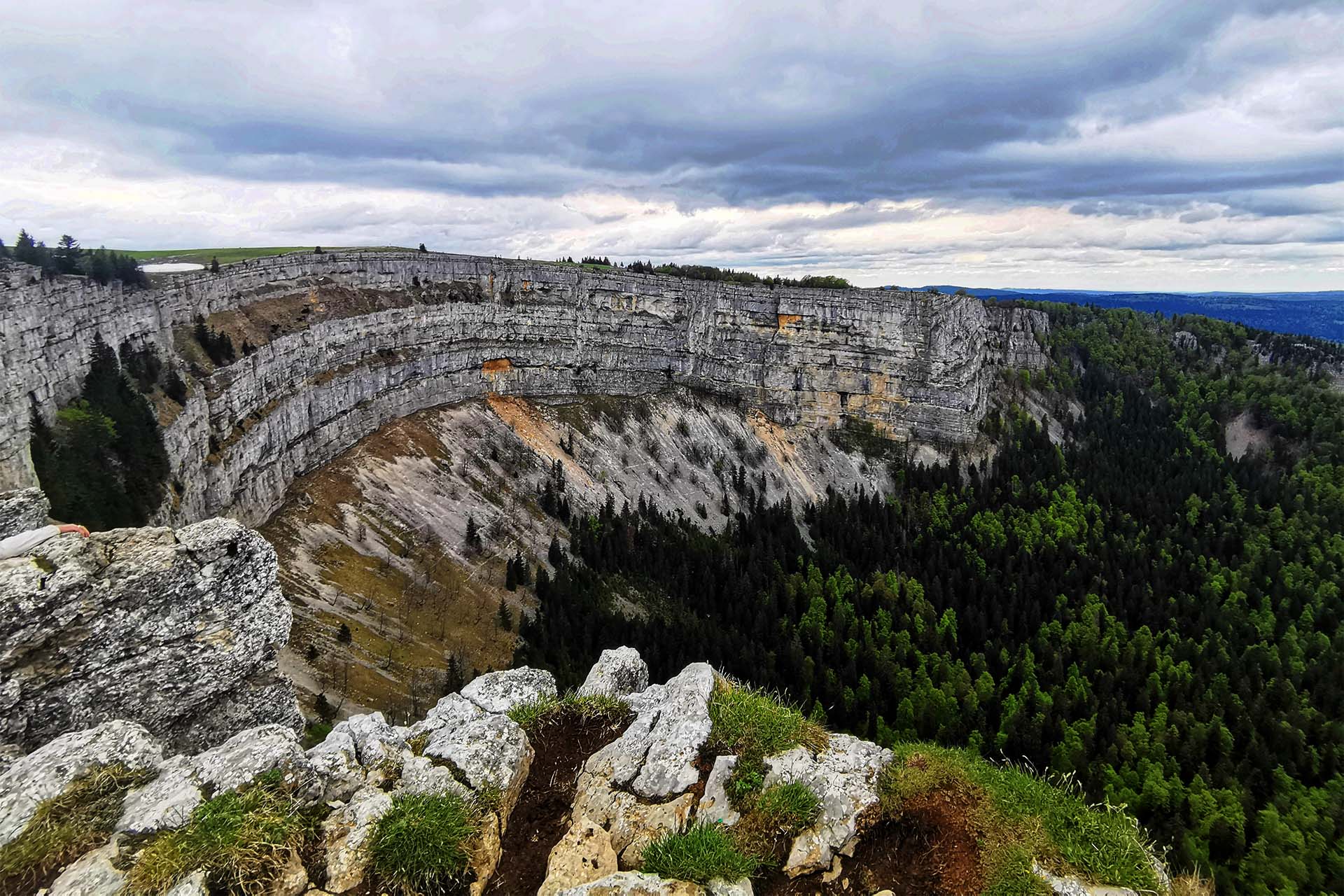 Stunning Creux du Van – the Grand Canyon of Switzerland
The "Creux du Van" is situated in the Val de Travers district and is one of the largest reserves of nature. "Creux du Van" is a breathtaking natural place, a piece of nature you don't want to miss. That's why it belongs to the top places to visit in Switzerland. This regional icon was created by the power of the glaciers (ice) and water thousands of years ago. The climate of the "Creux du Van" is unique and unusual as it's very regional and has even plants which can be found in arctic regions. The place is full of idyllic forests. 
As a second tip which is a hidden place to visit near "Neuenburg", I recommend you the beautiful "Gorges de l'Areuse". The gorges of the Areuse are located between Noirague and Boudry. This place is considered one of the best gorges in Switzerland for a peaceful and pleasant walk. A perfect place in nature's beauty. 
This beautiful walk through the Areuse gorges takes you through forests and grasslands along the river.
9. Interlaken
Who has not heard about "Interlaken"? "Interlaken" is the most famous destination in the canton of Bern besides Grindelwald and Lauterbrunnen. The town is located in the Bernese Highlands alongside the Aare River and, the middle of two lakes called Lake Thun on the west side and Lake Brienz on the east. It is very recommended to take a ship cruise on Lake Thun or Lake Brienz and enjoy the moment.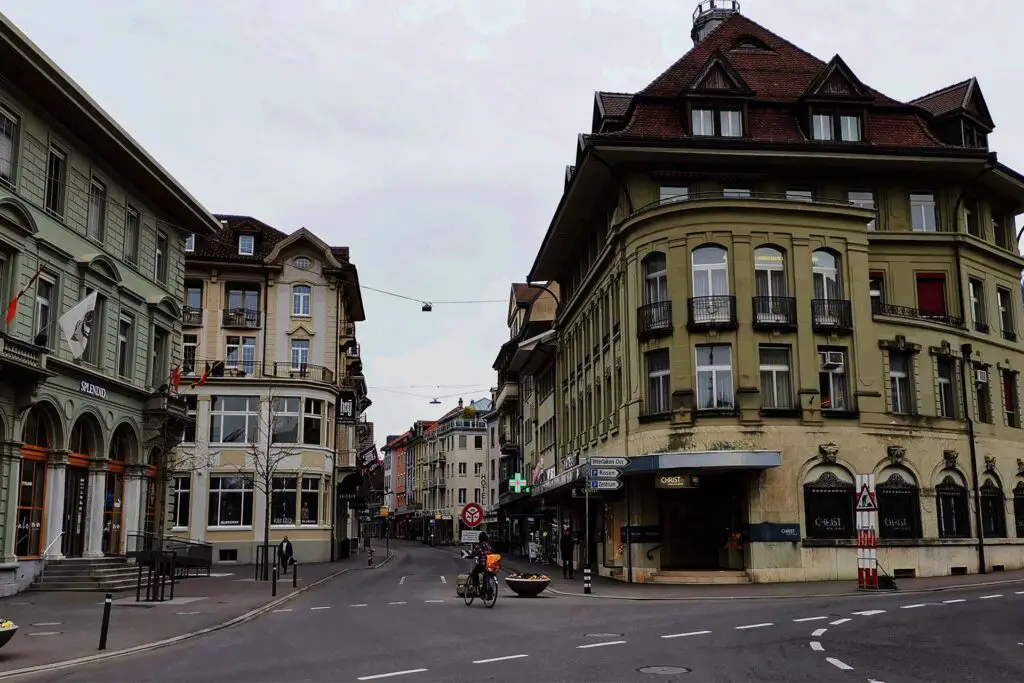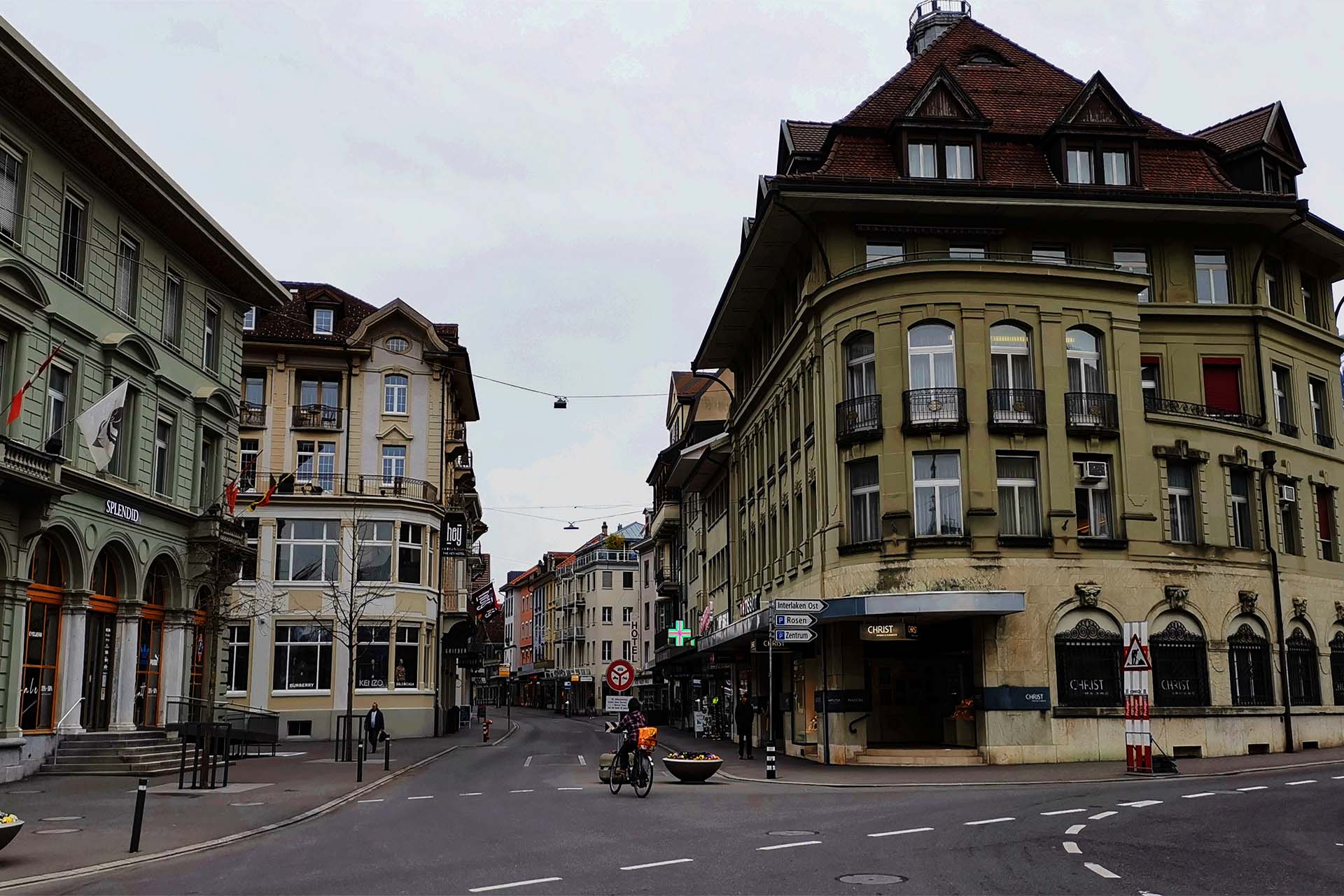 Additionally, it is a popular destination for tourist in the Swiss Alps region as it is the perfect location for daily excursions to so many different places to visit in Switzerland. There are a lot of destinations to discover from Interlaken. I list here some of the places I highly recommend you to visit during the day: 
Lauterbrunnen:

Lauterbrunnen is a village which can be easily reached from "Interlaken Switzerland" by train in only 20 minutes. It is situated in a green valley featuring flowers, trees and a lot of waterfalls. The Lauterbrunnen valley is also called the "valley of waterfalls". Once you are here, you will discover especially the massive waterfall overlooking the village with some other small waterfalls. Get a stick, hike to the waterfalls and experience breathtaking views and unique indescribable moments. Visitors enjoy the snowy peaks, clouds and unforgettable hikes.  There are several places to stay, which offers privacy and beautiful surrounding. From Lauterbrunnen you can also reach the "Jungfraujoch" where you see the famous "Eiger, Mönch and Jungfrau".
Grindelwald First:

"Grindelwald First" is a place above Grindelwald which you can reach via cable car and is a great tip for a day trip from "Interlaken Switzerland". It is a great place for outdoor activities like snowboarding and skiing. During winter, open activities include first flyer, first glider and cliff walk. Summer activities are Trottibike and mountain cart. Another popular activity to do is a hike from "Grindelwald First" to the charming mountain lake called Bachalpsee Lake where you can take a swim. But please don't miss the "First Cliff Walk", where you have the feeling to be in the sky. You can see also from here the famous "Eiger, Mönch and Junfraujoch".
Kleine Scheidegg:

The "Kleine Scheidegg" is a very beautiful meeting point with an elevation of 2062 meteres and can be easily reached from "Interlaken Switzerland" via Grindelwald or Lauterbrunnen. It is the starting point to travels to the famous Jungfraujoch. However, the "Kleine Scheidegg" has much more to offer than only that. Directly behind the "Kleine Scheidegg" is the wonderful "Eiger", one of the famous three mountains of "Eiger, Mönch and Junfgrau". You can also eat something delicious here in the mountain restaurant.
In the Winter the Kleine Scheidegg is the perfect starting point for Sledgers, Skiers and snowboarders who want to enjoy their sporty activities on the great slopes. Hikers can also hike around the mountain trails.
Stunning train journeys from Interlaken
Jungfraujoch:

I am sure you have heard about "Eiger, Mönch and Jungfrau" as they are really famous peaks. Many tourists stay at least one night in "Interlaken Switzerland" to visit the legendary "Jungfraujoch", but it's also a mountain which Swiss do visit. Nevertheless, the trip to Jungfraujoch is very expensive, however, you will se beautiful glaciers and some of the highest peaks of the Swiss Alps. For me it is mostly too crowded that's why I prefer other places.
Brienzer Rothorn:

A steam journey with a railway begins from Brienz to Brienzer Rothorn. The trip passes through green forest and tunnels on its way to the mountain. It is ideal for hikers and climbers and the ones who are enjoying a beautiful view over Lake Brienz. From Brienzer Rothorn you can start with a hike on the "Brienzer Grat" to Augstmatthorn and "Harder Kulm", a beautiful view point. The hike is a great tip for all exteme hikers, as the hike goes 7 hours and is very exposed due to the ridges. 
Place famous out of the Crash Landing on You Netflix Series
Iseltwald:

Iseltwald is a top pick if you love traditions or if you are looking for peace. Around Iseltwald there are plenty of places to explore. What makes this place so catchy? Wondering? With a population of only 400, it is a very small village. The traditional wood houses, the castle and the "Lake Brienz" makes it a perfect place to visit. If you are looking for a serene stay in Switzerland, Iseltwald is the right place for you. The village has also fun activities such as kayaking, boating, hiking and paragliding.
Overall, there's so much natural beauty to explore. If you ever visit Iseltwald, then I highly recommend to take a boat tour on the the Lake Brienz.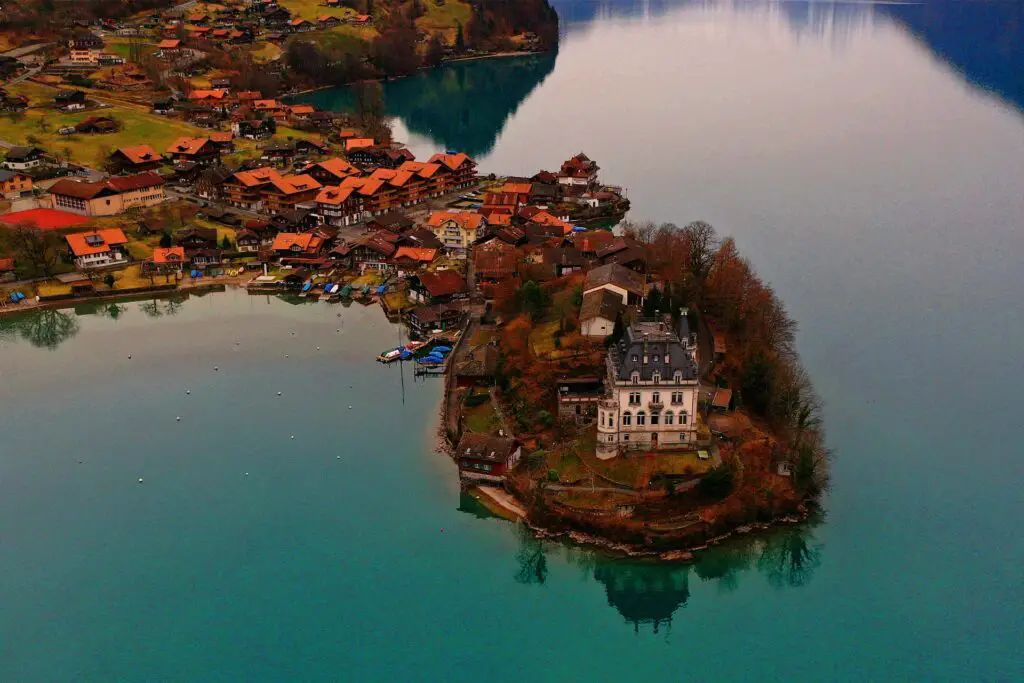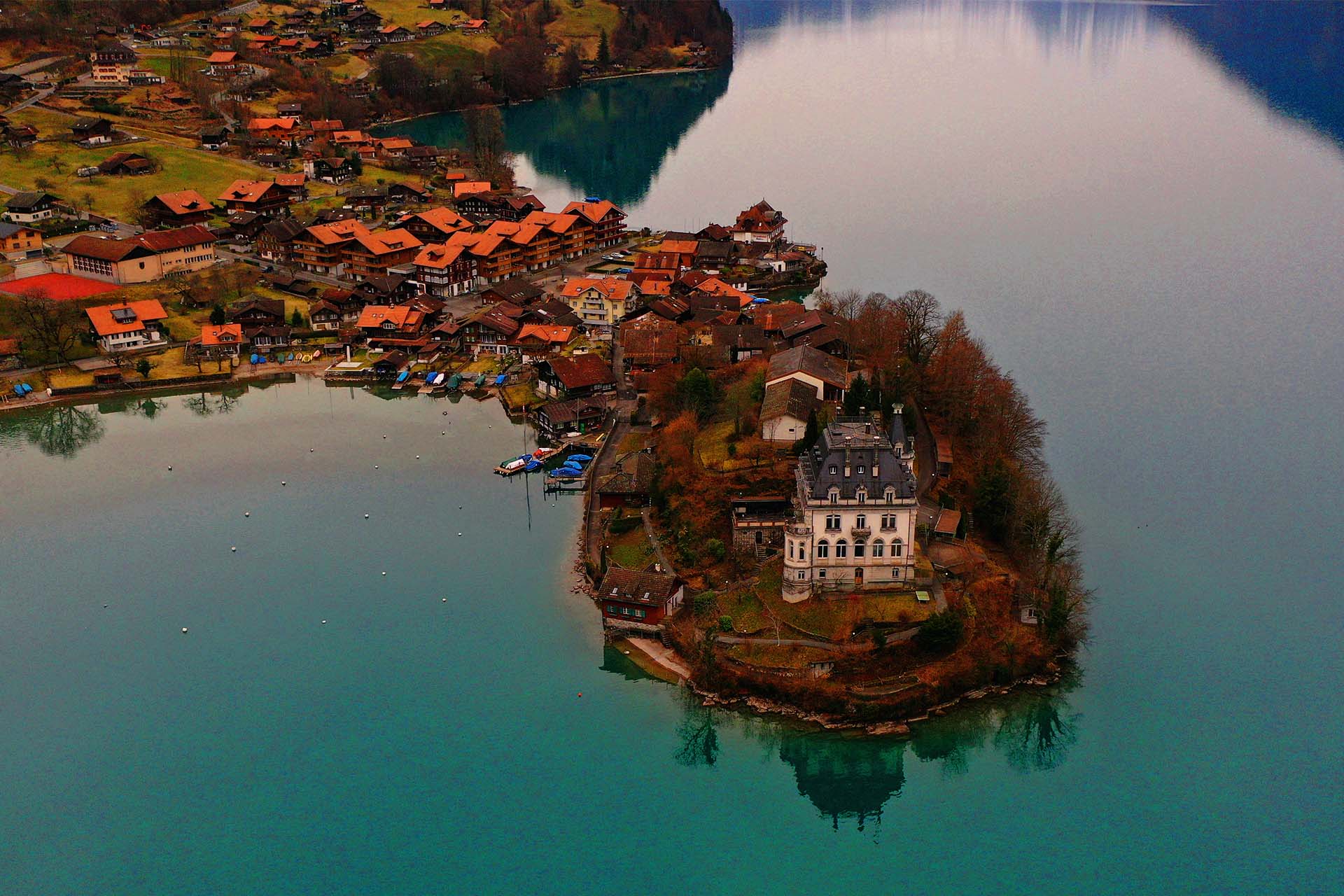 10. Gstaad – where Hollywood Stars make their Vacations in Switzerland
Gstaad is a car-free village in the canton of Bern. It is located in an appealing environment with sloping valleys and wooden chalets. "Gstaad Switzerland" is an adventurous region for summer sports activities. This included biking, hiking, swimming, golf, paragliding and mountaineering. As I love hiking, you will regularly see me in Gstaad and it's as well a place to visit in Switzerland.
But also for winter is the region a paradise as it offers idyllic hiking paths. However you can also choose various areas to ski or snowboard. Other winter sports are Ice skating, hiking, curling and snow tubing.
This small village has attractive things to do for people of all ages and is the destination for vacations in Switzerland of many rich people. Some insiders say that some of those chalets have a value of more than 40 million dollars. However, Gstaad has much more to offer than being only a place for rich people. The nature there is totally unique, the meadows are green while you have high mountains and glaciers very close to Gstaad.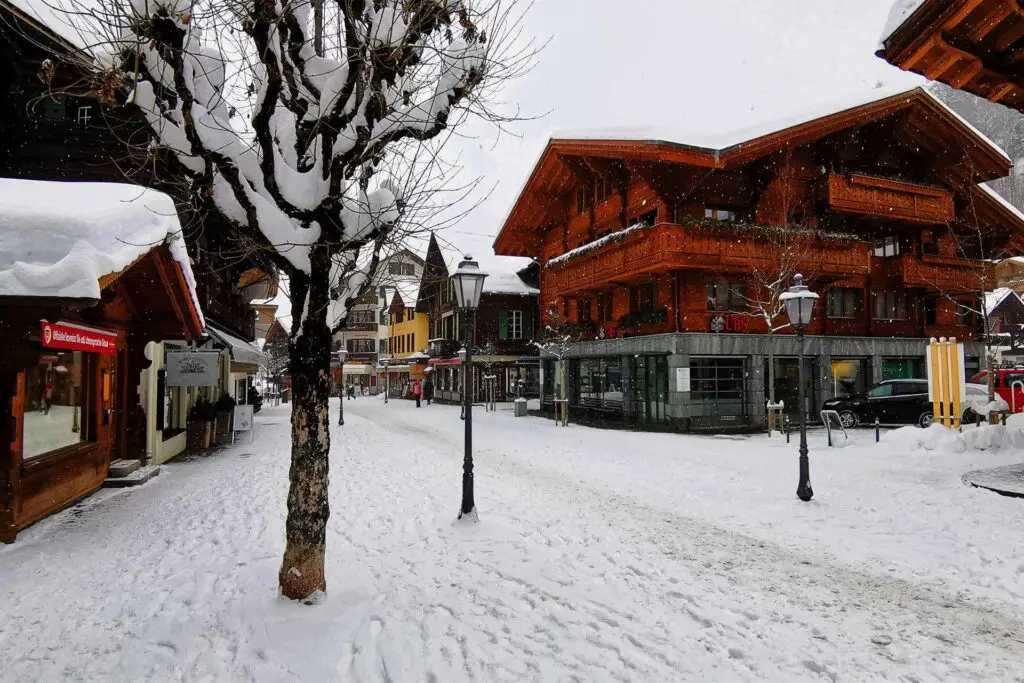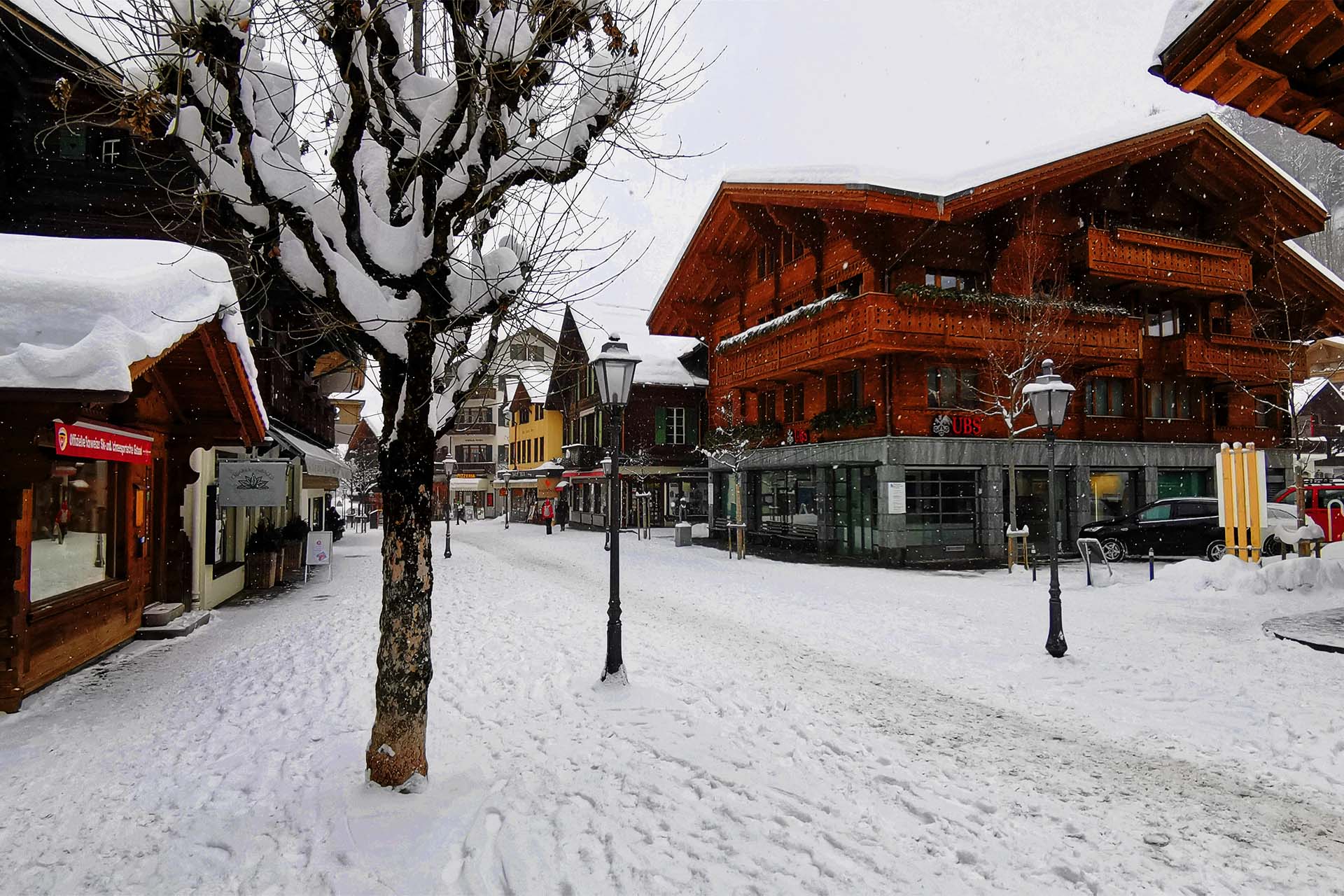 Glacier 3000 – a glimpse from Gstaad
What about visiting Glacier3000? In around 1 hour from Gstaad you will reach the 3000 meters-peak of "Glacier 3000" can be visited in summer or winter. You will be amazed by the stunning views over the Valais and Bernese Alps, the Matterhorn and even the Mont Blanc in France. On Glacier 3000 there is even a "Peak Walk" and a "Glacier Walk". In the winter time you can ski here.
Or do you prefer a lake? Lauenensee is a peaceful lake surrounded by romantic mountains and a huge waterfall. It is a perfect spot to relax, meditate, and stroll around. You can swim in the cold water and lie down on a towel to feel nature. After swimming, feel free to enjoy lunch at the restaurant.
11. Lugano
Lugano is an Italian speaking town in the Canton of Ticino and one of the favorite places for vacation in Switzerland of Swiss and German people. It is surrounded by Lugano Prealps Mountains and lies on Lake Lugano. Moreover, the east side of the municipality shares the border with Italy.
The lovely city with the stunning scenery makes it a popular attraction place. In Lugano there are very nice restaurants with the best Italian cuisine. Of course, shopping is also possible here. Or a walk along the lake promenade of Lago di Lugano is really beautiful. I want to show you some other attractions you can do when you visit the city of Lugano.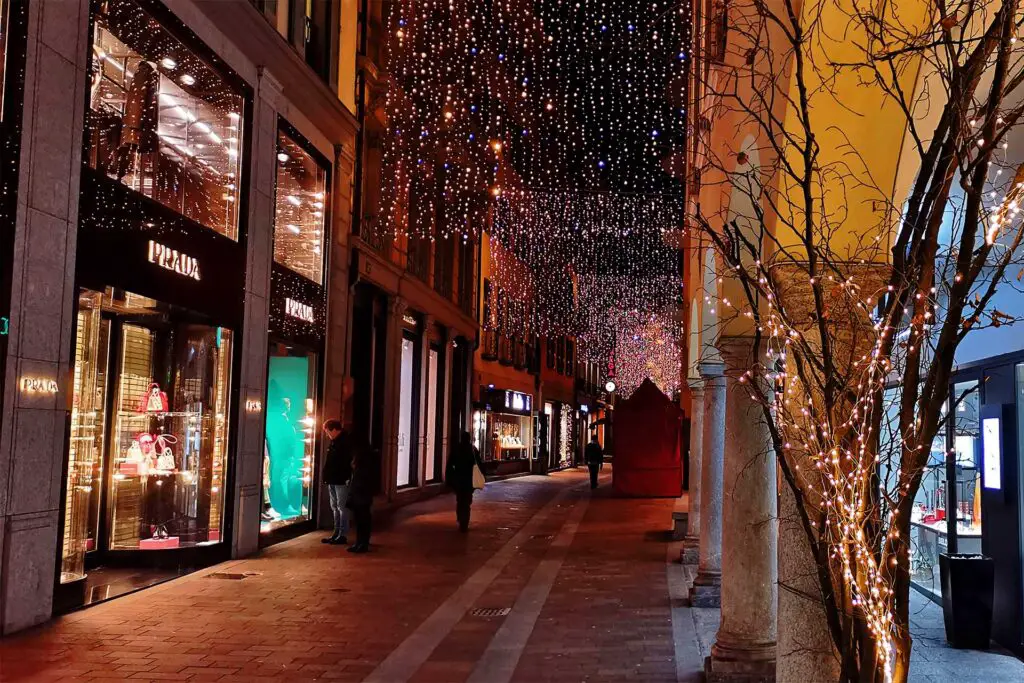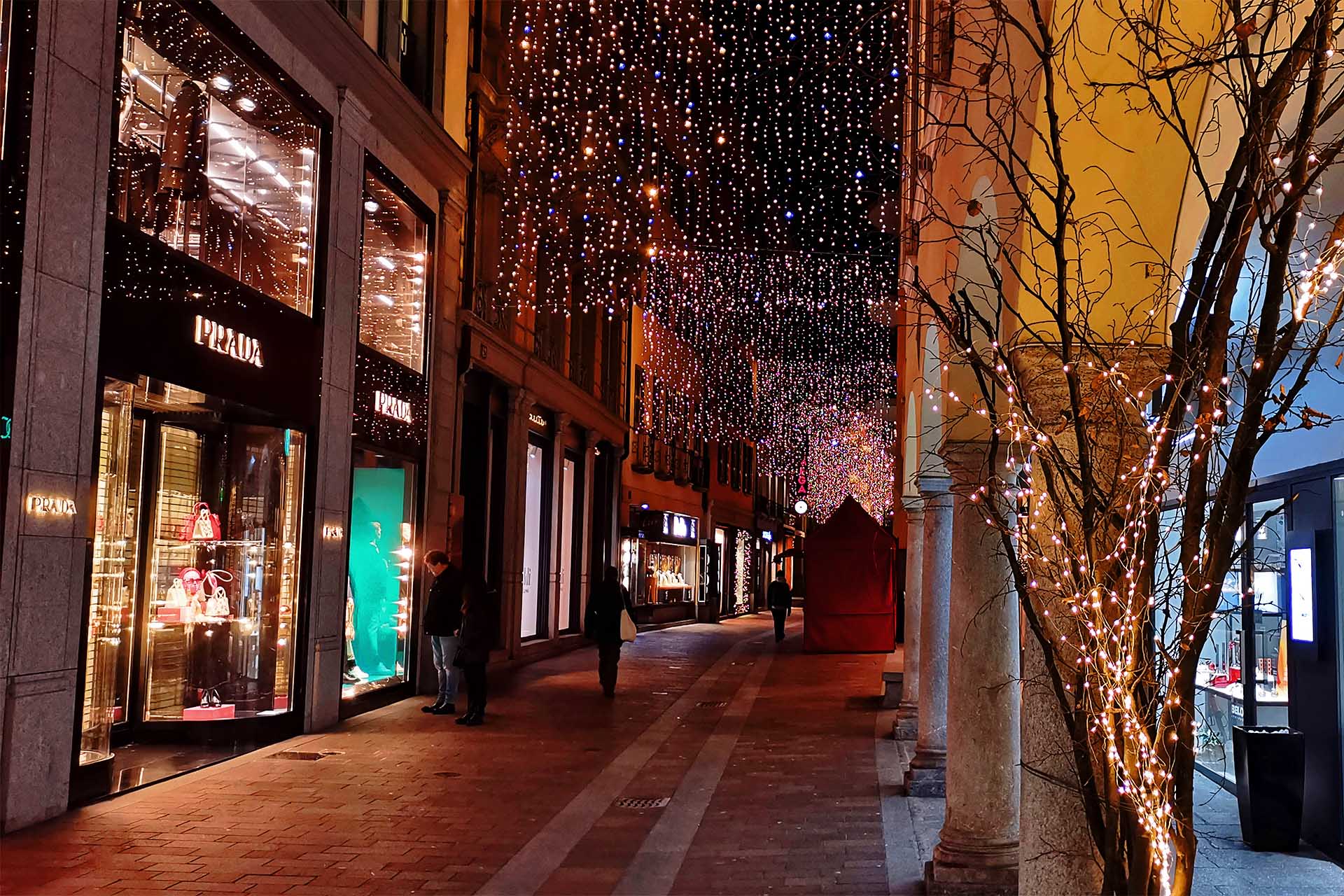 Places to visit from Lugano
Lake Lugano:

"Lake Lugano" is my favorite lake in Ticino, Switzerland. You can take part in water-based activities such as boating, fishing, and rowing. But you can also relax and enjoy the cool breeze and the view. Besides the lake, there is a park called "Parco Ciani". The parc has a size of 63'000m2 and features old trees, flower beds, fountains, and a play area for kids. Definitively a highlight you shouldn't miss when you are in "Lugano Switzerland".

Monte Bré: The Monte Bré is a mountain right next to the city of Lugano and considered as one of the sunniest places in Switzerland. Sounds wonderful right? To reach the Monte Bré you can use a funicular or car to reach the top of the mountain. From the high-level point of view, you will see Italy, Lugano and the Swiss Alps. On the eastern slope of the mountain, lies a small village called Bré sopra Lugano. You can easily walk from Monte Bré to this place and take the bus back to Lugano. In this place you can also find a lot of art and walk through the romantic alleys.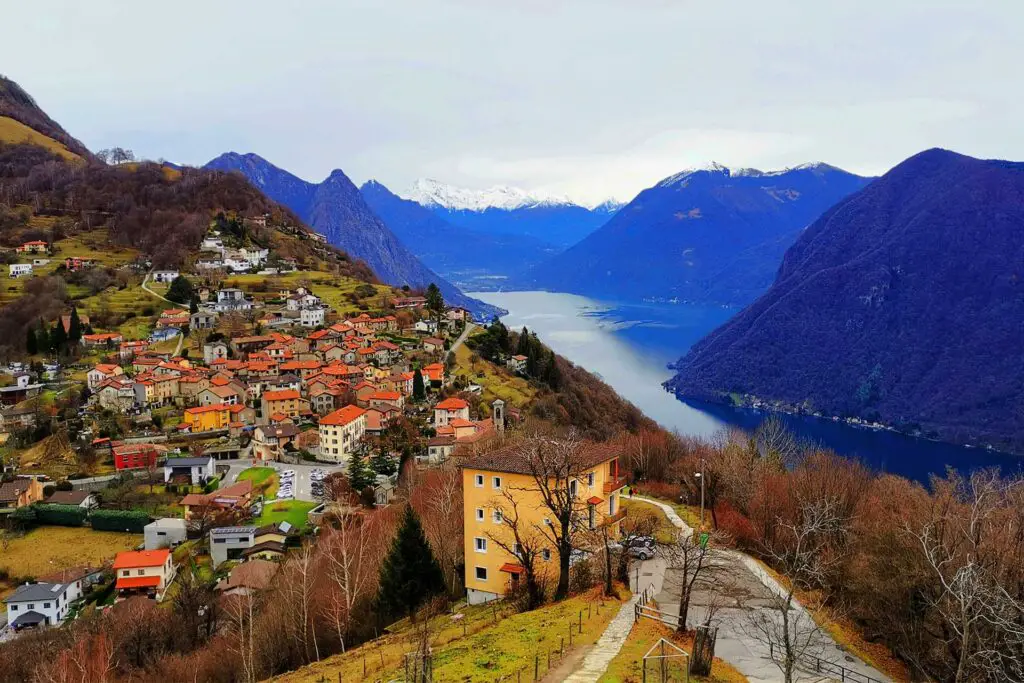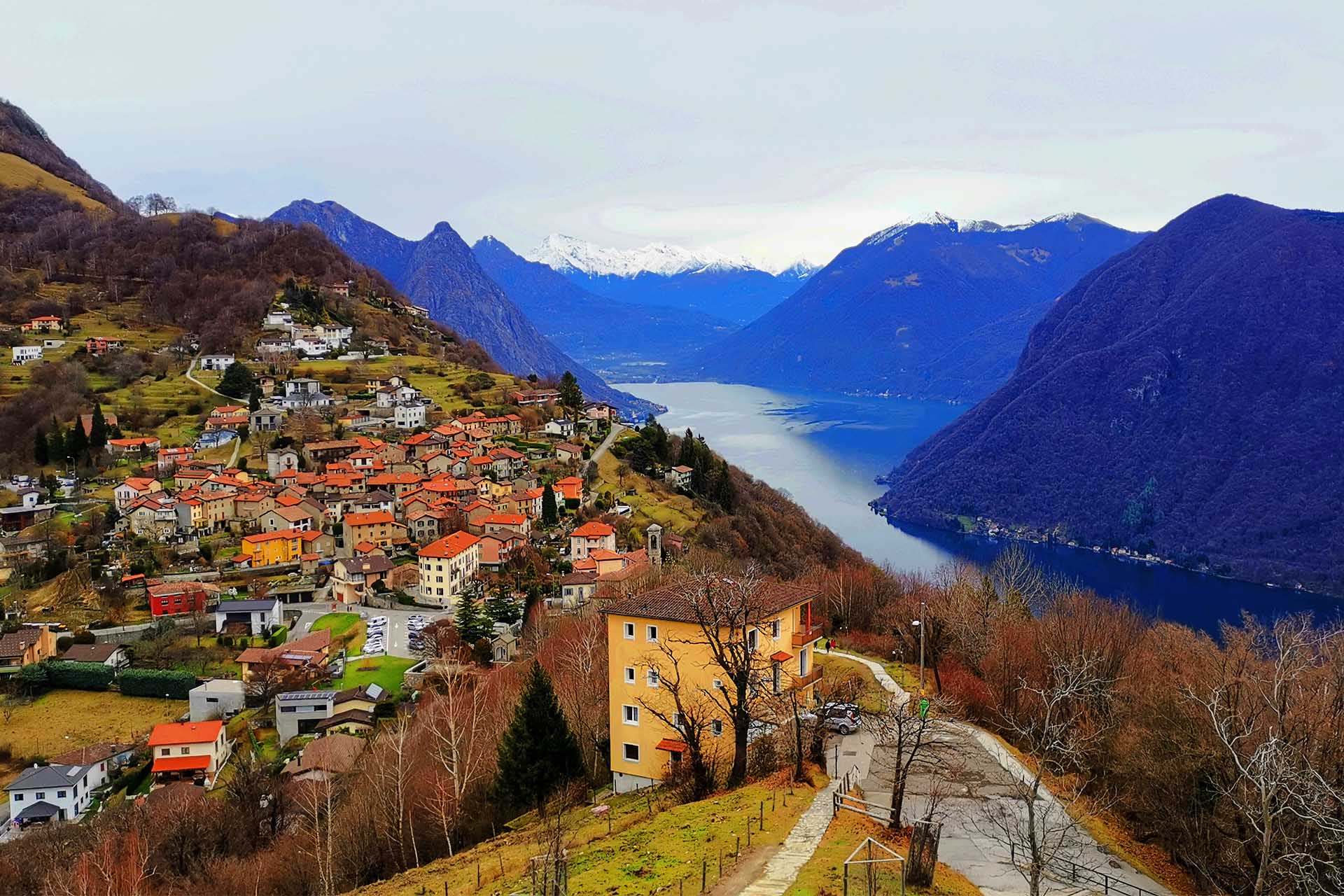 San Lorenzo cathedral:

San Lorenzo Cathedral is the most famous cathedral in Lugano and was constructed in the middle ages more than 1200 years ago.
Olive Grove Trail:

Olive lovers have a chance to walk through an

olive grove

. The area used to be a home of ancient olive trees. Remains are visible, and other olive trees have been re-introduced. Walking paths feature signposts which describe olive oil history, cultivation, products, cultural uses and cultivation. This is an absolute highlight and a huge tip from my site.

 

12. St. Moritz
St. Moritz is an alpine town in the canton of Graubünden and the most famous one regarding stars, that's why it is also called as a noble ski resort. Of course also thanks to James Bond. It's on our list of the best places to visit in Switzerland. 
"St Moritz" lies at an elevation of 1800 metres and is surrounded by massive alpine peaks. In 1864, it became the first place of winter tourism in Switzerland and had hosted since then two winter Olympics. In my eyes "St Moritz" is one of the most beautiful destinations to do hikes in summer and autumn. Honestly, there are so many things to do around here and despite it's popularity you will find a lot of hidden gems around "St. Moritz". Here are some things to do in the small town: 
St Mortiz Lake:

The Lake in "St Mortiz" called "Lej da San Murezzan" is a beautiful lake surrounded by the city, forests and mountains. The lake makes the region even more idyllic. Additionally, it is a good spot to appreciate nature. Stroll around the lake using the well-maintained paths. You will enjoy beautiful reflection on the lake during sunset or sunrise. The lake freezes every winter which means that you can do some activities on it. Top events like horse racing, ice skating and Snow polo world cup are taking place in "St. Moritz". You can also walk on the lake and take pictures when it is frozen.
If you love hiking, then I recommend you to visit the Silsersee, which is only 12 minutes away by bus from "St Moritz". The place is so idyllic and a paradise. Especially in autumn, when the larches turn golden, Silsersee is a huge highlight.
Museums:

If you love museums you should visit the Engadine museum that was established in the 17th century. 
Glacier express: the fascinating trail journey in Switzerland starts from "St Mortiz" to Zermatt. Glacier express runs for 7hours through iconic landscapes. For instance, green valleys, mountains, deep gorges and overlap passes at a high altitude. The train windows are designed to allow travelers to view the spectacular scenery and take pictures.
Sports in St.Moritz
Winter sports:

  As I already told you St.Moritz was the inventor of Winter tourism in Switzerland. That's why the region is one of the most exceptional destinations for winter sports. It is surrounded by 350 km ski slopes for winter sports enthusiasts. Winter hikers can use the 150km winter hiking trails. Toboggan riders can use one of the oldest natural ice ran. Honestly, this looks so crazy! 
Summer sports:

Also in summer you can do a lot in "St Moritz". As it's my favorite time because I love hiking so much, you will especially see me in Summer in St. Moritz. However, guests can do mountain biking, horse riding, minigolf, tennis, kitesurfing, windsurfing, rowing, boating and hiking. There is for everyone something. Lastly, mountain climbers can access 17 climbing gardens with different levels of difficulty.



 
Located in the Swiss Alps of Graubünden, Davos is a popular ski resort with a rich cultural history. The town also has a conference centre that hosts the World Economic Forum every year in January. Apart from that, Davos has attraction sites that give you urban amenities and a nature experience. For me the region of "Davos Switzerland" has some of the most beautiful hidden gems and nature attractions I have seen so far in our country. I will tell you now some attraction sites include:
Davos Sertig: "Davos Sertig" is besides "Davos Monstein" my favorite location around Davos. From there I usually start with long hikes to stunning places and hidden gems. It is my absolute insider tip to you.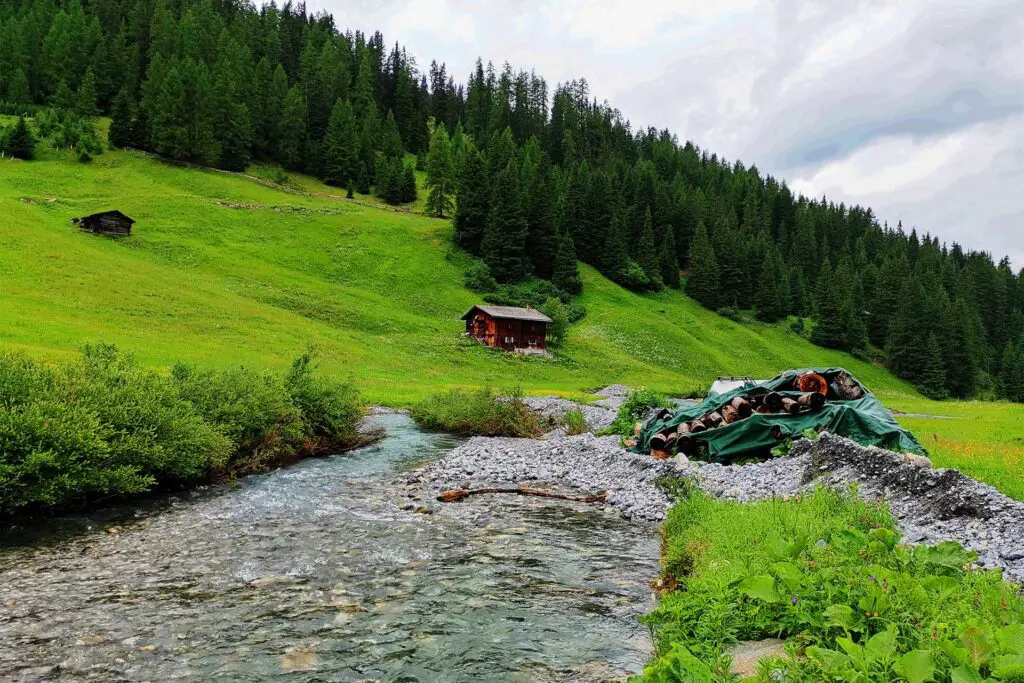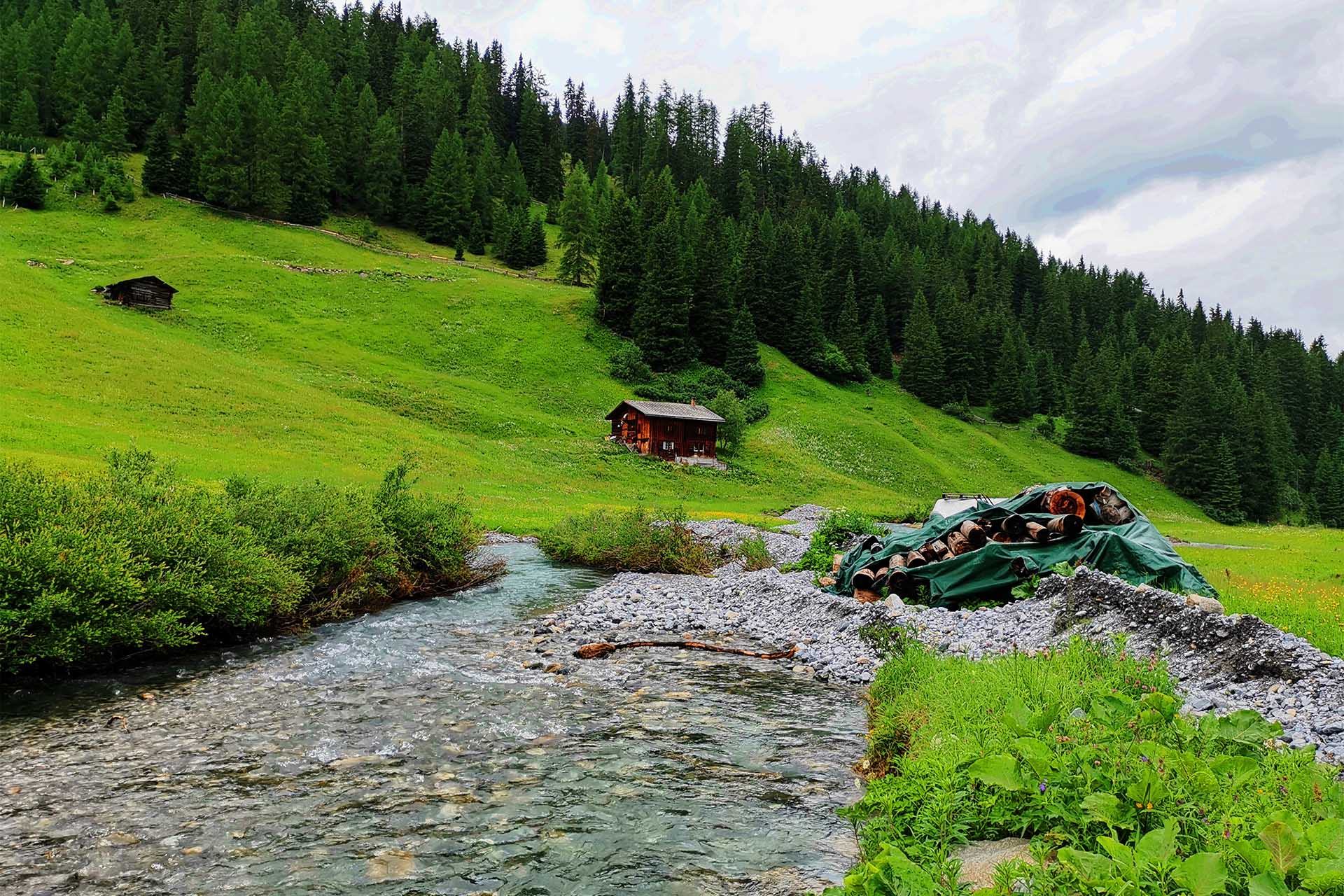 Mountains: Parsenn

& Weissfluhjoch is a mountain area which is accessible by cable railways. It offers a good view over the village of Davos and a huge mountain panorama at the height of 2,266m/ 7,432 ft. In summer and autumn it is also a perfect place for some hiking activities. You can hike for example from Weissfluhjoch in direction of Schatzalp. It is a beautiful hike where you can see a lot of orchids and have a view in direction of Arosa. 

Another mountain is the Jakobshorn. I honestly have never been there as I always preferred other hiking options but the Jakobshorn is located at a height of 2,590 m/8,497 ft, this place gives you the best view over the whole of Davos and Sertig Valley.

Alpinum Schatzalp:

For lovers of nature, at Alpinum Schatzalp, you will get a botanic garden with over 5000 alpine plants collected from mountains in countries like Pyrenees, China, Nepal, just to mention a few. For me as an environmental scientist it is like heaven to see all this beauty.

Lake Davos:

this lake has a 2.4 miles shore with a temperature of up to 20

°

C in summer. Lake Davos is the go-to place for water sports enthusiasts. Here you can surf, sail or swim. You can also hike around the lake. Very close to the lake I have already seen some deers.

 
14. The idyllic Goms valley wth the Rhone Glacier
Take a dip in the heart of Valais Switzerland and discover the Goms region. Another place to visit in Switzerland. It is one of the beautiful regions where especially a lot of locals are doing their travel and vacations in Switzerland. So this means especially for a tourist this region is not very known but worth to visit.
Goms is known for the cultural highlights like old wood houses, churches from the baroque period, the scenic mountain views and a lot of sun. In Winter goms is known for the long cross-country skiing routes. Even the romans they knew about this beauty and loved it.
You can find in Goms good Wellness Hotels or even rent a traditional wood house on Airbnb. We rented once a renovated wood chalet. That's a great experience.
One of my favorite places to visit near Goms is the "Rhone Glacier". The Rhone Glacier is among the most impressive glaciers in Switzerland. The history of the glacier traces back to the last ice age. But most of the glaciers are melting due to climate change in the alps. Also the rhone glacier has changed dramatically in the past 150 years.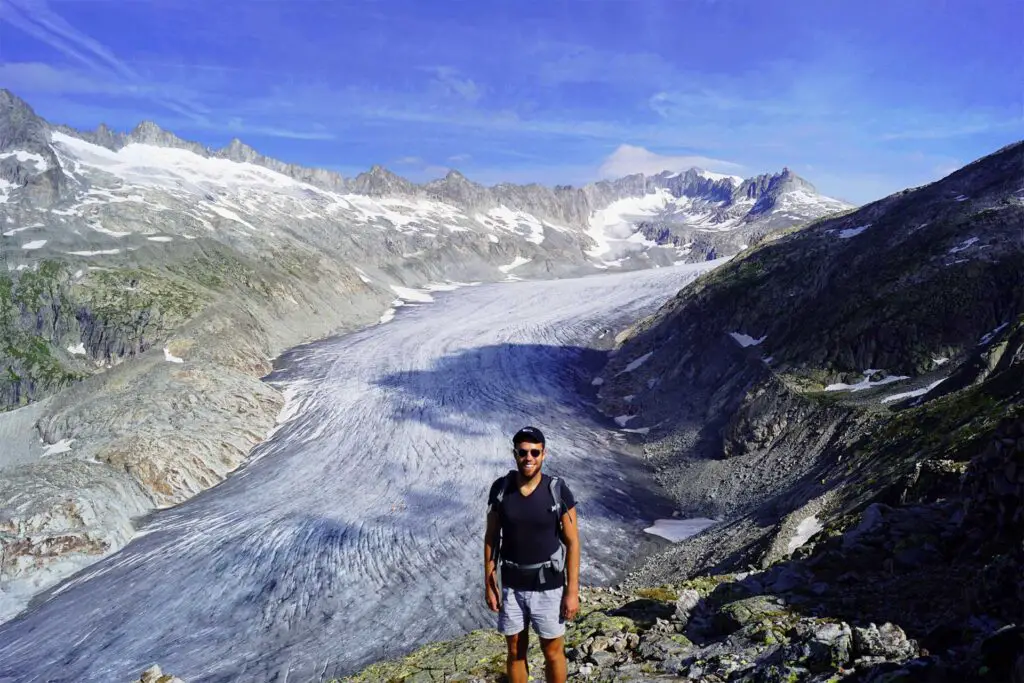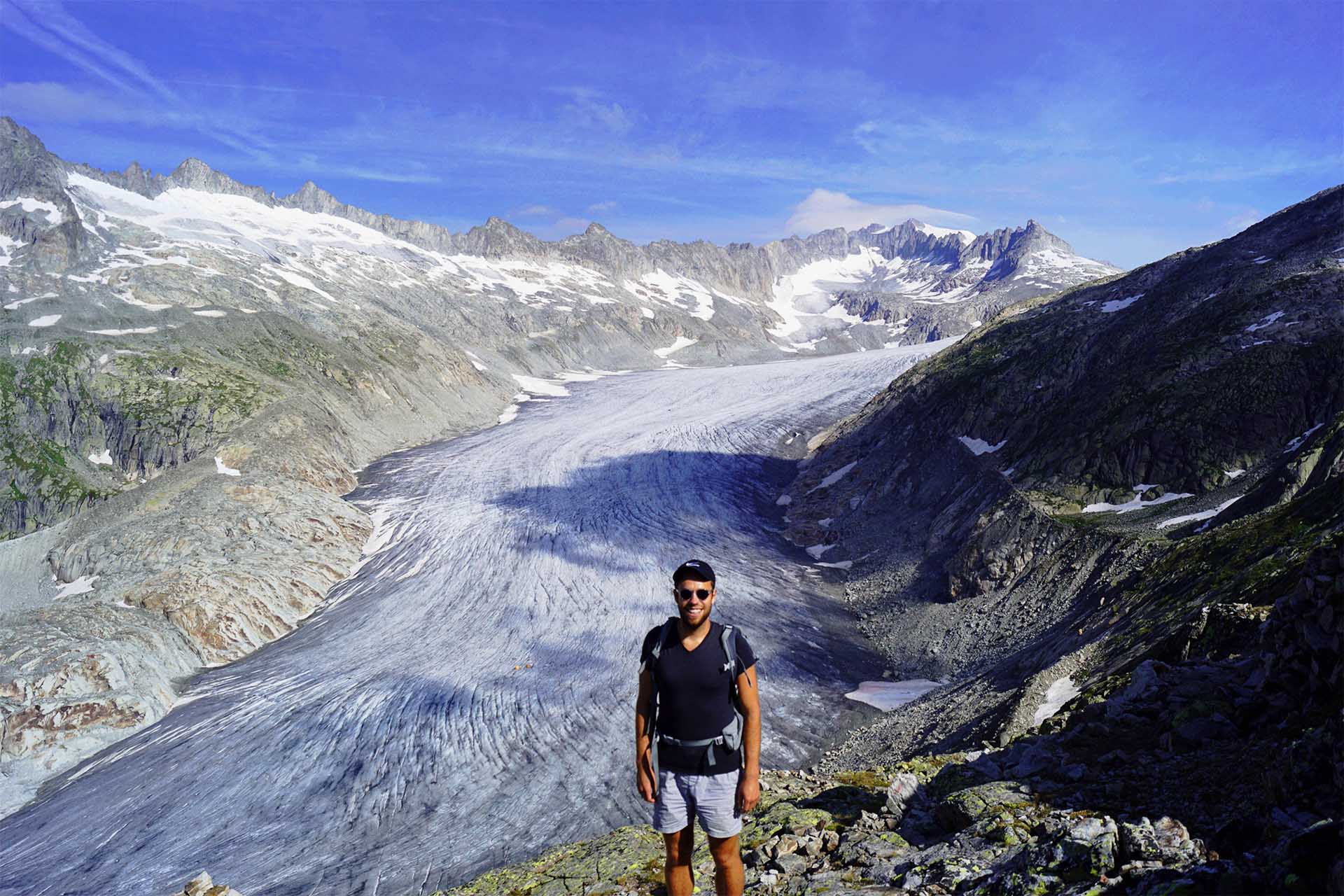 The Rhone glacier is considered to be the source of the Rhone River, flowing from Switzerland to France and then into the middle sea. Road to the Rhone Glacier is unbelievable for those who like to drive. 
There is a cave of ice in the glacier of the Rhône. Inside the Rhone Glacier, you will find yourself in a whole different world. What is truly incredible in this cave is that you will be inside the natural ice! Yes, you heard it right. It is a perfect summer place to visit.
Conclusion of Vacations in Switzerland
After visiting any of the above-mentioned places to visit in Switzerland, you will realize why Switzerland is known as "Heaven on earth". In this text I have showed you some of the popular and less popular tourist destinations for your perfect travel and vacation in Switzerland. To which one will you go first?