A breathtaking hike takes you from Brülisau via Lake Sämtis to Lake Fälensee, the fjord of the Alpstein. It is one of the most beautiful places in the Appenzell Alps and in Switzerland.
Summary Fälensee Hike
Lake Fälensee can only be reached by hiking, as both cars and bicycles are prohibited (as of 2021)
From Pfannenstiel the hike to Bollenwees takes 2h 25 minutes, from the Hoher Kasten cable car in Brülisau about 2h 45 minutes. The way back is a little faster.
Start: Brülisau; Finish: Bollenwees
This Alpstein hike offers you two mountain inns, two lakes, various fireplaces and an incredible panoramic view.
Arrival Lake Fälensee
Take public transport to Brülisau, where you can then set off from the Hoher Kasten cable car in the direction of Bollenwees. If you arrive by car, you can even drive a little further back in the direction of Pfannenstiel. Because in summer, a farmer makes his field available (4CHF/day). The fee can be paid in coins or by Twint app.
Those who want to get to Lake Fälensee can only get there by hiking. Because the access road is closed to cars. At the moment there is as well a ban on bikes in almost the entire Alpstein area.
From Brülisau to Lake Sämtis – steep ascent
The Alpstein is known for its steep and sometimes dangerous routes. It is actually never dangerous on the road, which means that the hike to the Fälensee Lake can also be done well with children. But especially the first 50 minutes are very steep.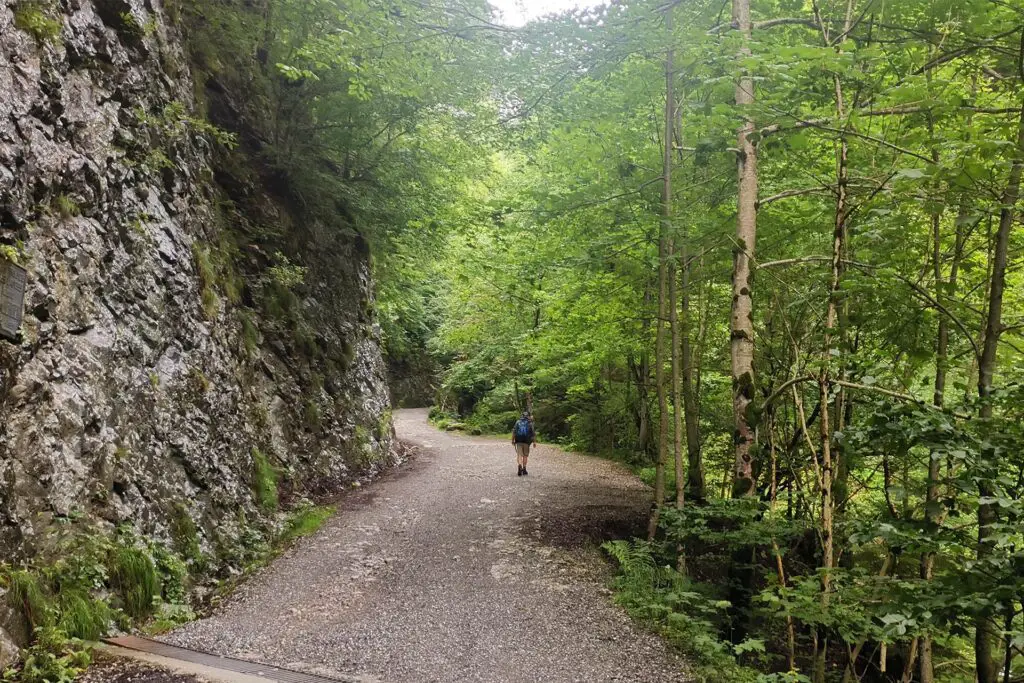 Passing a beautiful mountain stream that accompanies you for a few minutes, you will arrive at the Plattenbödeli mountain inn after about 50 minutes. This would theoretically be the first opportunity to have a snack.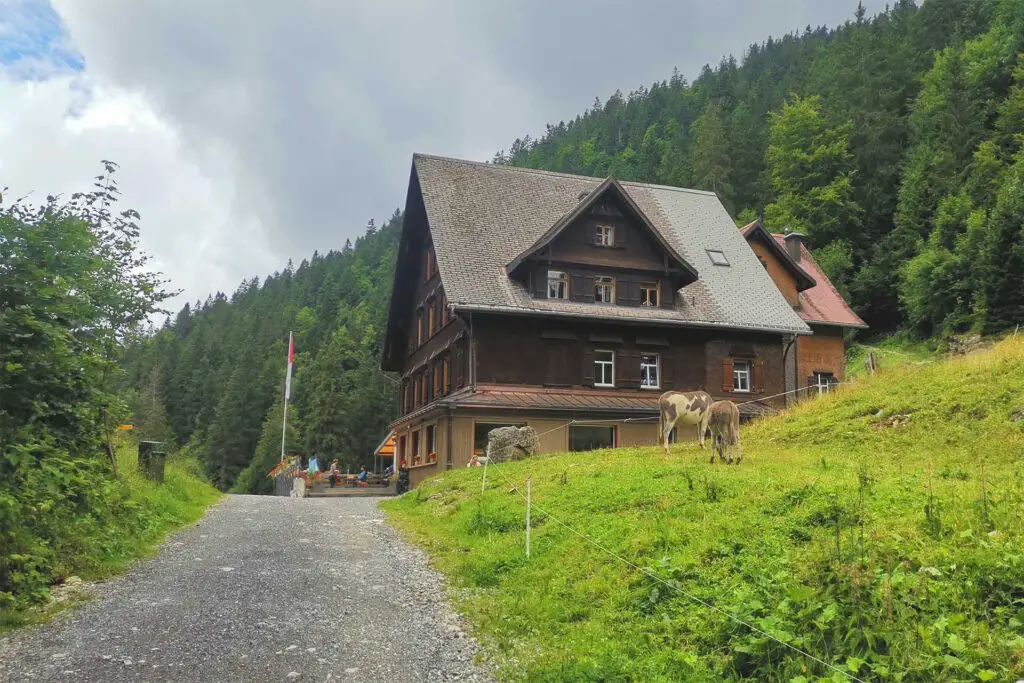 But we are driven straight on to Lake Sämtis, the first of the two lakes on our Alpstein hike. You can reach it in another 10 minutes or in just over an hour from the Plattenbödeli car park. If you want, you can not only grill a great lunch on the fireplace at the Sämtisersee, but also take a refreshing swim. Because it has rained so much in the year 2021, the lake was flooded. During heat waves, the opposite can be the case, that Lake Sämtis has dried up completely.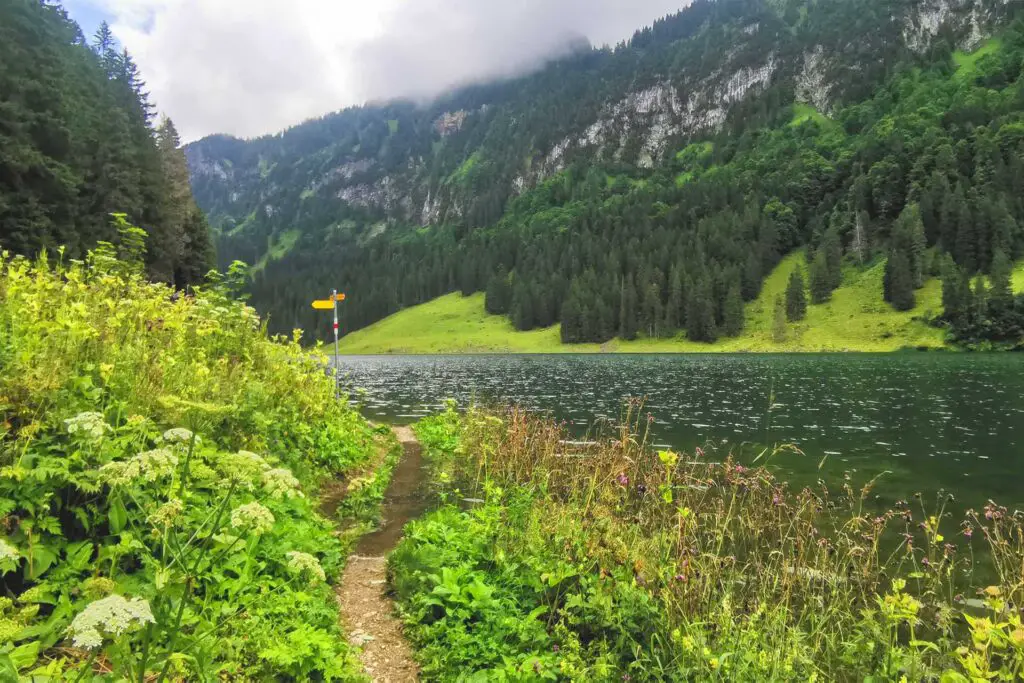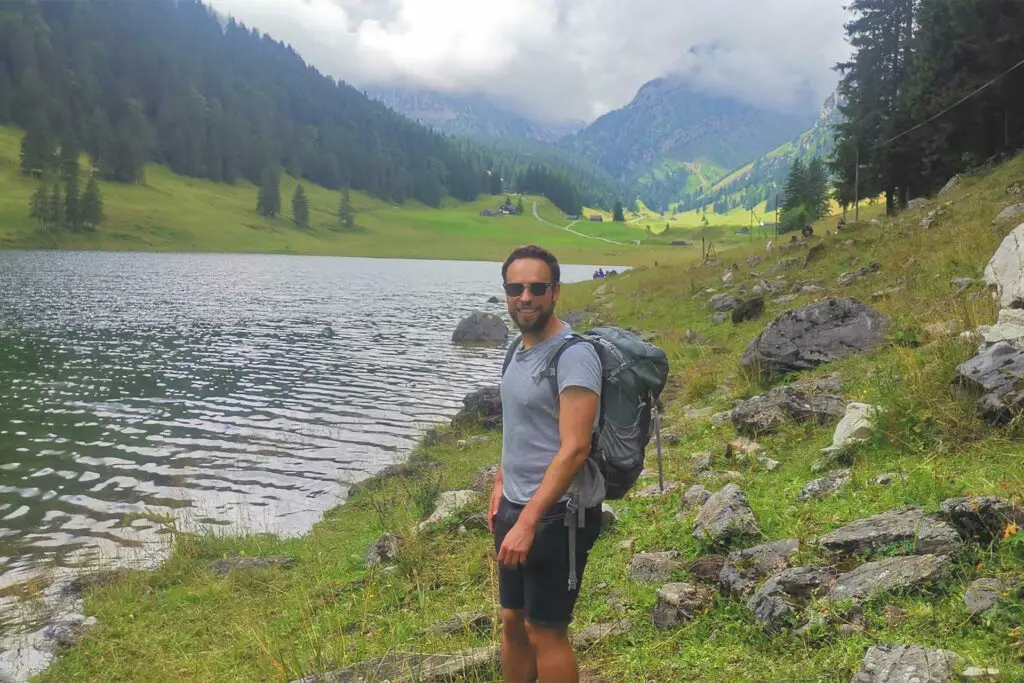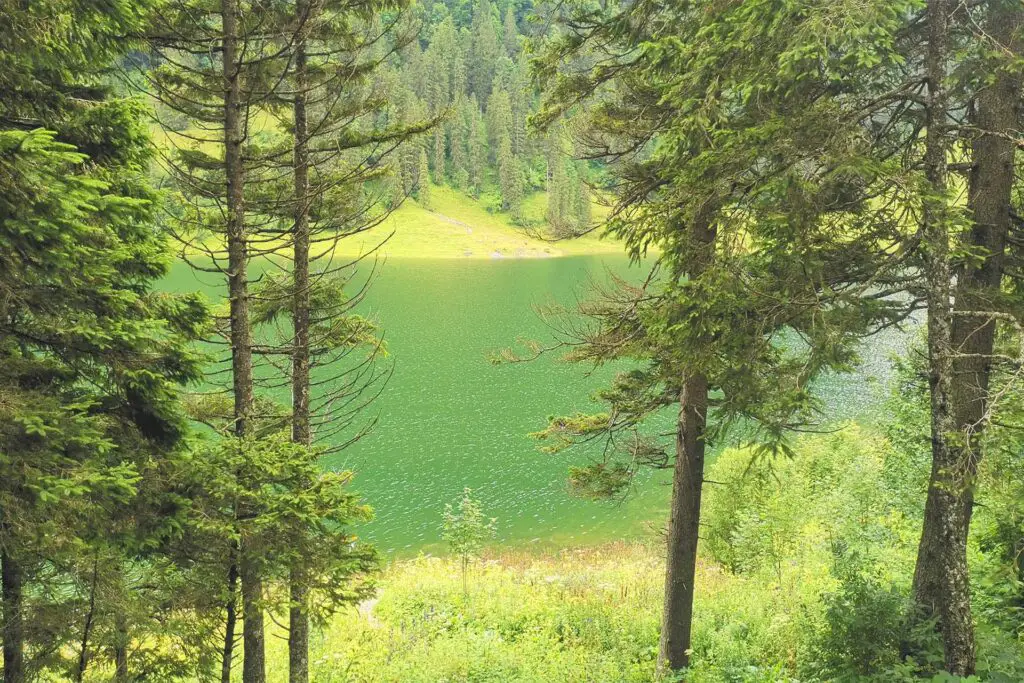 Farmers in the Alpstein – an old tradition
In summer, animals also enjoy the fresh alpine air in the Alpstein region and graze the meadows. According to tradition, this has been the case for more than 1000 years, with farmers bringing their animals to the plains of the Alpstein in summer.
In addition to cows, there is also a ProSpecieRara species: the white Appenzeller goat. It was particularly popular with farmers because of its high milk yield and hardiness and originated in the Appenzell region. But in the meantime, other breeds have been bred that produce a higher yield. As a result, the breed has become increasingly rare. When you see the goats, you take them straight to your heart. Admittedly, like all goats, they also have an idiosyncratic nature. But they are just as curious and friendly. By the way, delicious Appenzell cheese is made with their milk.
So the cows and goats also make a perfect photo motif. Surprisingly, there are no sheep here.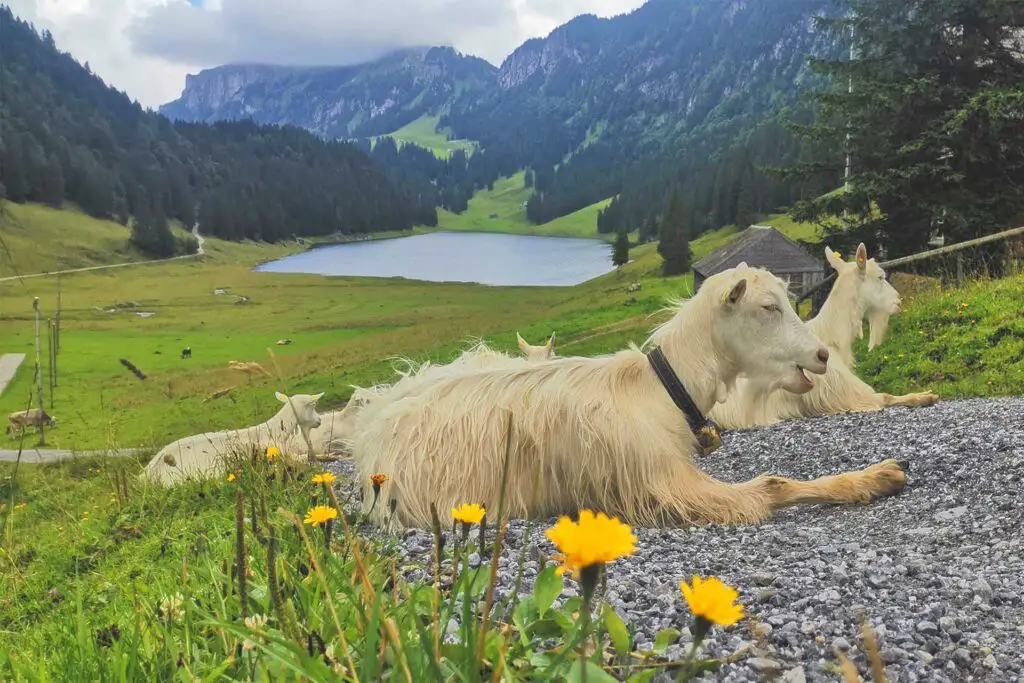 From Lake Sämtis to Lake Fälensee and the Bollenewees mountain inn
Now we continue on the well-built gravel mountain road towards Lake Fälen. The road was made for the farmers so that they can drive to their houses. But for everyone else, driving is forbidden in the Alpstein.
At Lake Sämtis there are two options. One is to hike on the road, which is the longer but safer route. Especially if it has rained a lot, I would only recommend this one. Passing cows and the Rheintaler Sämtis alp, it takes an hour to reach the Fälensee lake and the Bollenwees mountain inn. The other one is a mountain hiking trail.
Once you have arrived at the Bollenwees mountain inn, you can enjoy a fantastic view of Lake Fälensee combined by traditional Swiss dishes such as rösti or salad. You can also spend the night in newly renovated rooms.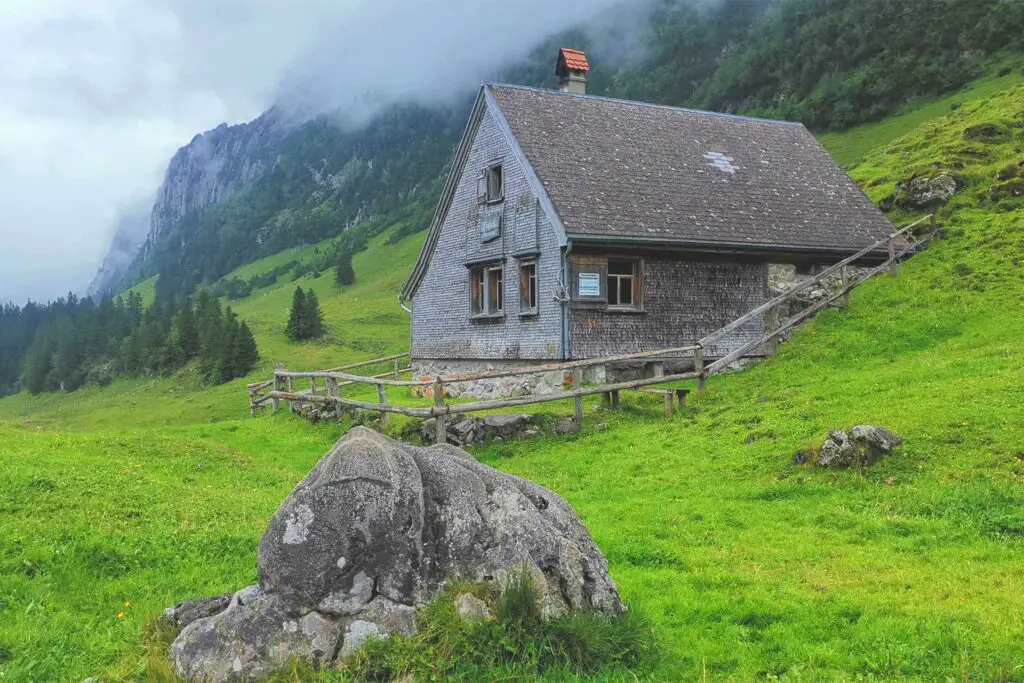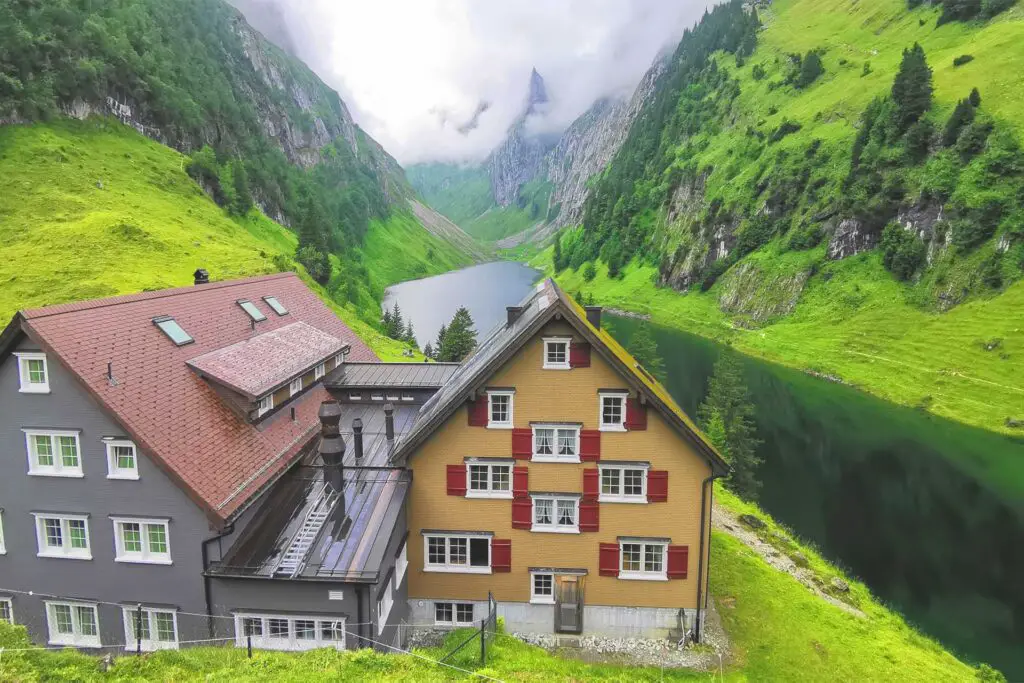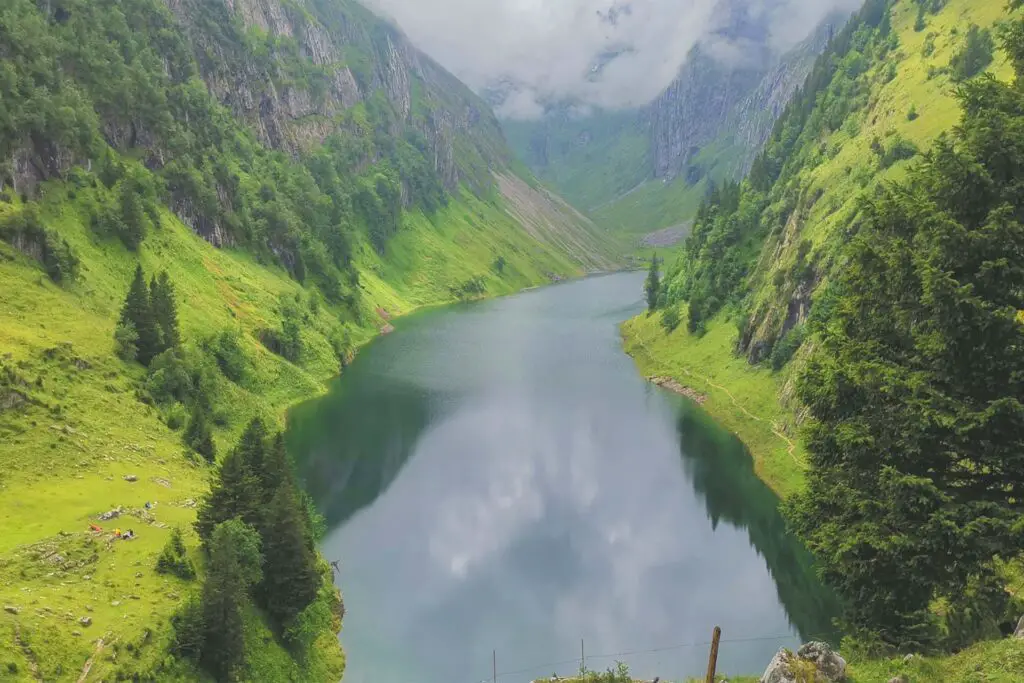 Insider tip – the best view of Lake Fälensee
Five more minutes and then we've made it. We are heading for the big insider tip, the Ruhebänkli. This is behind the Bollenwees inn. Because from here you have the unique view just for yourself. Wow! What a dream this impressive view is. Lake Fälensee is definitely a true nature experience. A place of power that fills you with energy in an instant. What could be better than enjoying the view and letting the silence of nature take effect on you?
And if you want, you can even take a dip in the mountain lake down below, although there is no marked bathing spot. It is supposed to be a maximum of 18 degrees in summer, which gives a refreshing cooling.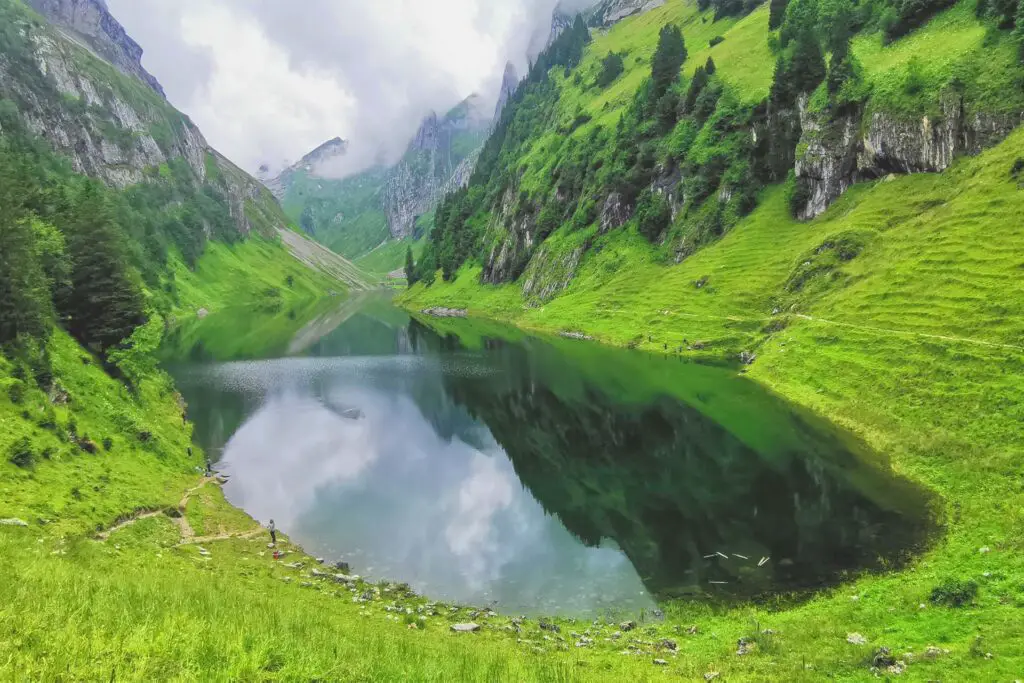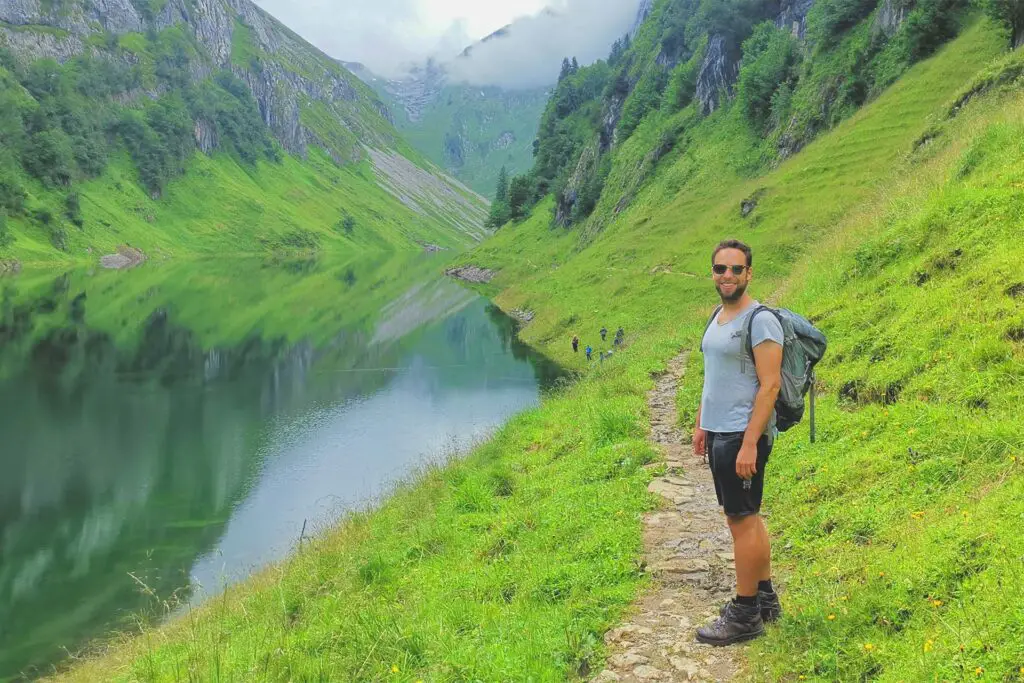 A man-made problem in Lake Fälensee
However, the mountain lake contains high phosphorus content. On the one hand, this may have to do with the incoming water flow. This carries nutrients (sediments) and above all excreta from the cows (agriculture) into the lake. Until 2001, the waste water from the Bollenwees mountain inn was also discharged into Lake Fälen. According to scientists, this problem is partly man-made and partly natural. Sediment samples reveal that a higher phosphorus concentration than in other mountain lakes was already detectable in the 13th century.
A new fish (American char) was introduced into the mountain lake, which can cope well with the intensive conditions such as a lot of phosphorus and the cold. Because in winter and long into spring, Lake Fälensee is frozen. But this becomes huge and now eats up the native fish. A real dilemma.
Continue hiking or going back to Brülisau
You have so many hiking options at Bollenwees, that we can say there are almost no limits. After a refreshment, many hikers continue on to Saxer Lücke, a place that is becoming increasingly popular, especially on Instagram.
Extreme hikers can also hike along the Fälensee towards Unterwasser or the Säntis.  For us, however, we are going back to Brülisau today, which we reach after about 2h 20 min.