Quinten is one of the most beautiful destinations on Lake Walensee and located around 1 hour from Zurich. Because whether you are a wine lover, nature lover or peace seeker – in Quinten everyone gets their money's worth.
Text and pictures by Marc Gottwald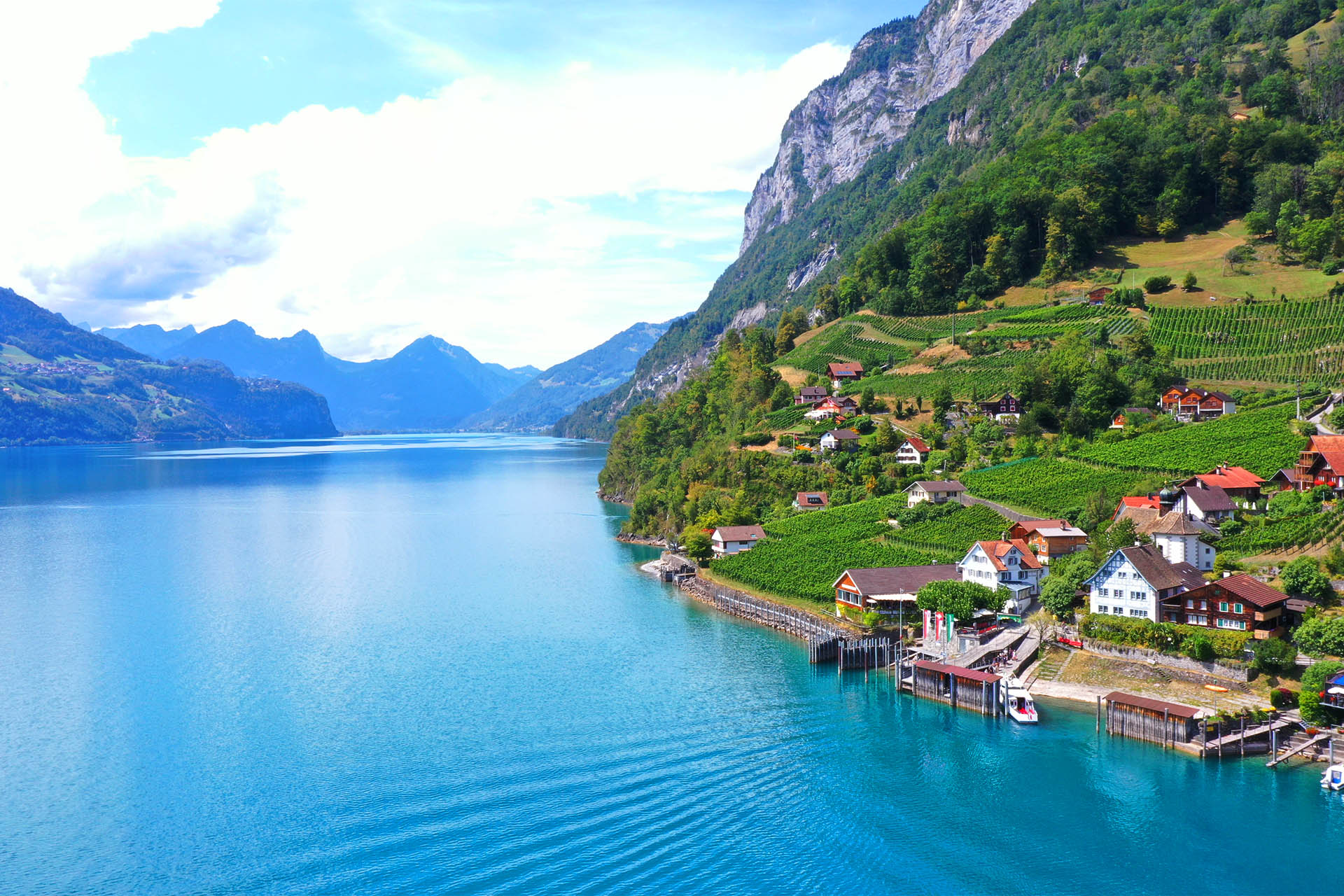 What is special about Quinten is that the destination is car-free which means that you can only reach the winegrowing village by a public boat or by foot. This in turn makes the place perfect for those seeking peace and quiet which makes it one of the most beautiful villages in Switzerland.
History around Quinten
Quinten was first mentioned under the Emperor of Saxony in 849. At that time, the village as well as the fishing rights belonged to the bishop of Chur. Also under the rule of the Romans Quinten was probably an occupied place, because on the one hand Roman coins were found and on the other hand Lake Walen was one of the most important trade routes between north and south.
In Quinten, one has the feeling that time has stood still. This probably has to do with the fact that it has neither train nor road connections, which made the village unattractive for economic purposes for a long time. Today, however, the village is very popular for tourism, but only about 40 people live here all year round.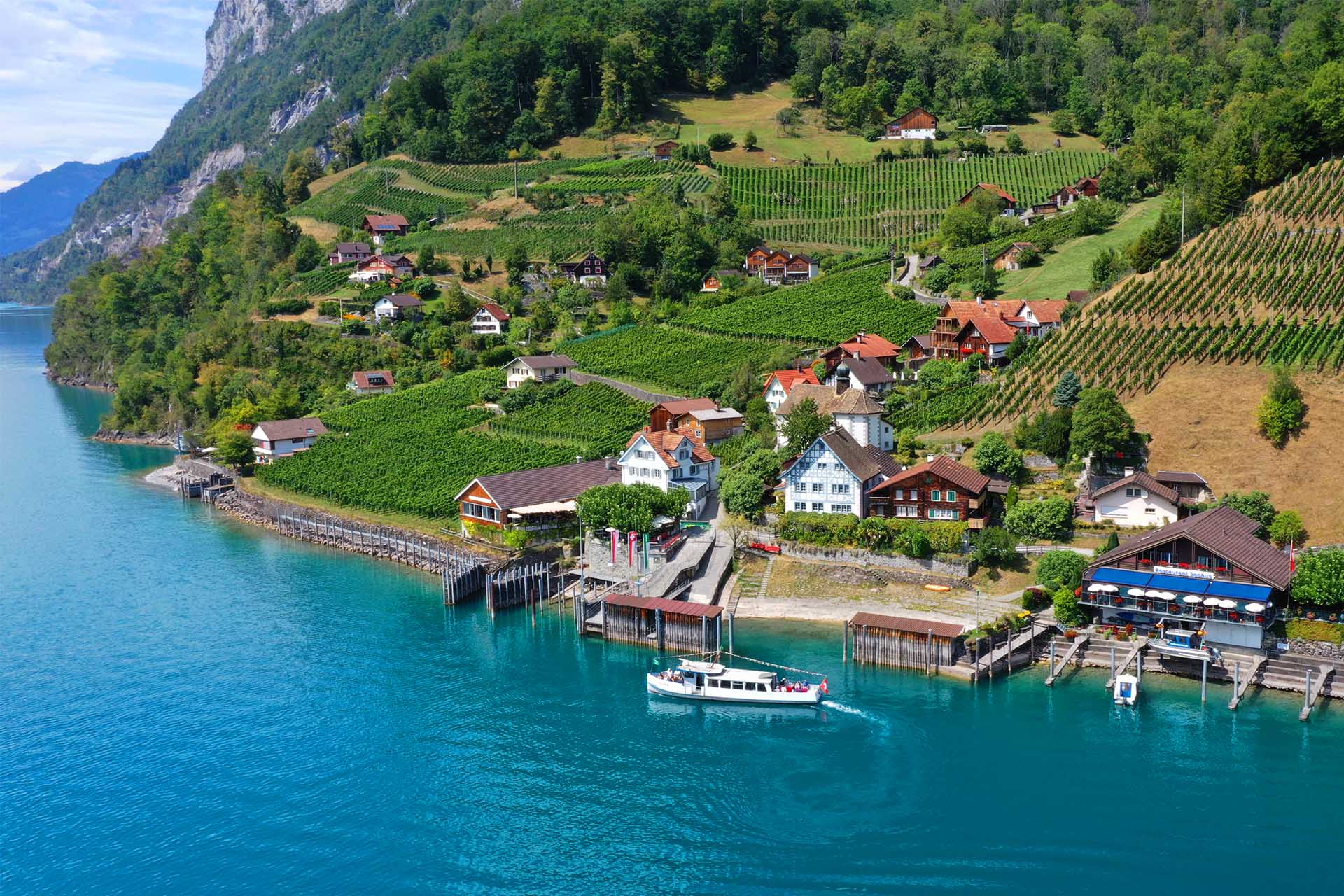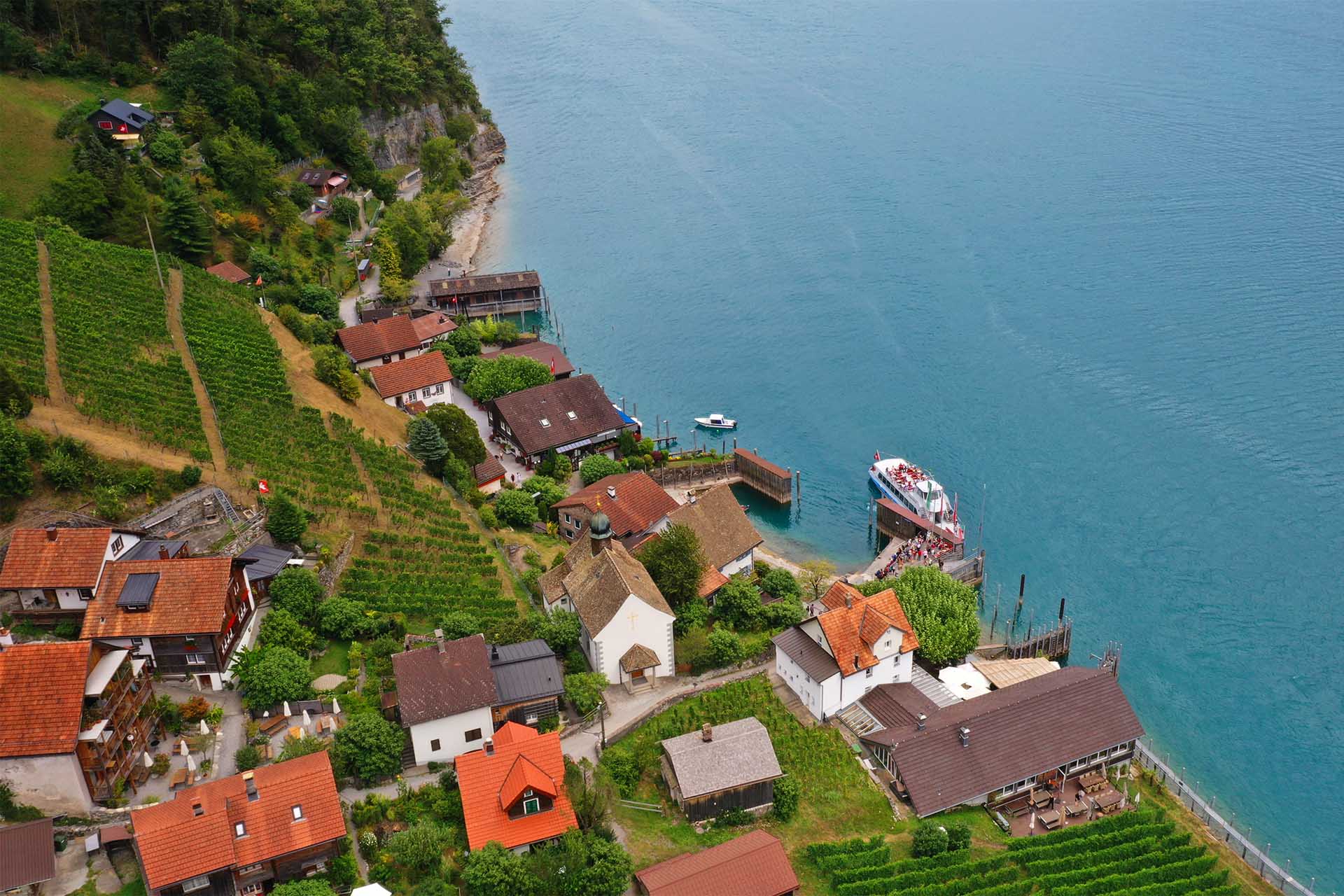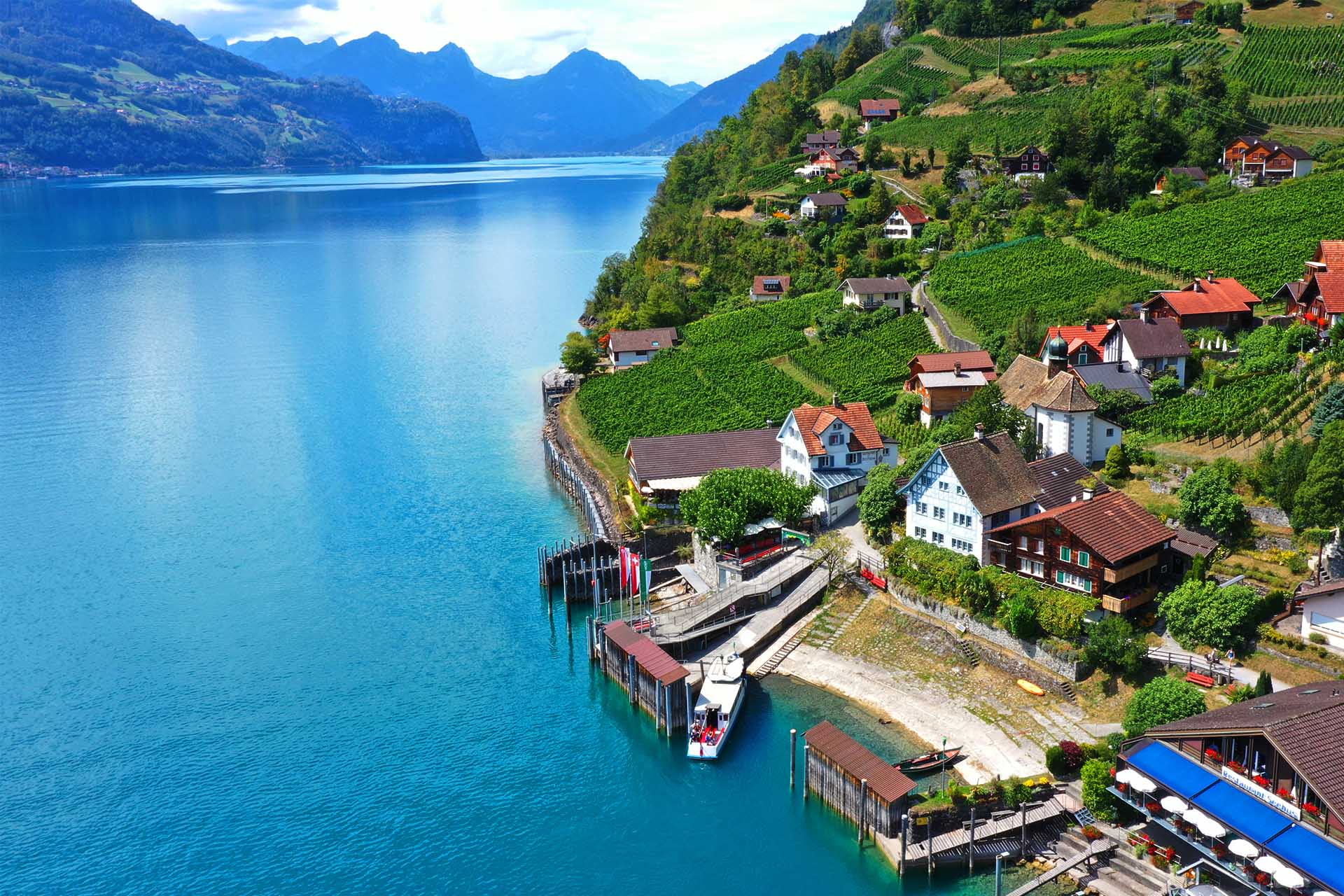 If you walk through Quinten today, you will see various palm trees, kiwi bushes and fig trees in addition to the vines. These are all plants that came to Switzerland from the Romans and grow extremely well in the Mediterranean place. The average annual temperature in Quinten is 12 degrees Celsius, which is very high compared to the 7 degrees in Switzerland. Even Lugano, where the average temperature is 13.2 degrees, is not much warmer than Quinten.
Arrival to the car-free destination Quinten
Quinten can be reached, as already mentioned, only by public boat or by foot. That's why we describe here both ways to get there:
Journey to Quinten by boat (public transport) – including great excursion destination "Quinten Au
If you want to arrive by boat, we recommend you to park your car in Murg East or West. Please note that if you don't have an online payment system installed on your cell phone, you should take enough coins with you. One hour normally costs 2CHF.
A small boat runs from Murg all year round. This is because the Swiss government has a mandate that connections with public transport must be guaranteed. However, since it is a private boat company, neither GA nor half-fare cards are valid. Nevertheless, the price of about 15 francs for a round trip ticket is reasonable. The trip by boat to Quinten takes about 30 minutes each way, depending on where you get on.
Journey to Quinten by foot – including a great hiking tip
To get to Quinten by foot, you have two opportunities. Either you hike from Walenstadt or from Weesen to the winegrowing village.
My favorite is the second hike, where you start from Weesen. Because here you will also discover one of the tallest waterfalls in Switzerland, the so-called Seerenbach Falls. Depending on how you measure the fall, it is called the highest or third highest waterfall in Switzerland. Especially in spring or after a lot of rain, the waterfall is in full abundance and simply a dream.
Next to the Seerenbach Falls is the Rin Spring, which can carry up to 30,000 liters of water per second when the snow melts.
In addition, in May, with a little luck, you can find very rare orchids along the way on the hike which is an absolute must for plant lovers. The hike from Quinten to Weesen takes about 3.5 hours.
Walks in Quinten
Quinten Au – Quinten
If you like to take a 30-minute walk, it is worth getting off at Quinten Au. This is a small hamlet about 1.5 kilometers from the village.
The walk from Au to Quinten is also an absolute highlight for families, because the path is stroller-friendly. On the way, as an insider tip, there is a bathing meadow including a fireplace and WC. Access to the "Badi" is free of charge.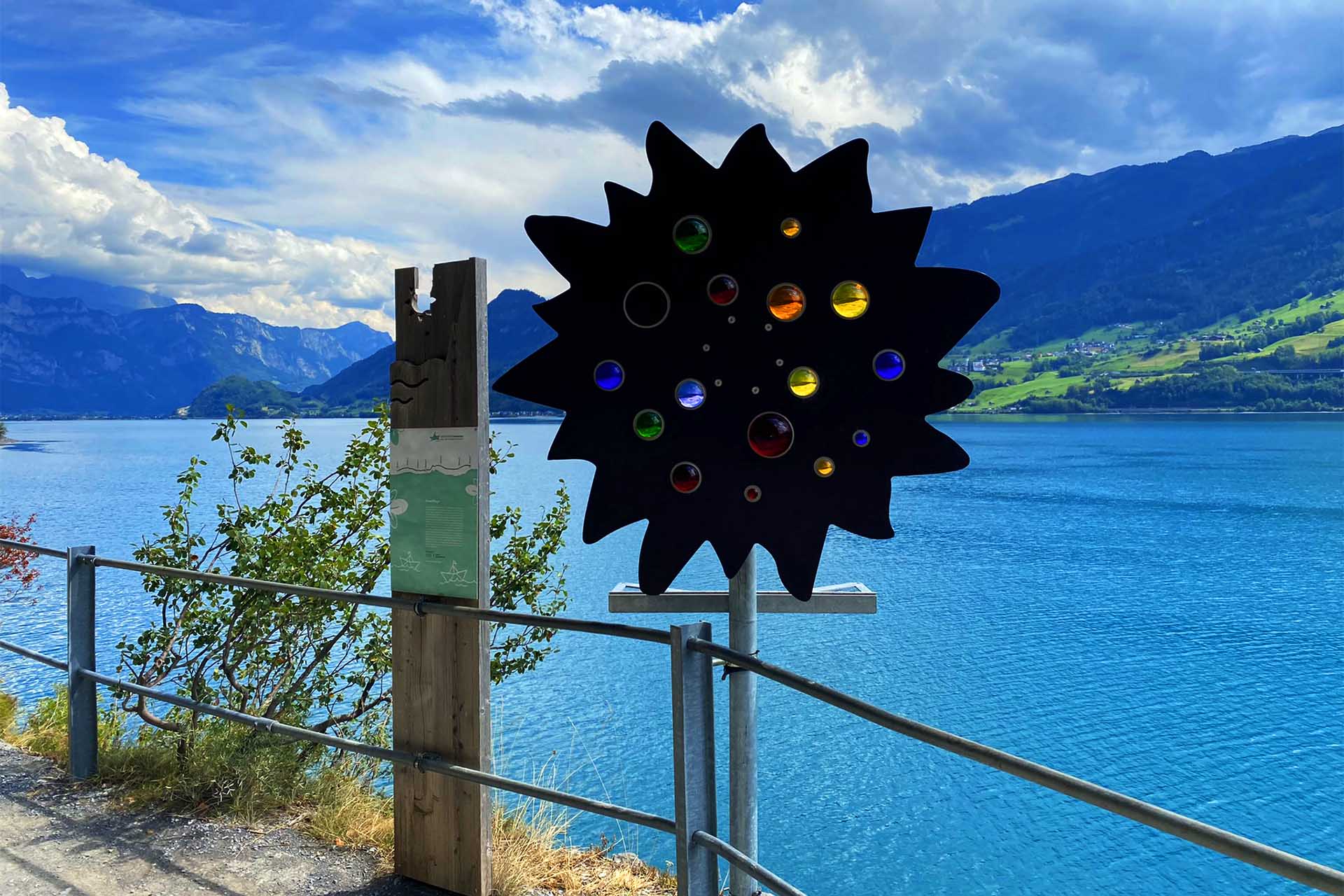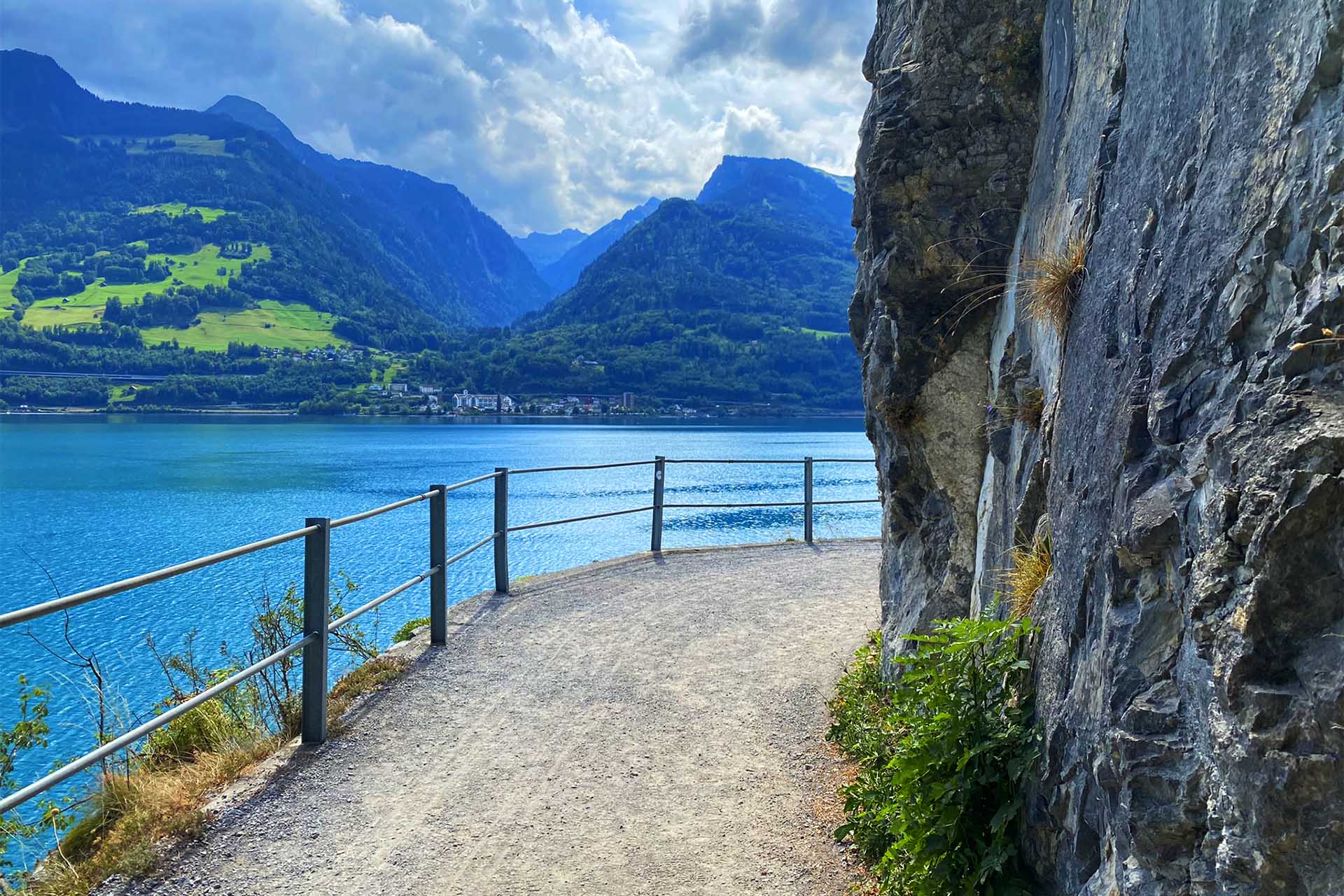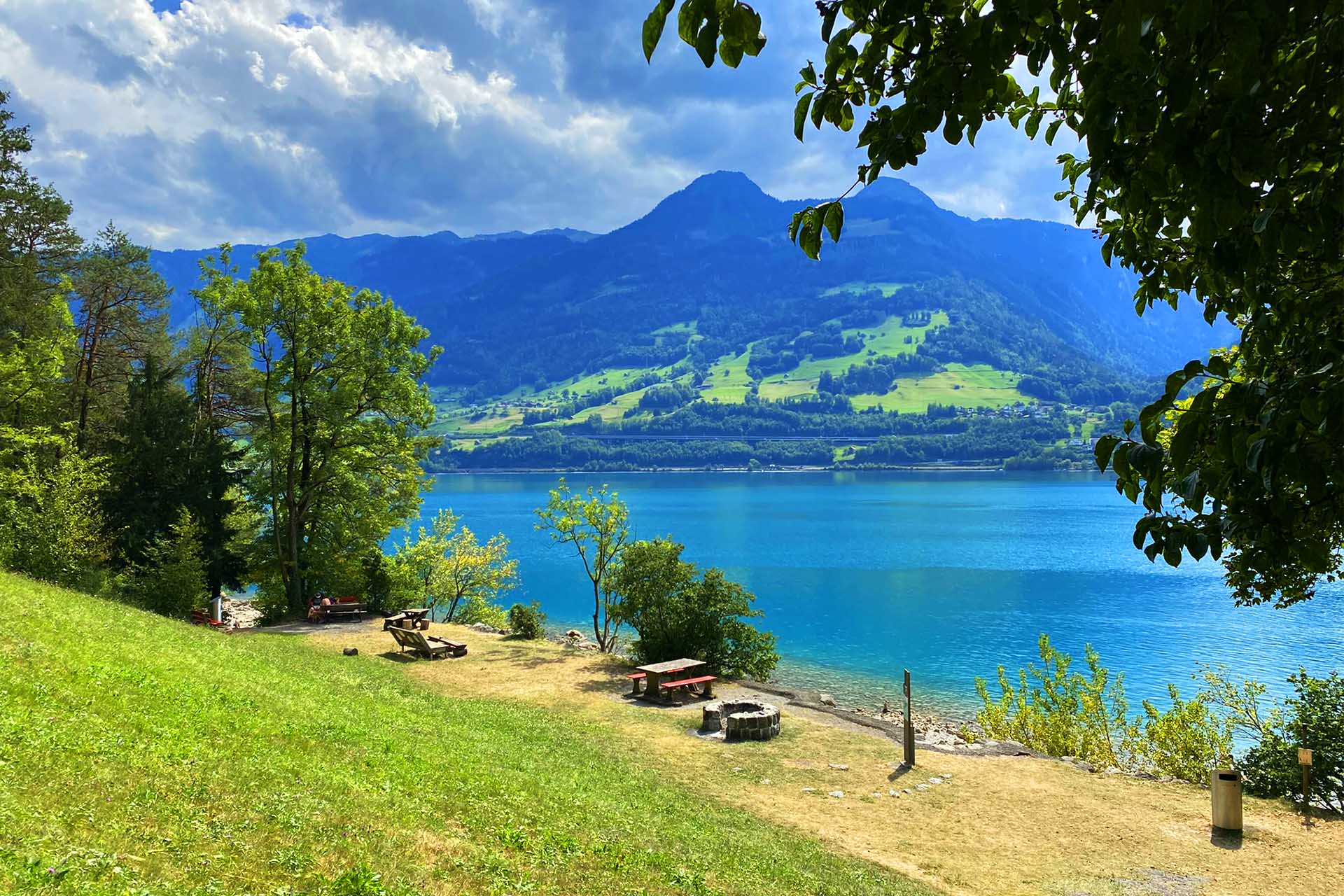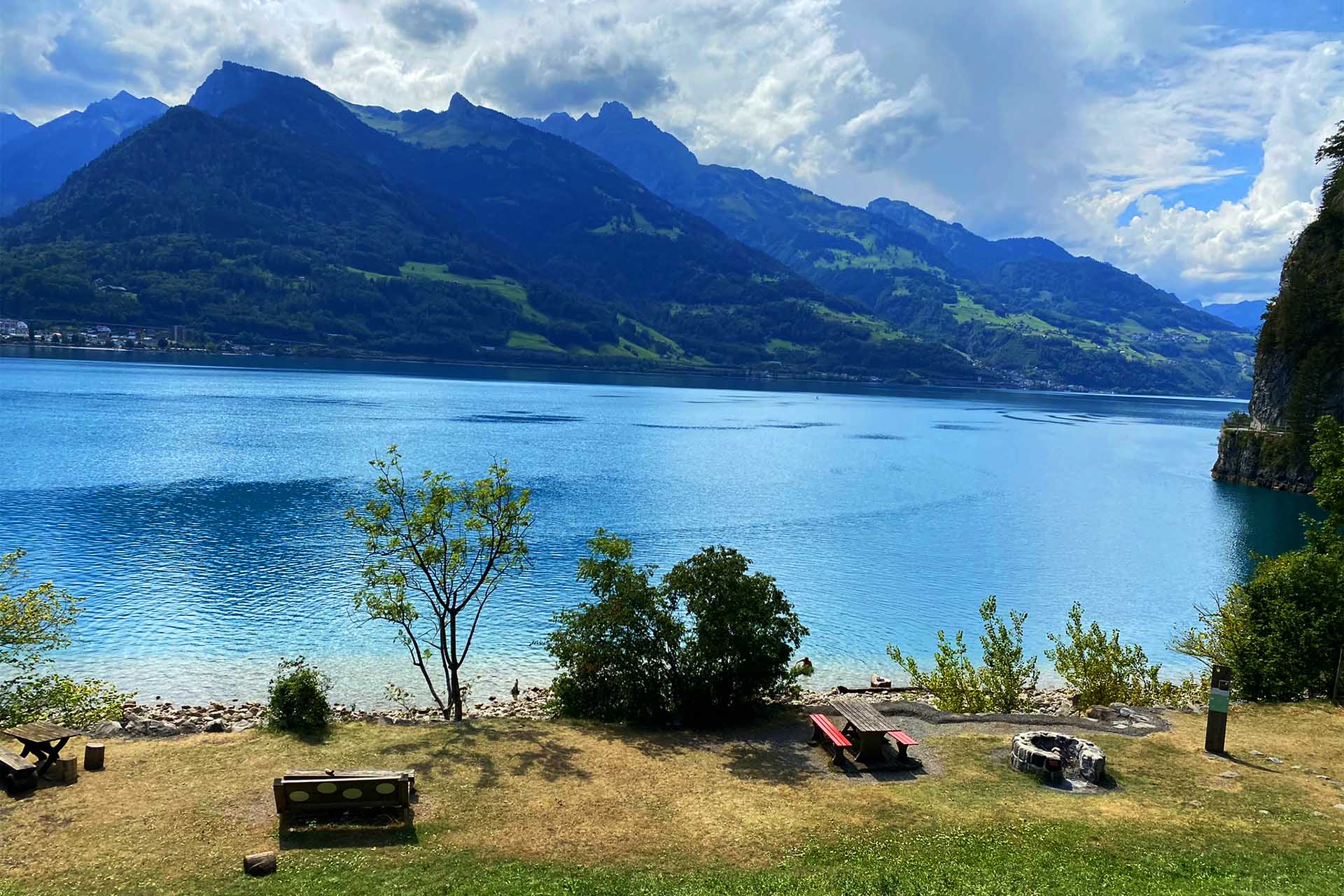 Village tour
Also very idyllic is the village tour in Quinten, which rewards you with a fantastic view over the vineyards, Lake Walen and the surrounding mountain landscapes. It is beautiful to see how the houses take care of their gardens with the many flowers. You will also be surprised how many southern plants you will encounter. Besides vines there are kiwis, figs and palm trees.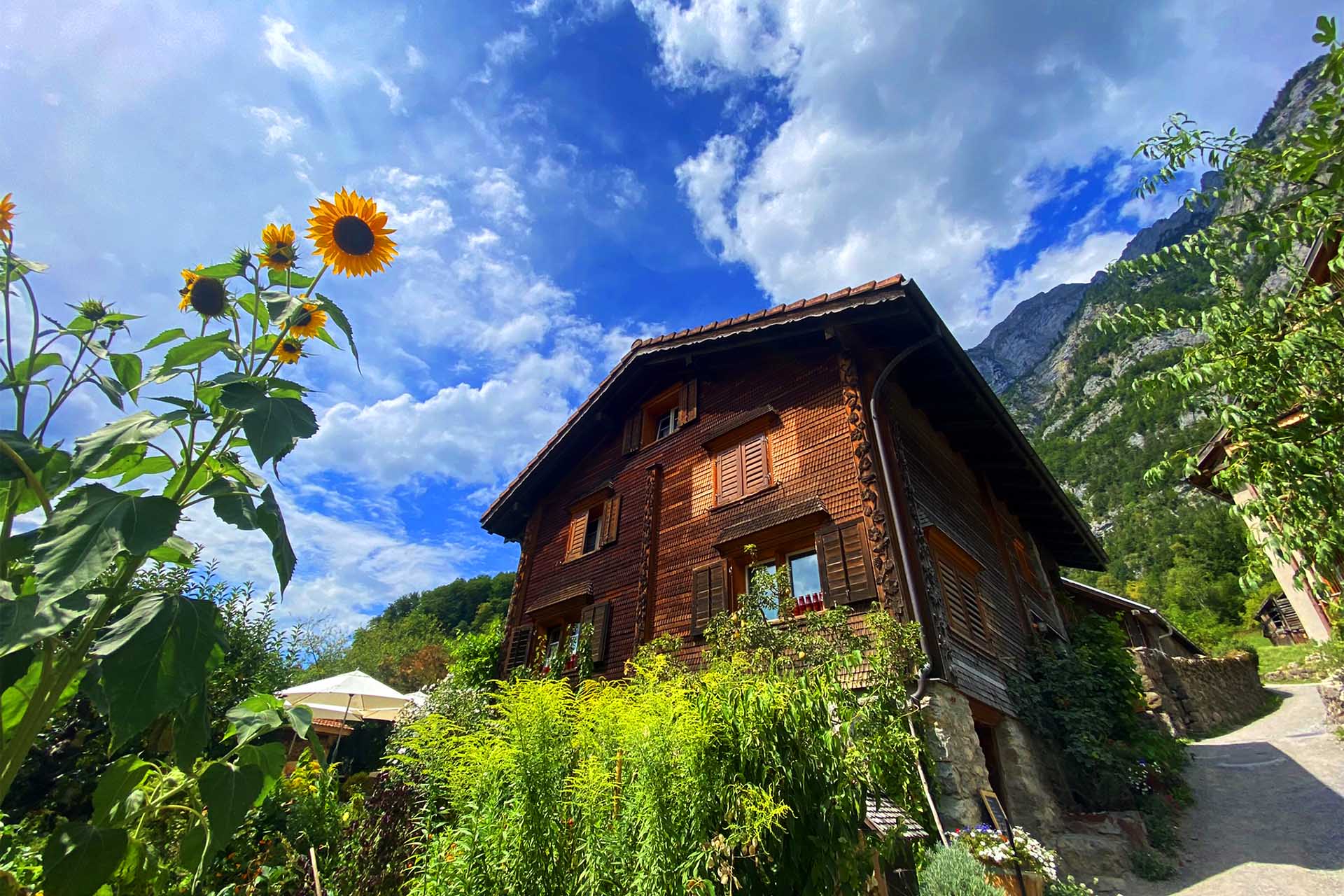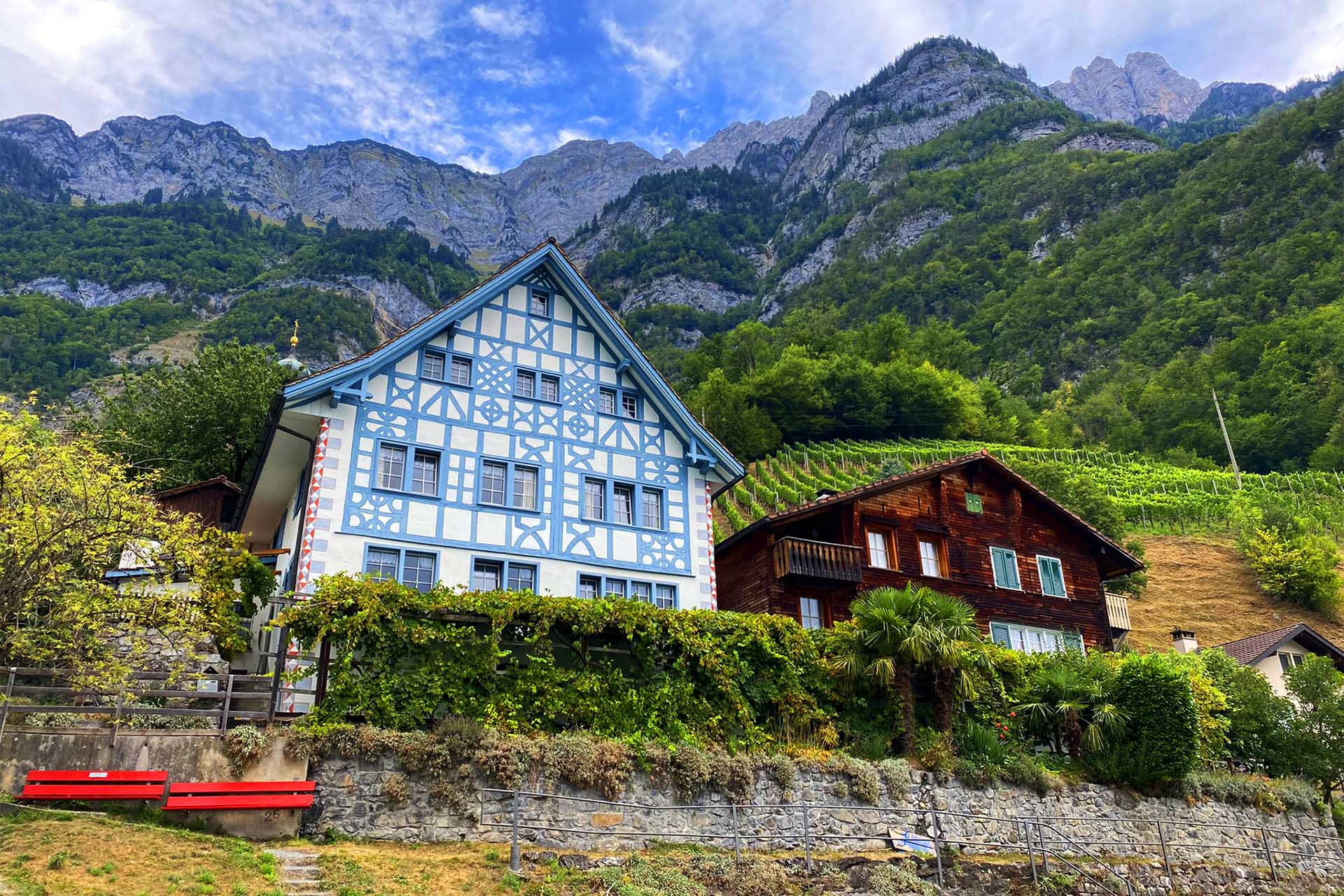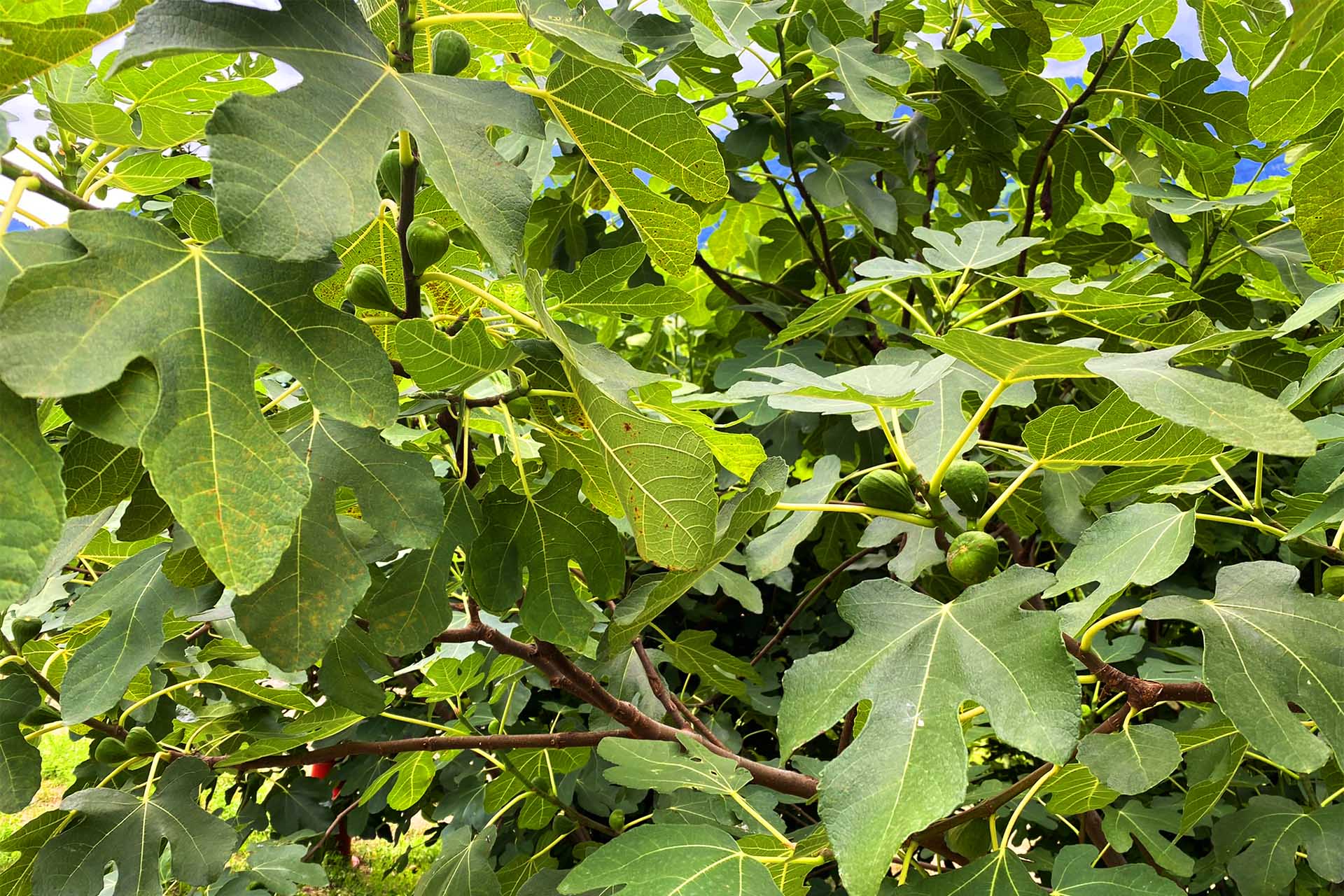 Also a visit to the small chapel is very special and beautiful. It was built already in 1765 and was renovated for the first time in 1919. Also other constructions in Quinten are from the 17th and 18th century.
Restaurants, hotels and village store with regional products
Those who like to enjoy a delicious meal have their options in Quinten. Especially fish and wine lovers get their money's worth here, because Lake Walen and the vineyards almost set the pace for local food. Although a visit to Quinten is worthwhile in winter too, two of the three restaurants are closed then. It is important to reserve a table in advance at lunchtime. Because then it is normally very busy in the village, especially when the weather is nice, and many guests have to go on hungry.
Normally open at any time of the year is the Tremdondi Restaurant and Boutique Bed and Breakfast, which focuses on relaxation and delicious regional and seasonal food.
According to Tripadvisor ranking, the restaurant Seehus is the number 1 of the 3 restaurants in Quinten and takes its winter break each November. The Seehus is closed on Monday and Tuesday and closes on Thursday and Saturday only at 9 pm. On the other days it is already at 5 pm and 6 pm respectively.
A second restaurant is the Schifflände, which is closed from late autumn to early spring. The opening hours are during the season from about the beginning of April to about the end of October from 10 am to 6 pm.
Also worth mentioning is the small village store, which sells regional products such as wine, fig mustard, liqueur, dried apple slices and much more.
Winter in Quinten
In winter there is much less going on in Quinten than in summer. As already described, most of the hotels and restaurants are closed in wintertime. Nevertheless, it is worth a visit, because with snow you have the feeling that you have landed in a fairy tale paradise.
It is also easy to get there by boat from Murg East and West. The hikes are too dangerous with snow. Also when it is raining too much you should refrain the hikes because of the rock falls.