Here are the three most beautiful panoramic hikes starting at Lake Wägital. Wonderful views and great restaurants are guaranteed. Great excursion destination from Zurich Switzerland.
Text and Photos by Marc Gottwald

A dream lake near Zurich
Are you looking for great excursions from Zurich? We have them here for you. One of my favourites is the Lake Wägitalersee (Lake Wägital). Because the lake in the canton of Schwyz has for everyone something to offer. 
People who enjoy being on the Swiss lake can rent a boat. Fishermen are even allowed to catch fish in Lake Wägital. You can also swim, depending on the spot. In addition, there are various restaurants to stop at.
But not only that: Lake Wägitalersee is an ideal starting point for wonderful hikes. In this article, I would like to present three of my favourite hikes starting at Lake Wägitalersee. The first hike is suitable for families, as it is pram-friendly.
The second and third hikes are very strenuous. But you will be rewarded with a magnificent view of up to six Swiss lakes. So let's start and dive into the dream of Lake Wägital and its region.
1). Stunning hike around Lake Wägital
– Hike suitable for prams with plenty of places to sit.
– Various fireplaces can refine the excursion with barbecues.
– There are also a few restaurants on the Wägitalersee where you can stop for a bite to eat.
Duration: Approx. 3 hours
January – December
Starting point and destination: Innerthal, Post
If there is a leisurely and beautiful panoramic hike near Zurich Switzerland, then I recommend the circular hike around Lake Wägital. Because despite the paved road, there are relatively few cars here. This has to do with the fact that there is a ban on driving. This means that officially only locals or people who want to get to their holiday home are allowed to drive around the lake. Unfortunately, not everyone obeys this rule. That's why there are more cars on the road from late spring to early autumn.
We start at Innerthal Post, where you can park the car. It is important that you have enough coins with you. If you want to park for free at the Wägitalersee, I'll give you an insider tip. If you drive over the dam wall, there are parking spaces directly after the dam. You can start your hike here as well because you're going around the entire lake anyway. However, these parking spaces at the Wägitalersee are limited.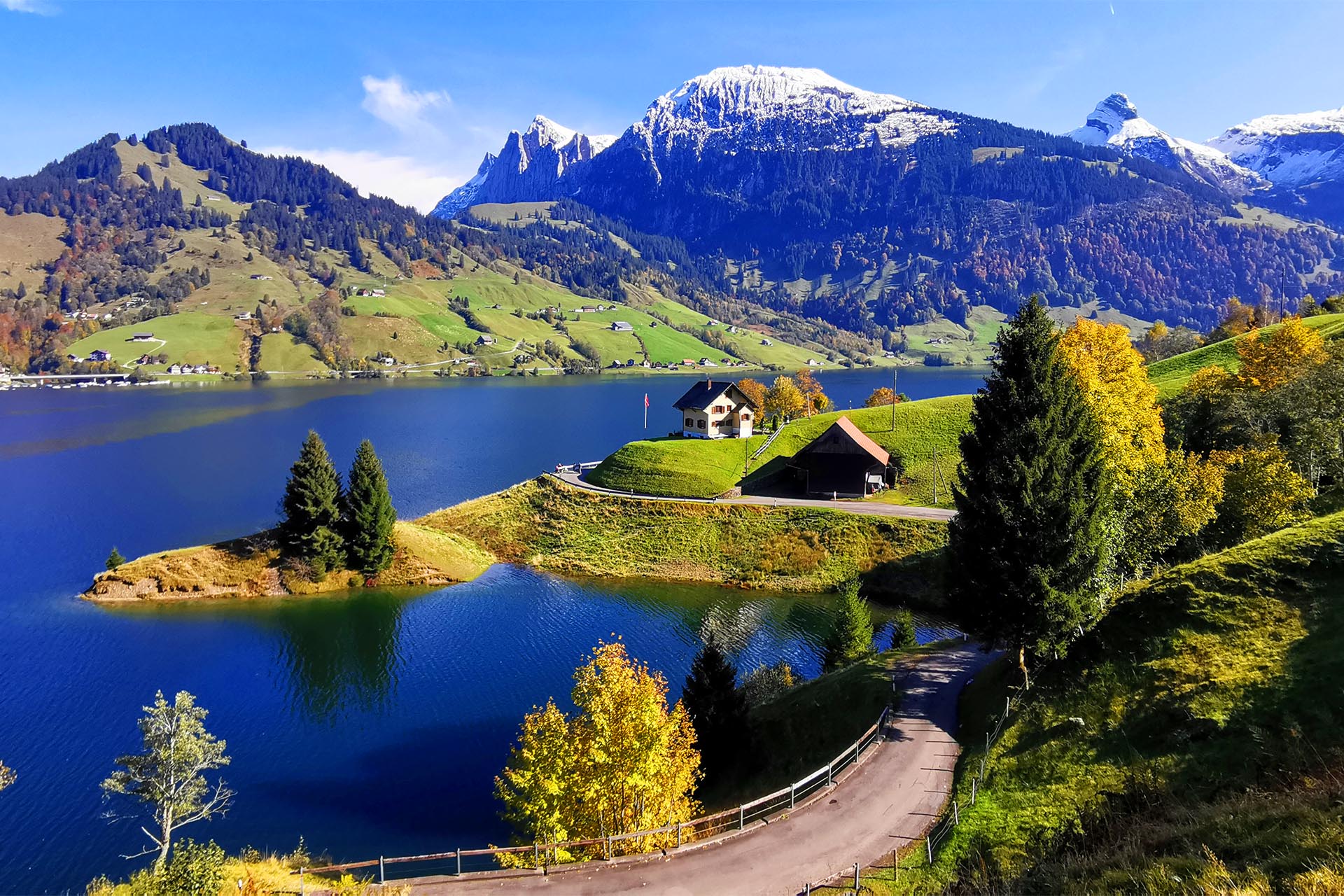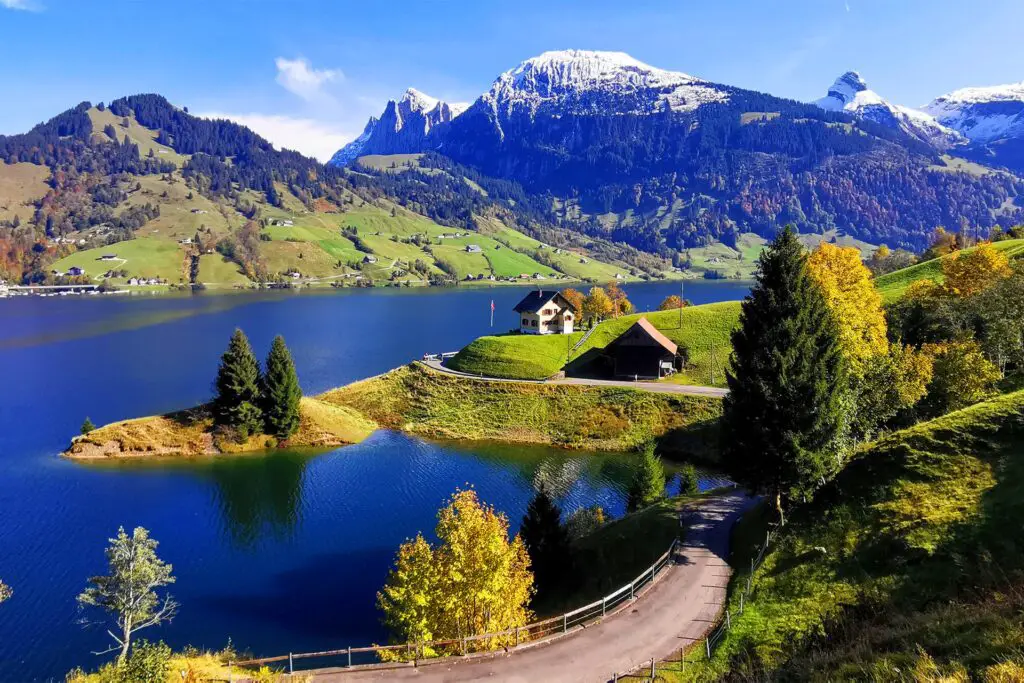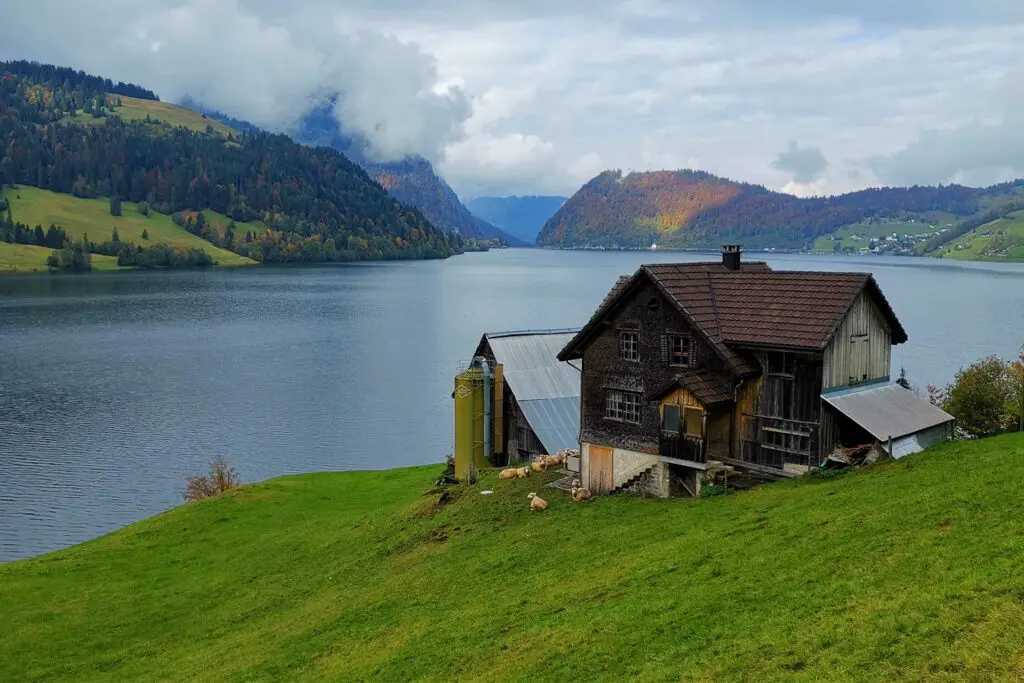 Lake Wägital – an artificial lake
It is interesting that the village of Innerthal was rebuilt. Because, as already mentioned, Lake Wägital is a reservoir. Innerthal was once situated in the middle of what is now this Swiss lake. When the lake was dammed in 1924, the whole village was built up again at the hillside. When construction was completed, the dam wall was the highest in Switzerland at that time. The wall is 111 metres high in total. In the meantime, it is the Grande Dixence dam wall with a height of 285 metres. 
Nothing of the remains of the village can be discerned from the surface. But especially in winter, when the water is stored as snow in the mountains, you can see that this is a reservoir. Then, the lake level often sinks by several metres.
Again and again we meet fishermen on the lake circuit of the Wägitalersee. You can buy a day licence for CHF 30.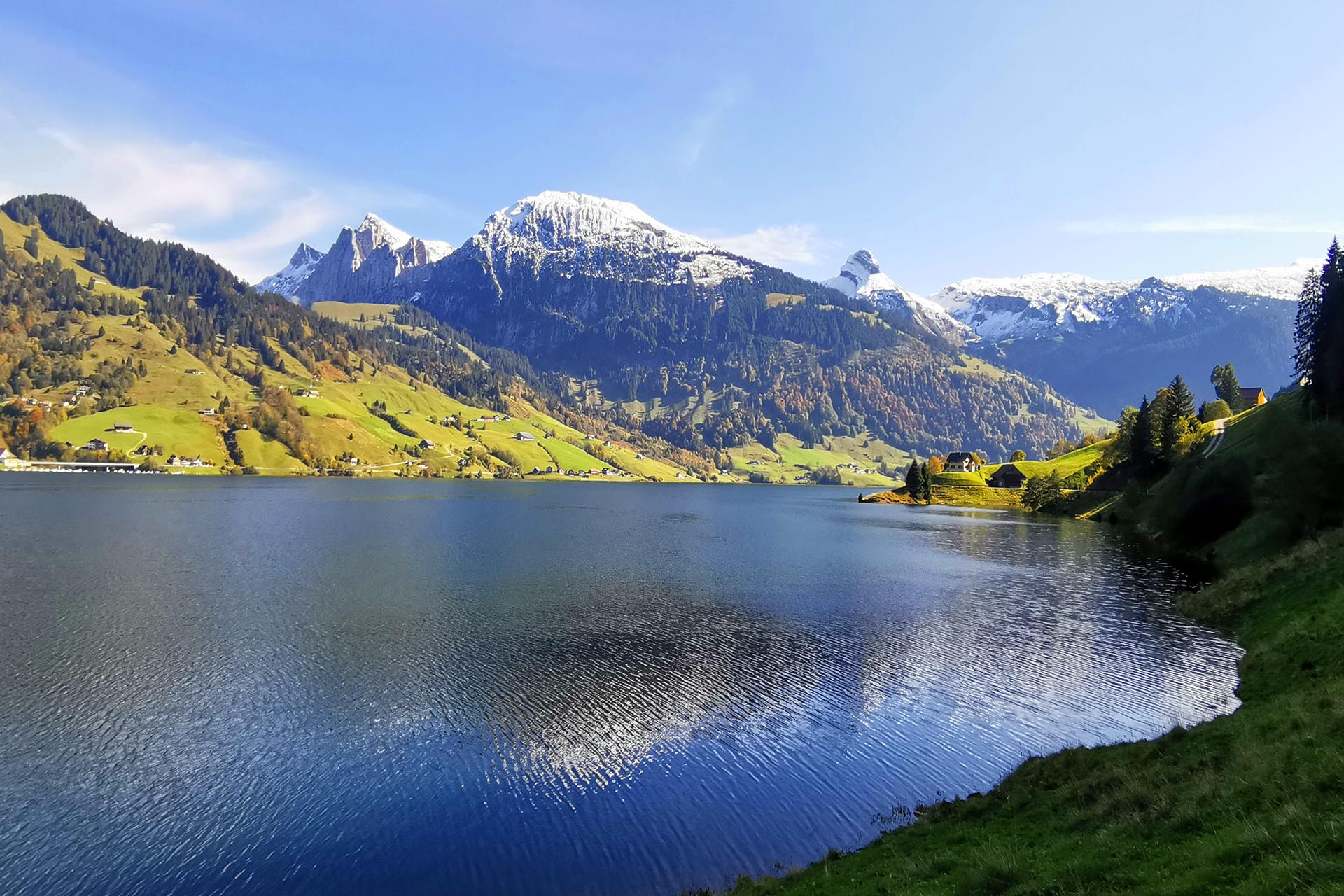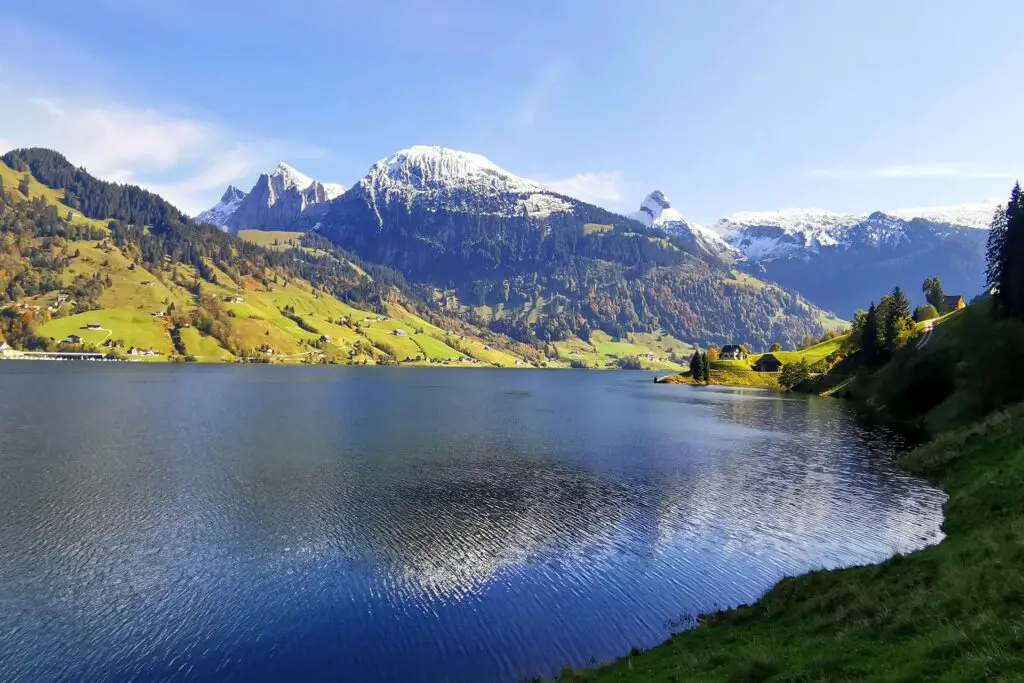 There is plenty of time for breaks here. Because various seating areas let you immerse yourself in the dream world and take away your everyday worries. The view of the Bockmättli (hike two), Gross Aubrig (hike three), the Mutteristock and many other mountains is simply fantastic.
That's the reason why I have done this hike quite often. And every time I have encountered almost no people or cars. If you want to try a restaurant on Lake Wägital, I recommend the Restaurant Oberhof. The traditional restaurant has a strong rating of 4.7/5 on Google with almost 200 votes (as of April 2021). 
There is even a place on the hike where you feel like you have landed in Norway. Nordic architecture was used in this place. Discover the dreamlike panoramic views and gourmet delights on this unique lake hike. 
2). Panoramic hike Wägitalersee – Bockmättli: Enjoy the view over six lakes
Unique hike with views over six lakes such as Lake Zurich, Lake Wägital, Lake Sihlsee, Lake Obersee, Lake Greifensee and Lake Pfäffikon as well as an enchanting mountain panorama.
– Unique views of a total of six lakes and hundreds of mountain peaks.
– Very strenuous hike (only for experienced and vertigo-free hikers with good footwear!).
Take plenty of drinks with you.
Duration: Approx. 5.5 hours
Season: From approx. mid-May – end of October (as soon as snow-free).
Starting point and destination: Innerthal, Post Office
It will be a tough job
Arriving at Lake Wägital, our gaze sweeps up the imposing rock faces. "So this is it, this impressive mountain we want to hike today," I said to my companion. "Around 1000 metres in altitude and a good three hours later we should reach the top," I added. 
"Three hours? A thousand metres of altitude? This is my first such extreme hike this year," he said to me.
As the snow has stayed for a long time this year (2019), even in June there are still snowfields at less than 1500 metres. The mountain "Bockmattlistock", which we want to climb, is just under 2000 metres. Is it already snow-free or not?
As a tip, I generally recommend that you determine the location on site, because there is no webcam. Sunny slopes are usually more accessible than shady slopes. There is also the possibility of asking the locals. We did the latter and knew that the hiking trail from the Wägitalersee to the "Bockmattli" is almost free of snow.
Here you are pampered every minute
Would you like an example?
Even on the ascent alone, you have the feeling of having landed in a dream world. This view over Lake Wägital is simply incredible! And this is only the first Swiss lake. Also beautiful is the diverse world of flowers, shining in all colours. The small and large gentians and the purple-red orchids (Dactylorhiza majalis) are particularly striking.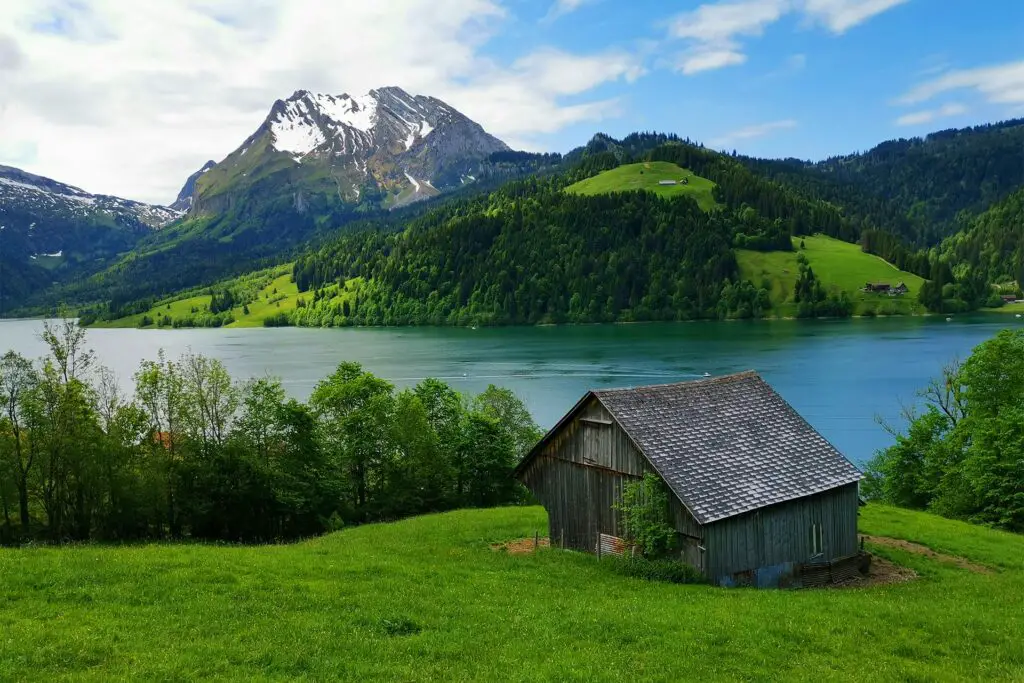 But soon it gets really strenuous. For people who prefer a more leisurely pace, there is hike number 1 as an alternative around Lake Wägital. 
Because after about 1h 15 min, the steep ascent through scree begins in the direction of Bockmattlipass and then Bockmattlistock. Some really enjoy it, for others it is the ultimate challenge and others just want to get to the top. 
But the beauty increases with every metre of altitude, the view becomes more stunning. To the left and right, the hiking trail is framed by enormous rocks. Those are a true paradise for climbers.
And as a tip: A small stop with a panoramic view at the Bockmattlihütte for a drink or a small snack (only soup of the day or bread with Salsiz on offer) can also be recommended. The offer is limited, but the friendly service and the view make this moment perfect. 
Where we are now walking through was once a glacier. How will you see that? The U-shaped valley and the huge amounts of gravel are a clear feature. If it had been a V-shape, the valley or gorge would have been created by a river.
A gigantic view over Lake Wägital and 5 other lakes
When you reach the Bockmättelipass, it is worth taking a well-deserved break. The view over the Obersee, Ahornen (village) and the mountains Plattenberg, Brünnelistock and Rautispitz is simply gigantic. The folds in the mountain walls are also wonderful to see. But you should definitely have a head for heights! After all, behind the rock there is a drop of 400 metres.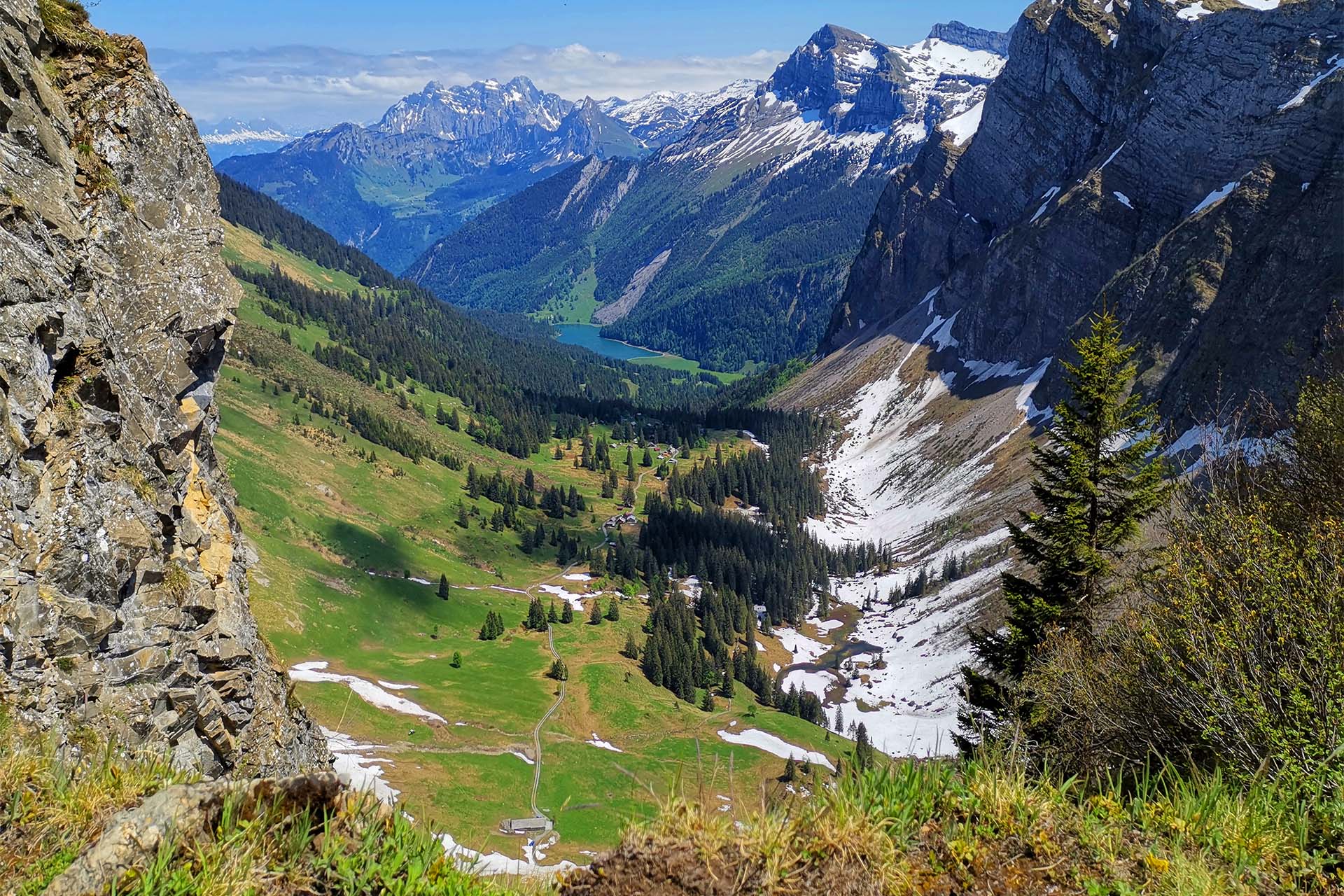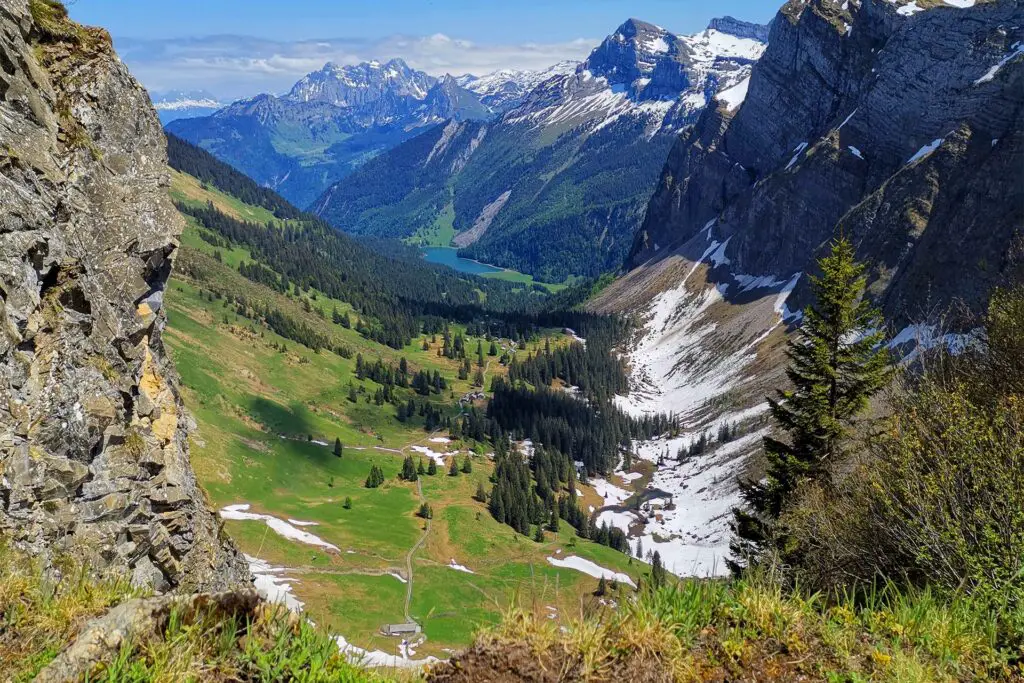 After the break, you hike the last 25 minutes to the Bockmattlistock! From here you have a tremendous lookout with panoramic views over 5 lakes (Lake Zurich, Lake Wägitalersee, Lake Sihl, Lake Greifen and Lake Pfäffikon), lush green meadows and endless mountains. No one can describe what it feels like! It's a place you have to discover and experience for yourself. You could already see and enjoy the sixth lake, the Obersee, during the ascent. It's amazing how close this is from Zurich Switzerland.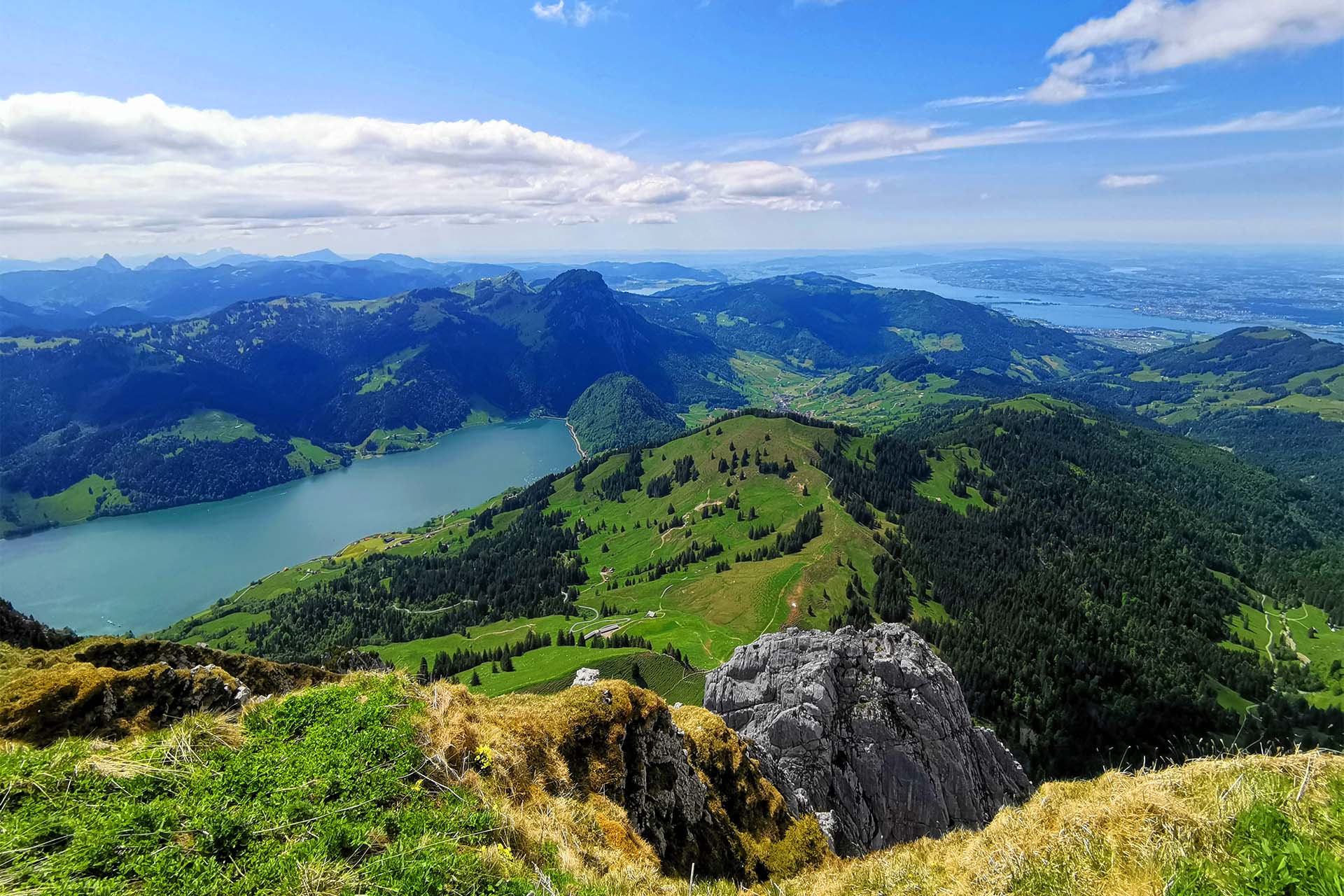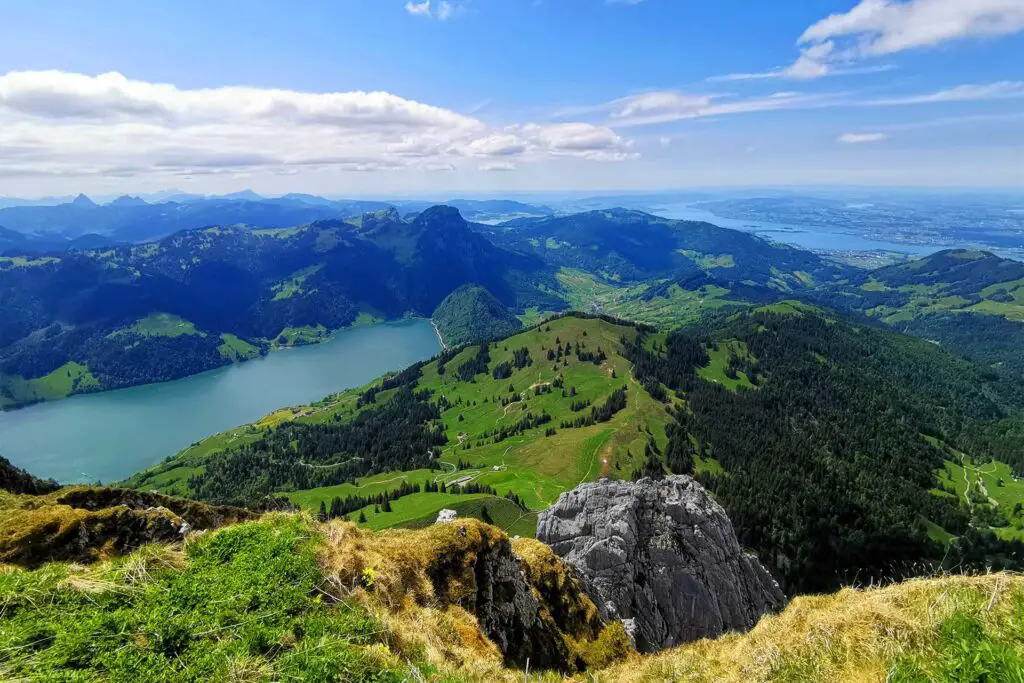 This hike is something for adventurers, those seeking rest and strength, as well as for connoisseurs. For such a sight is rare. Although the mountain is mostly known by locals, the crowd is very manageable and never disturbing. 
The way back is the same to the lake Wägital and takes about 2 hours. Theoretically, you could also hike via Vorderahornen to Obersee. Here you pass nature paradises and romantic places. As there is no public transport, there is a call bus for 30CHF up to 3 persons. From 4 persons it is still 8CHF per person. But here you need to book in advance until the evening before at 055 612 10 72 (Armin Fischli Rufbus Näfels).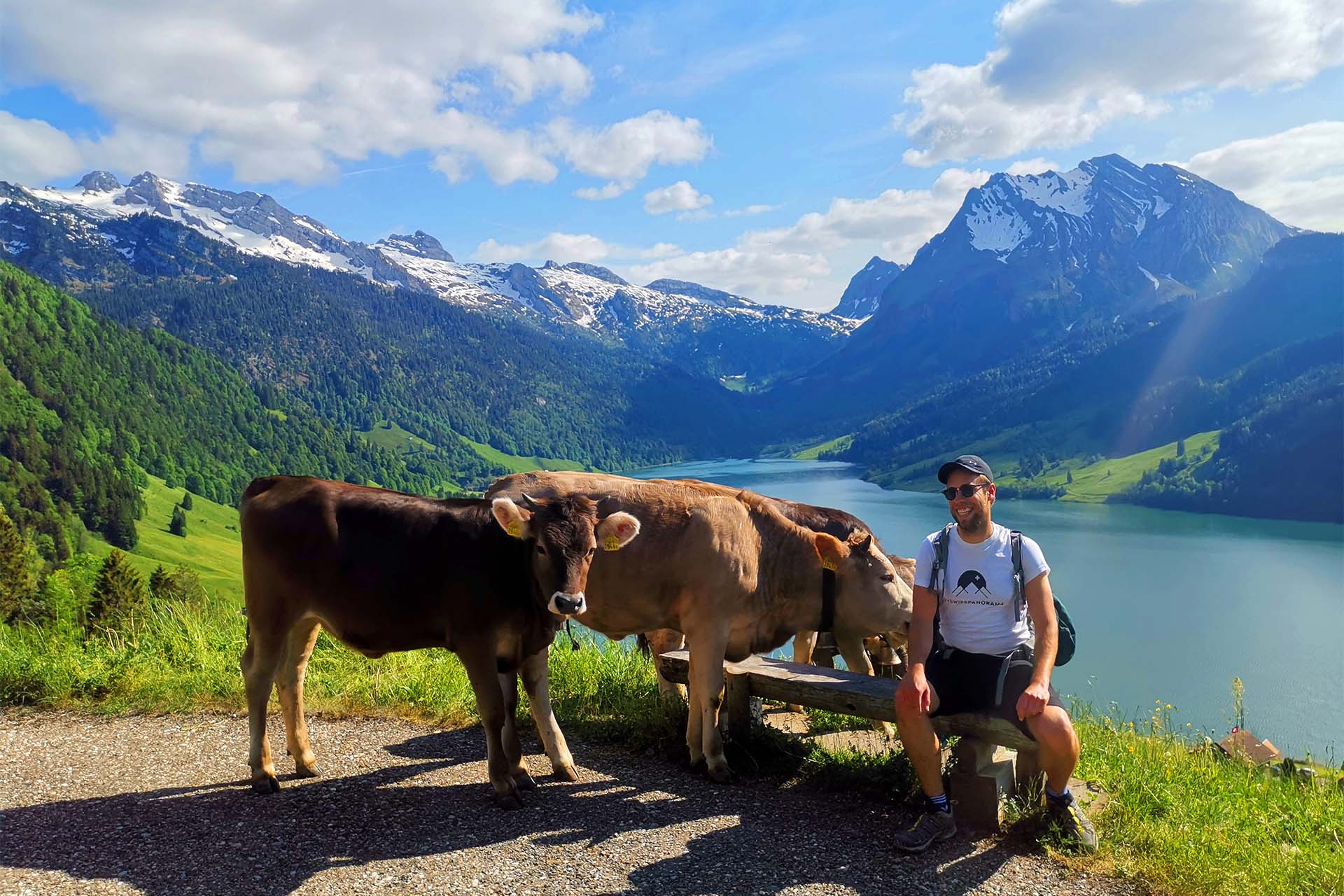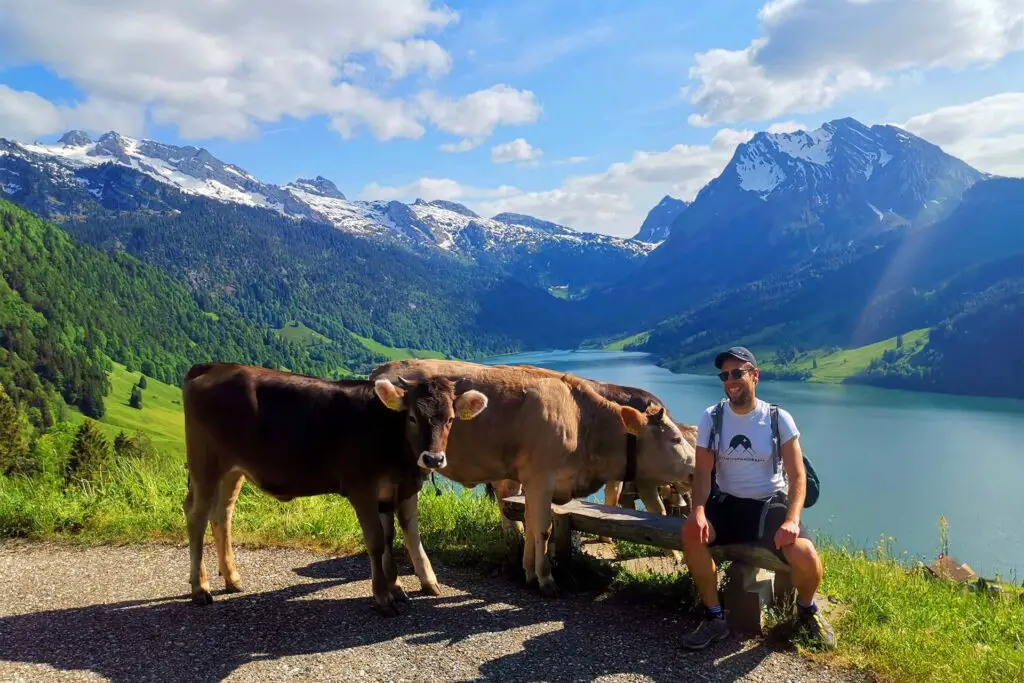 3). Panorama hike Lake Wägital – Hoch Aubrig – Euthal Drusberg (Sihlsee)
– Wonderful pleasure hike from Lake Wägital to Gross Aubrig to Euthal on Lake Sihl.
– Take plenty of drinks with you.
– At Alp Wildegg near the Chli Aubrig there is a great mountain restaurant to stop at.
– The hike is not recommended on very hot days, as it is particularly exposed to heat.
– Very often there is mud in the area. Therefore, only do the hike on dry days.
– The bus in Euthal runs very irregularly. Therefore, it is important to check the journey times beforehand.
Duration: Approx. 6 hours
Season: From around mid-May – end of October (as soon as snow-free and dry).
Starting point and destination: Innerthal, Staudamm or Euthal Drusberg (on Lake Sihl)
The third hike is also quite amazing. Not only will you enjoy wonderful panoramic views over the foothills of the Alps and the Swiss Alps. There are also swimming opportunities in the Lake Wägitalersee or Sihlsee. But let's start with the hike. At the Innerthal, Staumauer post bus stop you cross the dam wall until, after the bend, a hiking trail sign points in the direction of Gross Aubrig. 
This path now becomes very steep. Within only 2.5 kilometres we climb almost 800 metres in altitude. Accordingly, it can be very slippery on the path if it has rained for some time beforehand. Past Alp Bärlaui, where you once again enjoy the view over Lake Wägital, we hike another 500 metres in altitude towards Gross Aubrig. The last section in particular reminds me of an alpine hiking trail. Because now and then you almost have to climb.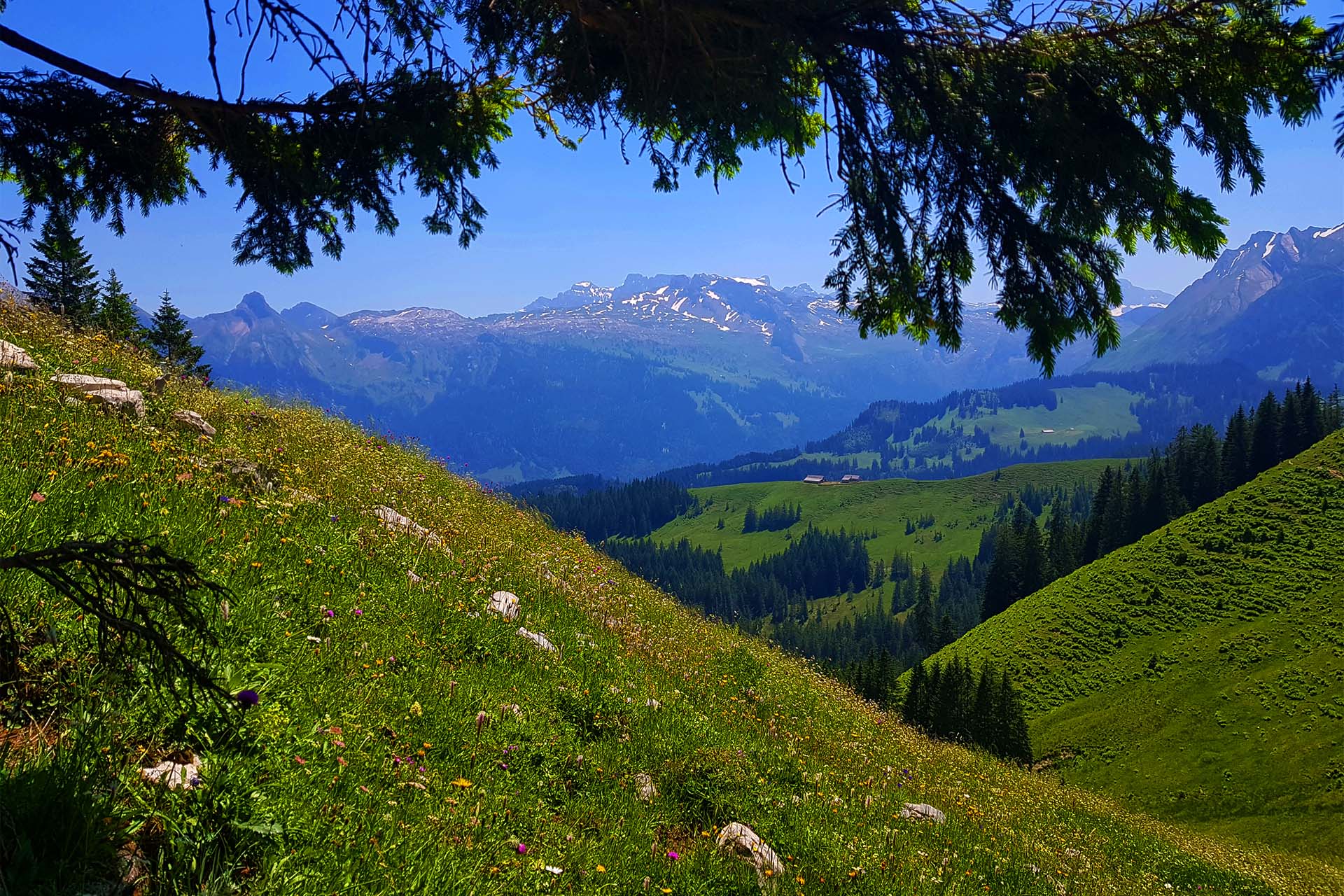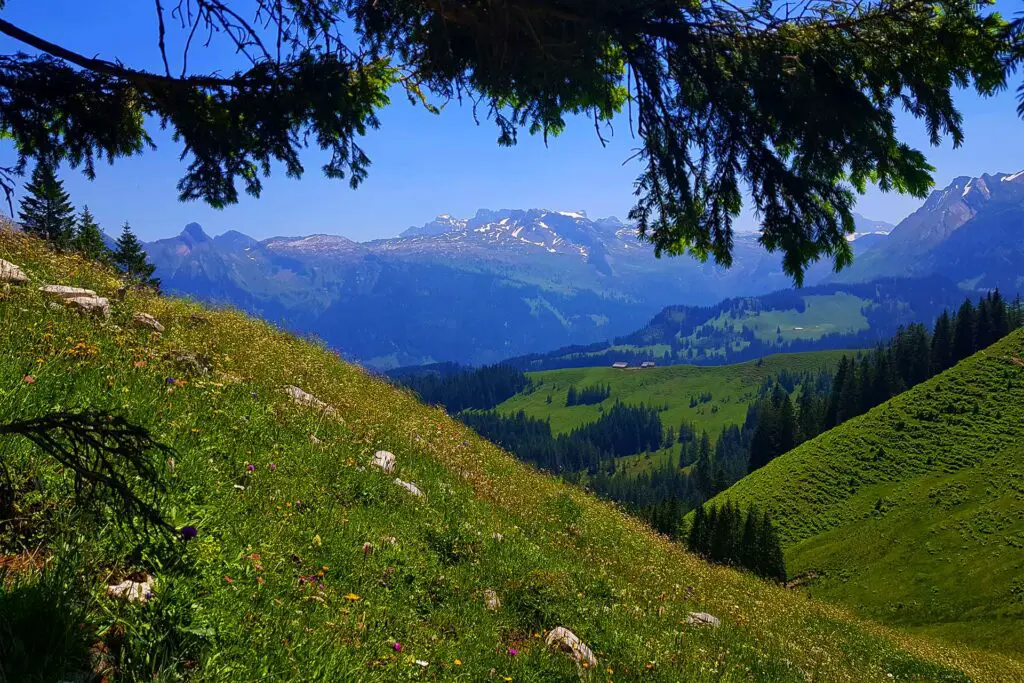 The Gross Aubrig
Now we are at 1695 metres above sea level, the highest point of this hike. The reward with the view over the Chli Aubrig and the many mountain peaks is simply perfect. But not only that: we also see Lake Wägital again, complemented by the view over Lake Zurich, Lake Greifensee, Lake Pfäffikon and Lake Sihlsee. So apart from the Obersee, we also see all the lakes on this hike as we did on the Bockmattli tour.
As the hike is exposed and has a steep ascent, I do not recommend doing the tour when it is very hot. Because even on the Gross Aubrig the temperatures are still quite high.
After a picnic with this dream view, we continue towards Chli-Aubrig. At the Alp Wildegg restaurant you can stop for a bite to eat. You can order salads and small warm meals such as Wienerli. On sunny days, the restaurant is very busy.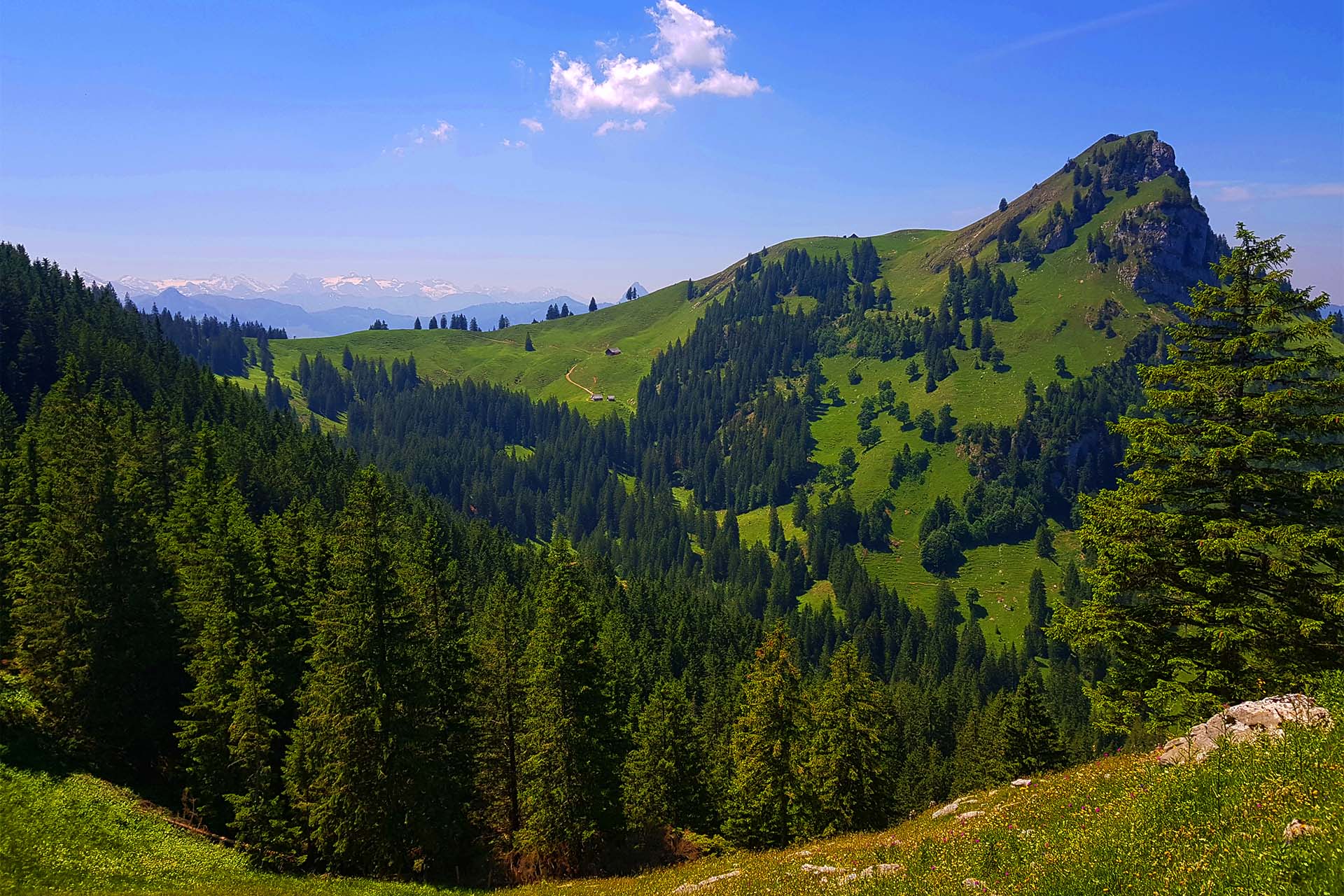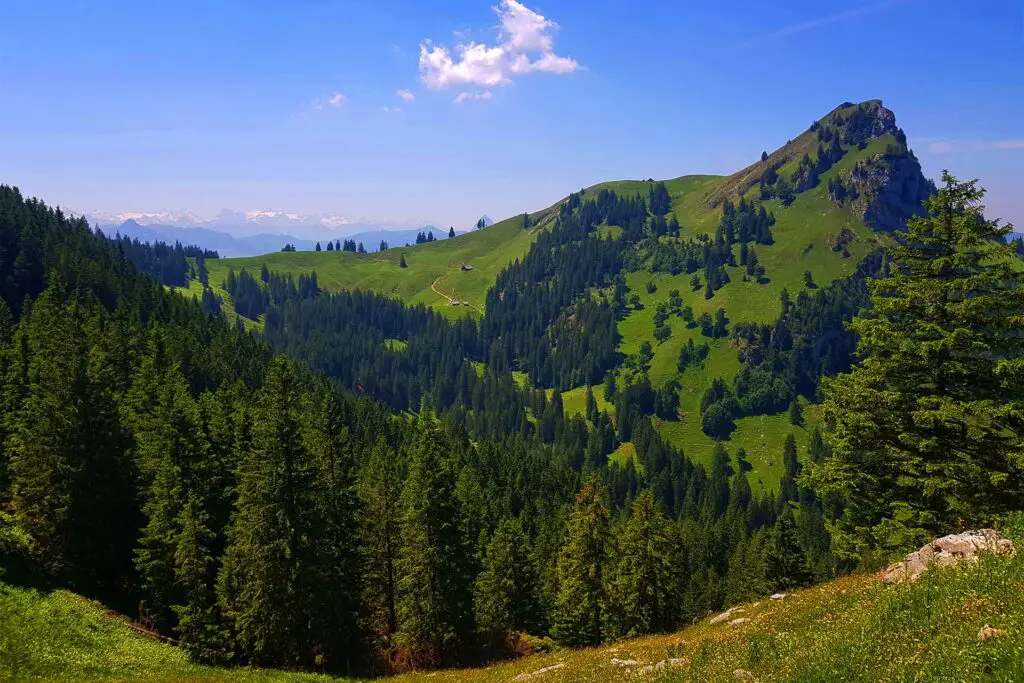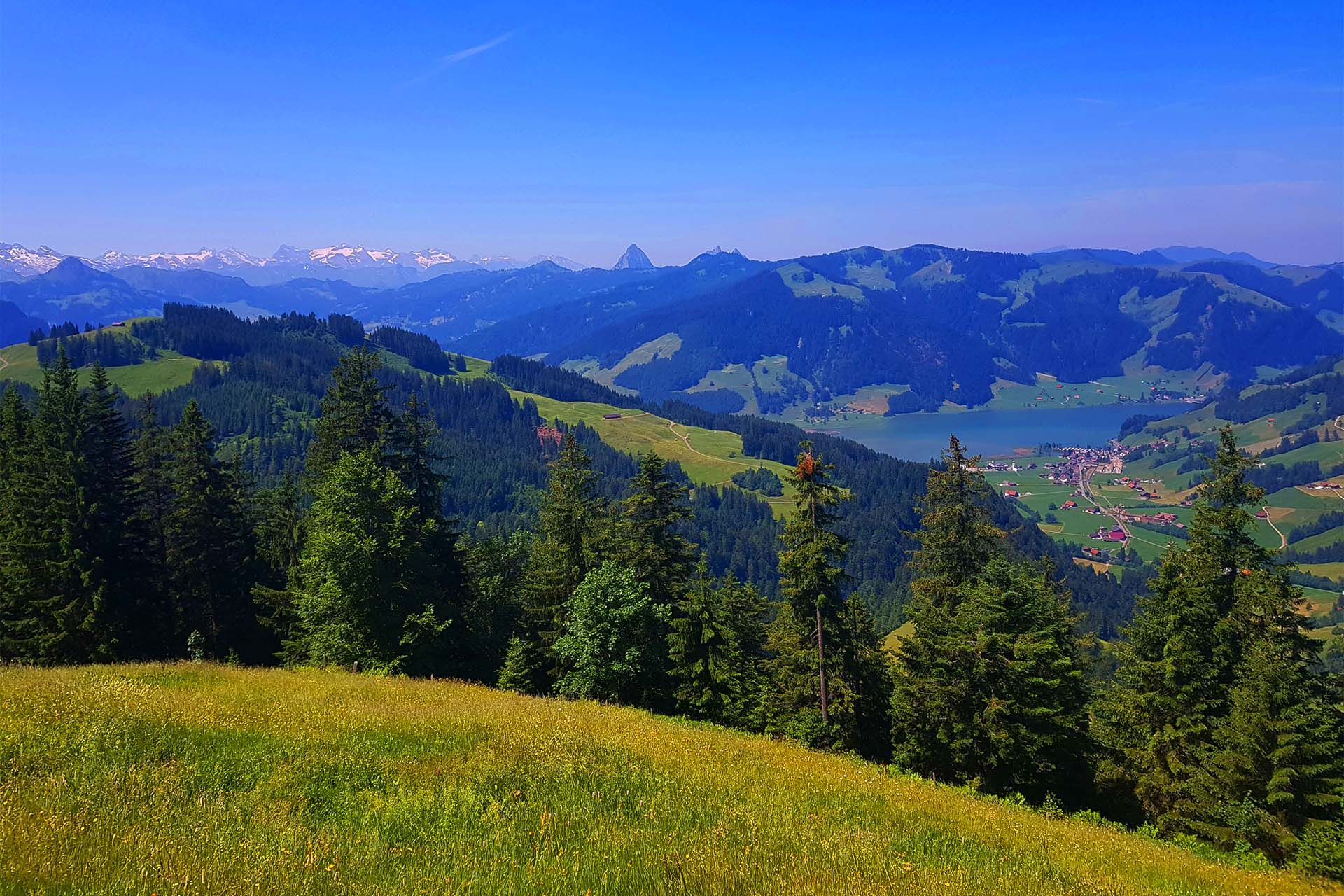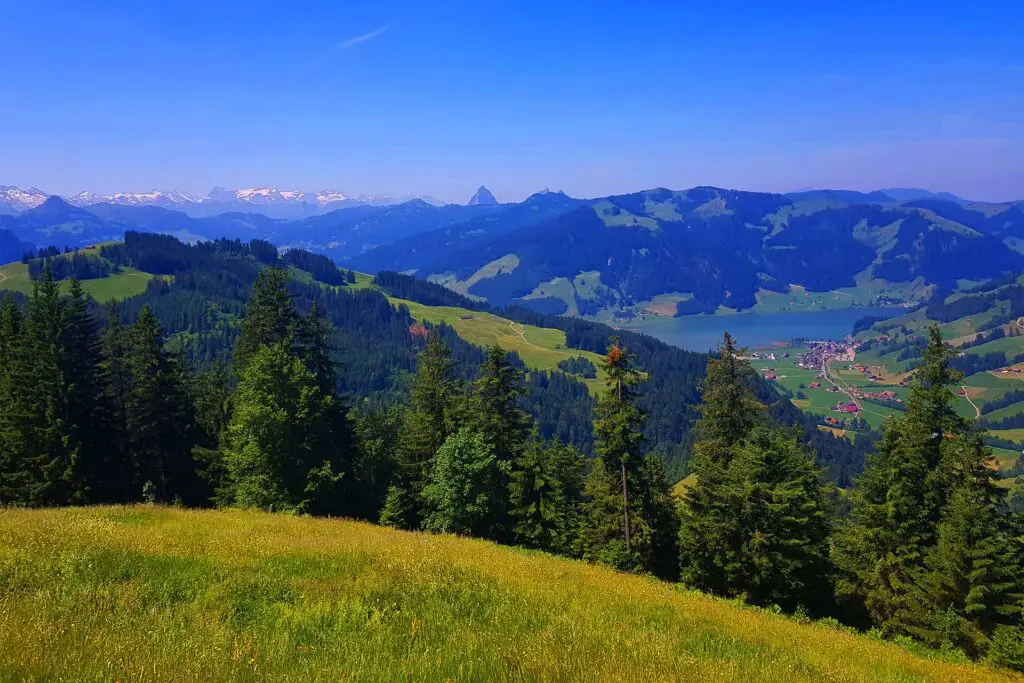 Afterwards, the last stretch of about 6 kilometres continues in the direction of Euthal. In Euthal you can swim for free at the lido. What could be nicer than after this great hike from Lake Wägital to Lake Sihlsee?
Incidentally, Lake Sihl is also a reservoir, and the largest in Switzerland. It was built by the Swiss Federal Railways SBB to generate electricity. As with Lake Wägital, various houses were flooded or blown up.
Conclusion about the Lake Wägital hikes
Each of the three hikes starting at Lake Wägital has something unique about it. But even without hiking, Lake Wägital is a great destination for young and old. Whether bathing, walking, enjoying the mountains or feasting in a restaurant. This lake is a pearl near Zurich Switzerland.