The 44 most beautiful excursions, day trips and places to visit from Zurich Switzerland with great insider tips. Many of the tips can be reached from Zurich in less than 1 hour.
Text and pictures Marc Gottwald
44 day trips, excursions and places to visit from Zurich Switzerland
Do you know this feeling?
You get up in the morning and the weather is beautiful. But you don't want to go always to the same places. However, you know you'll end up there again this afternoon. Because it often takes a lot of time to search for another destination.
Then I have good news for you. With this article about the 44 most beautiful excursions from Zurich Switzerland, you are suddenly spoiled for choice. Would you rather go to the Wägitalersee? Or enjoying a panoramic view over Lake Zurich? Or how about the insider tip Bruno Weber Park?
Most of the excursions can be reached in less than 1 hour from Zurich. Many of them even by public transport in this time span. Then have fun discovering our beautiful country Switzerland from Zurich.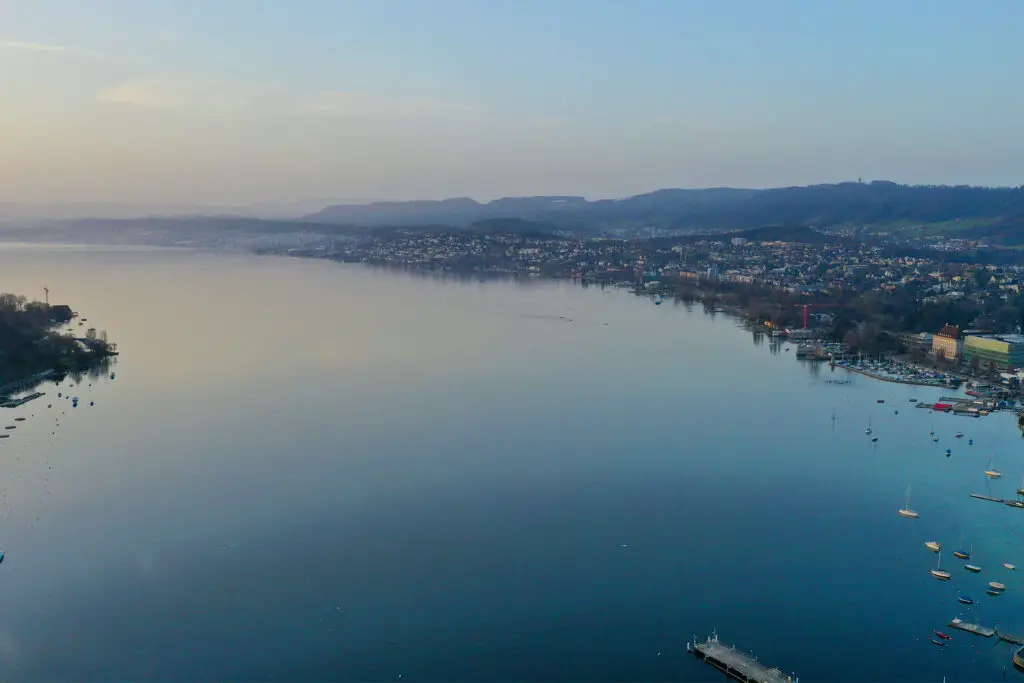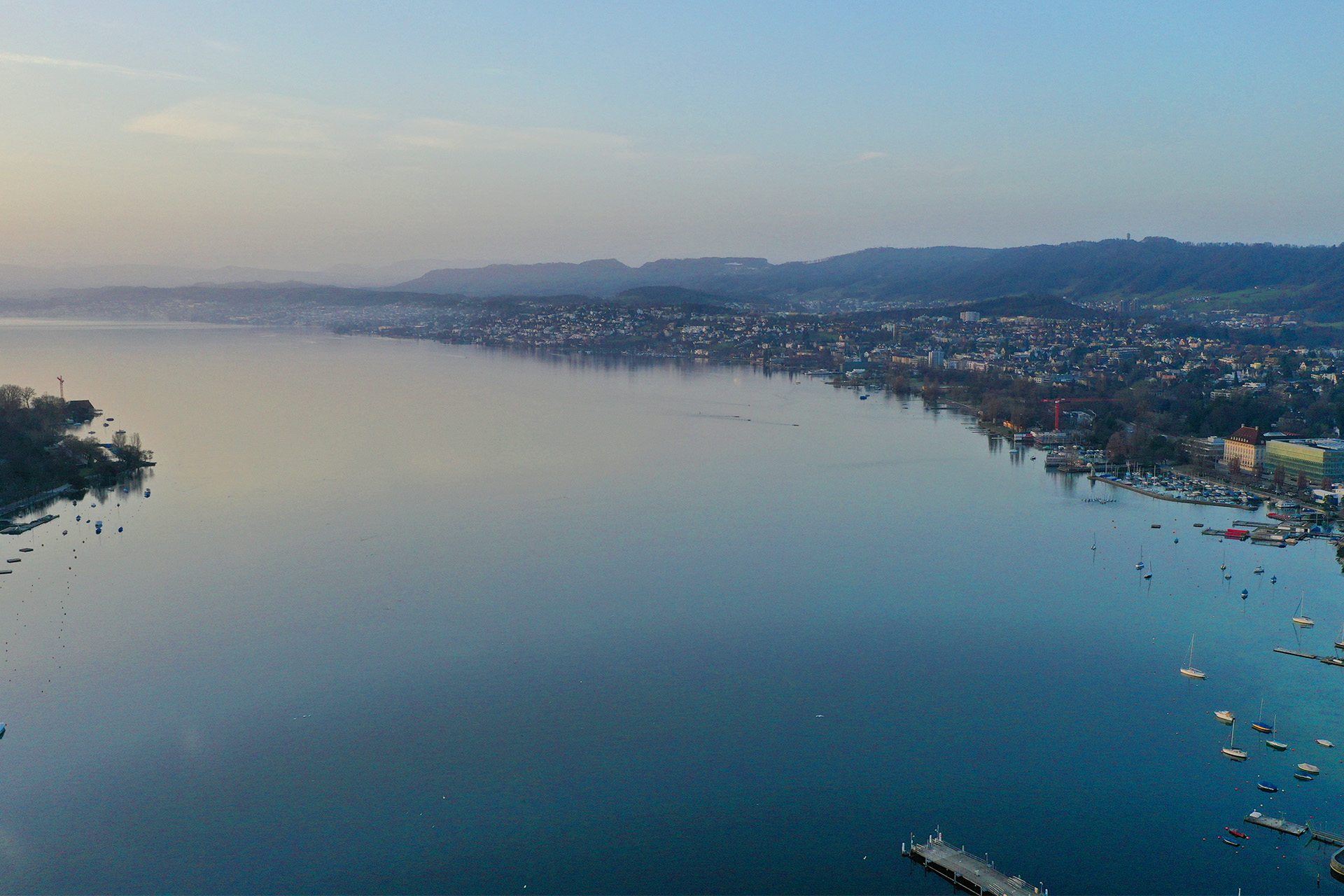 Would you like to discover the 111 most beautiful places in Switzerland? Then get our free e-book with lots of insider tips and breathtaking places.
Excursions & places to visit close from Zurich Switzerland
These excursions can often be reached by public transport in half an hour from Zurich (with very few exceptions). They are the perfect destinations for a half-day excursion.
1. Panoramic lakeside walk on Lake Zurich from Wädenswil to Richterswil
Yes, I love them, these infinity wooden bridges! I bet you do too? That's why this should definitely not be missing on the list of the top excursions close from Zurich Switzerland. Two of my favorite wooden bridges are on Lake Zurich. One of the most idyllic is the one from Wädenswil to Richterswil. It takes about an hour to reach Richterswil from Wädenswil by foot. But I'm sure you'll definitely stop and enjoy the wonderful panoramic view over Lake Zurich and the Swiss Alps. There are several places to sit.
Tip Lake Zurich lakeside walk: The walk is also suitable for families with prams.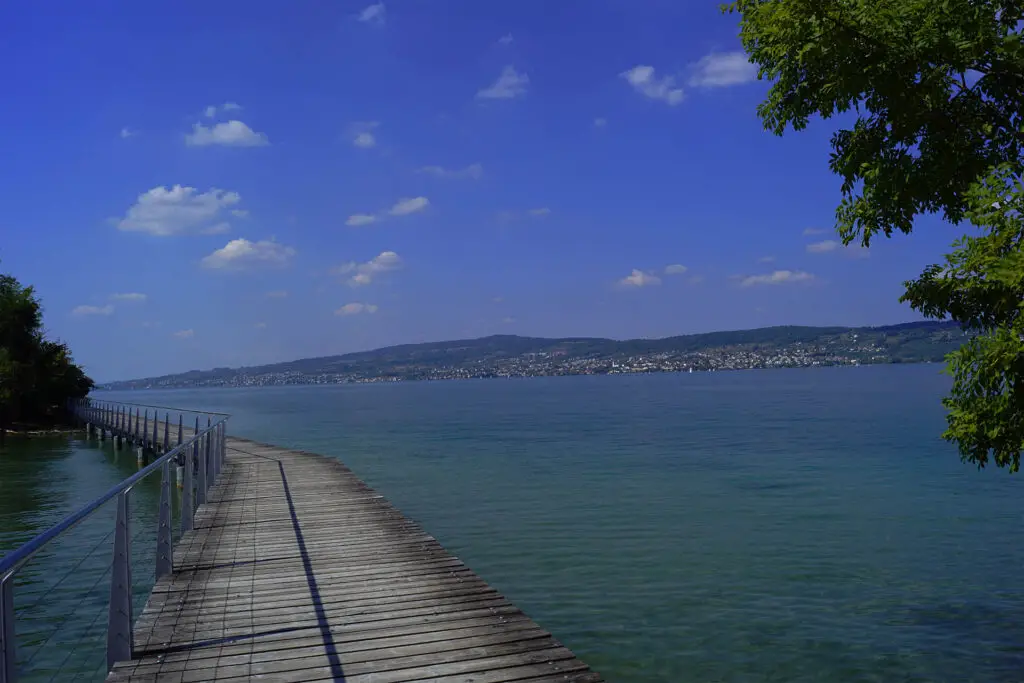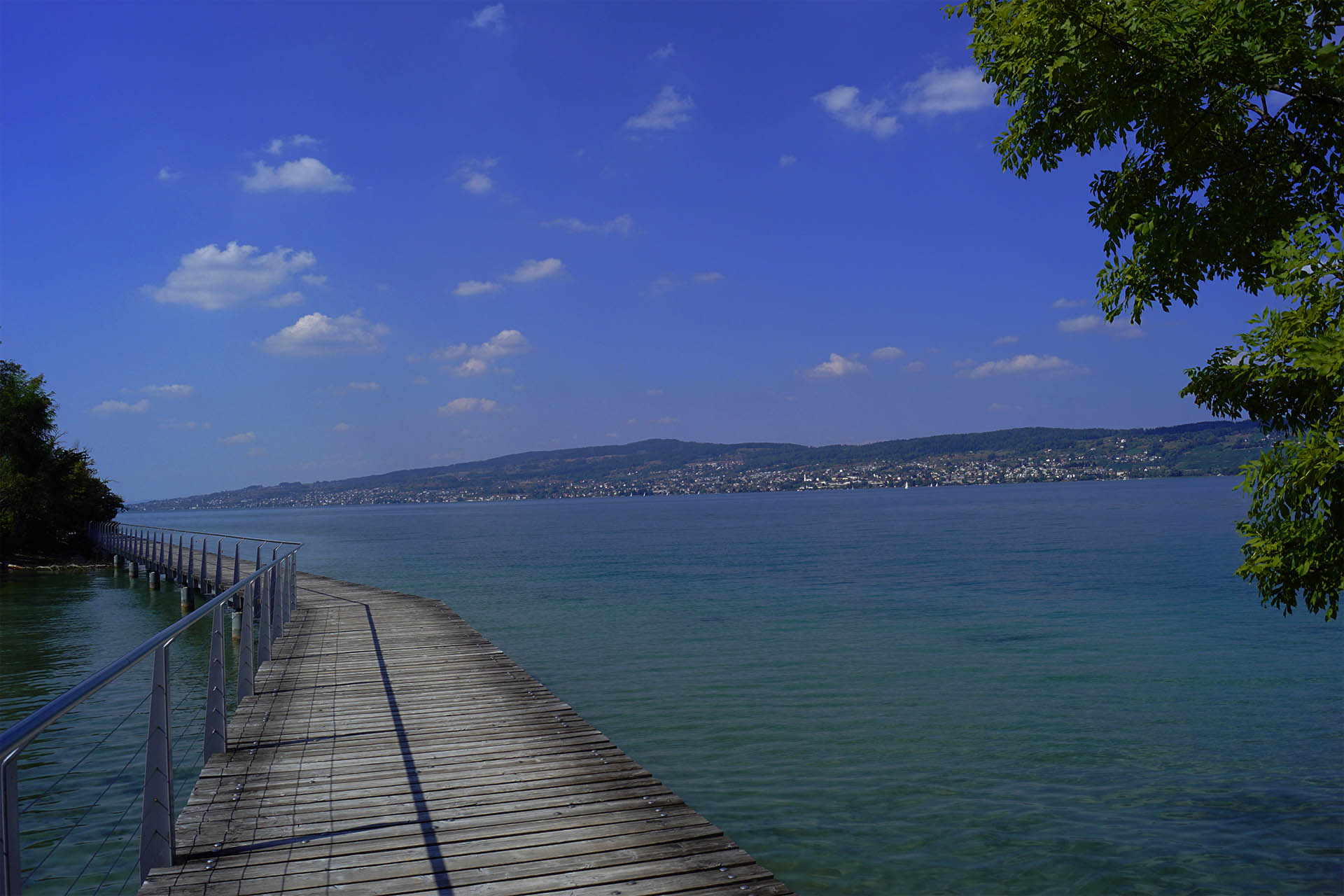 2. Bruno Weber Park Dietikon (Favorite museum tip near Zurich Switzerland)
Do you love art? Or have you ever heard of the Spanish artist Gaudi?
Then your heart will really shine!
Because very close to Zurich (above Dietikon) there is the Bruno Weber Park, one of the most beautiful trips from Zurich Switzerland. Here you will find hundreds of sculptures, a fairytale castle, a giant dragon and much more in a 15'000m2 park. Since Bruno Weber loved nature, a large part of the park is forested. His goal was the interplay between nature and art.
This place should not be missed and is also a great excursion tip for families. However, it is important to note that the outdoor museum is open only in late spring, summer and fall and closed in winter.
Tip Bruno Weber Park Dietikon: In the Bruno Weber Park there is a brunch once a month. During the brunch you get a unique guided tour, where you can also see the fairytale castle from the inside.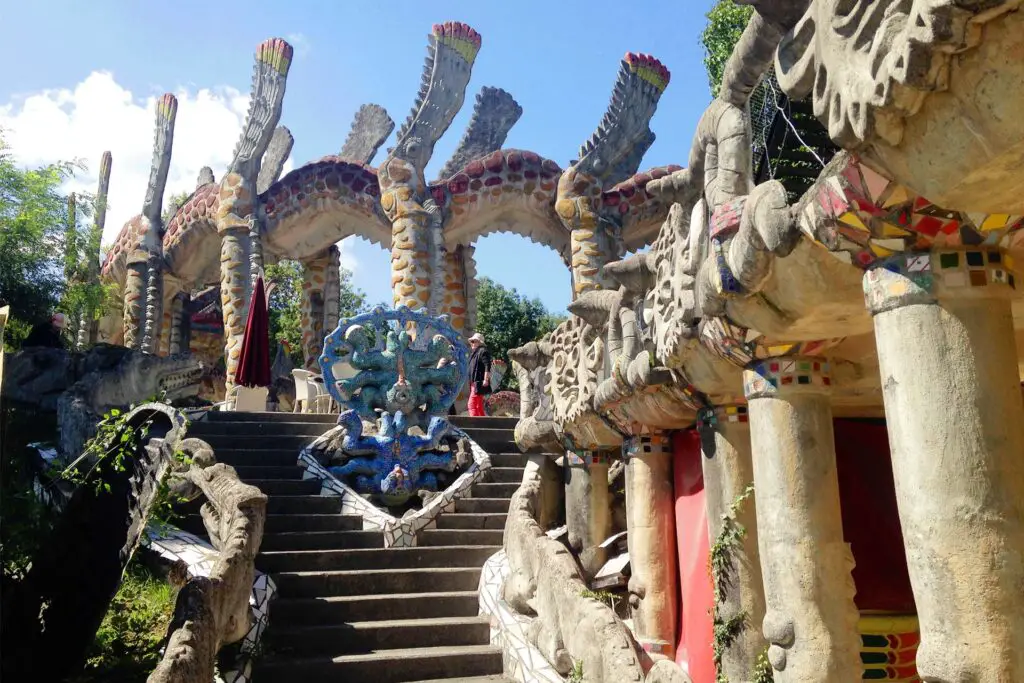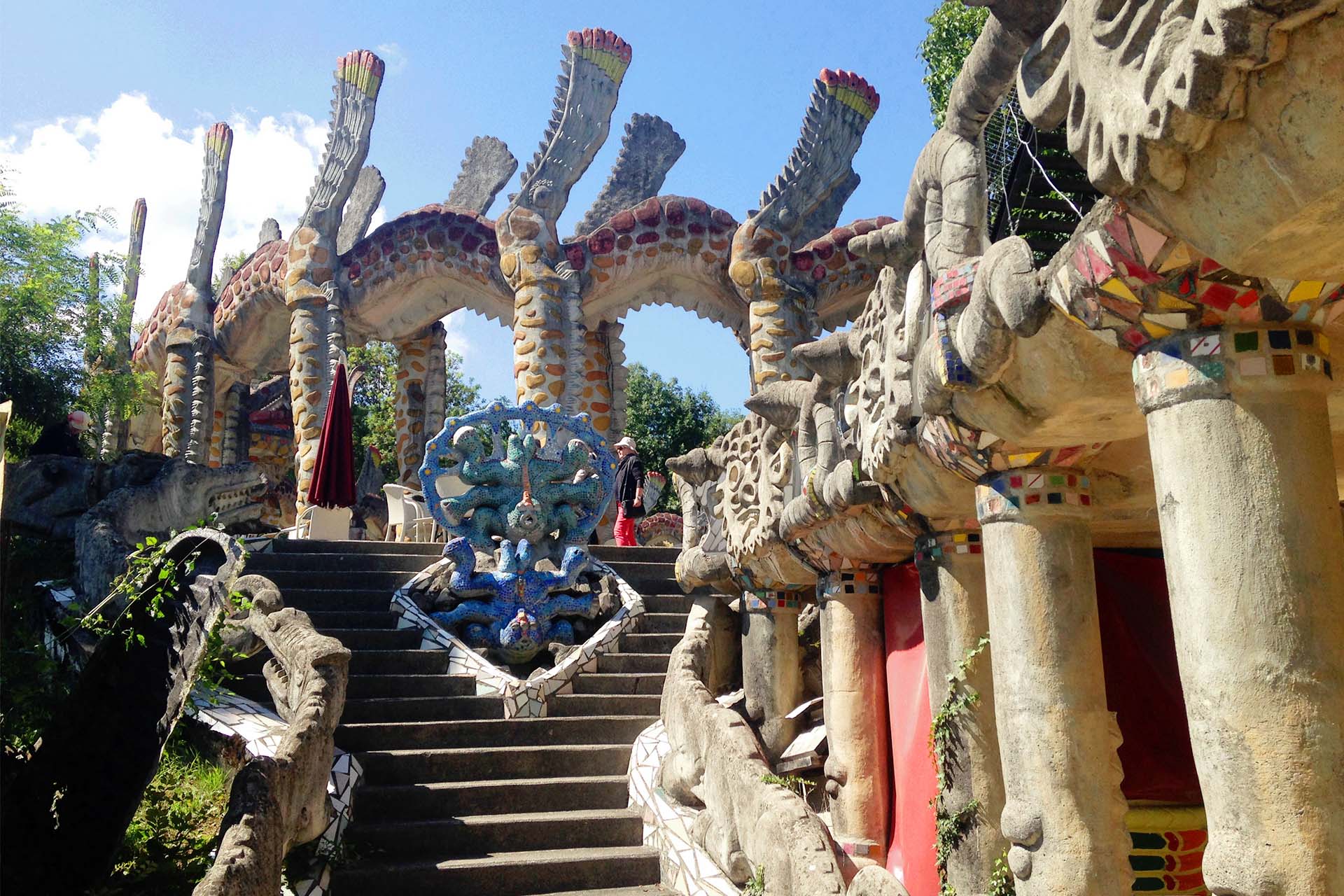 3. Hike to the Altberg lookout tower (excursion for all hikers)
The 360 degree panorama from the Altberg lookout tower is fantastic and makes this another great excursion very close from Zurich Switzerland.
Here we go. The hike starts in Weiningen, which you can reach in about 25 minutes from Zurich main station. From there you walk past the Langenmoos pond in the direction of Altberg. You will reach the Altberg lookout tower in about 1h30min.
If you arrive by public transport, you can either walk to Oetwil an der Limmat, Würenlos, Dällikon or Dänikon. If you traveled by car, the hike goes along the wooded ridge back to Weiningen (another 1.5h).
Tip Altberg: There is a lovely restaurant on the Altberg near the lookout tower which make the destination a top place to visit from Zurich Switzerland. So you can fortify yourself on your hike.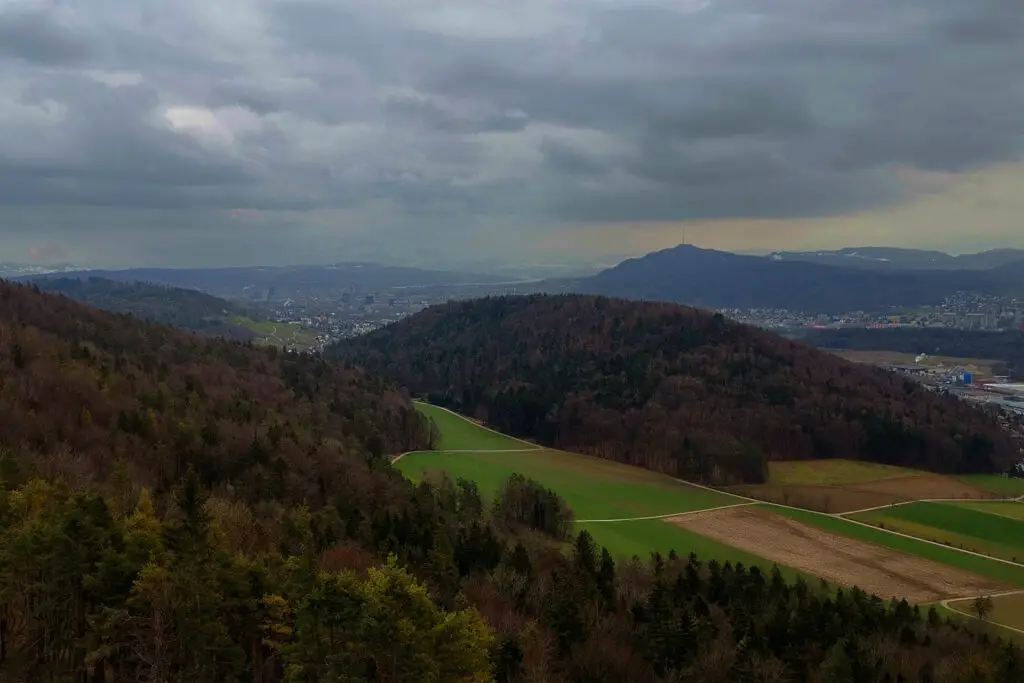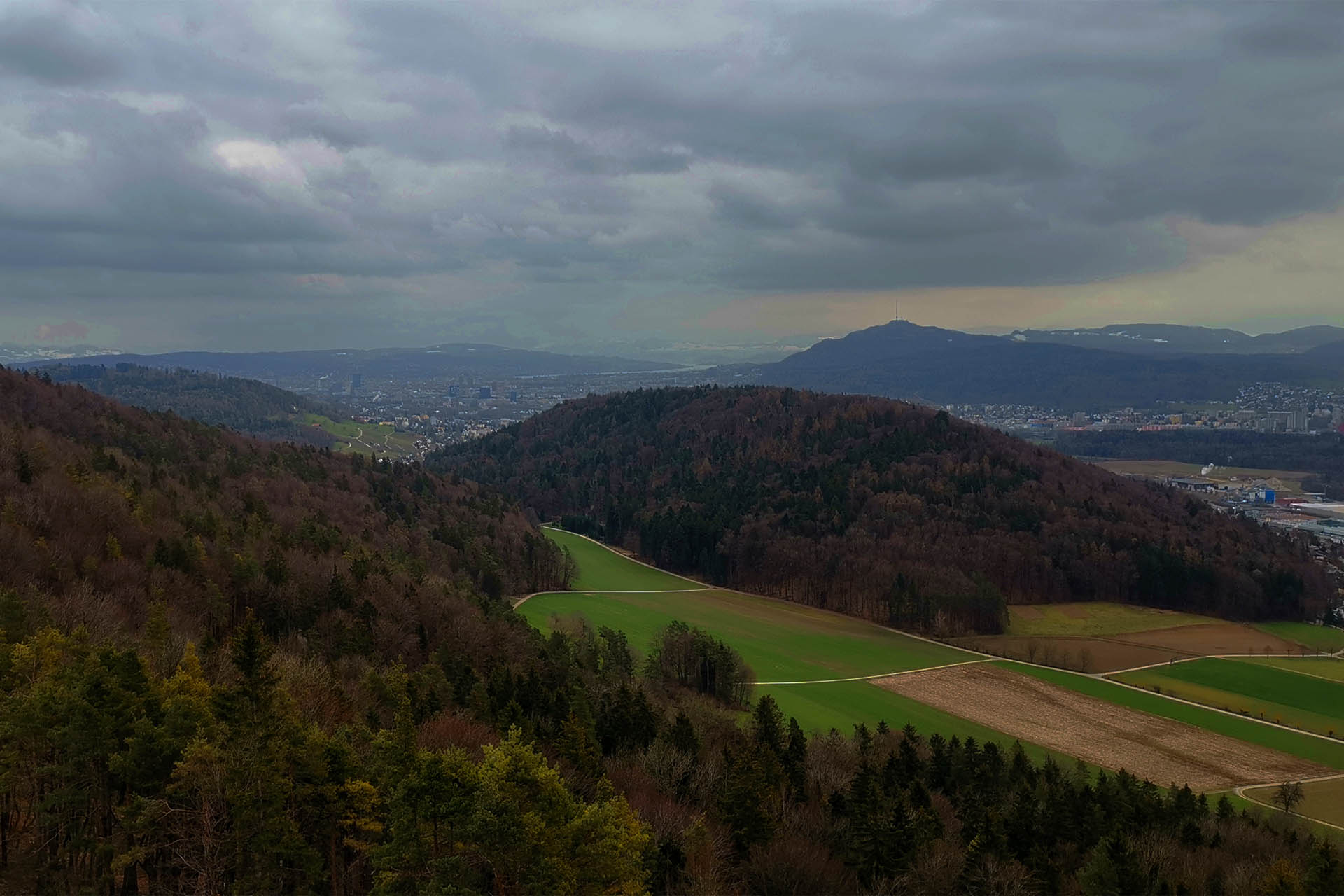 4. Lake Pfäffikon (with Juckerhof, nature reserve) 
The Lake Pfäffikersee is a great destination from Zurich. It has something to offer for everyone. A circular walk around the Pfäffikersee (Lake Pfäffikon) takes about 2 hours. Passing moorland and a high diversity of species, you may even be lucky enough to see deers.
If you like to swim or use your stand-up paddle (SUP) in summer, you will find a beautiful public bathing area with a good barbecue stand at Standbad Auslikon. Only the parking spaces are quickly occupied, especially on weekends. This means that it is worth coming early.
Tip Pfäffikersee: I can really recommend a refreshment stop at the Juckerhof. The farm, which has its own farm restaurant, cooks excellent food and is very family-friendly. In addition to an apple maze, the pumpkin figures are a particular attraction in autumn!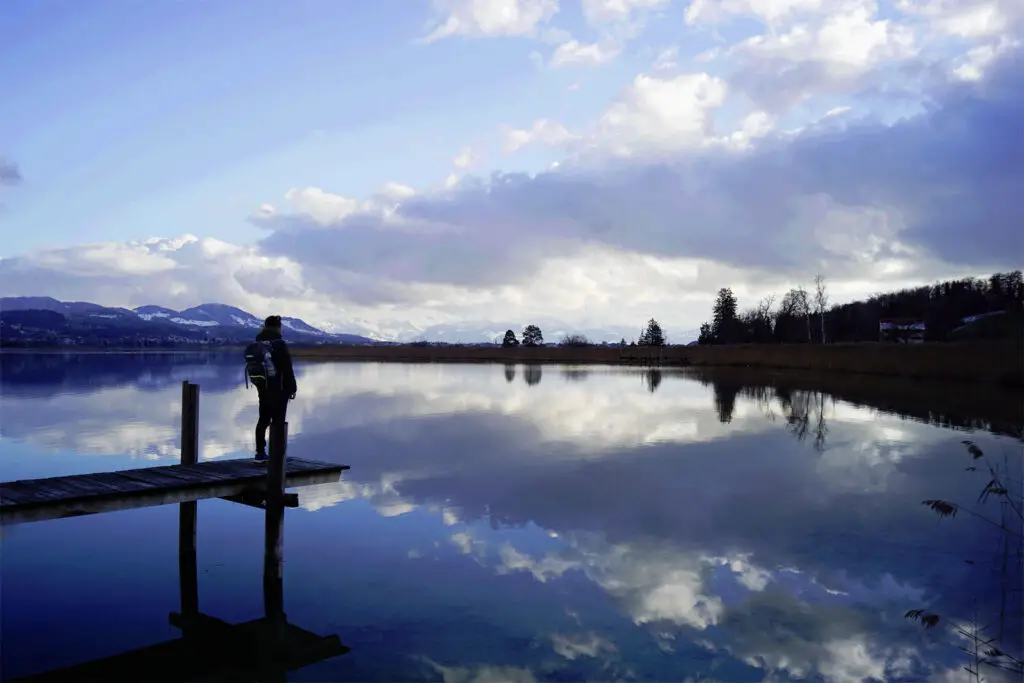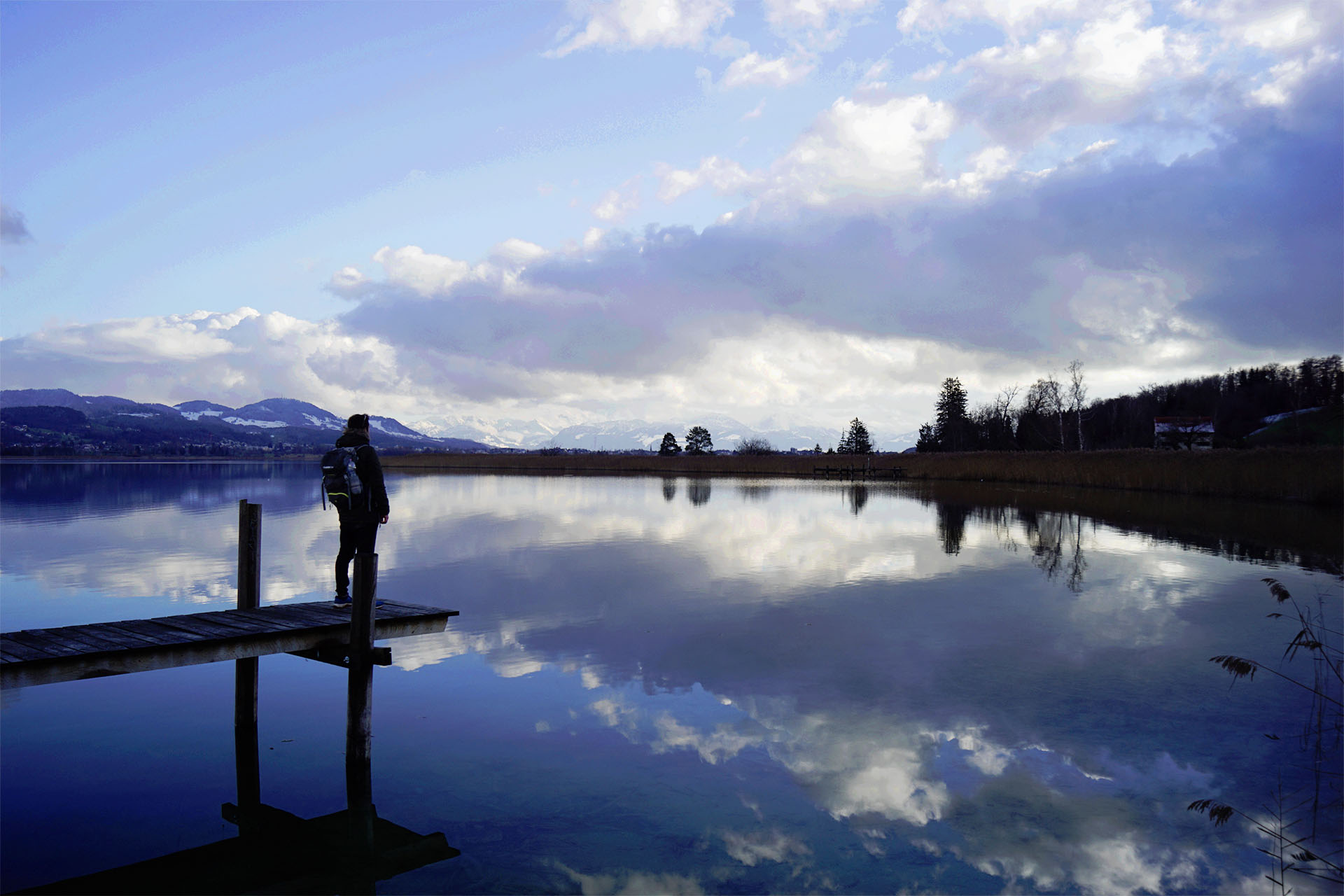 5. Monastery Fahr

(Favorite monastery tip near Zurich Switzerland)
Fahr Monastery near Schlieren is an exclave that belongs to the Canton of Aargau. This means that the monastery is surrounded by the canton of Zurich. Fahr Monastery is a great destination for an excursion from Zurich and is very easy to reach by public transport, including a short walk.
Between spring and autumn, not only the monastery garden is worth seeing. There is also a restaurant right next to the monastery. Furthermore, there is a monastery shop in Fahr Monastery.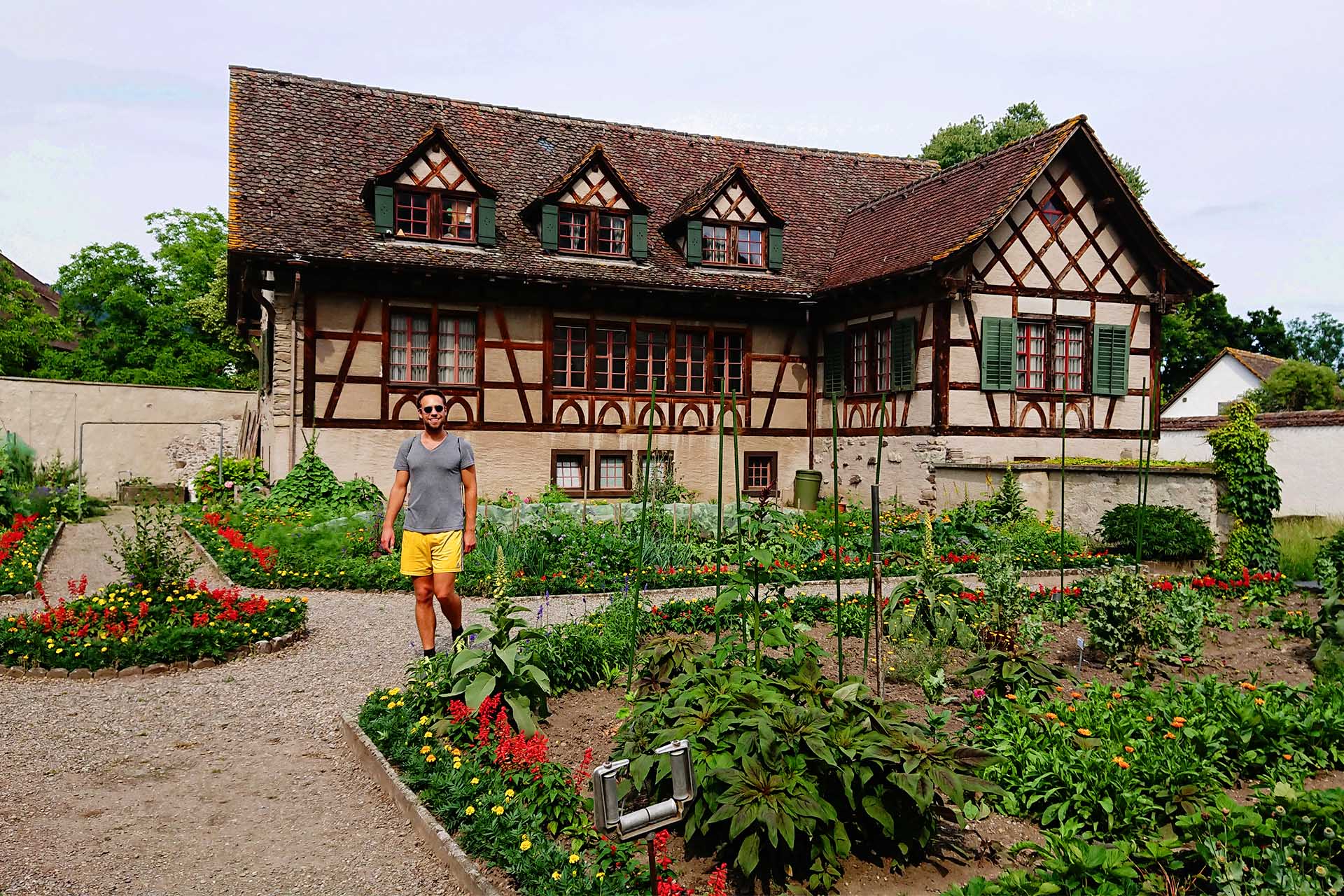 6. Alpine spa above Lake Zurich

(Favorite spa tip near Zurich Switzerland)
Wellness in Canton Zurich? Yes, we have a tip! The Alpenbad near the Bachtel is a destination for all wellness lovers. What could be better than enjoying the view in the hot tub while eating a fine fondue?
Tip Alpenbad Bachtel: Especially in winter, we recommend an early reservation, as companies sometimes book the entire facility directly for their Christmas trip or Christmas dinner.
7. Waid (Best view over Zurich Switzerland)
For me, the most beautiful vantage point over Zurich is the view from the Waid . On a good day you can see not only the city of Zurich and the Üetliberg, but also Lake Zurich and the Alps. If you've been once, you'll want to come back again and again. The Waid vantage point is particularly spectacular when the weather changes.
Insider tip Waid: The route from ETH Höngerberg to the Waid viewpoint is a beautiful walk. A unique feeling comes over you when you turn the corner at the allotment gardens and see the whole city of Zurich with Lake Zurich in front of you. You will feel as if you could jump into Zurich (but please don't do it
).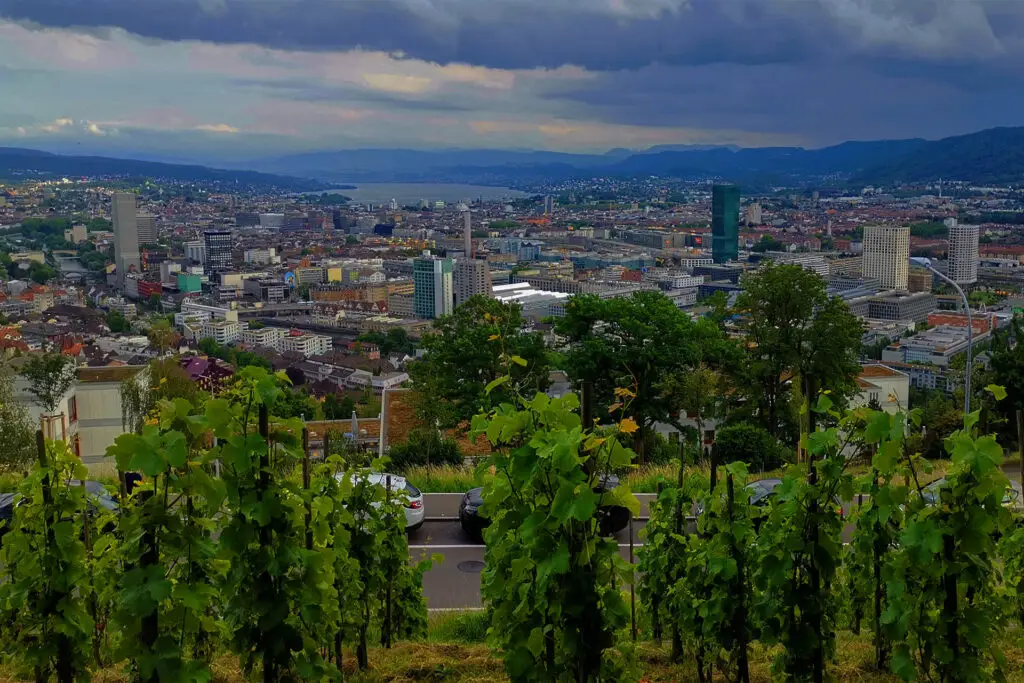 8. Sihlwald
Imagine that not far from Zurich there is a primeval forest. A forest where nature creates and rules, just as it was allowed to do millions of years before. A forest where one does not interfere, where a forest is still allowed to be a forest. Where fallen logs and wood are left lying around and there are still nightingales and woodcocks.
Welcome to the Sihlwald , the primeval forest of Switzerland outside the city gates of Zurich. Yes, you heard right, since 2009 there has been a core zone that is strictly protected, where nothing more is done. The oldest tree is around 160 years old. It will take another 500 years before the Sihlwald is a real primeval forest. But the goals have been set. And we already have signs of a primeval forest.
Tip Sihlwald: An impressive hike through the Sihlwald is from the Sihlwald train station to the Albishorn. On the Albishorn you can enjoy an unbelievable panoramic view over Lake Zurich and indulge yourself with fine delicacies in the mountain restaurant. Would you like to enjoy a great swim after your summer hike? Then head for the Türlersee, which is located on the other side of the Sihlwald and the Albishorn.
9. Hike Albispasshöhe – Albishorn – Hausen am Albis
The hike from Albispasshöhe to Albishorn offers an incredible panoramic view over the Mittelland as well as Lake Zurich and the Swiss Alps. You can even see Zurich Switzerland. The two best vantage points are at the Hochwacht lookout tower and at the Albishorn.
There, as already mentioned, you can indulge in culinary delights. The hike continues to Hausen am Albis, where you return by public transport.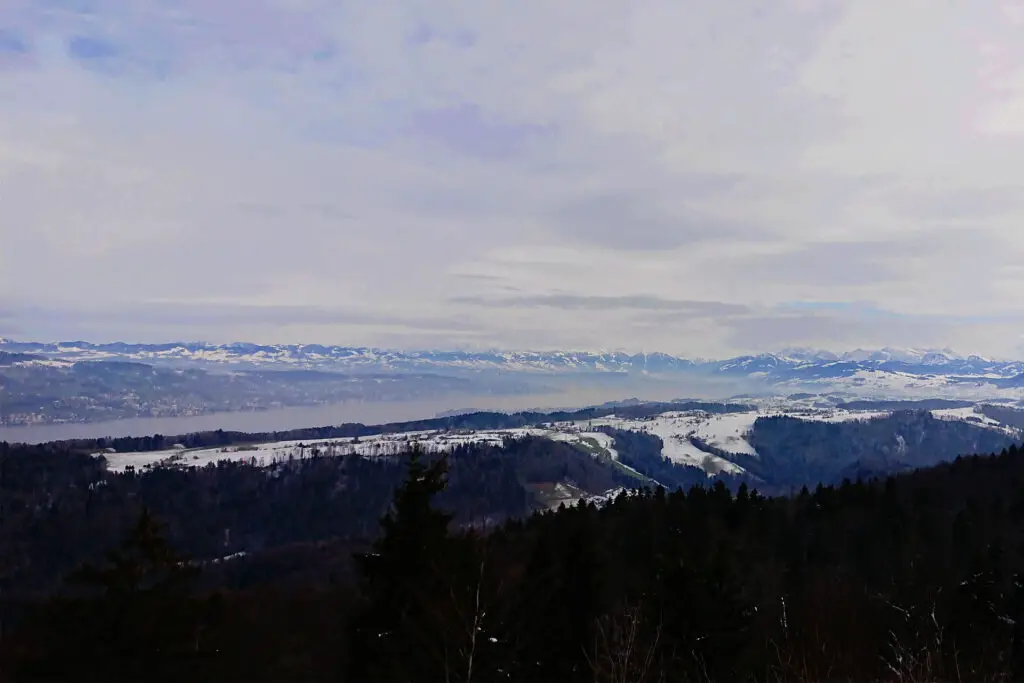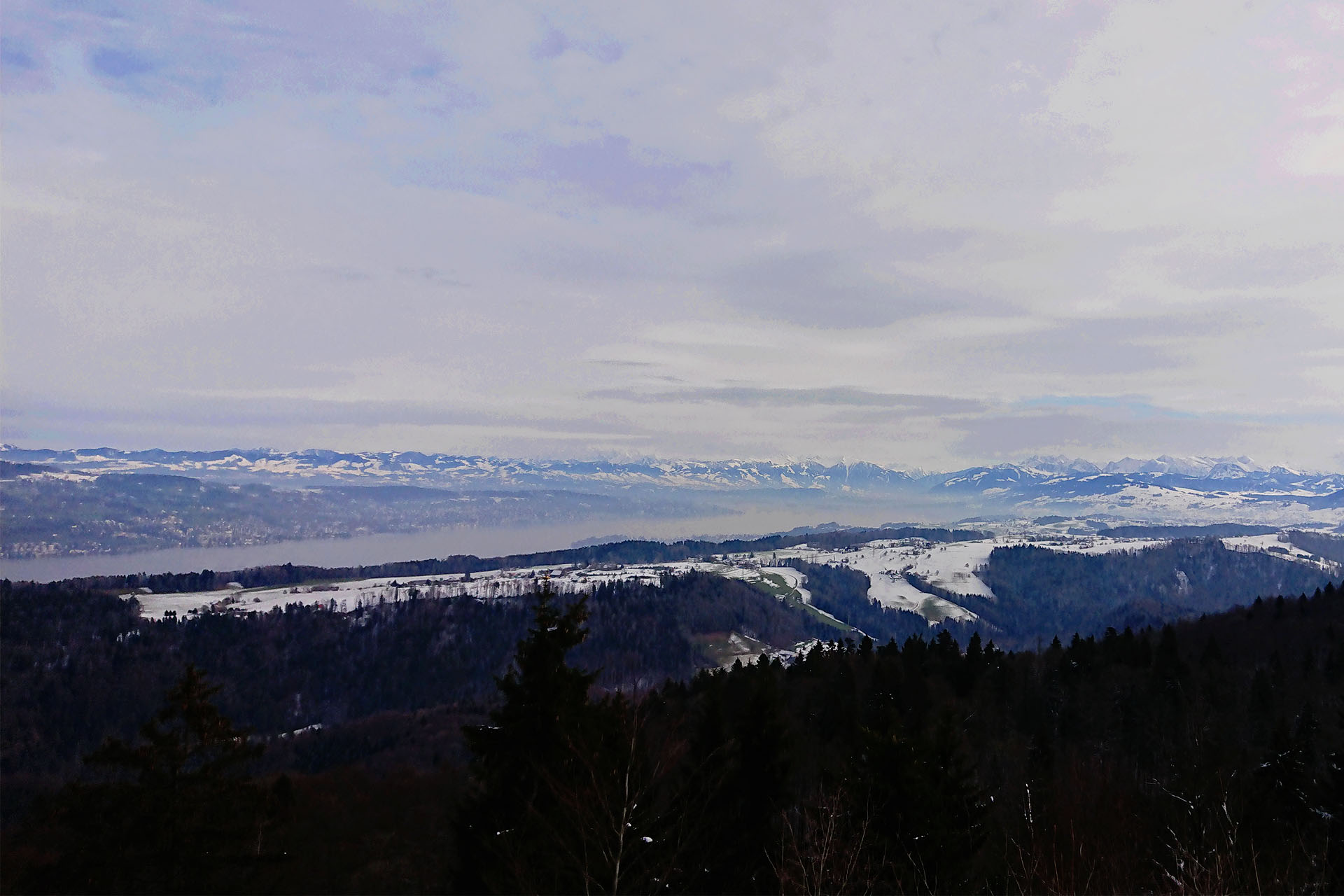 10. Hike to the Egelsee
An insider tip in the Zurich region. The tranquility of Lake Egel near Dietikon is stunning. Not for nothing has a nature reserve been created here, which includes valuable marshland. But the lake has various bathing possibilities and fireplaces, which also makes it a great excursion for families in Switzerland.
Tip Egelsee: There is a free car park in Bergdietikon where you can reach the Egelsee lake in about an hour. It is a great excursion destination from Zurich for families with children. By public transport, you can also reach the starting point in a good half hour from Zurich main station.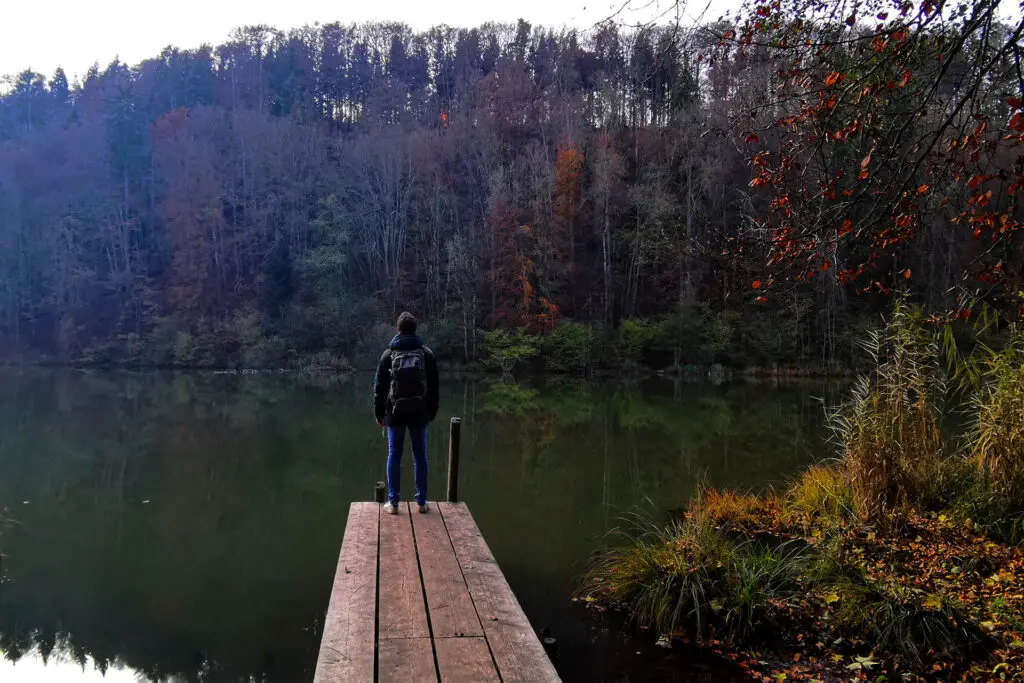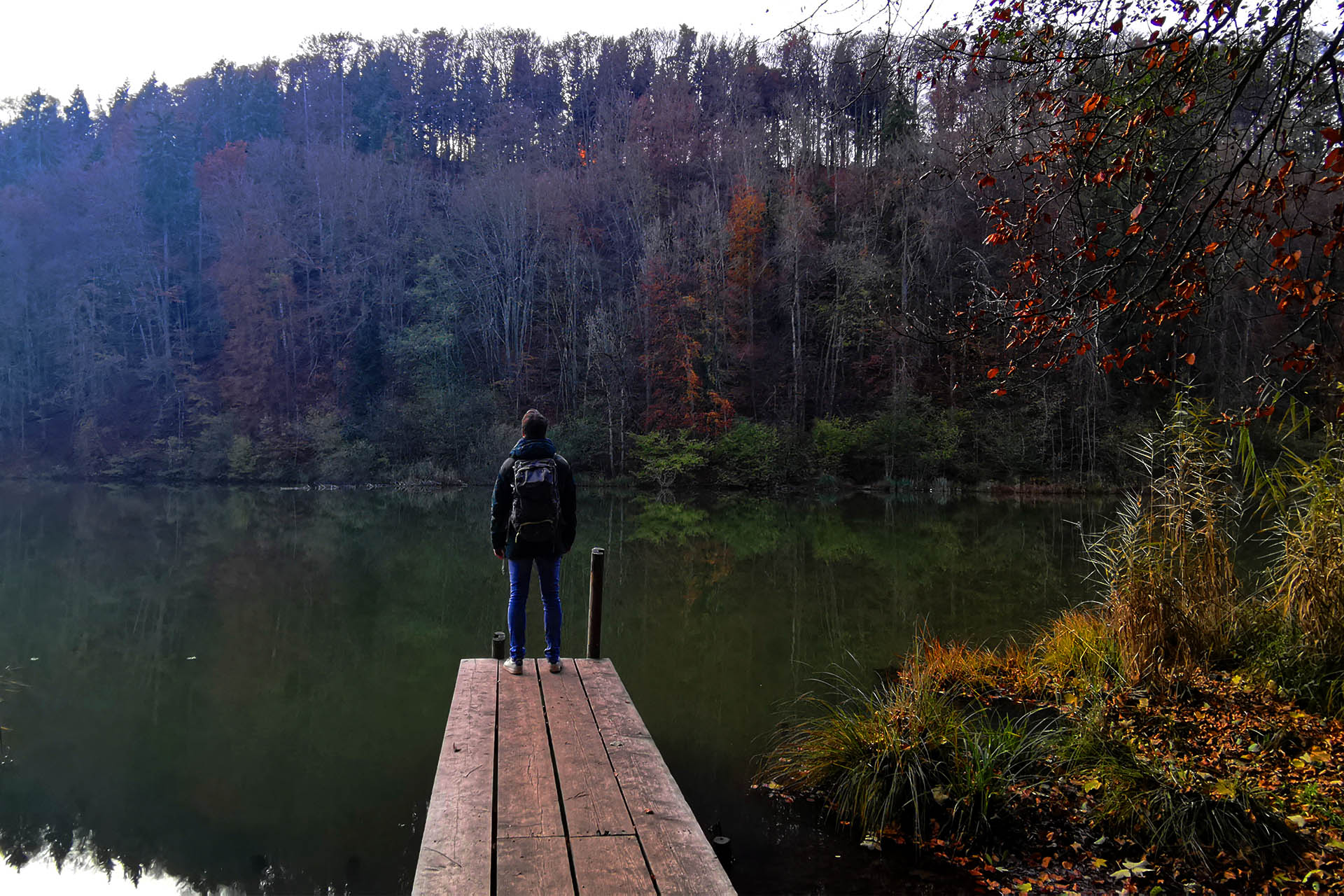 11. Eglisau
Eglisau on the Rhine is one of the most beautiful towns in the canton of Zurich and a great excursion trip from Zurich. Strictly speaking, Eglisau is a small town. Situated directly on the Rhine, the region around Eglisau was already inhabited by the Celts and Romans. The town itself was built from the 13th century onwards and invites you to stroll and swim. You can reach Eglisau by train from Zurich main station in just over 30 minutes.
Insider tip Eglisau 1: A great hike that can also be done with families (slightly older children) is from Eglisau to Rüdlingen via Buchberg. In summer you can take a leisurely swim in Eglisau before continuing the hike. You also pass various farmhouses that grow grapes.
Insider tip Eglisau 2: Matthias Bechtel from Eglisau is one of the 150 best Swiss winegrowers. If you love wines, you should definitely visit him.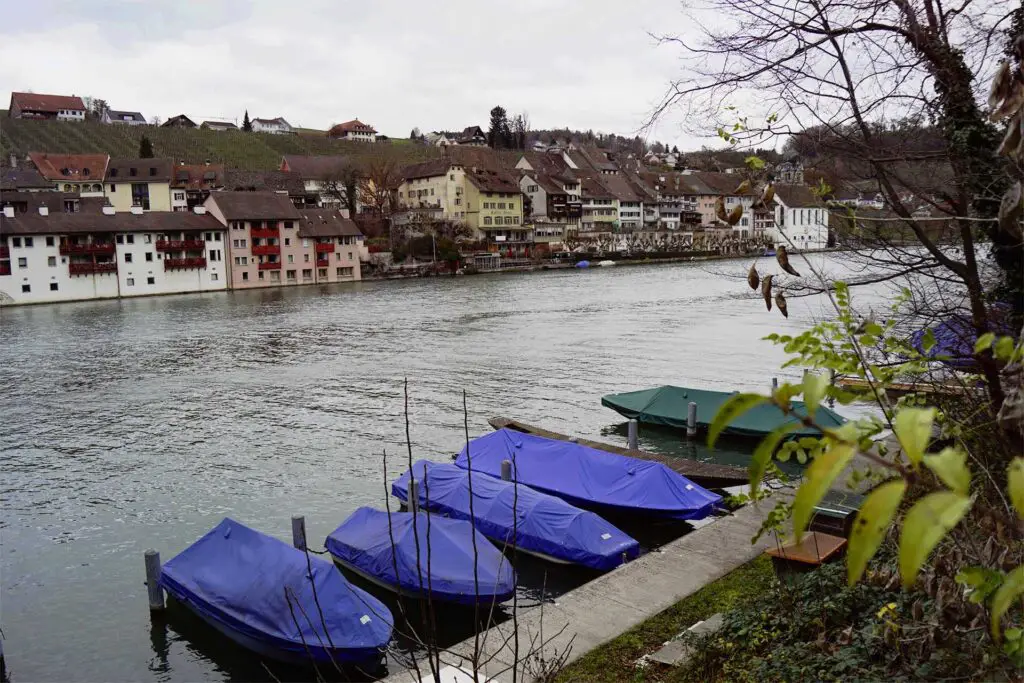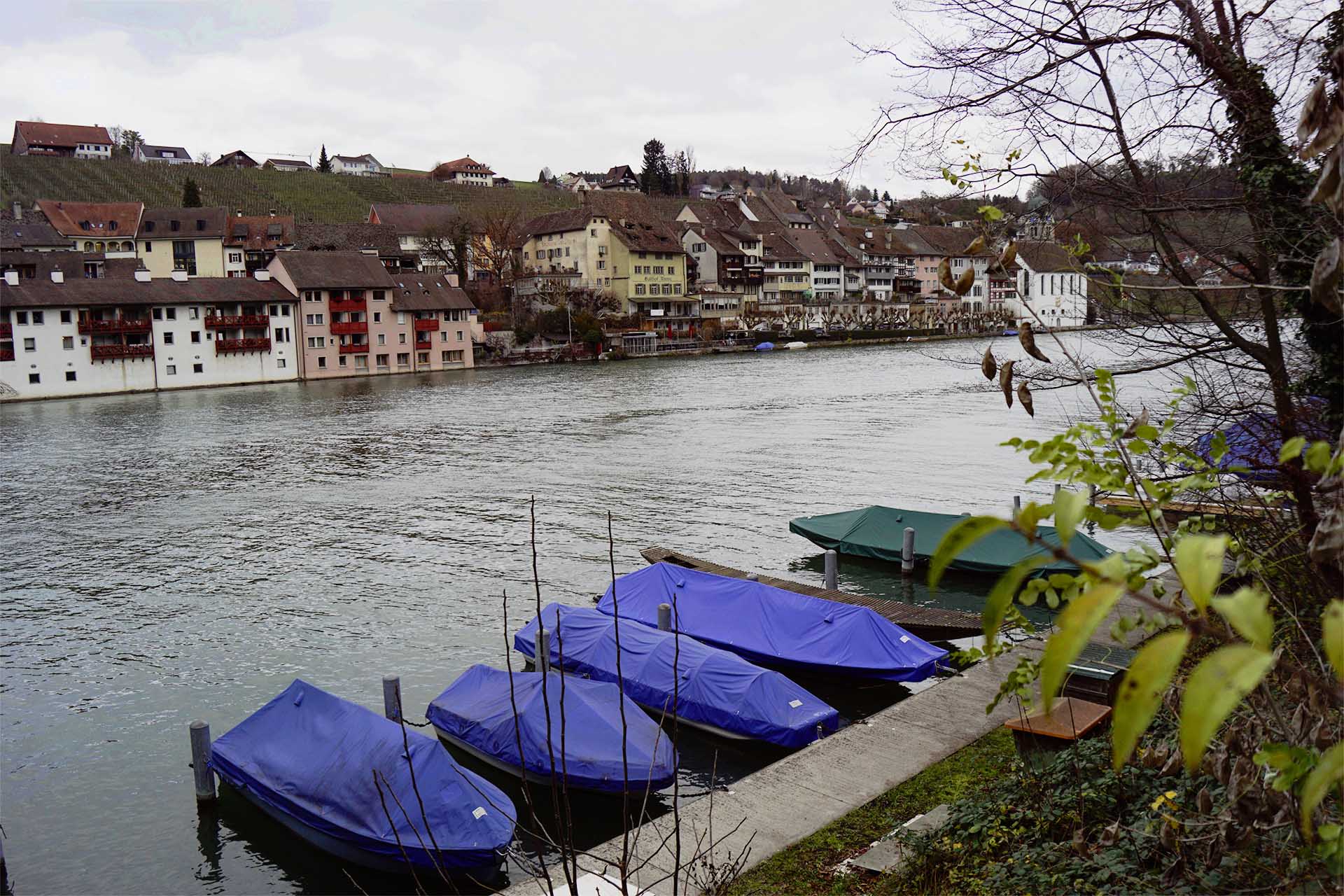 12. Regensberg – an unknown town so close from Zurich Switzerland
What a beautiful place, this Regensberg! If you're looking for beautiful places in Switzerland or near Zurich, this is a must-see. Besides nice cafés and great restaurants, you can also visit the castle, where you will find a museum about the history of Regensburg and its castle.
Incidentally, the famous Lägeren hike starts here, where you can hike along the Lägeren ridge all the way to Baden. You can reach the $ by public transport in just 35 minutes from Zurich Switzerland.
13. Viewpoint Zurich Fluntern Church
If you want to enjoy the view over Lake Zurich, the Üetliberg and city, I recommend the panoramic view from Fluntern Church. Here, there's a good chance you'll have the vantage point over Zurich almost for yourself.
Insider tip Fluntern Church: Did you know that below Fluntern Church there is a meadow which is a nature reserve? And this in the middle of the city. Pretty rare! The reason is, that it is the home of fireflies threatened by extinction! During the mating season you will find thousands of glowing fireflies in this area. Please note that you are not allowed to enter the meadow. And you can see them only during night in a very specific time of the year.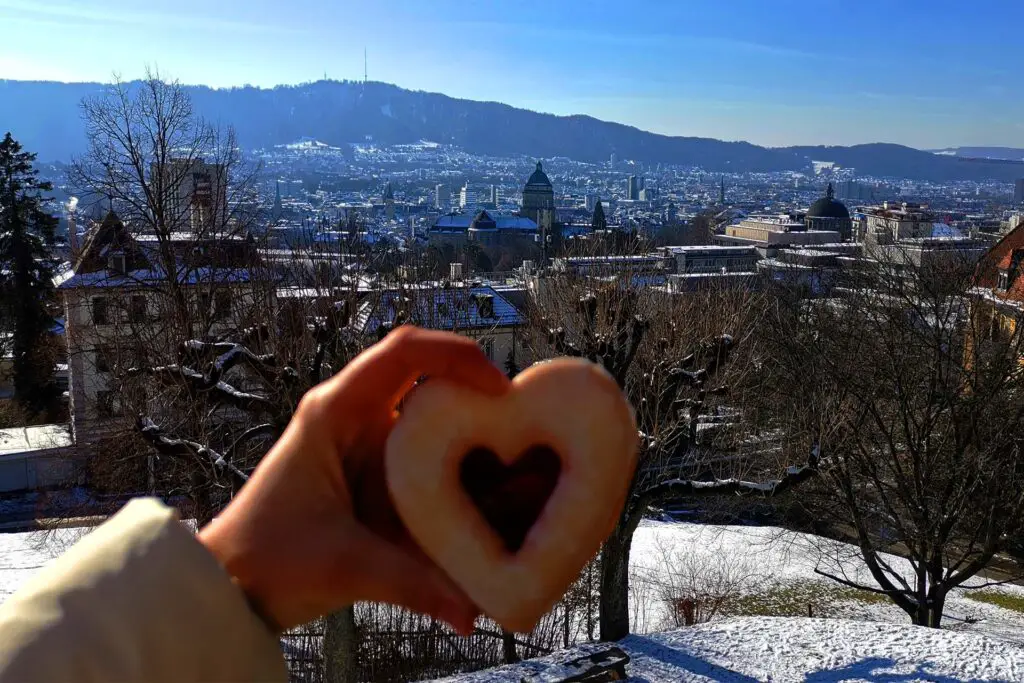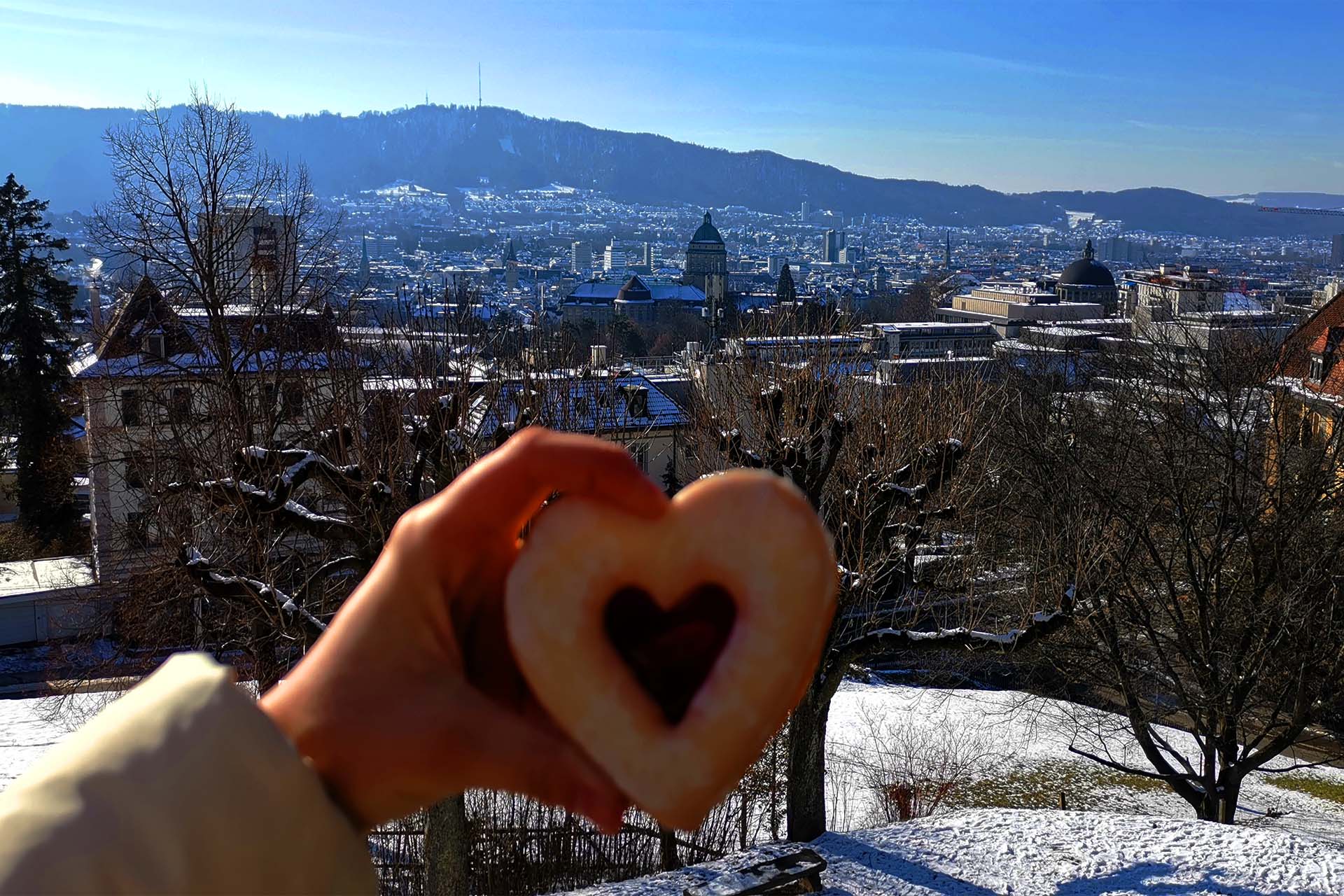 14. Medieval town of Rapperswil

(Favorite town near Zurich Switzerland)
Imagine strolling along a lakeside promenade with a southern flair, through a wonderfully fragrant rose garden and then enjoying the magnificent expanse of royal blue water. Sounds like a beach holiday in the south? Welcome to Rapperswil, the medieval town on Lake Zurich. A wonderful excursion only 30 minutes from Zurich Switzerland. However, Rapperswil officially belongs to the canton of St.Gallen.
Tip Rapperswil: Once you've enjoyed your time in Rapperswil, I recommend the leisurely hike across Switzerland's longest wooden bridge. The family hike is suitable for prams.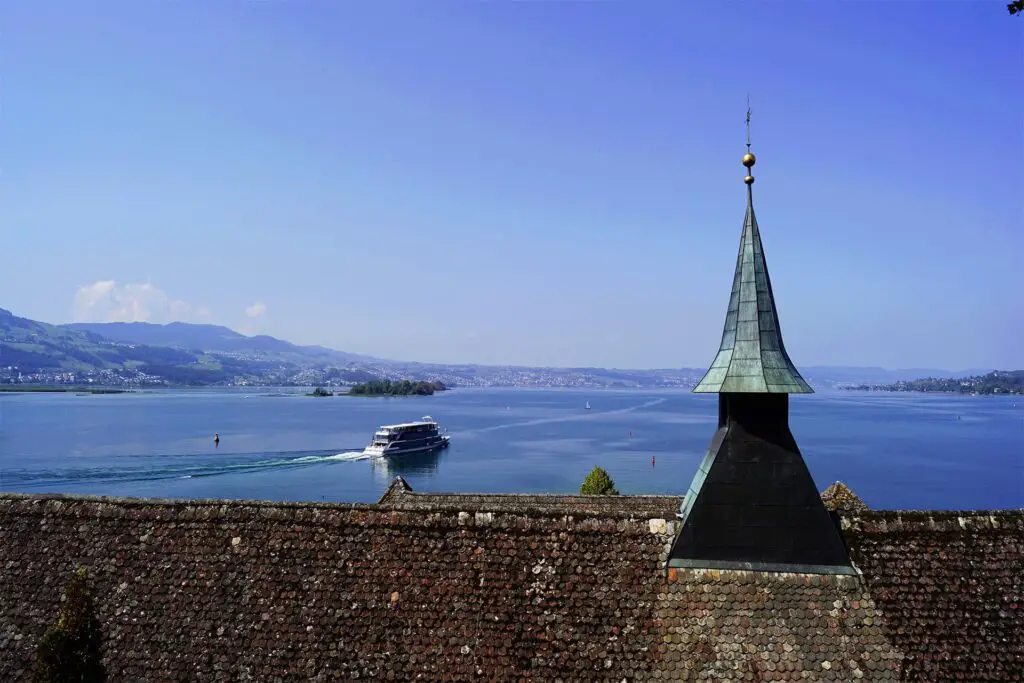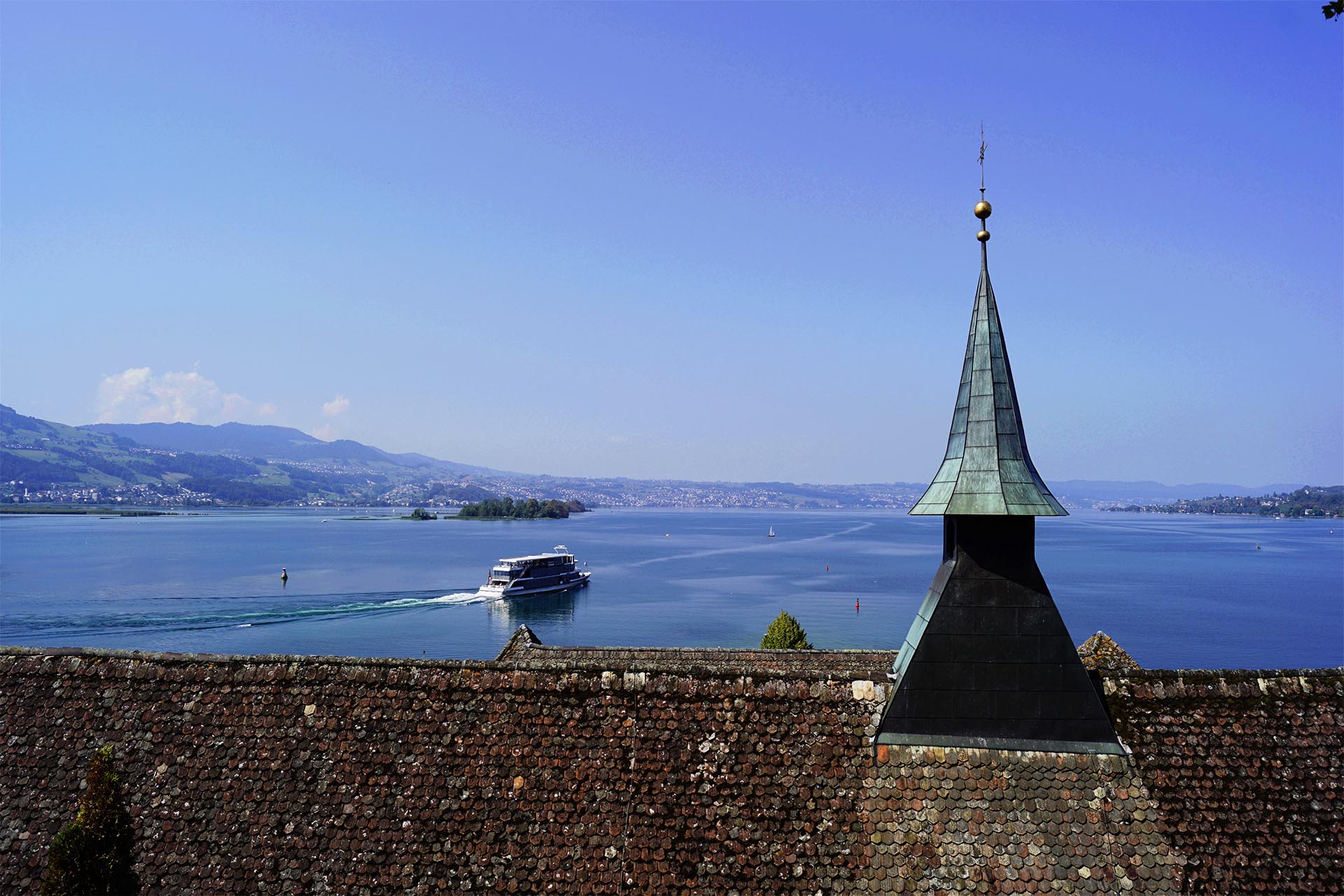 15. Neeracherried
Welcome to the nature paradise of Neeracherried, one of the last large fens in Switzerland. This destination can be reached from Zurich Switzerland in just over 35 minutes by public transport.
You are immersed in a dream landscape with hundreds of birds, rare plants such as orchids or irises and many small animals. By the way, Scottish Highland cattle graze here in harmony with nature. They are responsible for the fact that certain bird species are spreading again.
This shows that various plants and animals can only exist in our cultivated landscapes thanks to man. However, gentle cultivation is necessary. Over-fertilisation and pesticides harm most species. There are even grass snakes in the Neeracherried fen. Be aware, that these are not dangerous. You can also visit the Birdlife Nature Centre at Neeracherried.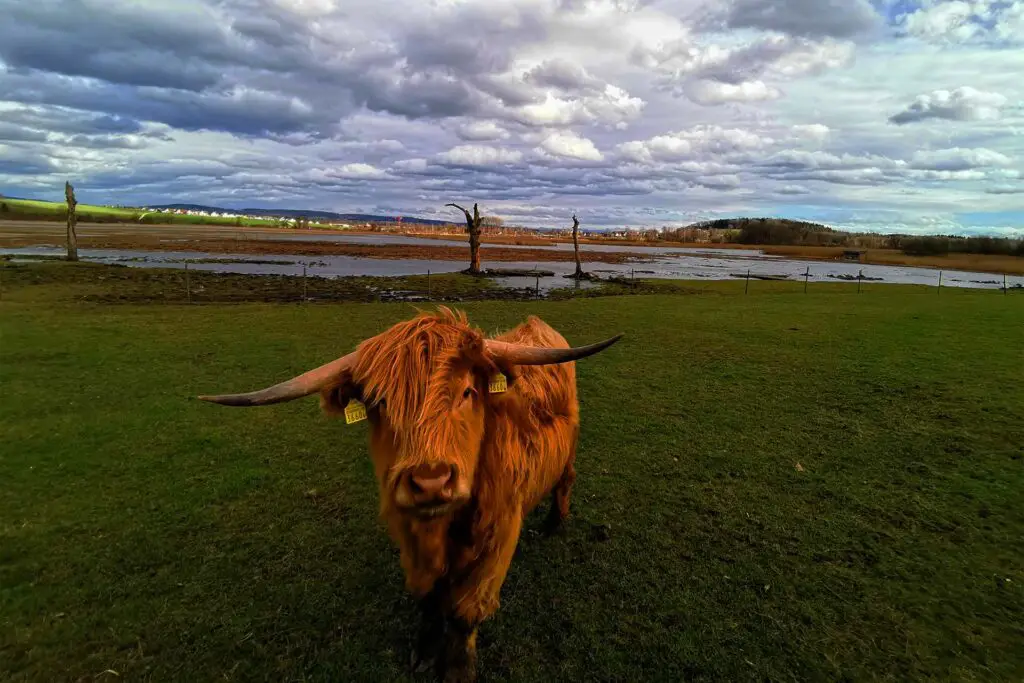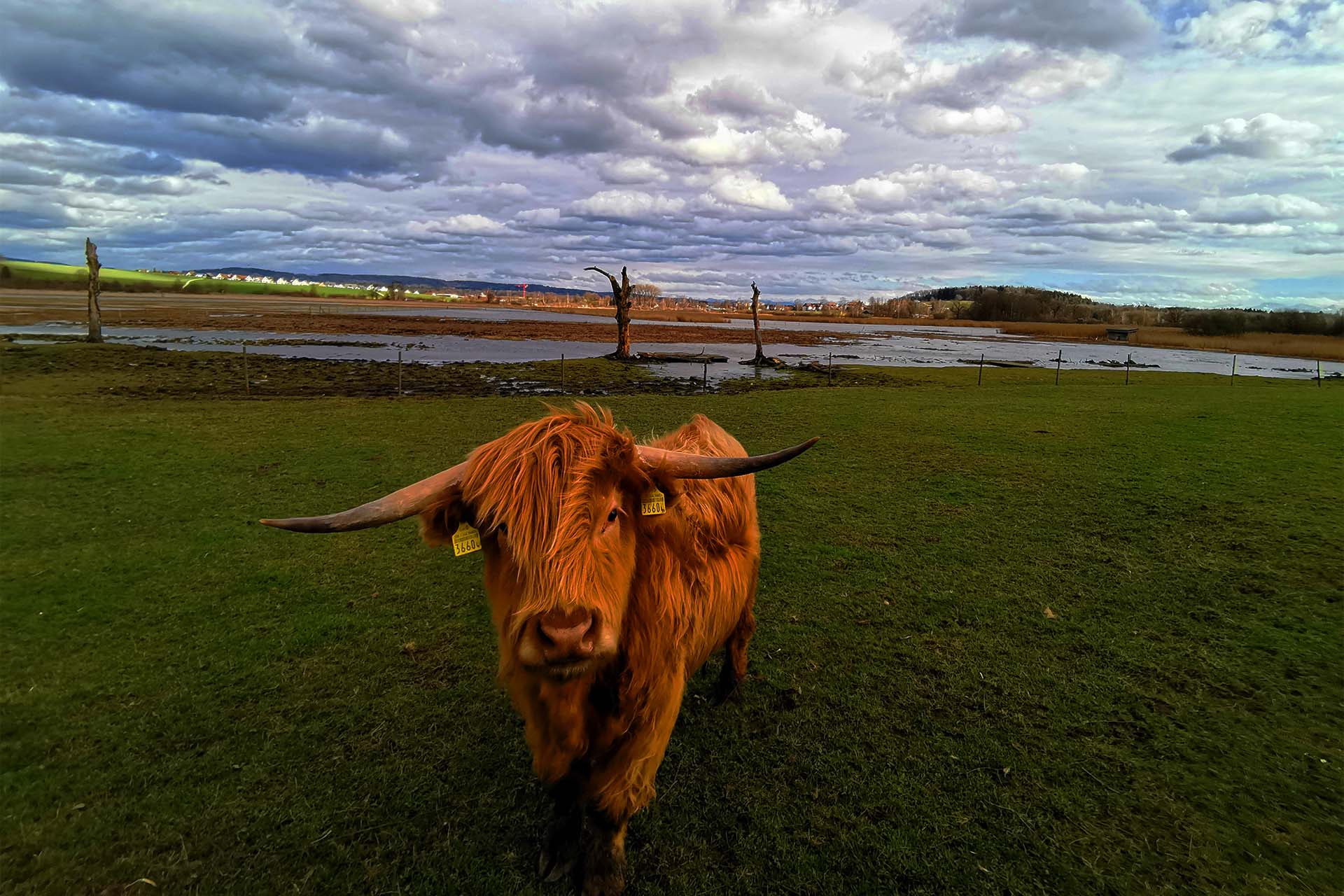 16. Juckerhof Seegräben (Rapperswil)
The Juckerhof is an adventure farm with many highlights. On the one hand, there is the farm shop, where you can find great products from the farm and the surrounding area. On the other hand, one of the most beautiful restaurants in the Zurich region awaits you. Namely, the Juckerhof farm restaurant. The warm buffet and the huge selection of cakes enchant me every time.
It is also the ideal half day trip from Zurich Switzerland for families. Here, children can play perfectly or even pet animals. Another great tip is to combine the excursion with a detour to Lake Zurich, which is very close by.
In summer, blueberry picking is offered (usually from the end of June to the beginning of August). Per person you pay an entrance fee and you can eat as much as you want. In addition, you can still pick berries and take them home at the end for an extra charge.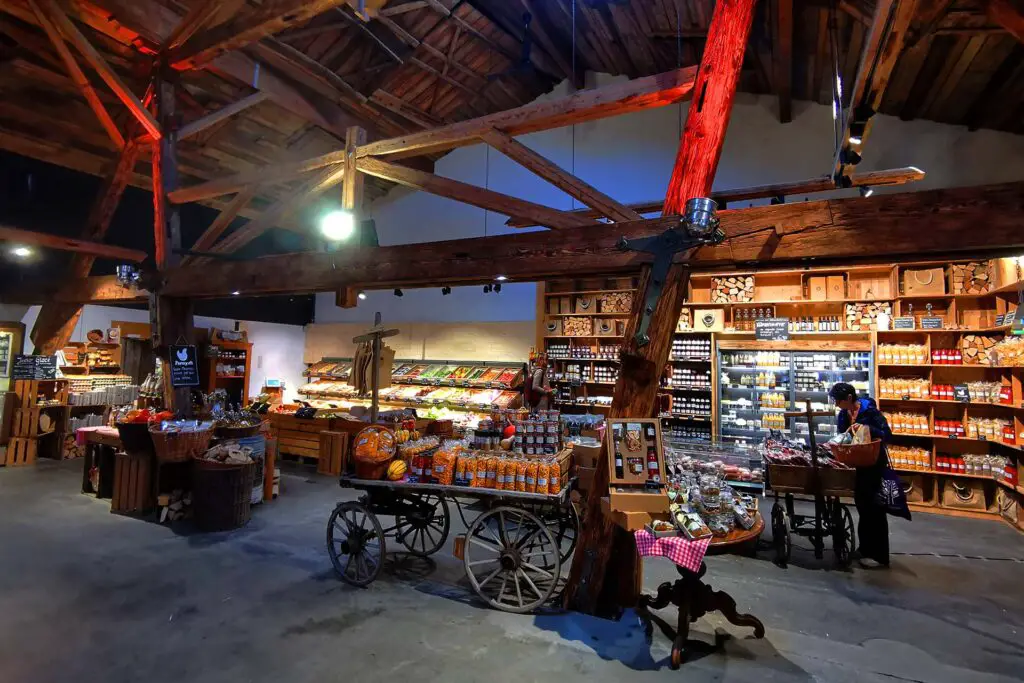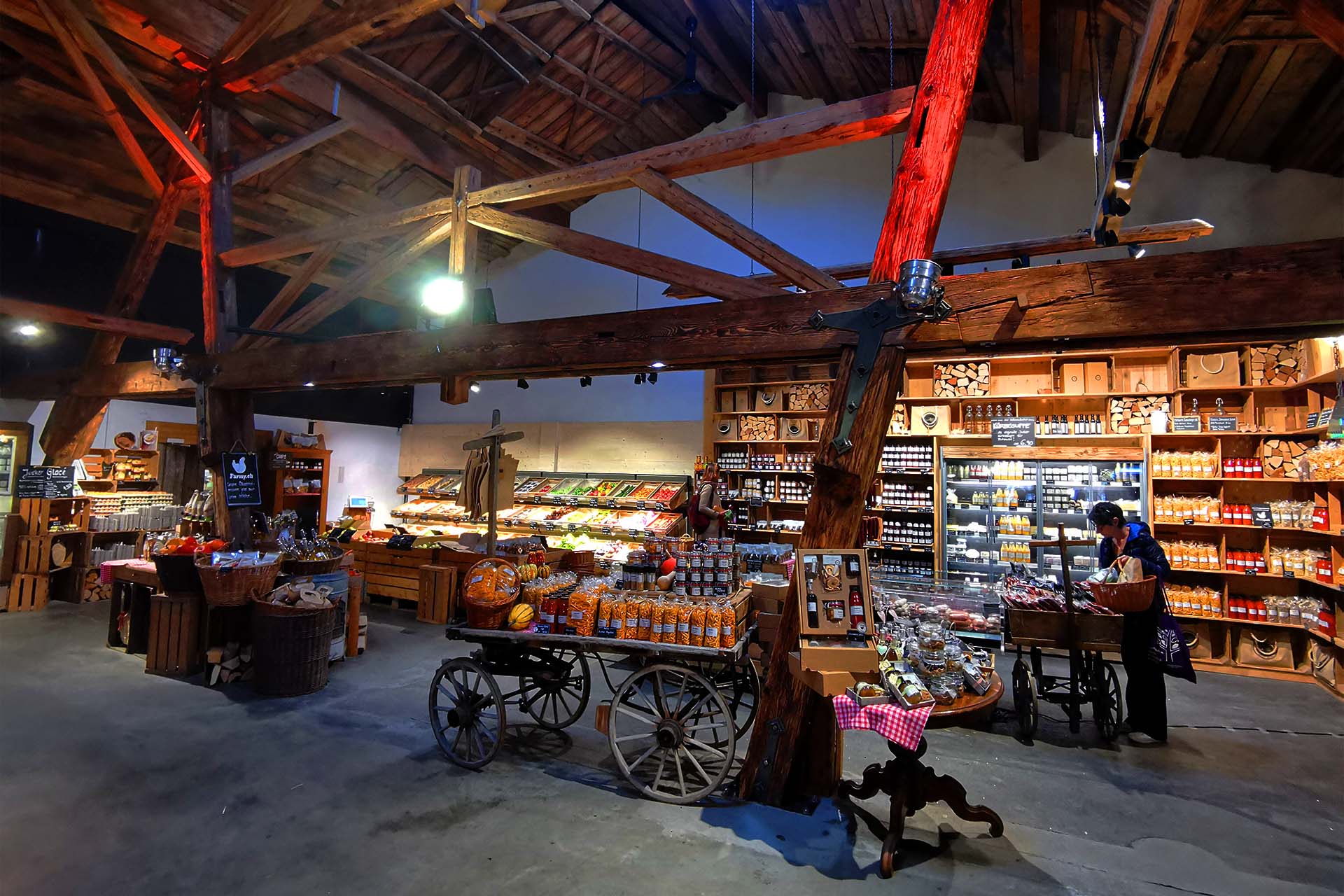 17. Combine the medieval town of Zug with a walk on Zugerberg mountain
The medieval town of Zug is only 30 minutes from Zurich Switzerland. Zug was founded in the 13th century. Although Zug and the whole canton is known for its low taxes, the town definitely has more to offer. However, the pretty old town is well worth a visit. For example, the 52-metre-high tower called Zytturm in particular will catch your eye.
Further great thing are that every historic house has a plaque where you can read about its history. Would you like to go swimming or just stroll around in a beautiful place? Then Lake Zug is the perfect excursion. The view over the Rigi always makes me dream. Lake Zug is another Swiss lake named after a major city, along with Lake Neuchâtel, Lake Zurich and Lake Geneva.
Tip Zug: In less than 30 minutes you can reach Zug's local mountain: the Zugerberg. A funicular takes you from Schönegg up about 400 metres in altitude. So, especially in winter, there may be a lot of snow on the Zugerberg, while in the town of Zug itself there is no sign of winter. As an insider tip, we recommend the panoramic hike from Zugerberg to Walchwil. Again and again you will be rewarded with a fantastic view over Lake Zug, Lake Lucerne and the Rigi mountain.
18. Greifensee – just 25 minutes from Zurich Switzerland
Lake Greifensee is a Swiss Lake and a nature paradise very close to Zurich. Therefore, it is a top destination for a trip from Zurich. It takes less than 20 minutes to get to Nänikon-Greifensee, where you can take the bus to the lake (bus stop: Greifensee, Städtli).
From here you can start a beautiful walk, which can also be extended to a hike. You walk in the direction of Riedikon. If you like, you can extend in the direction of Maur. If you do this, it's worth making a detour to the Aaspitz. Theoretically, you could also take the boat there to reach Maur. However, there are very few boat trips from this stop.
A large part of the area around the Aaspitz is a nature reserve and bird paradise. Many rare species can be observed here.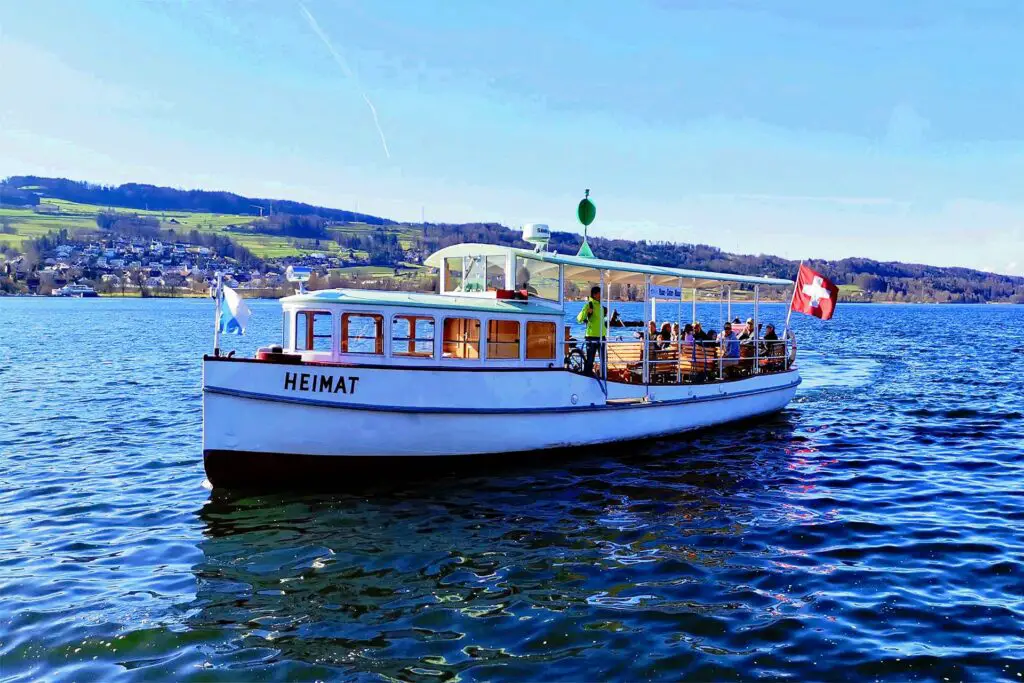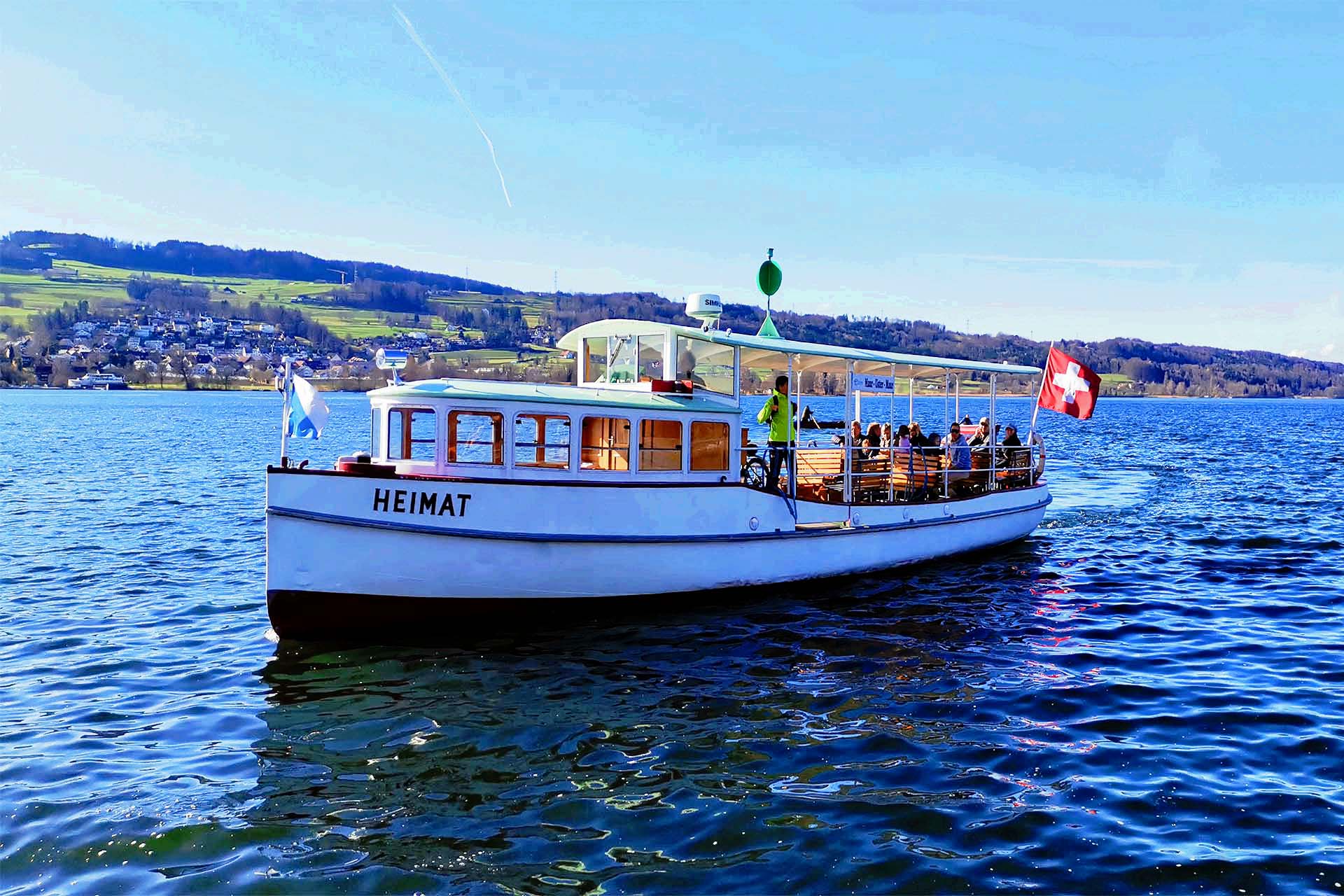 19. Schaffhausen

(Favorite historic city near Zurich Switzerland)
The medieval town of Schaffhausen is well worth a visit and can be reached from Zurich Switzerland in as little as 35 minutes with fast connections. In summer, sit in a nice restaurant, have an ice cream and enjoy the dolce vita. Schaffhausen has a lot to offer and is historically very interesting.
Tip Schaffhausen 1: The Munot in Schaffhausen is one of the most famous castles in Switzerland. The view over Schaffhausen and the Rhine is tremendous and also a great subject for photographers.
Tip Schaffhausen 2: A boat trip on the Rhine from Schaffhausen to Stein am Rhein is one of the most beautiful and liberating things to do! It's the perfect moment to let your mind wander and let the many impressions pass by. If you don't have so much time for a trip to Stein am Rhein, you can also get off at Diessenhofen.
The next excursion tips from Zurich are still easily accessible by public transport, but in the 40-55 minute time range.
20. Kyburg Castle
Kyburg is another excursion tip from Zurich. First mentioned around 1027, Kyburg was owned by the Habsburgs. When you see the view from the castle, really a well chosen base. Switzerland's first castle museum was also located here. If you like to stroll or sit in a restaurant, you are in good hands. The beautiful restaurants invite you to linger. Especially from late spring to autumn, it's a great place to visit from Zurich Switzerland.
Kyburg is about 40 minutes from Zurich main station by public transport.
21. Lenzburg Castle
Lenzburg Castle is an easy 45-minute train ride from Zurich Switzerland. There is a bus from Lenzburg station to the old town (Lenzburg Hypiplatz station). Then your great walk to Lenzburg Castle begins.
Please walk through the beautiful old town of Lenzburg to make it a perfect trip.
You continue to Lenzburg Castle, which has existed since the 11th century. This means that the castle is now almost 1000 years old (as of 2021). It is one of the most impressive castles in Switzerland and a great excursion from Zurich.
22. Lake Hallwil
Lake Hallwil is 55 minutes away from Zurich. The fact that this destination is so close to Zurich Switzerland, offers a lot of advantages. Not only that you can go for a walk along the lakeshore or enjoy a swim in the lake in summer. No, Lake Hallwil also offers many delicious restaurants. For example, the Seerose Meisterschwanden, Seehotel Hallwil in Beinwil am See or the Schifflände Birrwil are top addresses.
Lake Hallwil is one of the few lakes in Switzerland with an almost unobstructed shoreline. By public transport, Mosen in particular, but also Beinwil am See or Birrwil are good starting points.
Insider tip Hallwilersee: If you want to swim, there are a few bathing areas where you have to pay. But around the lake there are always such beautiful bathing spots that are free and sometimes have almost no people. Peace and idyll are usually guaranteed.
One of my favorite places is the free lido in Birrwil, which is a huge insider tip and pleasant even in summer from the crowds.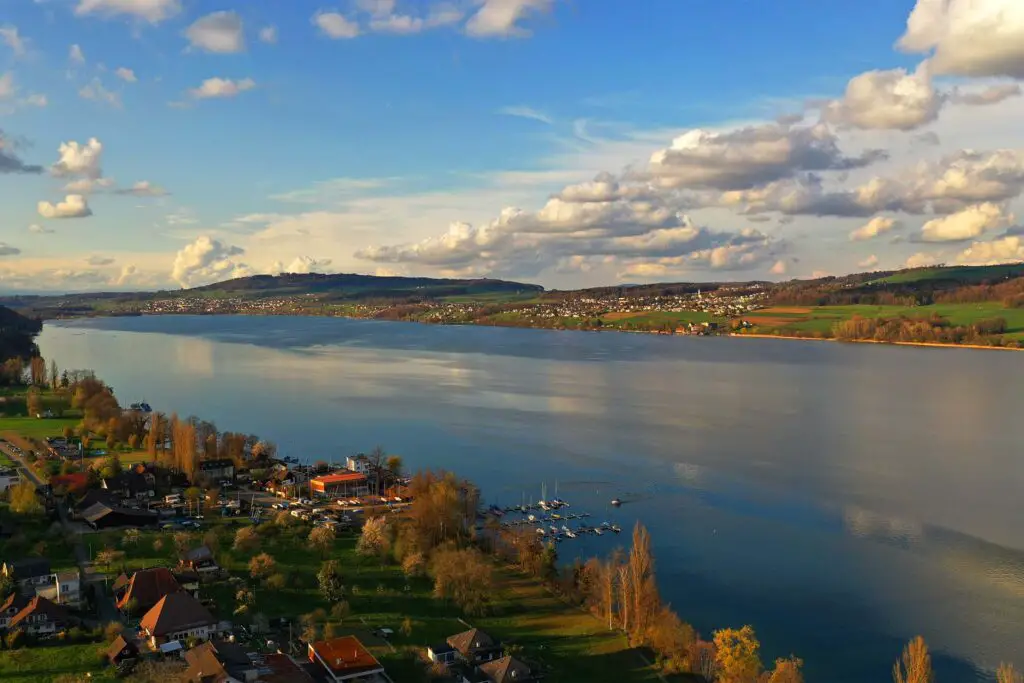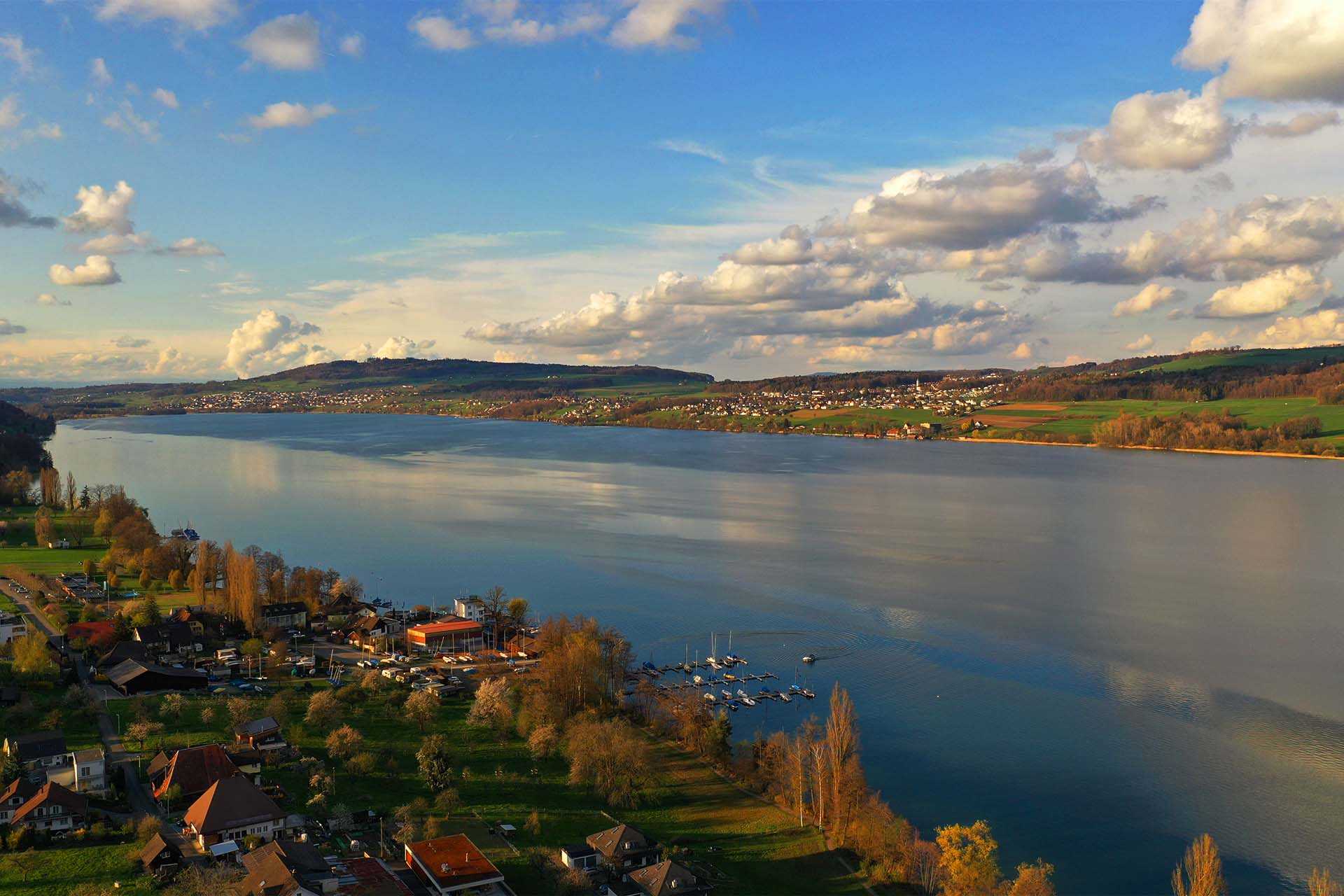 TOP day trips, places to visit and excursions around 1h from Zurich Switzerland
In the second section, I show you day trips and excursions that can almost all be reached in just one hour by car from Zurich, Switzerland. Most of the excursion tips are also easily accessible by public transport, although some of them take a little longer. Nevertheless, travelling by public transport is highly recommended and offers many advantages.
23. Pizol (the probably most epic hike from Zurich Switzerland)
The 5-lake hike on the Pizol is one of the most impressive hikes in Switzerland and a unique day trip from Zurich! You can reach the Pizol cable cars near Mels SG from Zurich in just one hour.
I particularly liked the Wildsee and Schottensee lakes. Word has got around that this is a wonderful hike. The marketing of the Pizolbahnen is also working well. If you want to avoid the crowds, you should do the hike from Monday to Thursday and not during the main holiday season. The Pizol area is part of the Sardona UNESCO World Heritage Site.
Insider tip Pizol: For particularly fit hikers, we recommend hiking from the Weisstannental valley via the Batöni waterfall arena to the Wildsee lake. A guaranteed unforgettable highlight!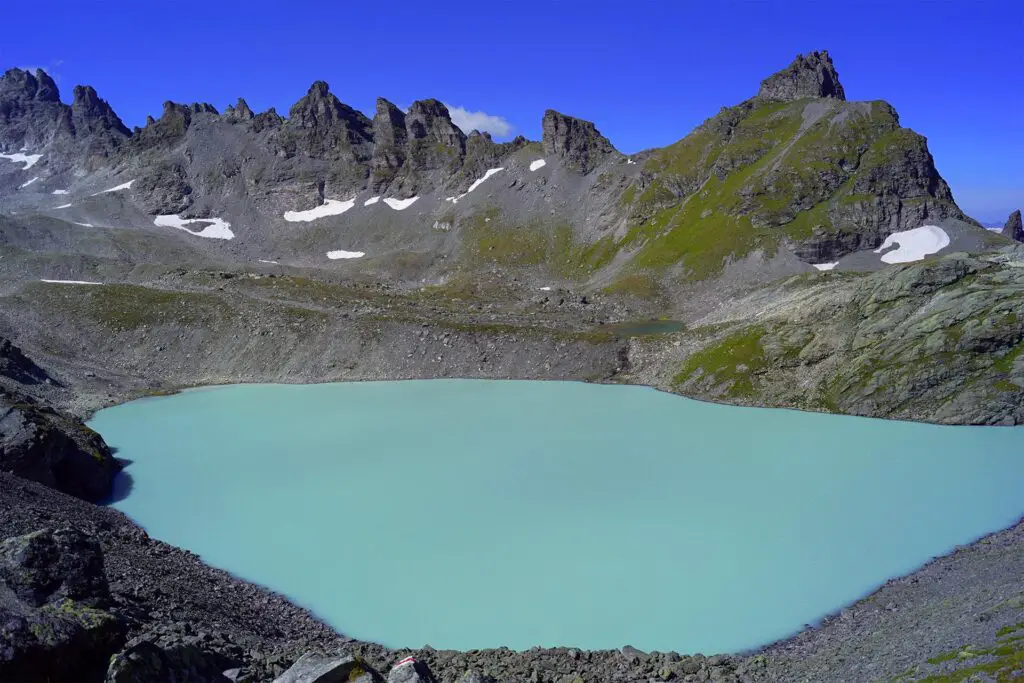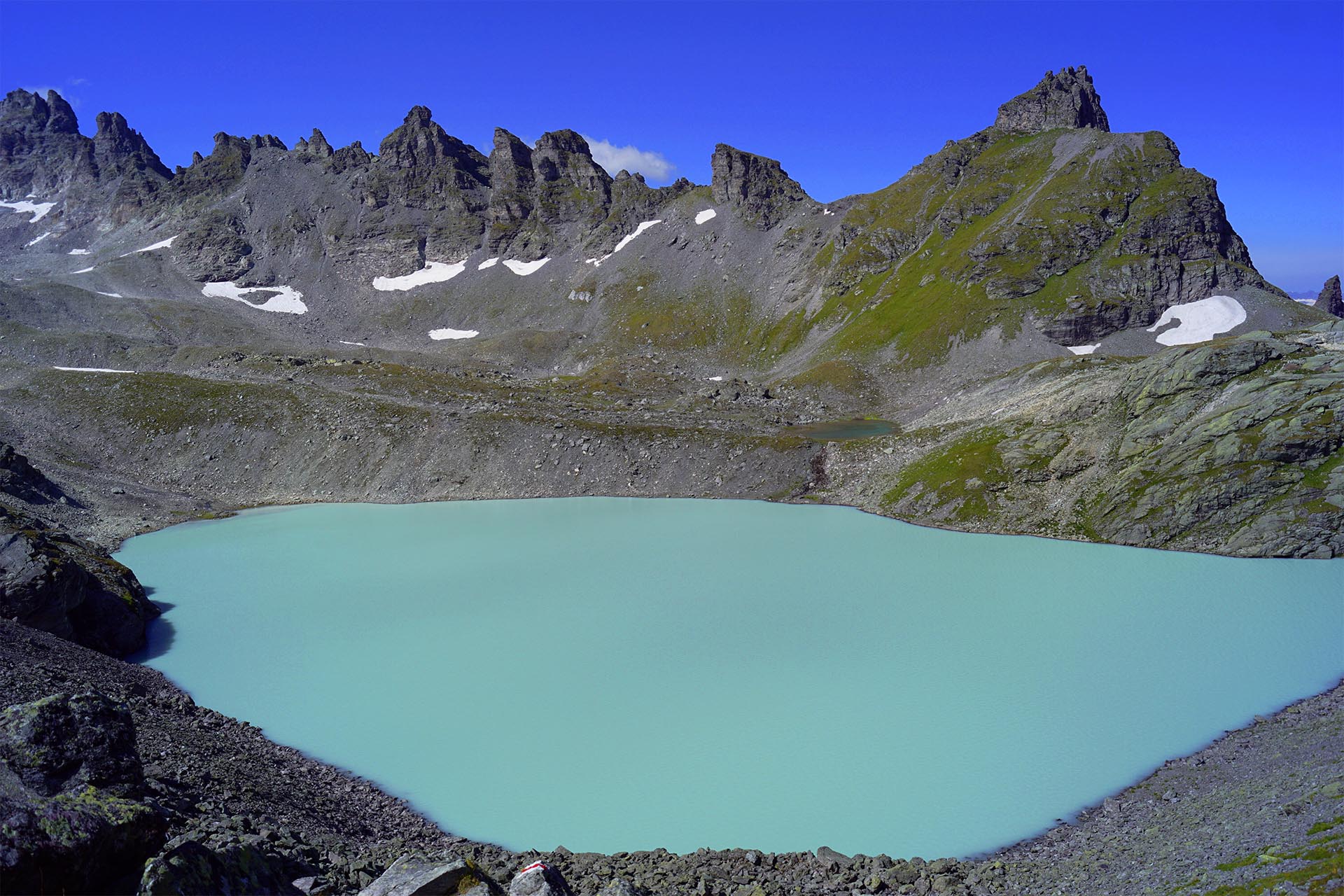 24. Stein am Rhein (very easy to reach from Zurich Switzerland)
Stein am Rhein is one of the most beautiful towns in Switzerland and a brilliant day trip from Zurich Switzerland. Because the medieval town has a very special charm with its murals and colourful buildings.
In addition, the banks of the Rhine invite you to take a walk. But that's not all: Stein am Rhein is the border between Lake Constance and the Rhine. Accordingly, there are also various boat trips that are worthwhile. I especially recommend the trip on the Rhine to Schaffhausen.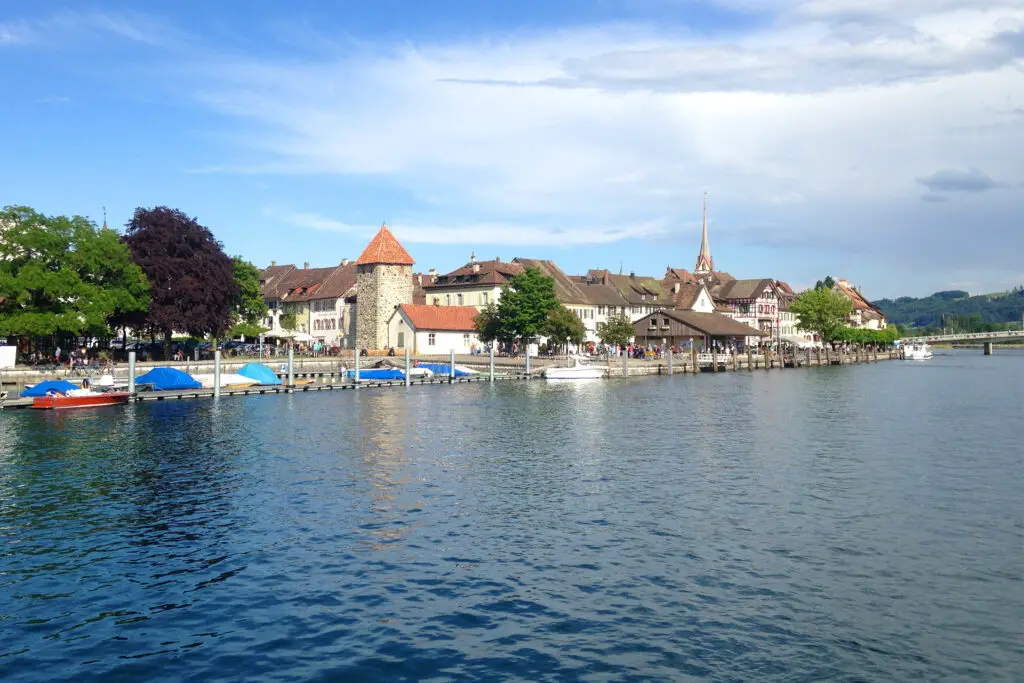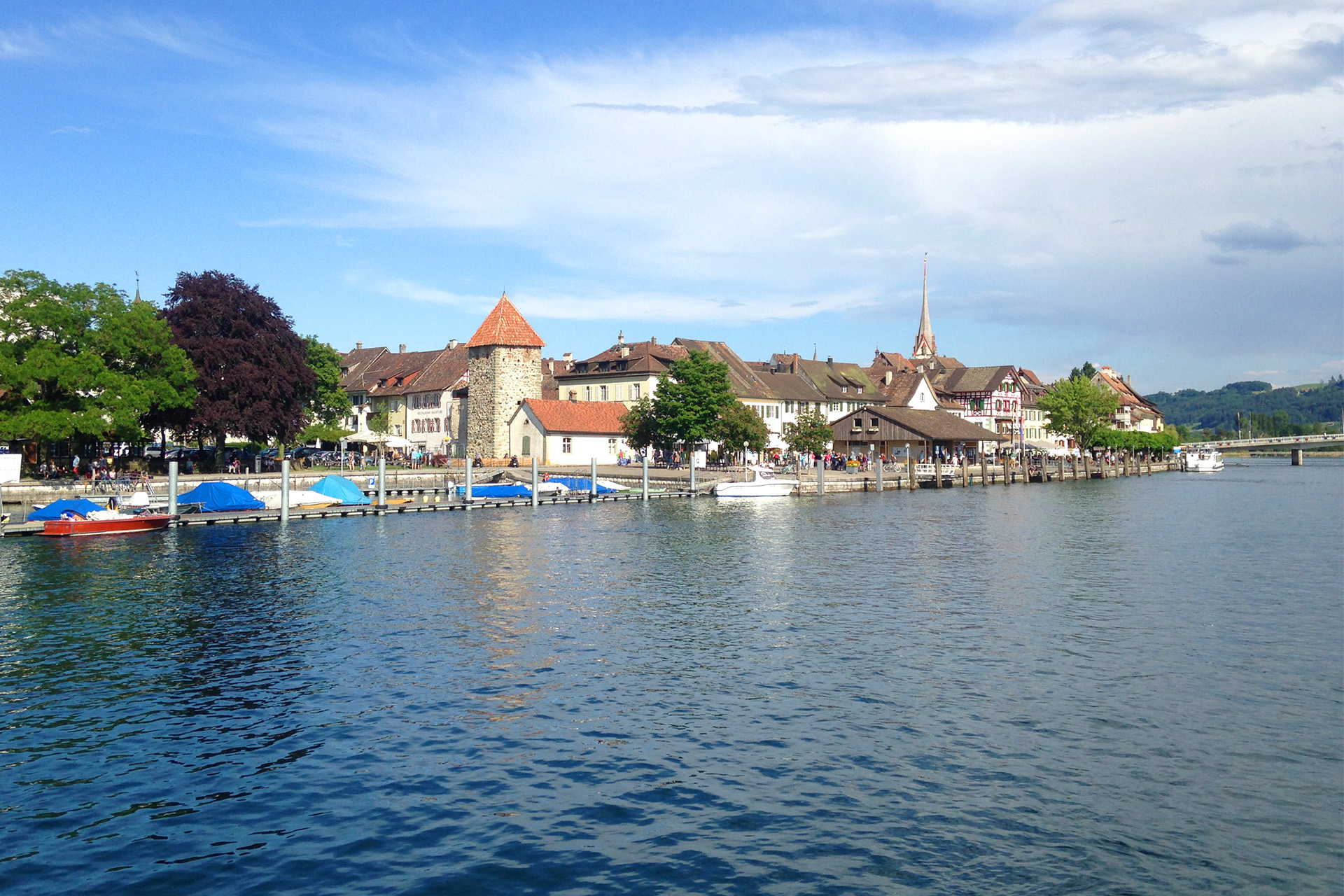 25. Buochs: Relaxing in the Lake Lucerne Oasis
A green meadow with great swimming opportunities welcomes you to Buochs at Lake Lucerne. The panoramic views of the Rigi and the surrounding mountains are unmistakable. And you can reach this place in just 55 minutes from Zurich Switzerland.
In summer, this is the ideal place to take a dip. If you want shade, you can also enjoy the view on one of the benches. An insider tip and a excursion for a day trip from Zurich. The spot is at the Buochs Unterfeld bus stop, where there are also some parking spaces.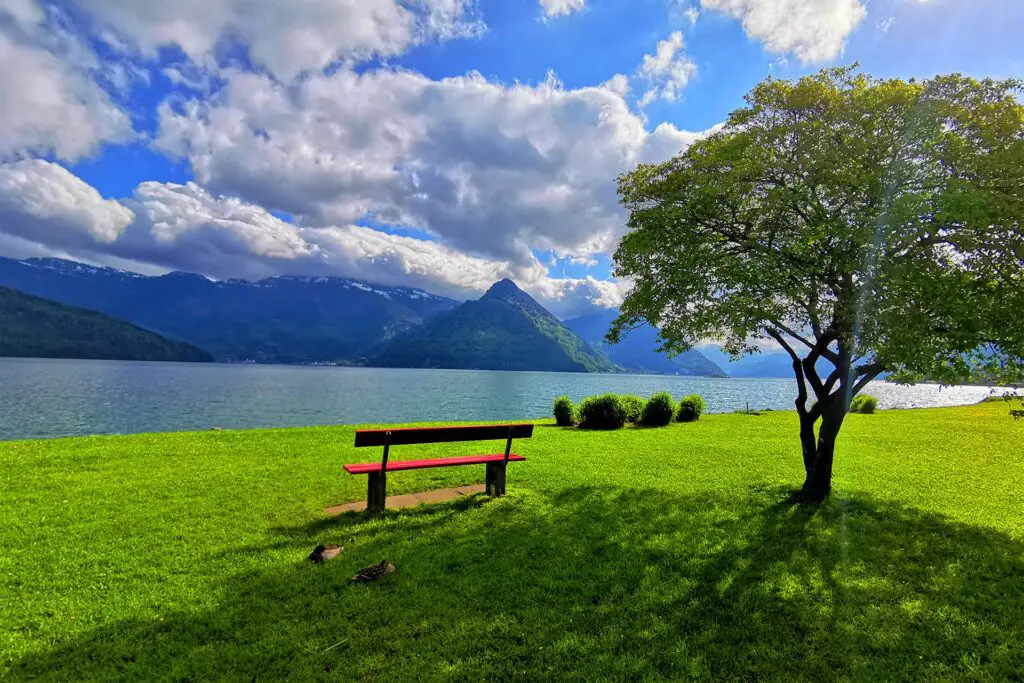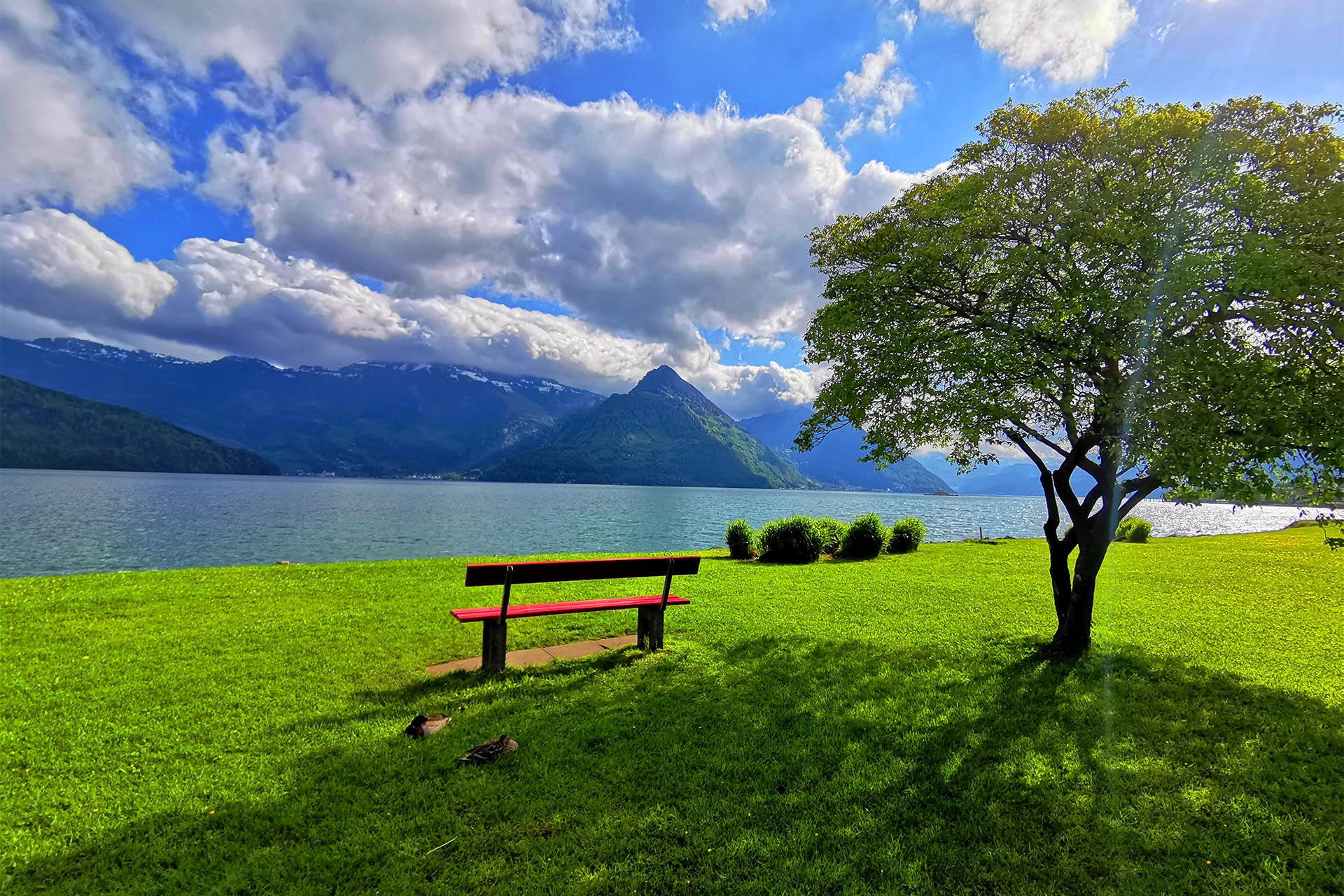 26. Goldseeli in Goldau – huge hidden gem near Zurich Switzerland
A tragic story led to the creation of this beautiful Swiss lake. It was one of the largest rockfalls in Switzerland. Today, the Goldseeli in Goldau is one of the insider tips and wonderful excursions from Zurich Switzerland.
A walk through the wild forest reveals the imposing rocks. Trees are kept lying here, giving nature deadwood as an important habitat and feeding ground for animals and plants. For me, this is an exemplary concept and something that is rarely seen so close from Zurich apart from the Sihlwald.
In spring, from around May, wild orchids bloom here. You can even see a kingfisher if you are very lucky and quiet. There are also barbecue sites. As it is a nature reserve and home to many rare animals and plants, it is important to enjoy the peace and quiet.
You start the walk from the bus station Goldau, Buosingen Camping. It takes about 20 minutes to reach Goldseeli.  Important: The parking lot is actually for campers only, but you can ask for it. Nevertheless, especially in the high season in summer, it is recommended to arrive by public transport.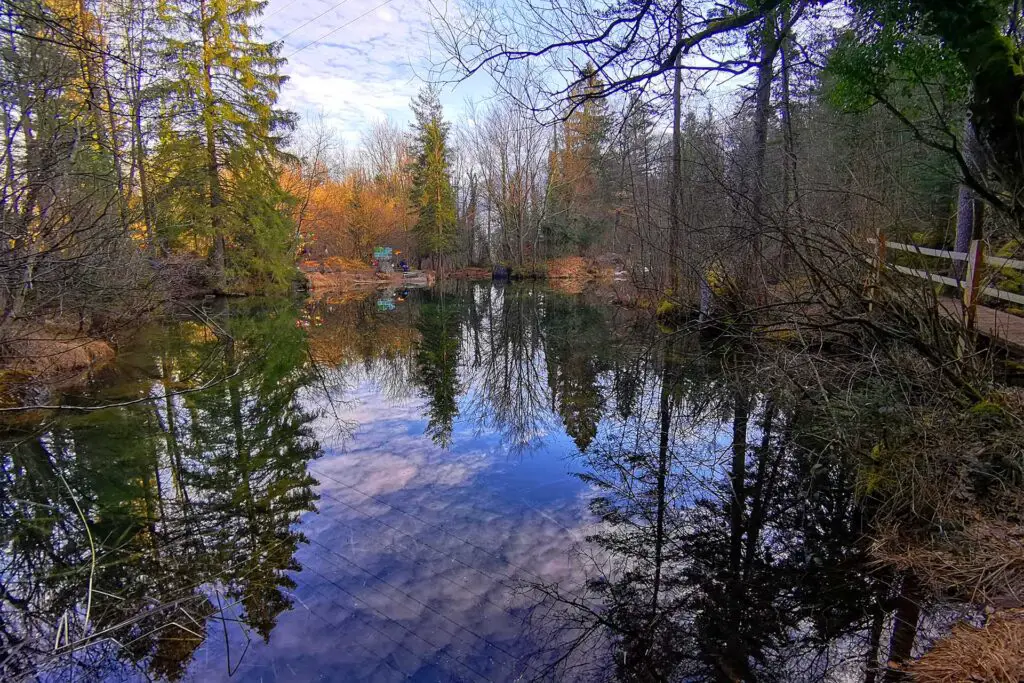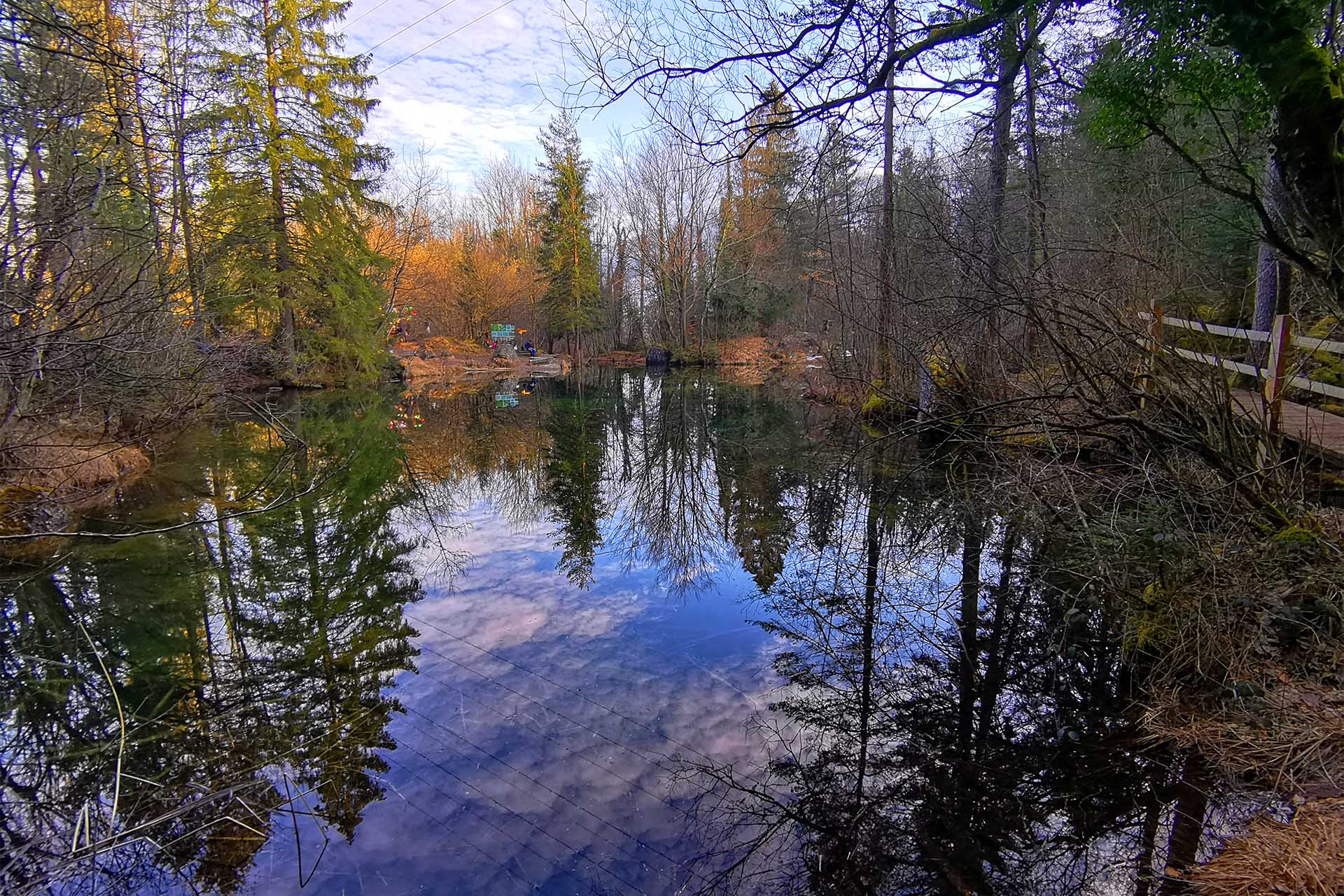 27. Lake Hike in Thurgau (Lake Hüttwil and Lake Nussbaum)
An beautiful secret hike so close from Zurich. I am very surprised how few people visit such beautiful Swiss lakes on weekends or holidays. This is my favourite hike in Canton Thurgau from Ittingen (former monastery) past three idyllic lakes to Stammheim with its beautiful timber-framed houses.
You walk across a wildly romantic lake passage and through impressive moorland. Simply marvellous! Moors are an important habitat for rare animals (e.g. dragonflies, amphibians, newts, frogs, lizards, etc.) and plants (e.g. irises).
As food was very scarce, especially during the time of the world wars, moors were drained to gain more agricultural land. This was also the case with Lake Huttwil and Lake Nussbaum. Today, attempts are being made to reverse this and to partially renaturalise the areas around these lakes.
This is an absolute highlight as a day trip from Zurich. Of course you can also visit the place by car and stay there just for a while.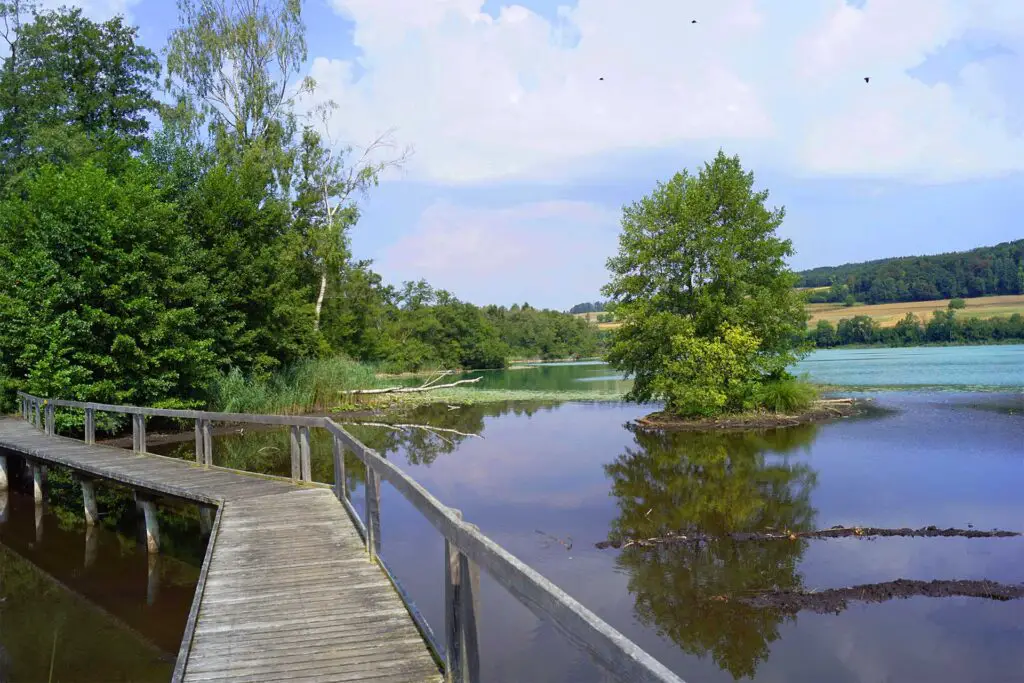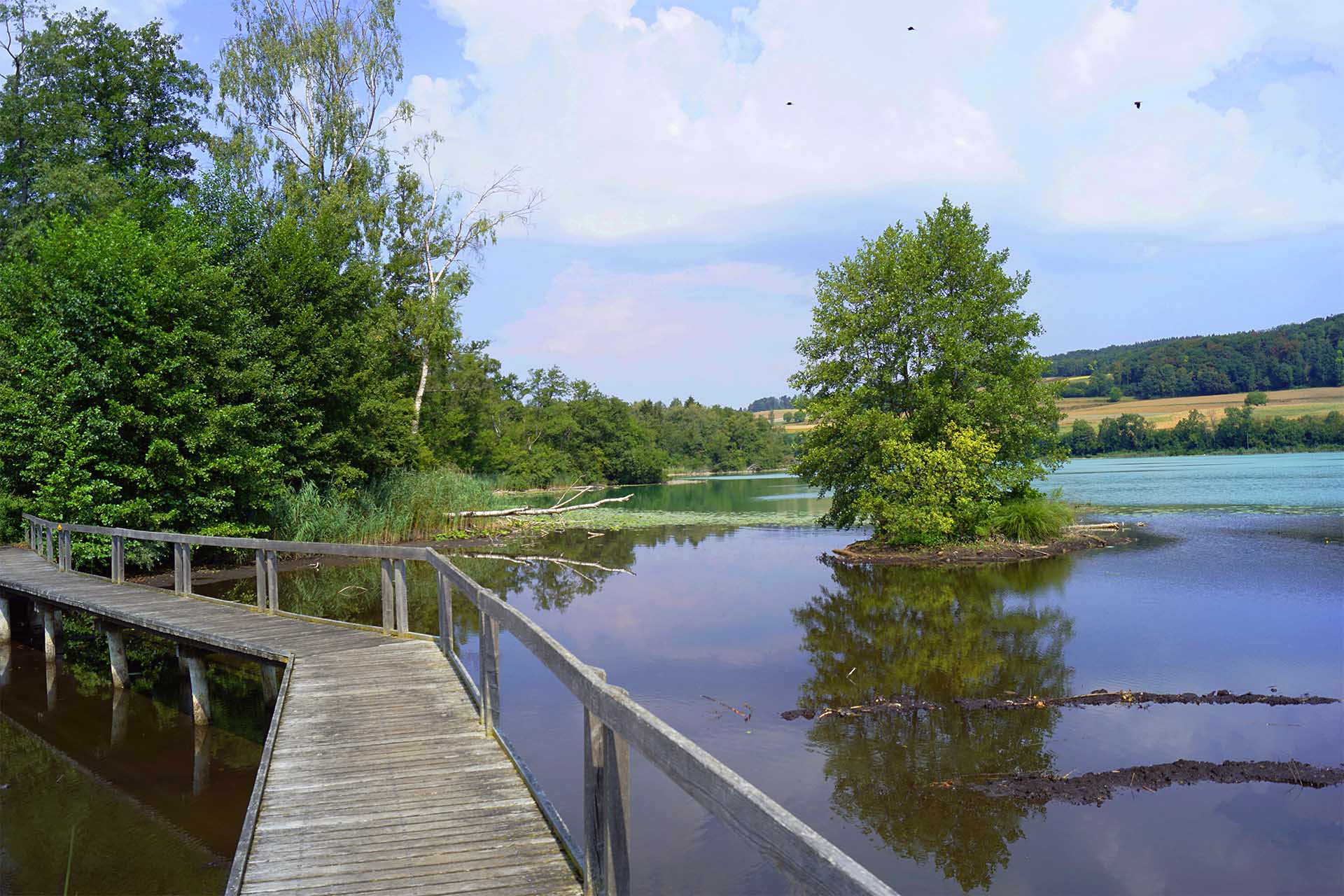 28. Panoramic View from the Sissacherflue
Would you like to enjoy a wonderful view of the Basel-Land Jura? Then you have to see the Sissacherflue. On good days you can spot the Swiss Alps perfectly. A delicious restaurant also attracts visitors to the Sissacher Flue at weekends in masses.
Nevertheless, the mountain is actually only visited by locals. Few people in the canton of Zurich are familiar with the Baselland. And accordingly a great destination for an excursion from Zurich Switzerland.
From Monday to Saturday you can drive up to the Sissacher Flue. On Sundays and public holidays, driving is prohibited and you have to hike.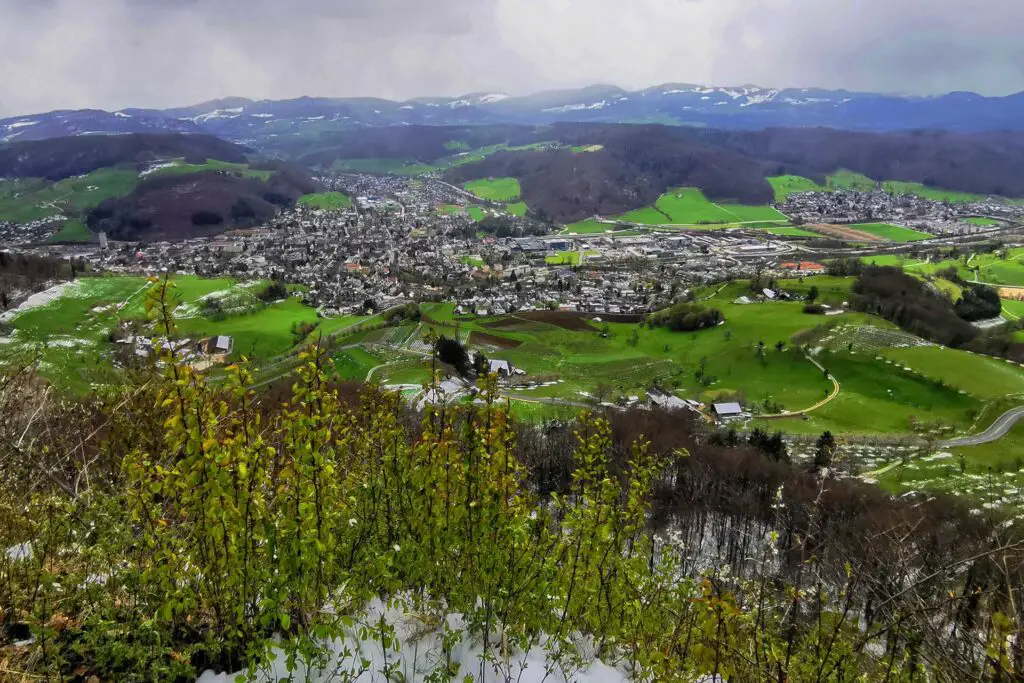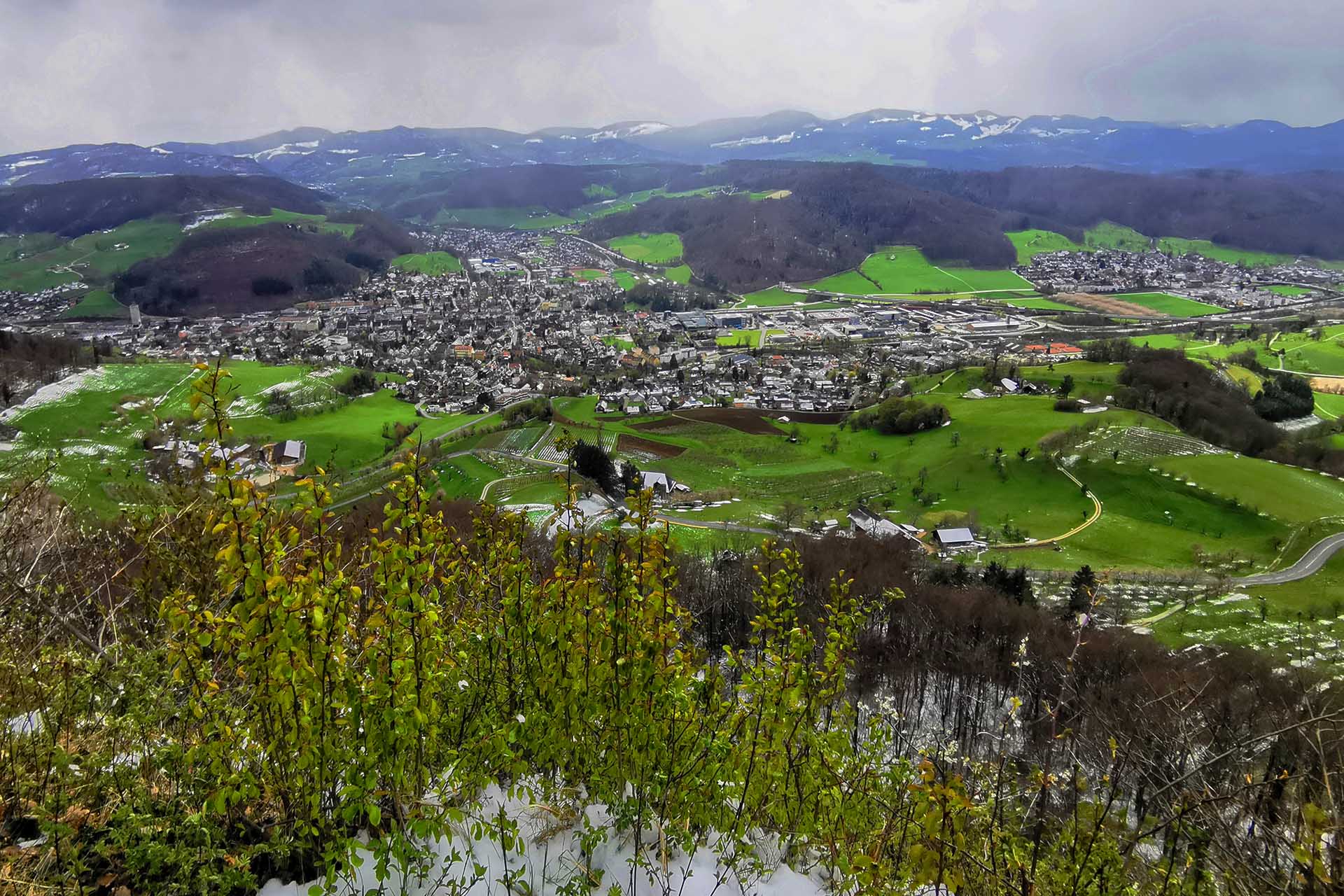 29. Farm Village Oltingen
A second excursion tip from Zurich to Baselland is the one to Oltingen. In this farming village, you could be forgiven for thinking that time had stood still. Farmhouses are lined up next to each other in the intact village. These are the so-called three-aisle houses, which have a stable, living quarter and a barn.
A trip to Oltingen is especially worthwhile in spring, when the cherry blossoms are in bloom. This is a great insider tip for a day trip from Zurich Switzerland. You can even combine this place with the Sissacher Flue.
30. Stoos and the Fronalpstock ridge hike (among the best day trips from Zurich Switzerland)
A beautiful mountain and a top day trip from Zurich is the Fronalpstock. Above Stoos and Morschach you will admire one of the most beautiful mountain panoramas in Switzerland.
Tip Fronalpstock: The ridge hike from Fronalpstock to Klingenstock is perhaps the most beautiful hike in Switzerland. A permanent view over the Urnersee, the Vierwaldstättersee, the Rigi and many other Swiss mountains make this hike an unforgettable day trip. I recommend starting the hike from the Klingenstock because of the better view. You can buy a hiking pass that includes the Klingenstock and Fronalpstock cable cars.
31. Panoramic Dream in Morschach
One of my favourite day trips from Zurich is the panoramic hike from Morschach to Sisikon. Even Queen Victoria from England and Winston Churchill knew about the beauty of this region. From the vantage point at the former Hotel Axenfels, the hike past chapels in the direction of Sisikon. The impressive mountain behind us is the well-known Fronalpstock.
Again and again you have a fantastic view over Lake Lucerne, just as you know Switzerland from the picture book. Particularly striking are the large stones that we can see again and again. These are so-called erratic blocks that have been transported for kilometres by glaciers. These large polished stones can even be found in the Zurich region, which was covered with ice 20,000 years ago.
The journey from Zurich is very comfortable by car. However, the way back by public transport is then tedious. But the hike is very worthwhile and one of the best day trips from Zurich.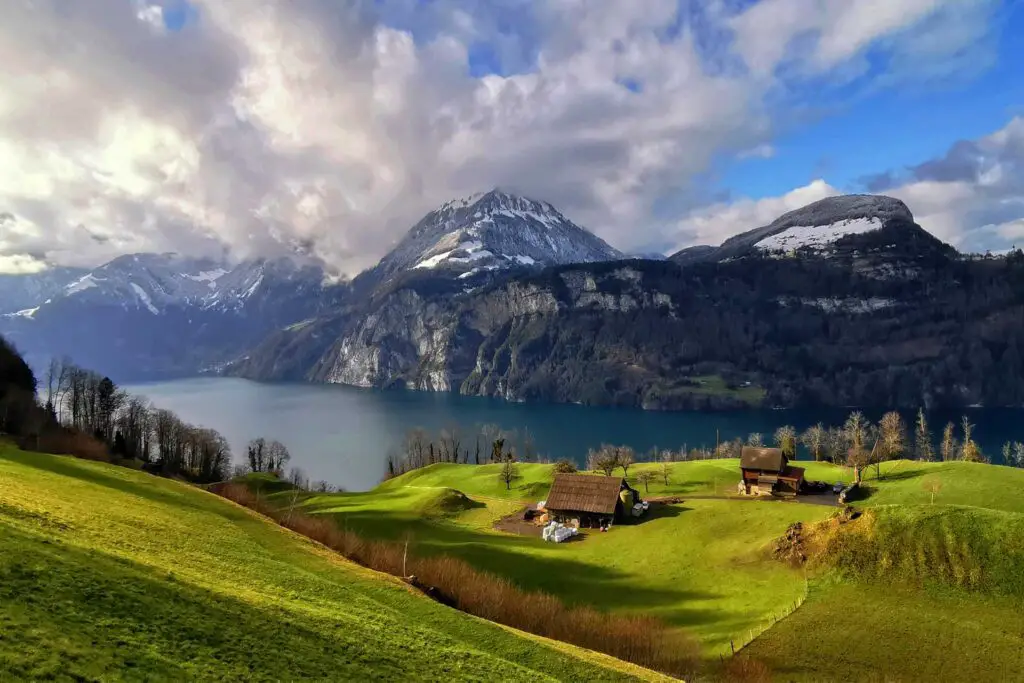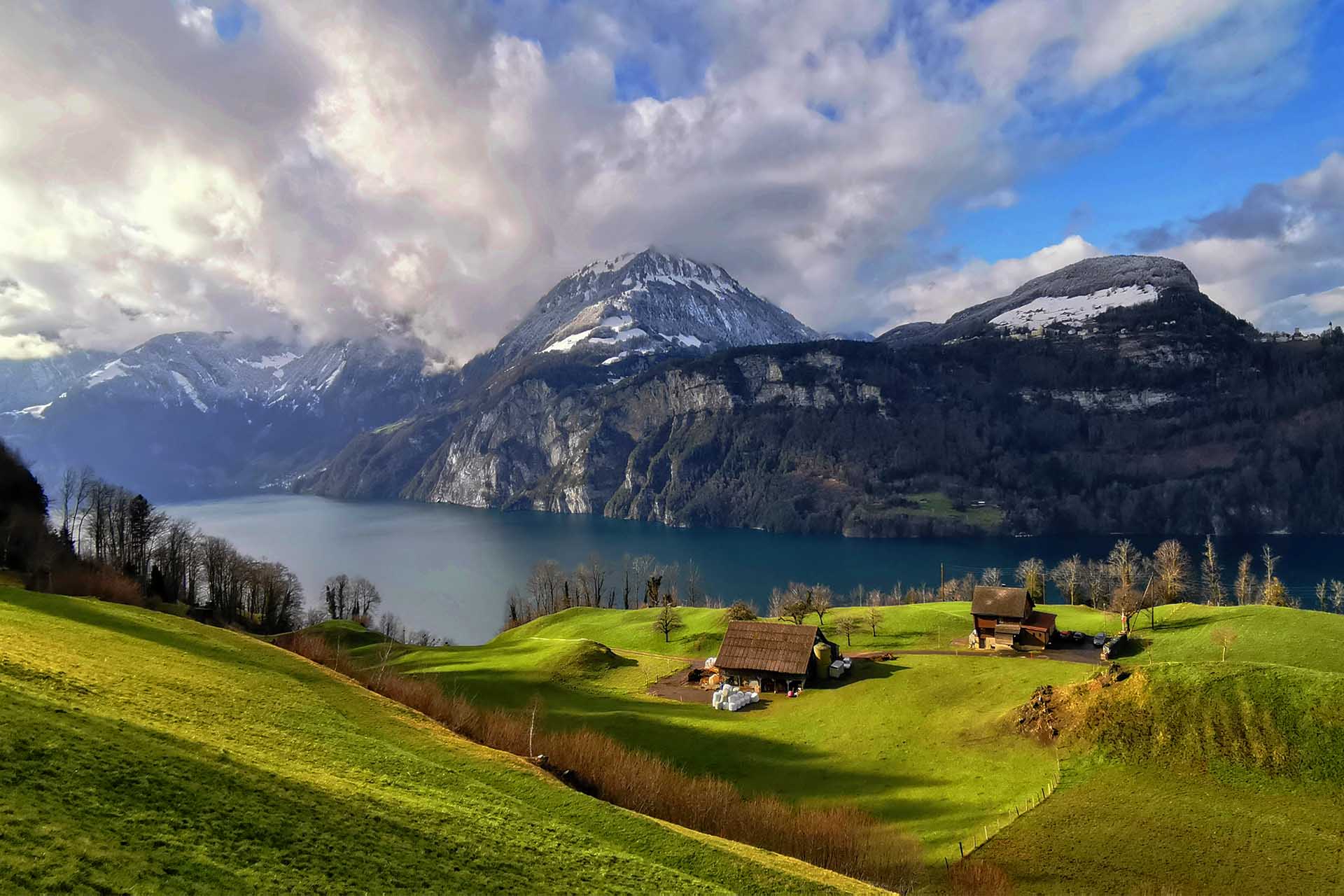 32. Lungern and Lake Lungernsee (Dream trip from Zurich Switzerland)
The "Lungerersee" or "Lungernsee", named after the village of Lungern, is one of Switzerland's Instagram hotspots. Along with Zermatt, Seealpsee, Ebenalp, Grindelwald and Lauterbrunnen, this is probably the most shared and the most popular lake in Switzerland. Lake Lungern is a reservoir. However, it is interesting to note that Lake Lungern was once a natural lake. Yes, it was even lowered to gain additional land for farmers. But only 100 years later in 1921, the artificial reservoir was created – and the laboriously won land was lost again in the masses of water.
Since Lake Lungern is an artificial lake, it has very little water, especially in winter. Therefore, a day trip to the place is worthwhile especially between mid-May and the end of October, when the water level is filled up and the meadows are green again.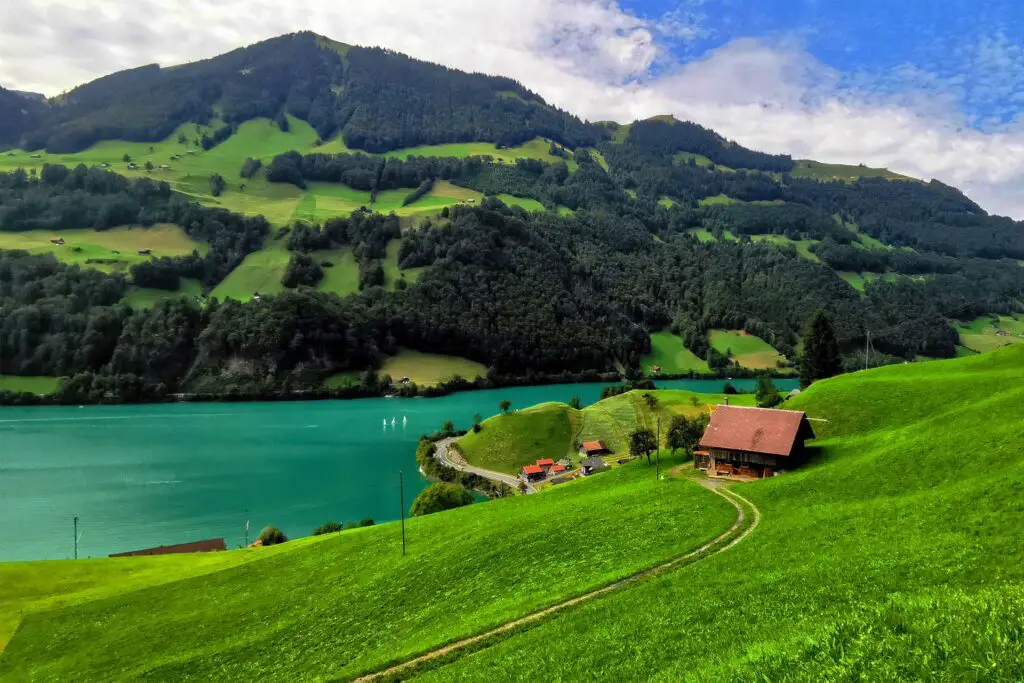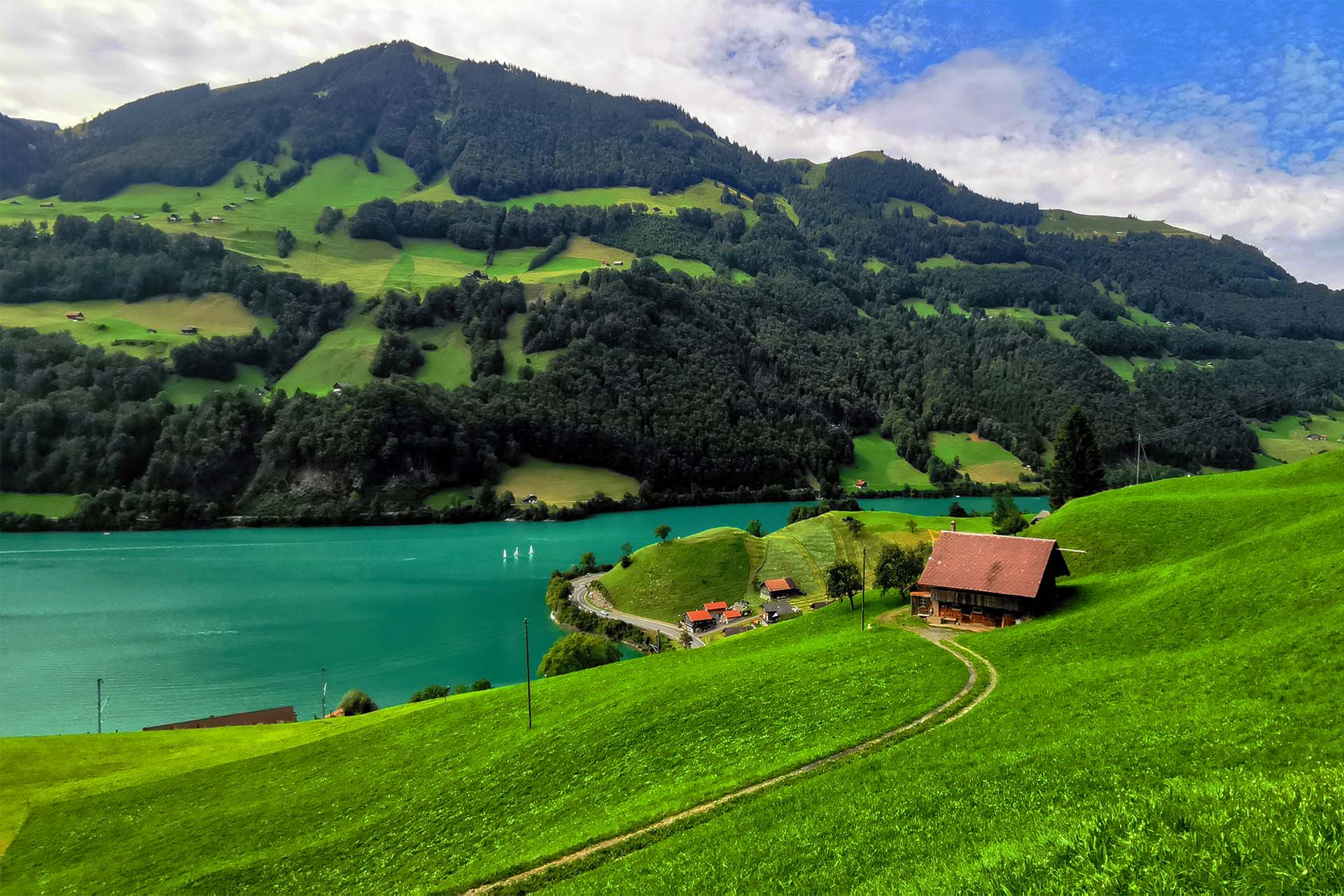 Insider tip Lungerersee:
Near the cable car station at Lungern are the Dundelbach Falls. A beautiful waterfall that should not be missed when visiting this region. You should park your car at the cable car station.
Especially in spring when the snow melts, and in summer and autumn after heavy rains, the waterfall is a fantastic place to visit.
33. Braunwald
Another great option in Linthal is Braunwald, which is easily accessible by funicular. Braunwald clearly positions itself as a family destination for family trips in Switzerland or Switzerland vacations. However, the village is also known as a health resort. In the past, whey cures were offered, but today Braunwald is also known for wellness ("Wellness Switzerland"). Like Zermatt, Mürren or Wengen, Braunwald is completely car-free.
Insider tip Braunwald: The last time I was in Braunwald for a weekend, I wasn't sure if it was still an insider tip. Nevertheless, it is a dream excursion to a Swiss mountain lake: the Oberblegisee. Do you have a list of the most beautiful lakes in Switzerland? Then Lake Oberblegi clearly belongs on your Switzerland to-do list.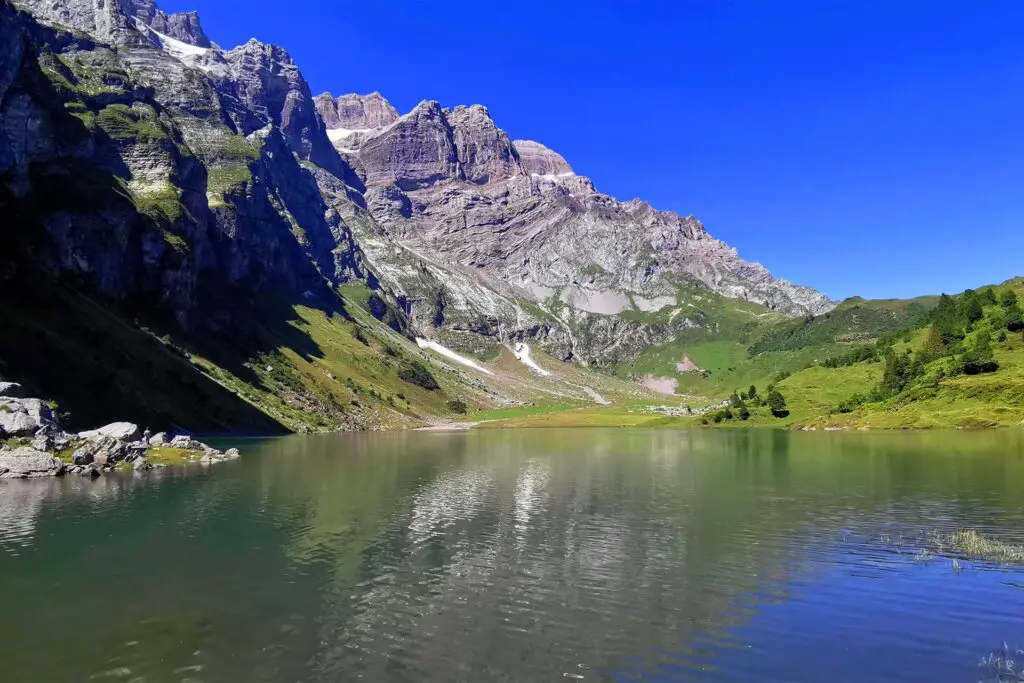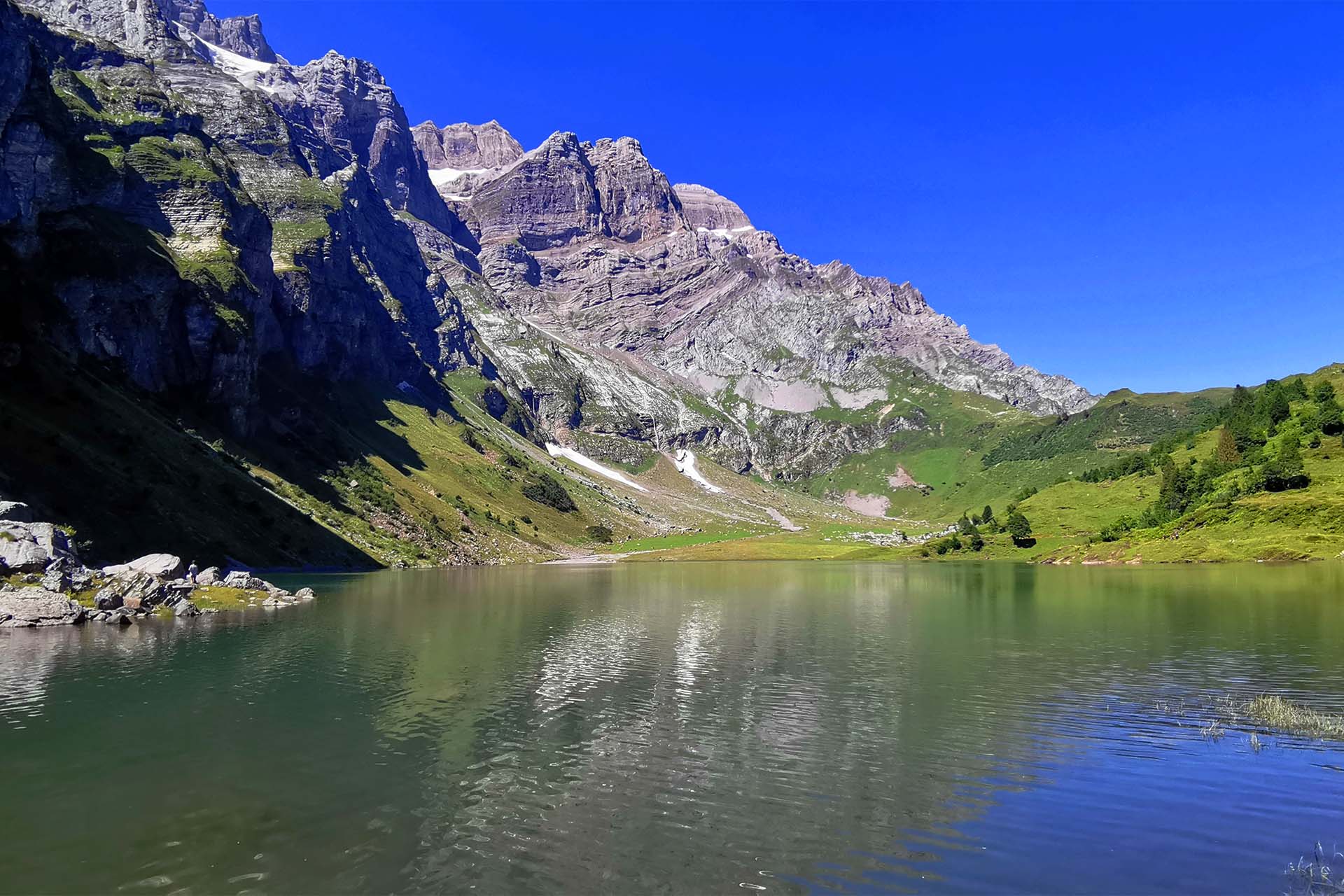 34. Rigi Scheidegg
Of course, the Rigi shouldn't be missed from the "Top Excursions in Switzerland". A panoramic view over the Titlis, Eiger, Mönch and Jungfrau as well as Swiss lakes such as Lake Lucerne and Lake Zug. The Rigi was known early on for spa cures, pilgrimages and educational trips. As early as 1540, the Rigi Kaltbad spring with its sacred effect was mentioned for the first time. The Maria pilgrimage chapel always attracted many pilgrims. Goethe was so enthralled by the Rigi that the panoramic view kept him busy for years to come. After the Congress of Vienna in 1815, the number of visitors to the Rigi increased. However, mass tourism did not yet prevail. It was mainly aristocratic and upper middle-class nature lovers, writers, artists, professors and students who travelled there. The Rigi panorama map was the first ever published panorama map.
Rigi Scheidegg is easily reached by cable car on the way to Gschend or Kräbel. A hike to Rigi Kaltbad or Rigi Staffel is well worthwhile. If you come with public transportation from Zurich Switzerland, travel over Arth-Goldau for the fastest way. There you can change to the Rigi Bahn.
Insider tip Rigi: There are also insider tips on the Rigi, which could be one of your next "Switzerland trip". The hike from Rigi Scheidegg to Rigi Hochflue. Although very strenuous and only recommended for experienced hikers, this is one of the highlights in central Switzerland. A top day trip from Zurich with an unforgettable panorama of Lake Lucerne, Lake Uri, Lake Zug, Lake Lauerz and, on a good day, as far as the Titlis. A lake hike that is well worth doing.
35. Lake Klöntalersee
Once a natural lake created by a landslide, it was supplemented with artificial walls to generate electricity. The Lake Klöntalersee is the oldest reservoir and storage lake in Switzerland. Today, the Klöntalersee is known as a hiking destination and an amazing day trip from Zurich. Its impressive steep rock faces are captivating. Camping at the Klöntalersee is also very popular.
In the past, ice was mined from the Klöntalersee in winter and shipped to Basel, Zurich, Frankfurt, Marseille, Cologne and even Paris. Hospitals and beer warehouses were cooled there.
In spring, summer and autumn, the hike along the left shore of Lake Köntal is very popular. Likewise, during the warm summer months you can see many Stand-Up-Paddles in the mountain lake.
Insider tip Klöntalersee: An insider tip is the leisurely hike from Klöntalersee to Käsern, where you pass farms, forests and wild mountain streams. In Käsern you can enjoy a meal in the restaurant (some of the food is only available as take-away, please check beforehand).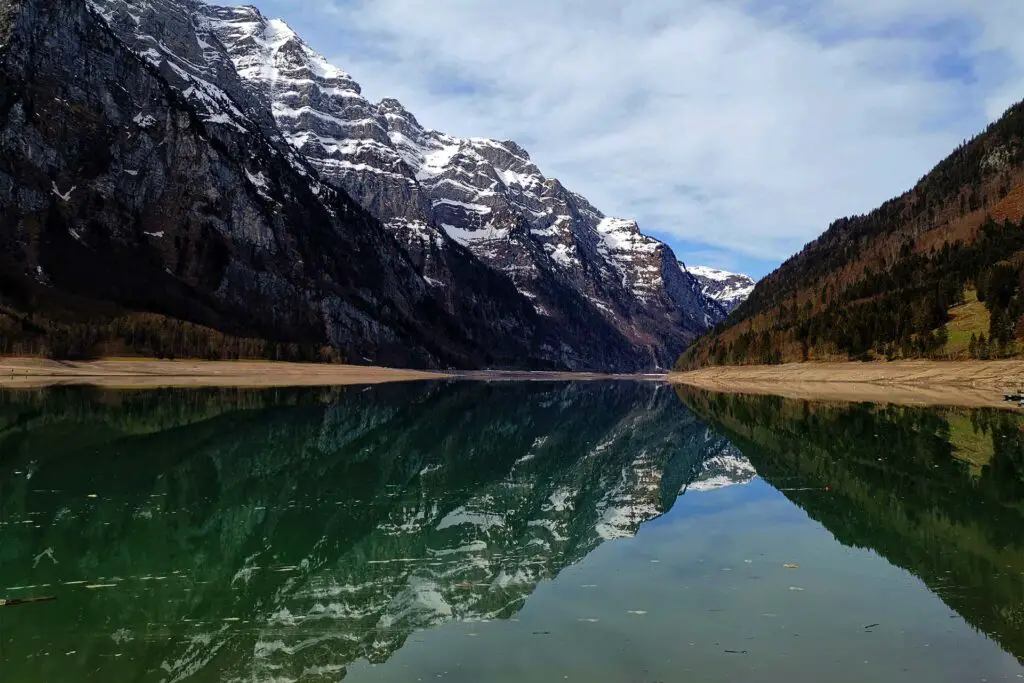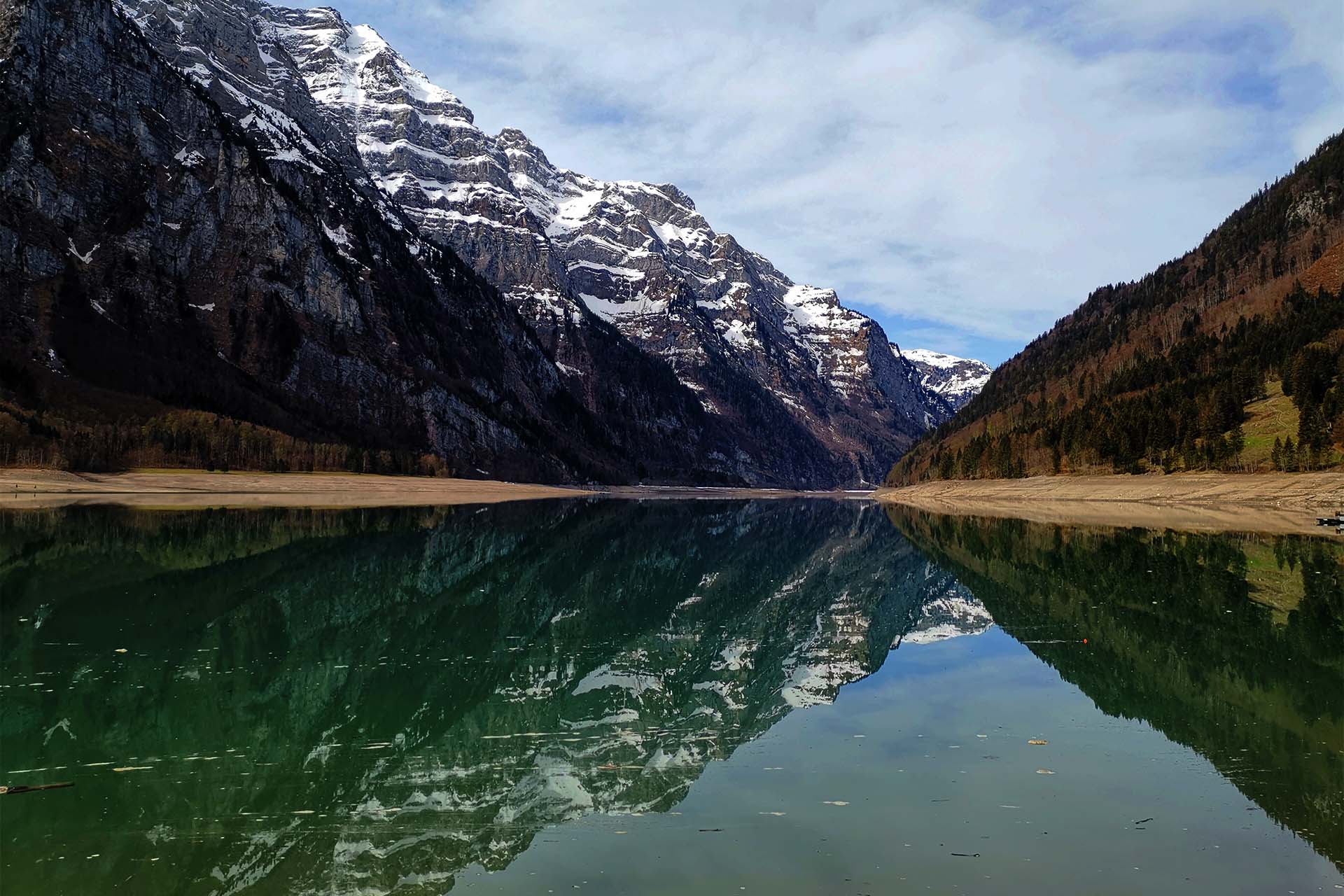 36. Pilatus – famous day trip from Zurich
Where can you get the best view over Lake Lucerne?  Many would probably name Mount Pilatus, although you have a fantastic view from Fronalpstock and Mount Rigi. Lucerne's local mountain is around 2100 metres high and is not only famous for its panoramic views, but also invites you to go on unforgettable hikes. Pilatus is easy to reach from Kriens (aerial cableway) or from Alpnachstad (funicular railway). By car you get to Kriens in only 50 minutes from Zurich which makes it the perfect day trip.
Insider tip Pilatus: An insider tip is the hike up Pilatus in the early hours of the morning, before the first cable car leaves. Not only will you see a beautiful sunrise, you have the chance to see an entire ibex colony. Please keep enough distance from the animals and stay on the paths.
37. Lake Wägital

(Favorite lake tip near Zurich Switzerland)
While the place is pretty crowded in summer, the Wägitalersee is an insider tip from Zurich Switzerland, especially in autumn, winter and spring. Not only the short journey of one hour from Zurich, but also the mountain panorama and the lake attract you to this region.
The Wägitalersee is considered by connoisseurs to be one of the most beautiful Swiss lakes. The lake is a reservoir. Innerthal, the village you find at the edge of Lake Wägital, was once situated in the middle of what is now the lake. It had to be relocated especially for this. Incidentally, you can even reach Lake Wägital by public transport from Zurich main station in just 1h 5min.
Insider tip Lake Wägital: The circular hike around Lake Wägital is an insider tip that surprises with many different facets. Some of the houses even give you the feeling you're in Norway.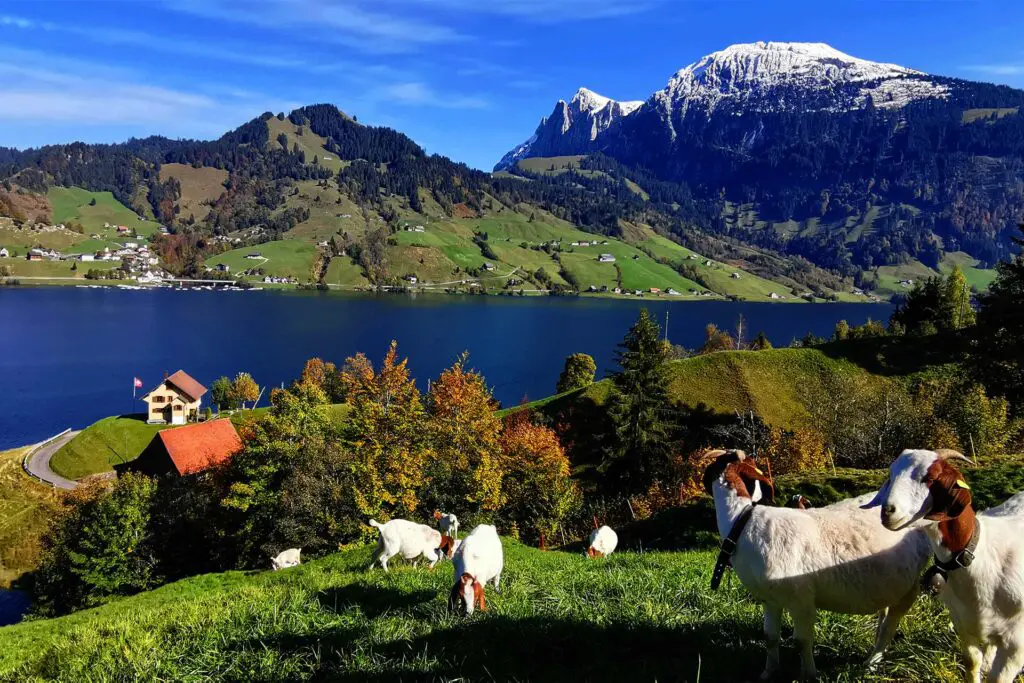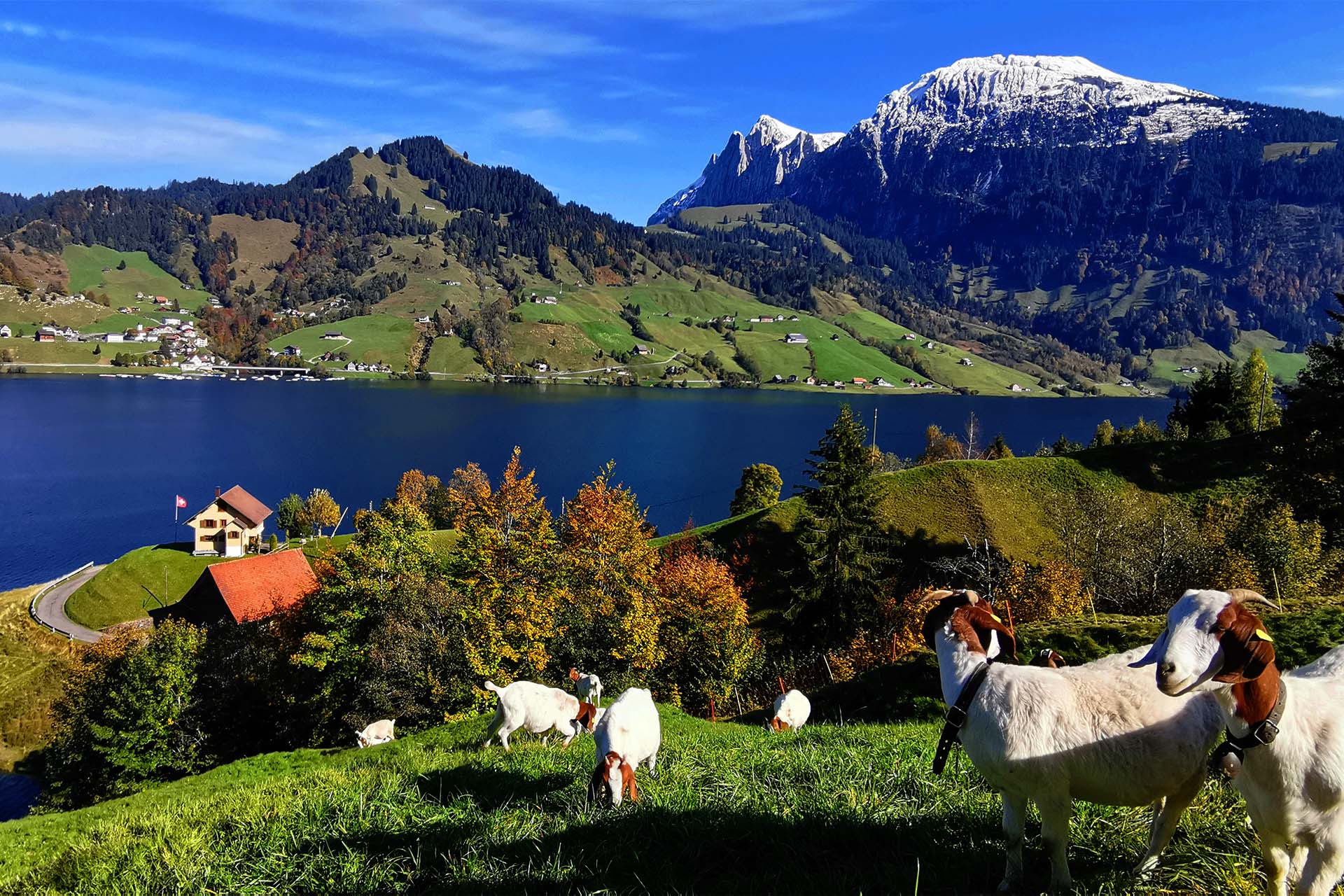 38. Lucerne
Of course, Lucerne should not be missing from the to-do list of Switzerland. Yes, Lucerne is one of the most beautiful Swiss cities. Not without reason does it attract around 1.4 million tourists every year. The Kapell bridge is said to be the most photographed bridge in the world. Lucerne also has a lot to offer in other respects, with Lake Lucerne, views of Mount Pilatus and Mount Rigi, and the Old Town.
Insider tip Lucerne: Most tourists take a look at the old town, eat in a restaurant with a view over Lake Lucerne and take a photo of the Kapell bridge. But the city walls of Lucerne bear witness to the city's origins and reward you with a wonderful view. You can even climb four towers on the walk.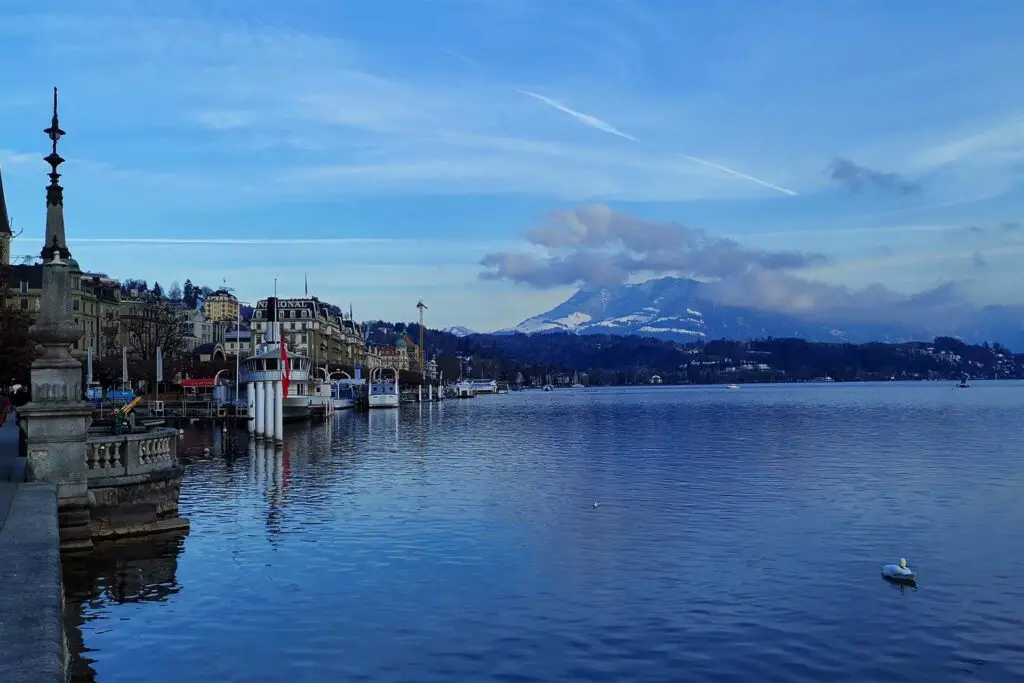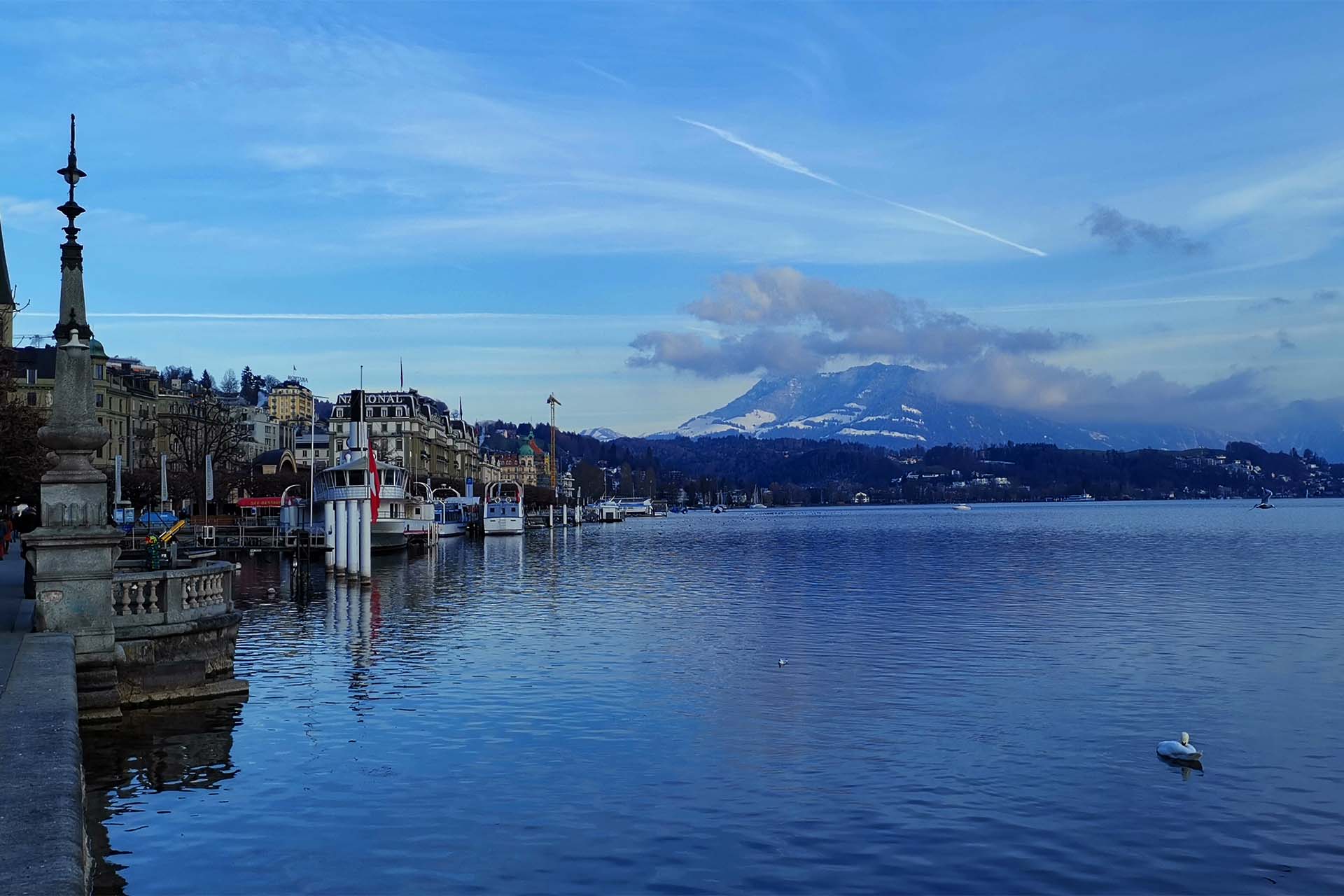 39. Seerenbach Falls in spring
Together with the Staubbach Falls in Lauterbrunnen, the Seerenbach Falls are the highest waterfalls in Switzerland. And therefore a top day trip from Zurich and in Switzerland. The water of the Seerenbach Falls falls in three stages. While the middle step, at over 300 metres, is one of the highest in Switzerland.
Particularly in spring after the snow melts (March to May), the Seerenbach Falls carry a lot of water. As soon as it stops raining for a long time, some of the water stops flowing altogether.
You can drive by car to a car park in Betlis (2CHF/h). After that, the village is a good 20 minutes away. If you like, you can also hike from Weesen to the Seerenbach Falls in 1.5h.
40. Hike Murgseen – wonderful day trip from Zurich
This excursion tip from Zurich takes a little longer than an hour to get to. In addition, you cannot reach it by public transport, apart from a shared taxi.
Nevertheless, the hike to the Murgseen lakes is a wonderful day trip, I'd like to list it here anyway. Three fantastic lakes, wildly romantic waterfalls, as well as original stone pine forests and moor landscapes await you. And all this nestled in an idyllic mountain landscape. You drive by car to Merlen, where your hike begins. Take CHF 10 in coins with you for the parking, as it does not accept notes or credit cards.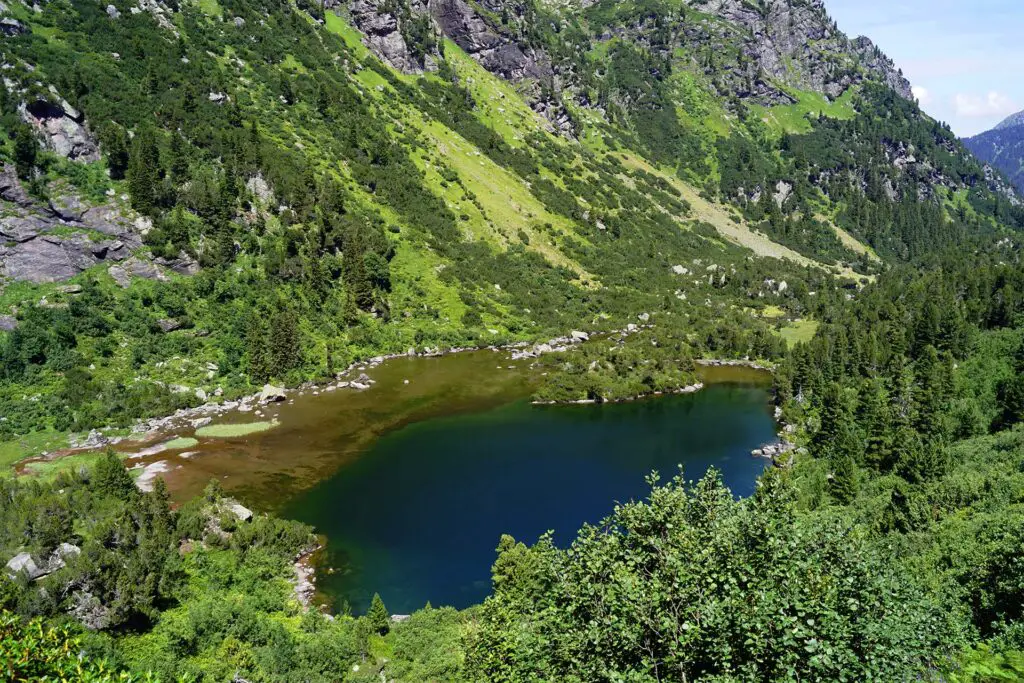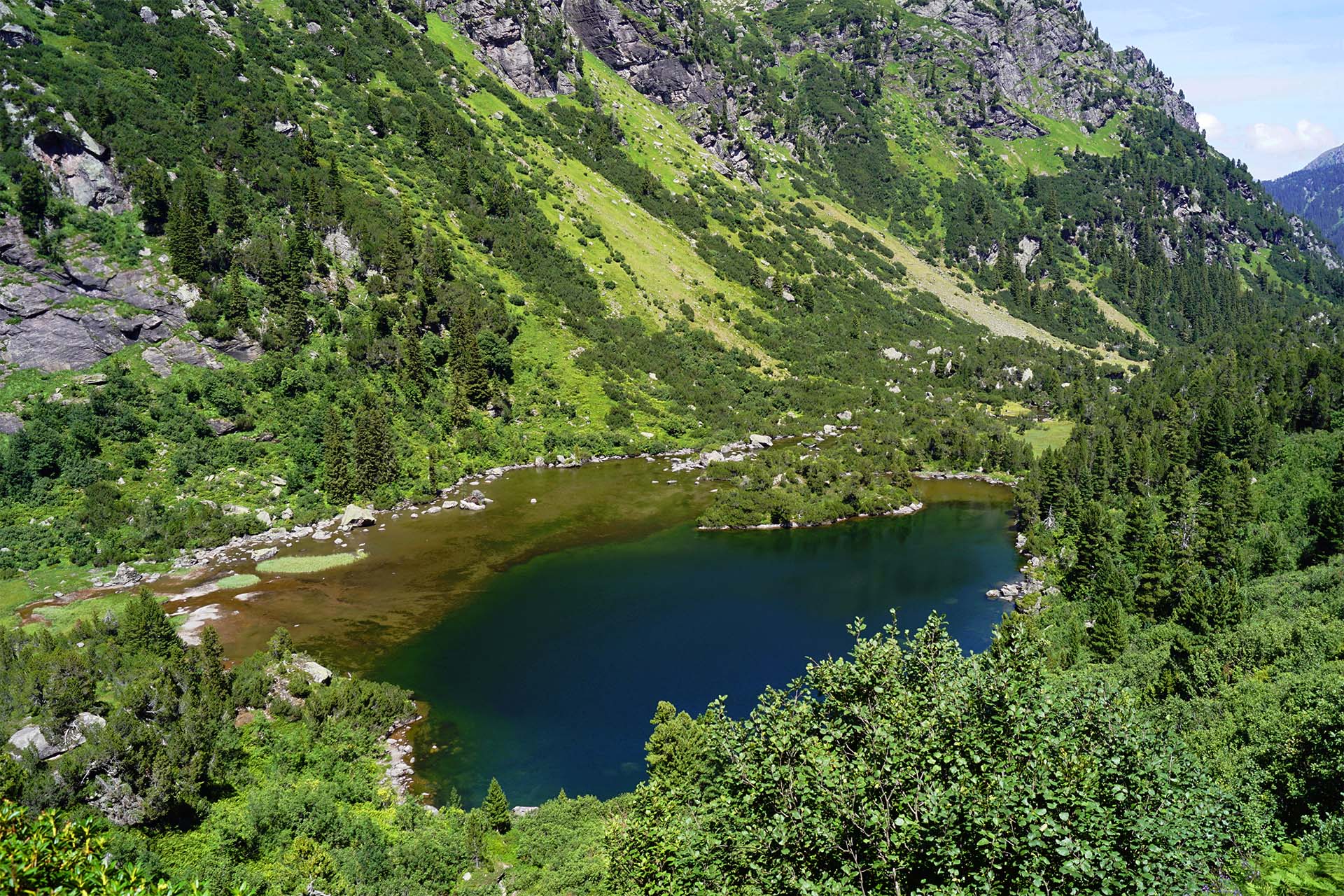 41. Hike above Ägerisee
One of my top hikes and excursions from Zurich when I only want to take a short route. Because here you will see the Alps and still meet almost no people.
Welcome to the hike above Lake Ägeri (Morgarten – Brestenberg – Rämsli – Oberägeri). When the weather is nice, there are lots of people at Lake Aegeri. Why not enjoying the panoramic view above Lake Ägeri almost alone?
The unique high-altitude hike offers time for yourself and guarantees peace and quiet. Apart from a few agricultural machines and birds, you will hardly meet anyone. On nice days, you can enjoy the view over the Swiss Alps combined with the royal blue of Lake Ägeri.
Of course, you can also simply take a leisurely swim in Swiss lake. There are several bathing areas for this purpose.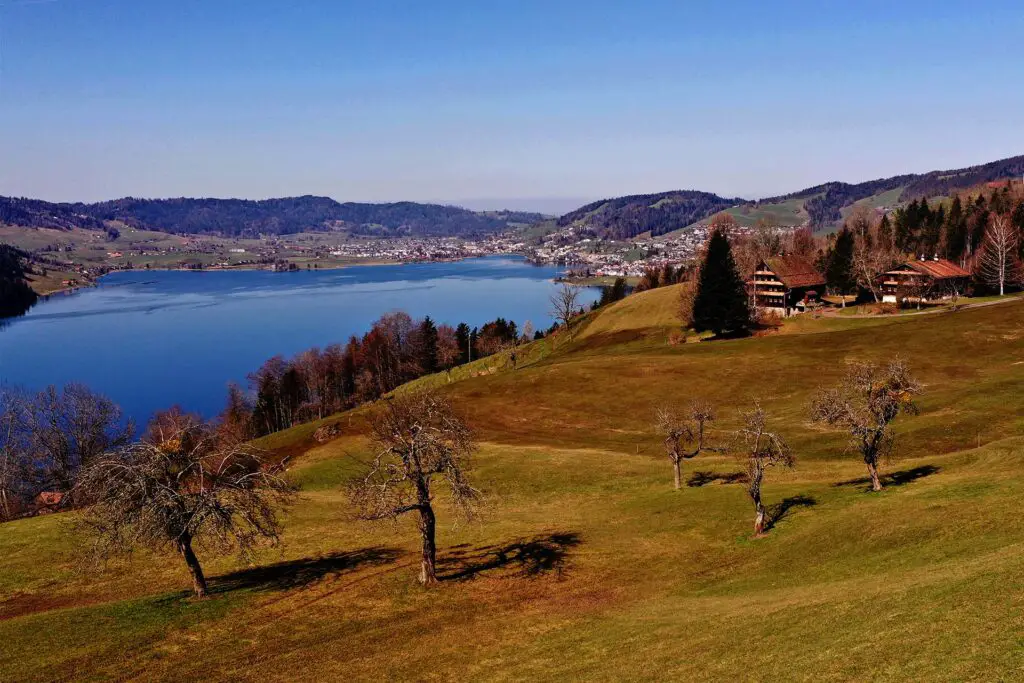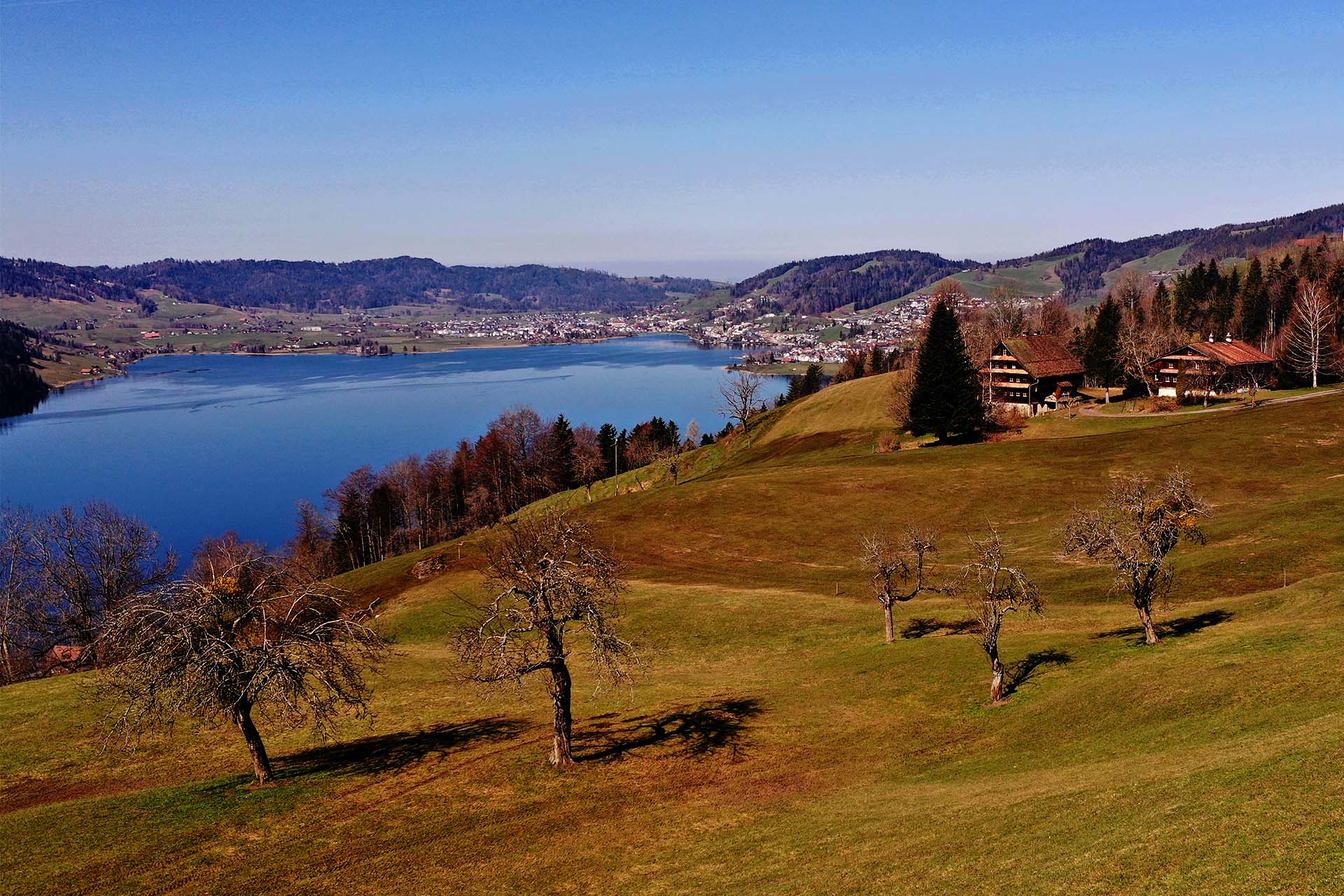 42. Stein SG in Toggenburg
For me, Toggenburg is a scenic pearl with many highlights. And it can be reached by car from Zurich Switzerland in around 1h15 minutes.
Stein SG is a particularly beautiful place. Only a few minutes' drive from the main road, you can discover traditional farmhouses, cows and even llamas. Since dairy farming has not been profitable for a long time in Switzerland, farmers but also tourist areas in general are looking for creative solutions and new income opportunities.
Particularly popular in Switzerland are the emerging llama tours, which are also offered in Toggenburg. This leisurely walk from Stein SG to Badhus is a highlight for children and adults alike. If you want, you can also hike from Stein SG to Arvenbüehl above Lake Walen in about 3.5h. In that case, however, you will have to travel by public transport.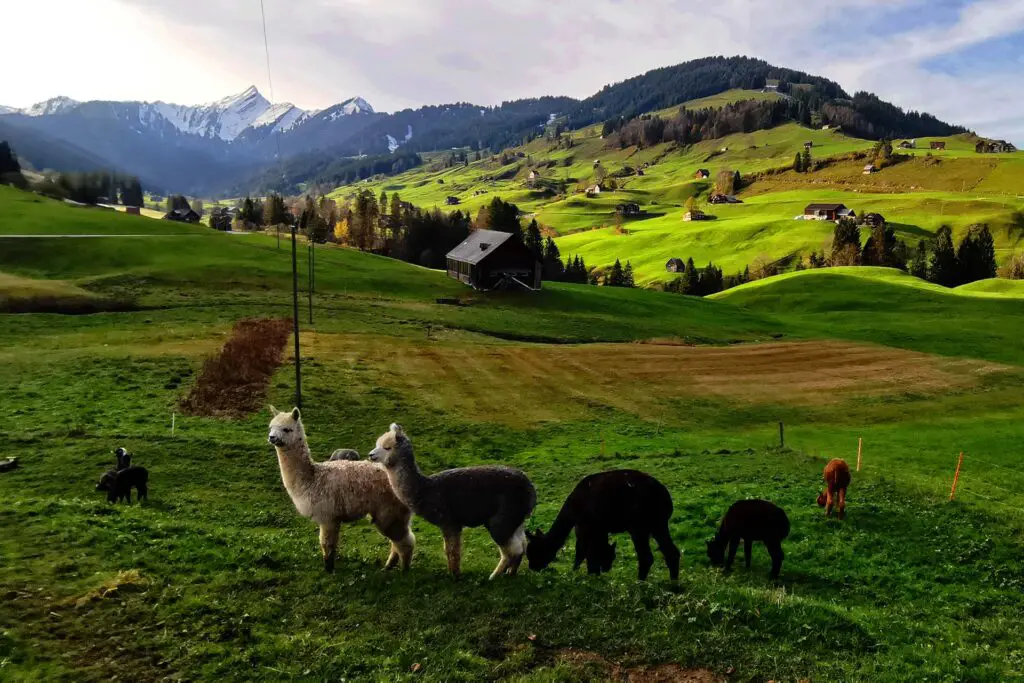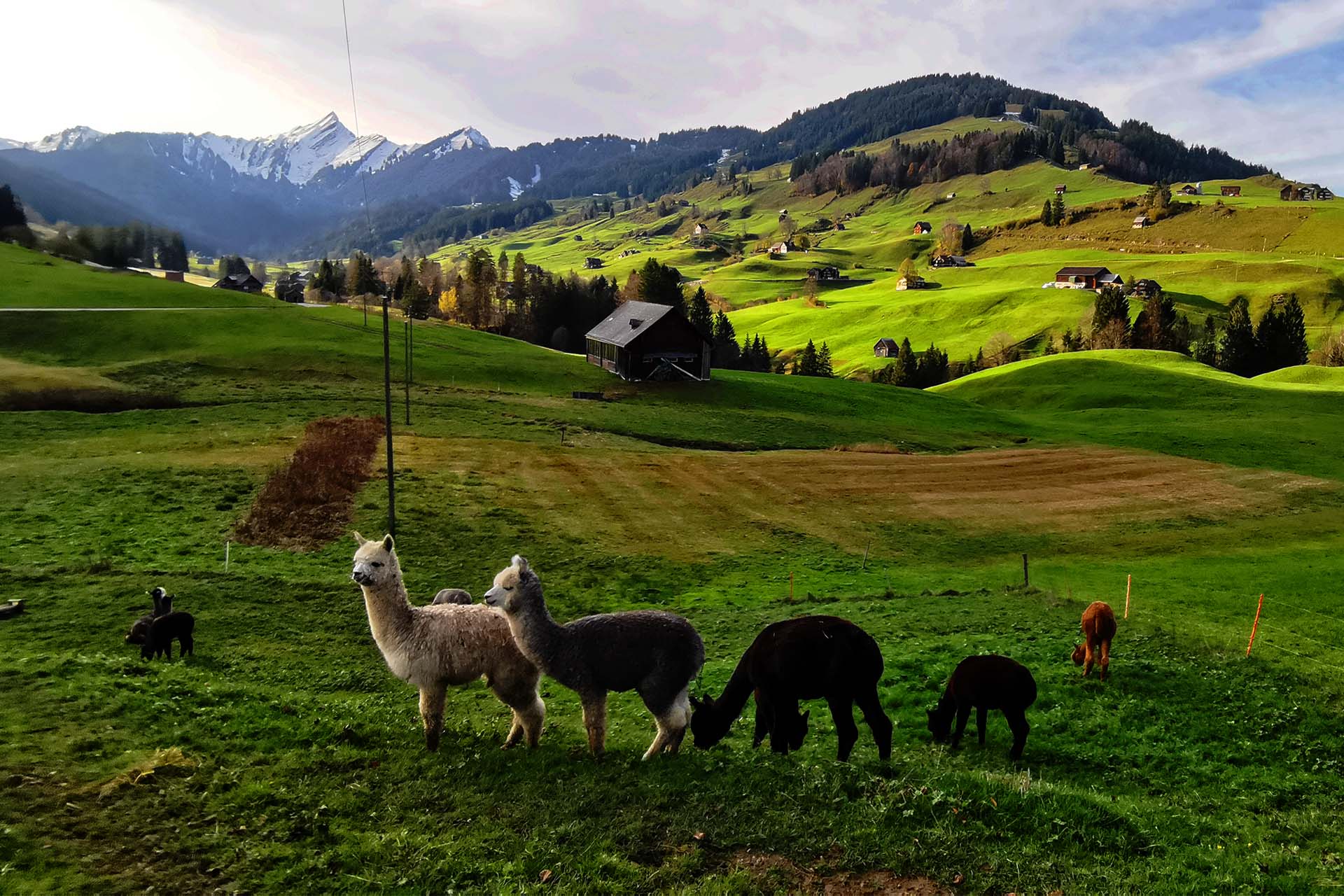 43. Thurspitz
Around the Thurspitz there is a unique floodplain landscape close to Zurich. This is where the Thur and the Rhine flow together. The many seating areas make the area a paradise of nature and recreation. And a beautiful excursion from Zurich.
You will also encounter rare animals, especially many birds. With a little luck, you may even spot a kingfisher. Some parts of the shore area may not be entered, as it is ecologically highly sensitive. However, these areas are clearly marked. This trip from Zurich Switzerland can be combined with a visit to Rudolfingen.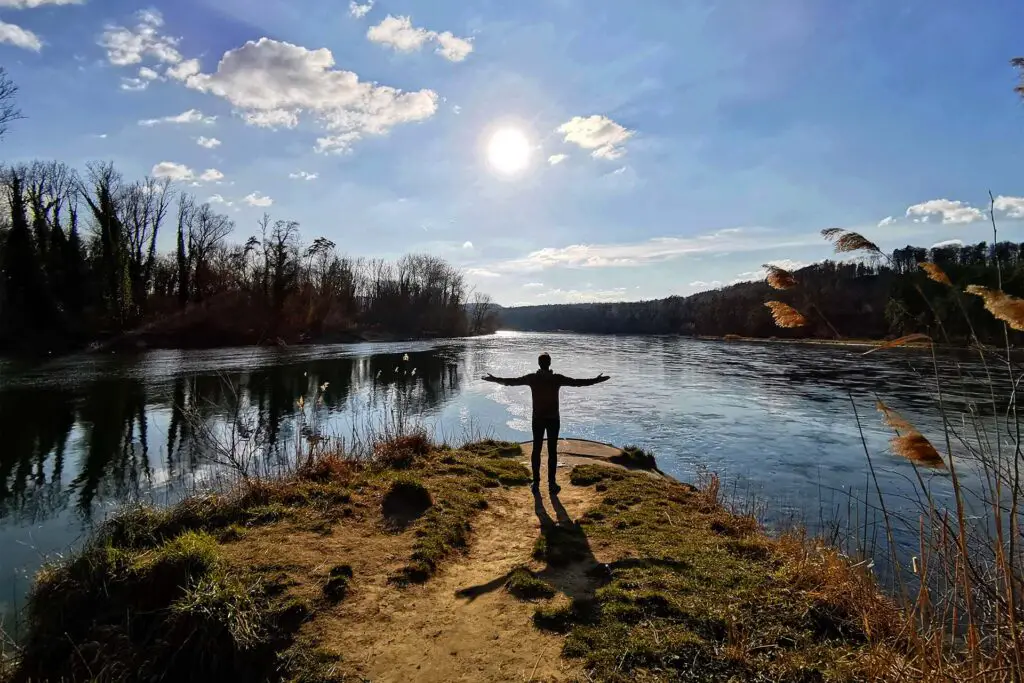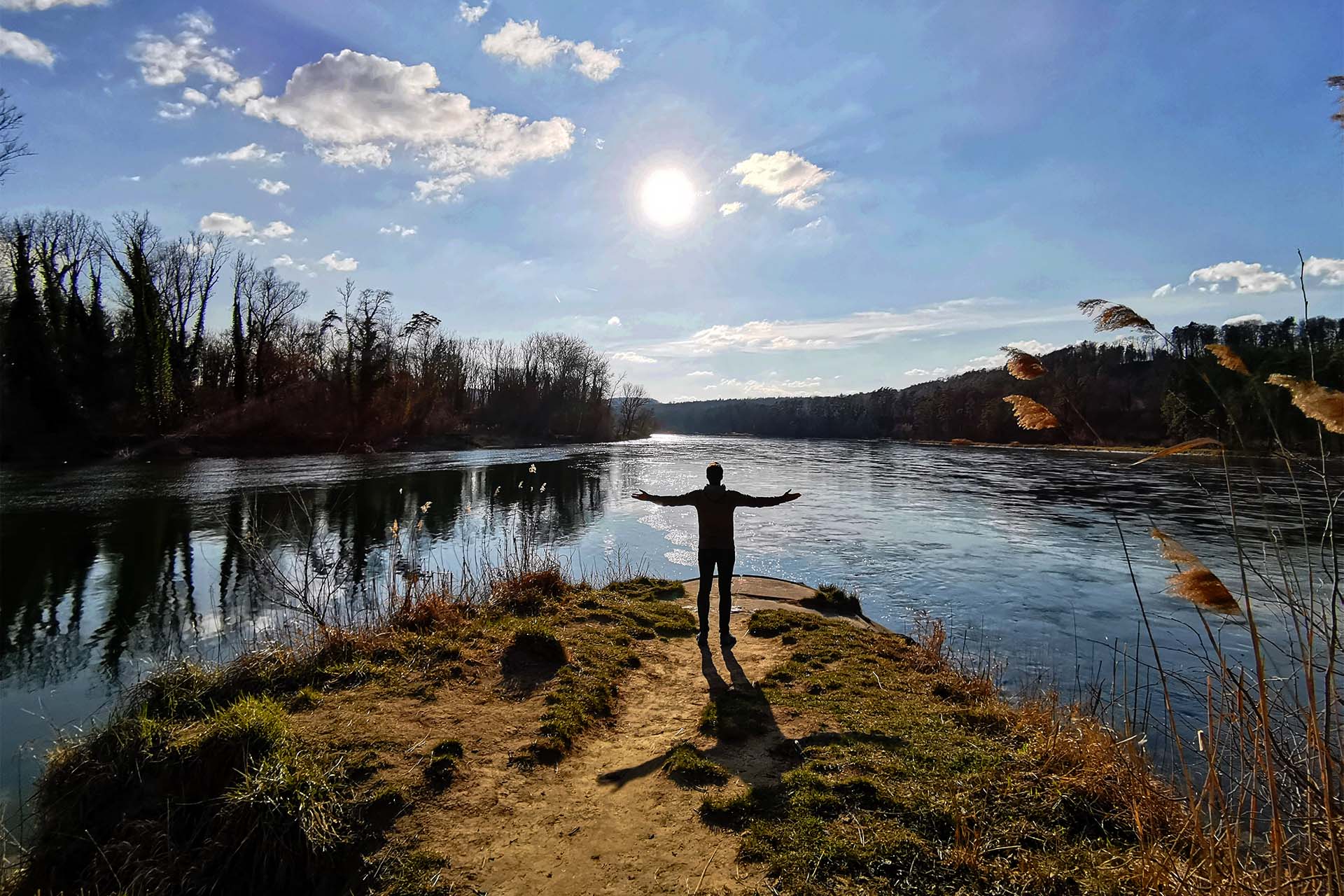 44. Sattel Hochstuckli
The Sattel Hochstuckli is a paradise for families and children. For example a bouncy castle and a revolving ropeway are on offer. There is also a fairytale world and other great activities. For example the 350-metre suspension bridge, one of the longest suspension bridges in the world, is especially great.
For hikers, I can recommend the Engelstock circular hike as a top excursion destination in Zurich. There you can enjoy a unique view over the Mythen as well as Lake Lauerz and Lake Lucerne.
By public transport from Zurich main station you can reach the cable car station in 1h10min.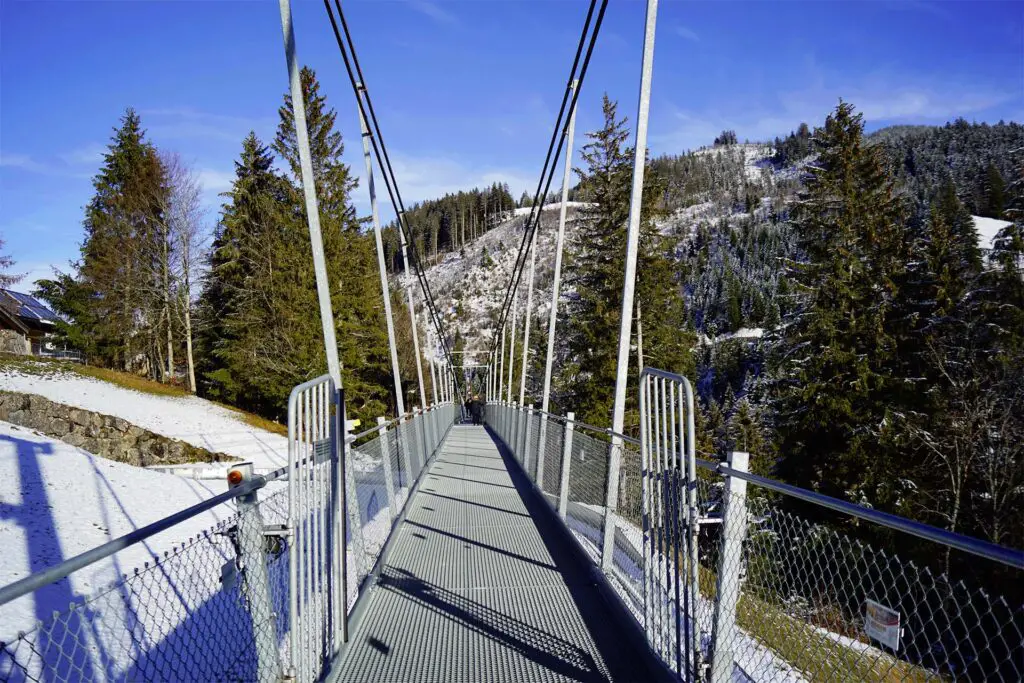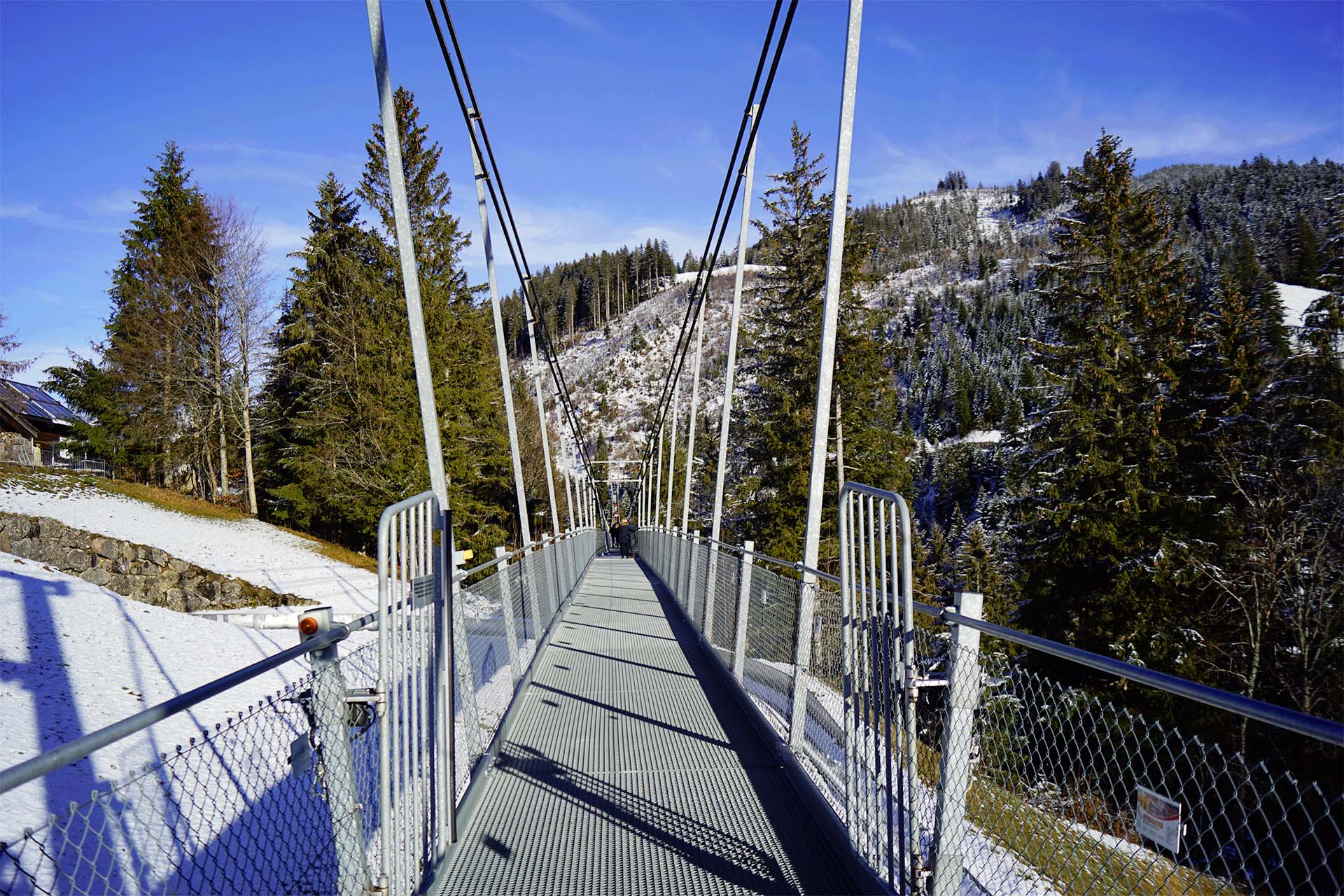 Conclusion Excursions from Zurich Switzerland
These 44 top excursions should give you an idea of what else you can do from Zurich. But of course these tips also belong to the category "Top excursions in Switzerland" for other regions. From insider tips to well-known places and family excursions, you'll find everything your heart could desire for a trip from Zurich to other regions in Switzerland.