With the oldest wooden village center in Switzerland, a romantic chapel on the hill, an adventurous suspension bridge and one of the best cakes in Switzerland, the unknown Mühlebach in Goms has a lot to offer.
Text and pictures by Marc Gottwald
Gourmet for eyes and stomach
In fact, a tour to Mühlebach in Goms is very rewarding.
Because here, even people with the most diverse tastes can find a common denominator without any problems.
Examples?
For the adventurous, there is a 120-meter high and 280-meter long suspension bridge.
For romantics and culture enthusiasts, the chapel and the oldest wooden village center in Switzerland are an absolute highlight. Add to this the view of the imposing snow-capped 4000-meter mountains.
For gourmet lovers, Mühlebach has one of the best apricot cakes in Switzerland.
That's why Mühlebach is a real treat – for the eyes and the stomach. And the Goms valley also has a lot to offer gourmets outside of this village, including Gault Millau and Guide Michelin award-winning restaurants.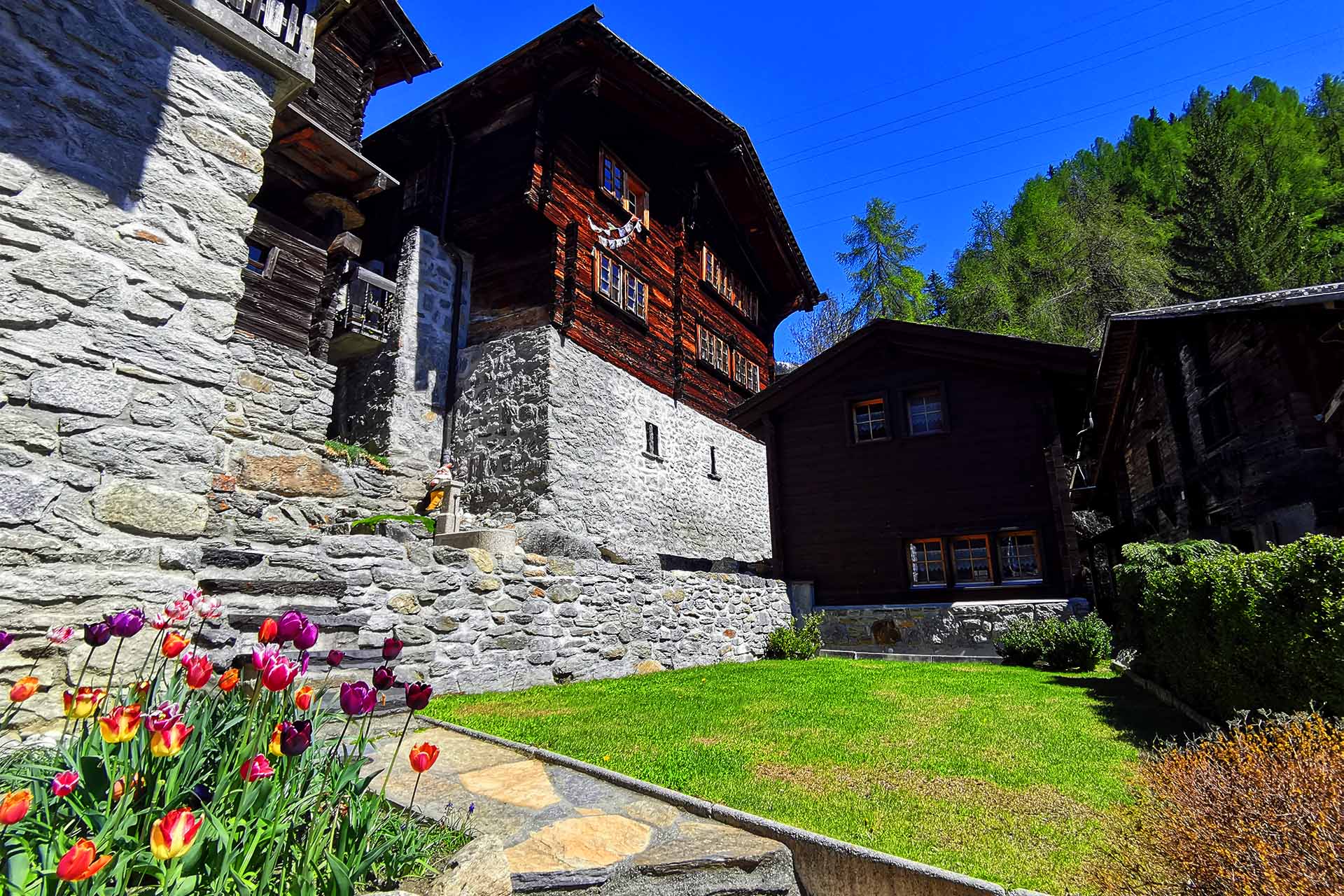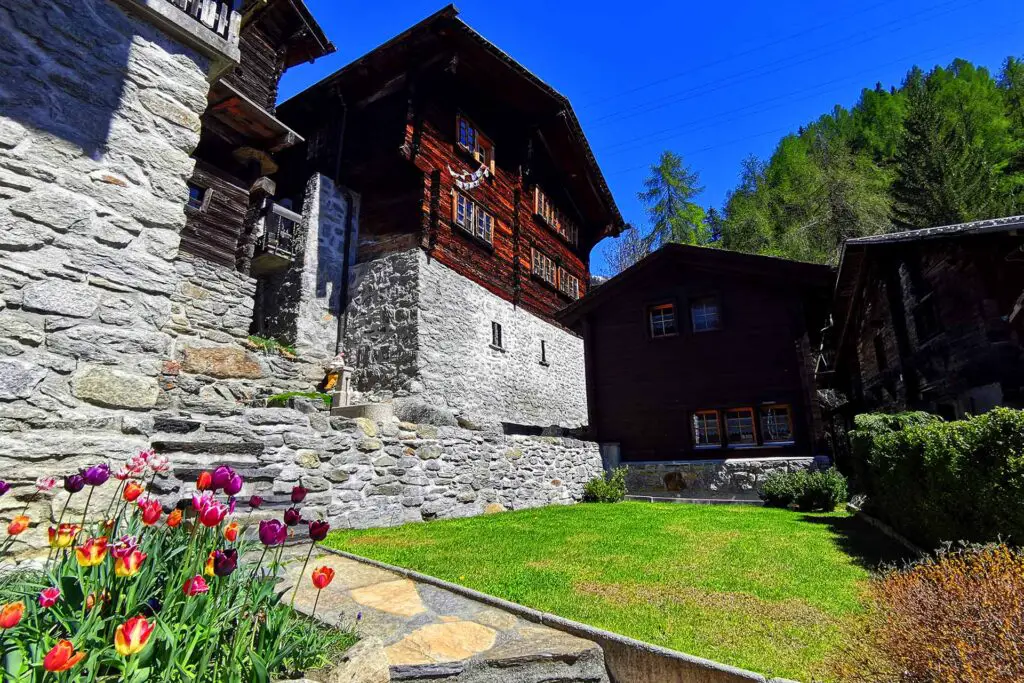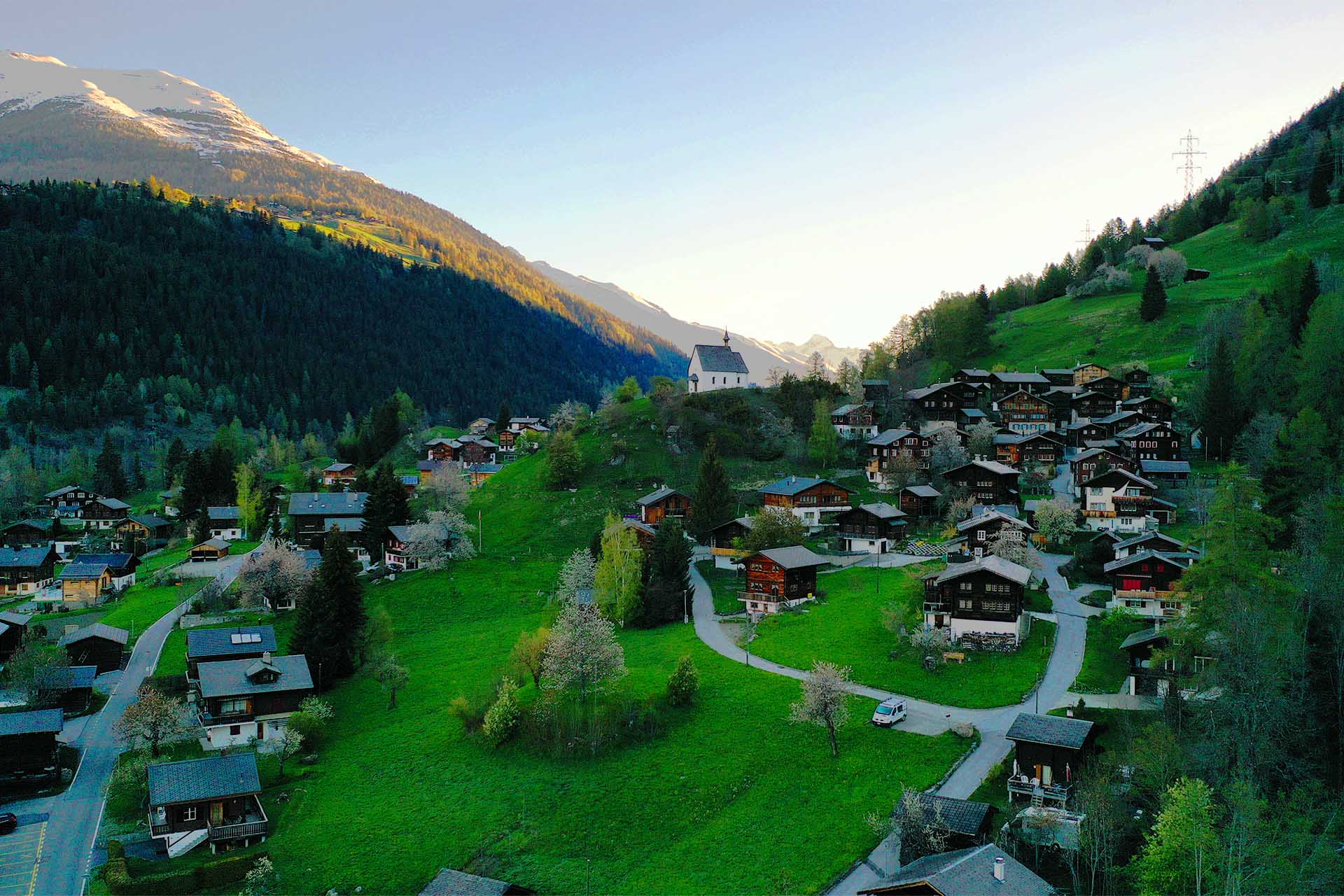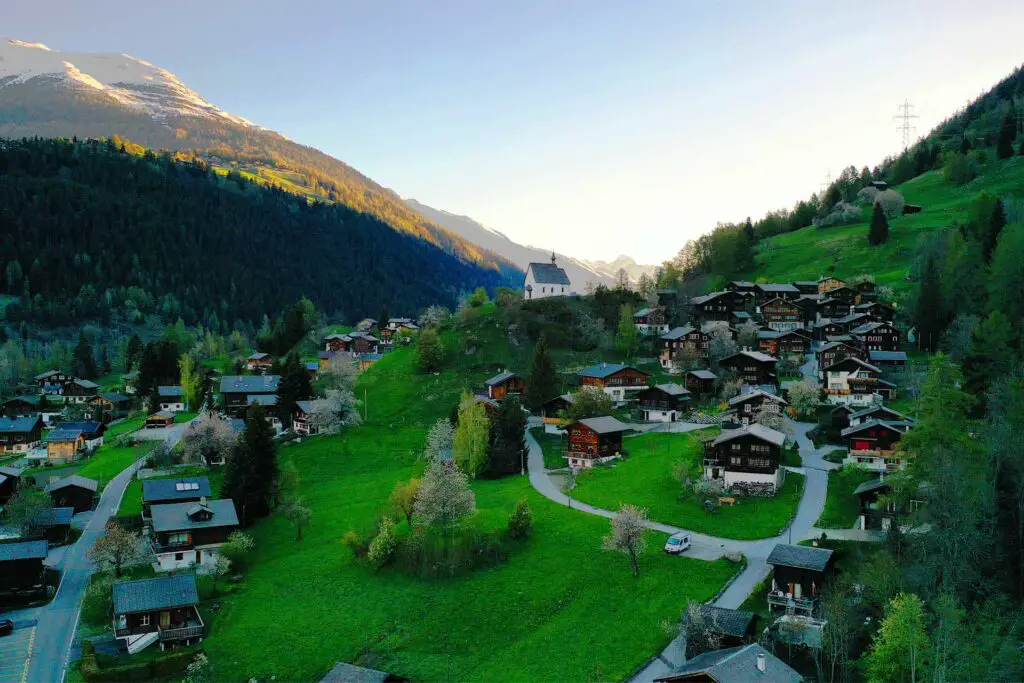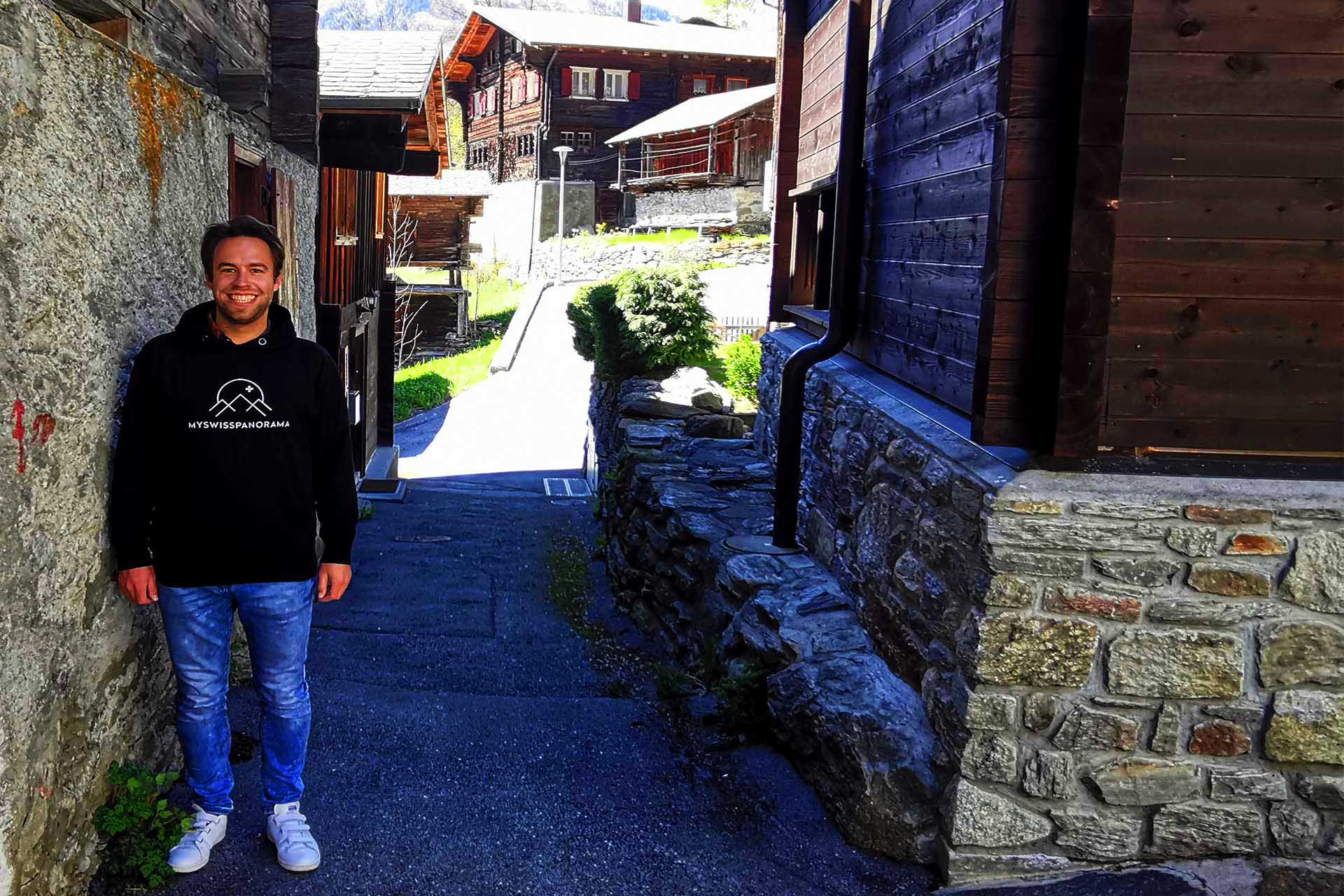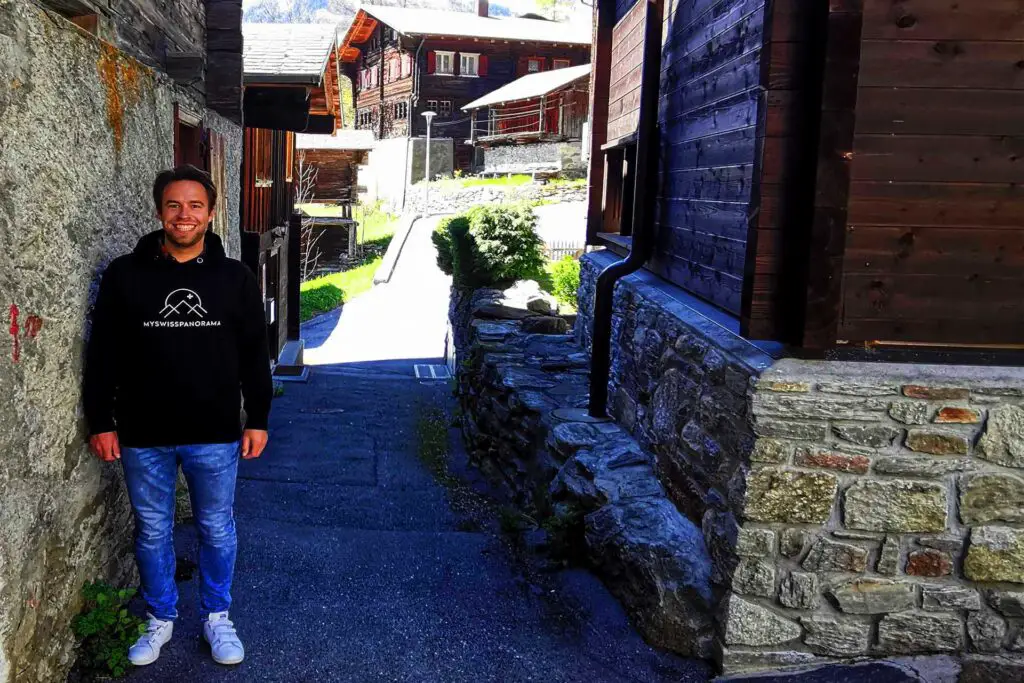 Oldest village center in Switzerland
Twelve wooden buildings in total form the oldest wooden village center in Switzerland. All of them were built in the 14th and 15th centuries and have been preserved ever since. Unlike other villages, Mühlebach was spared by fires. Grengiols, for example, a nearby village, was burnt down by Austrian troops in the 18th century on their retreat to Austria.
All houses are labeled with a plaque. Therefore, on the village tour it is easy to understand which house was built for which purpose.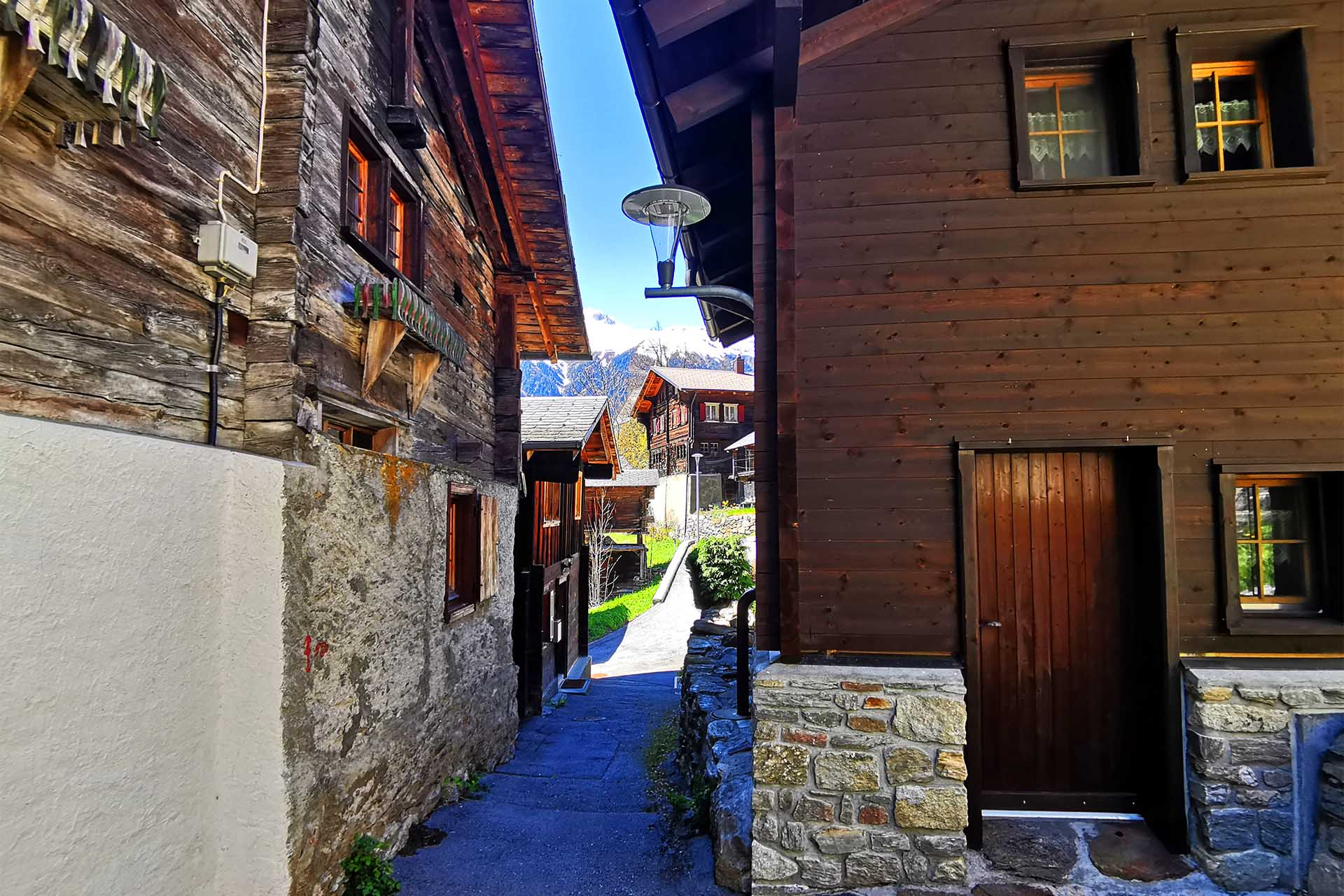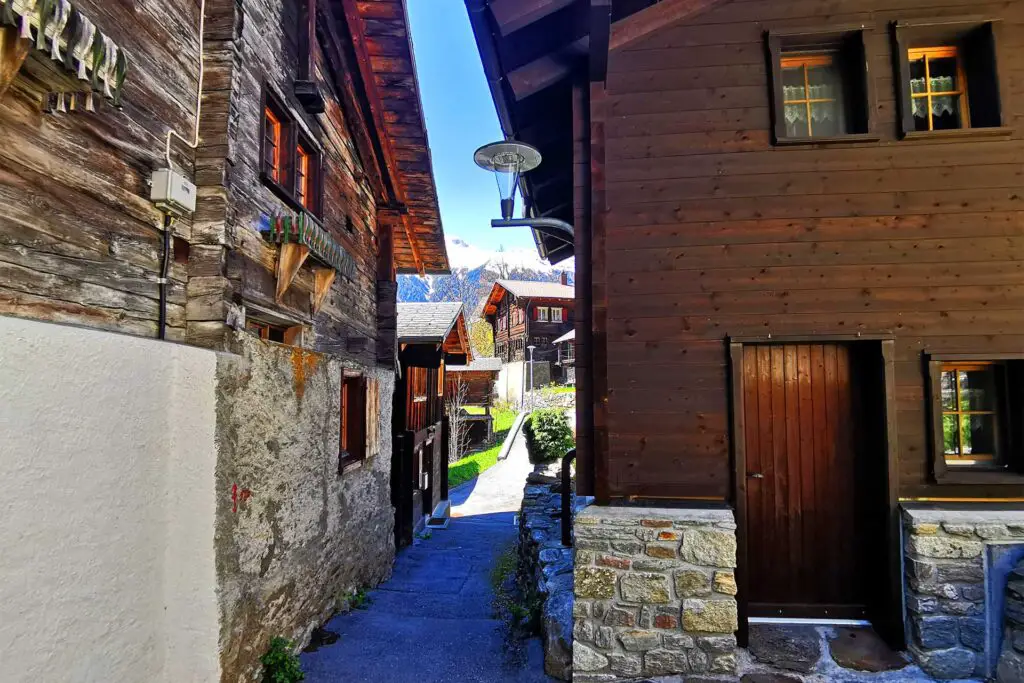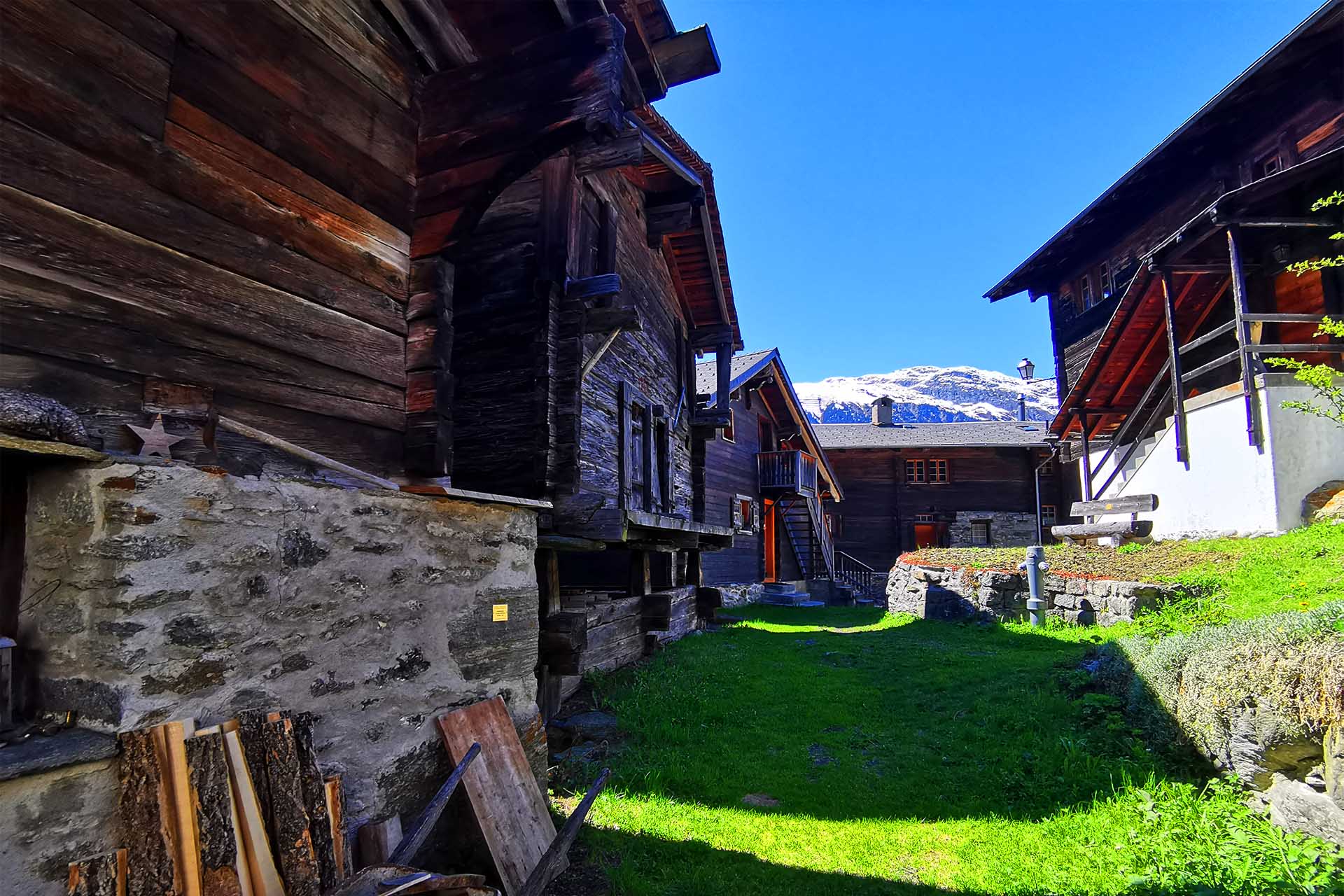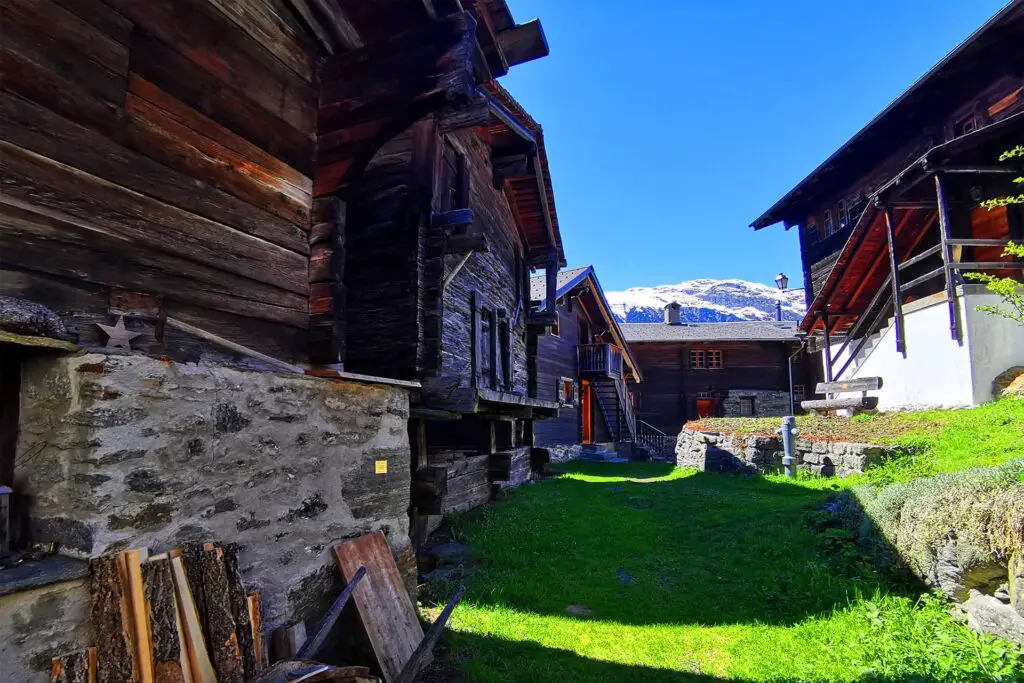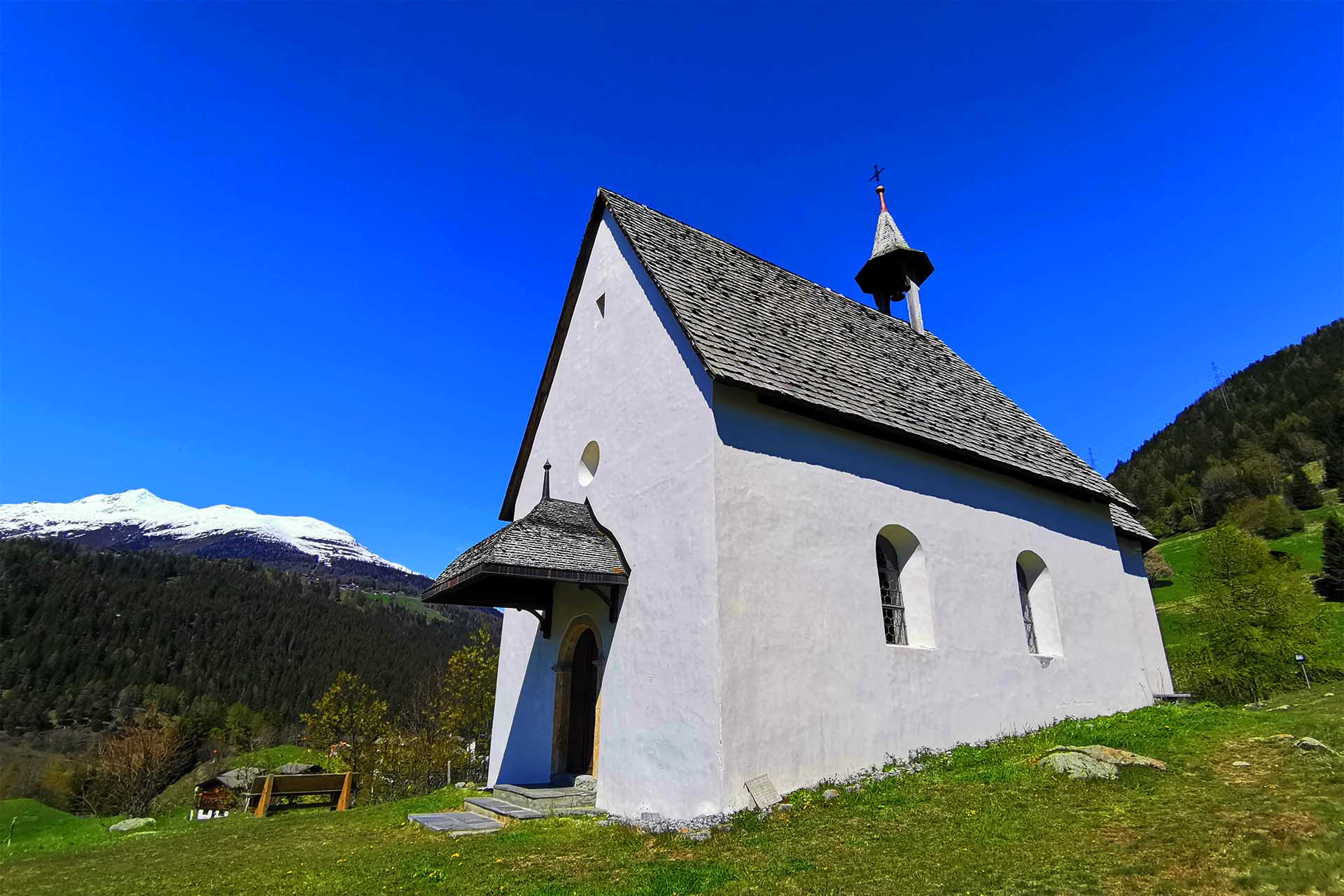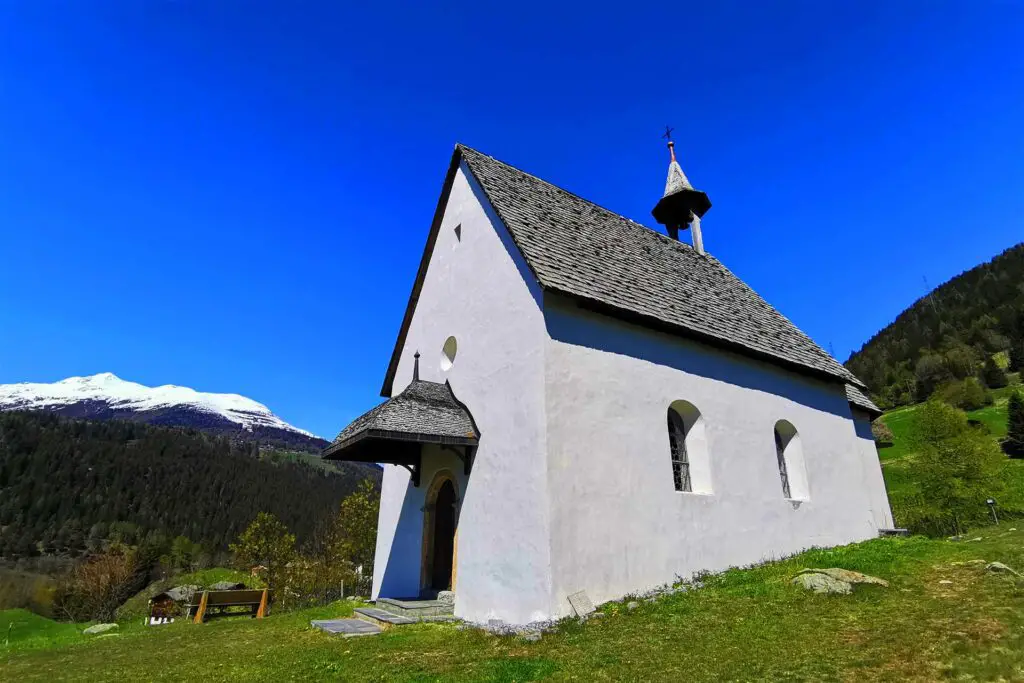 Cake and suspension bridge
In Mühlebach, gourmet lovers truly get their money's worth.
What could be better than enjoying a delicious Valais apricot cake in the fresh air with a beautiful view over the Swiss Alps?
Very close to the suspension bridge is the Café Hängebrigga run by Olympic snowboarding champion Patrizia Kummer. A real insider tip you definitely should visit!
If you are free from giddiness at high altitudes, it is also worth crossing the suspension bridge before or after the cake. The bridge was opened in 2015 and now connects Bellwald with the municipality of Ernen.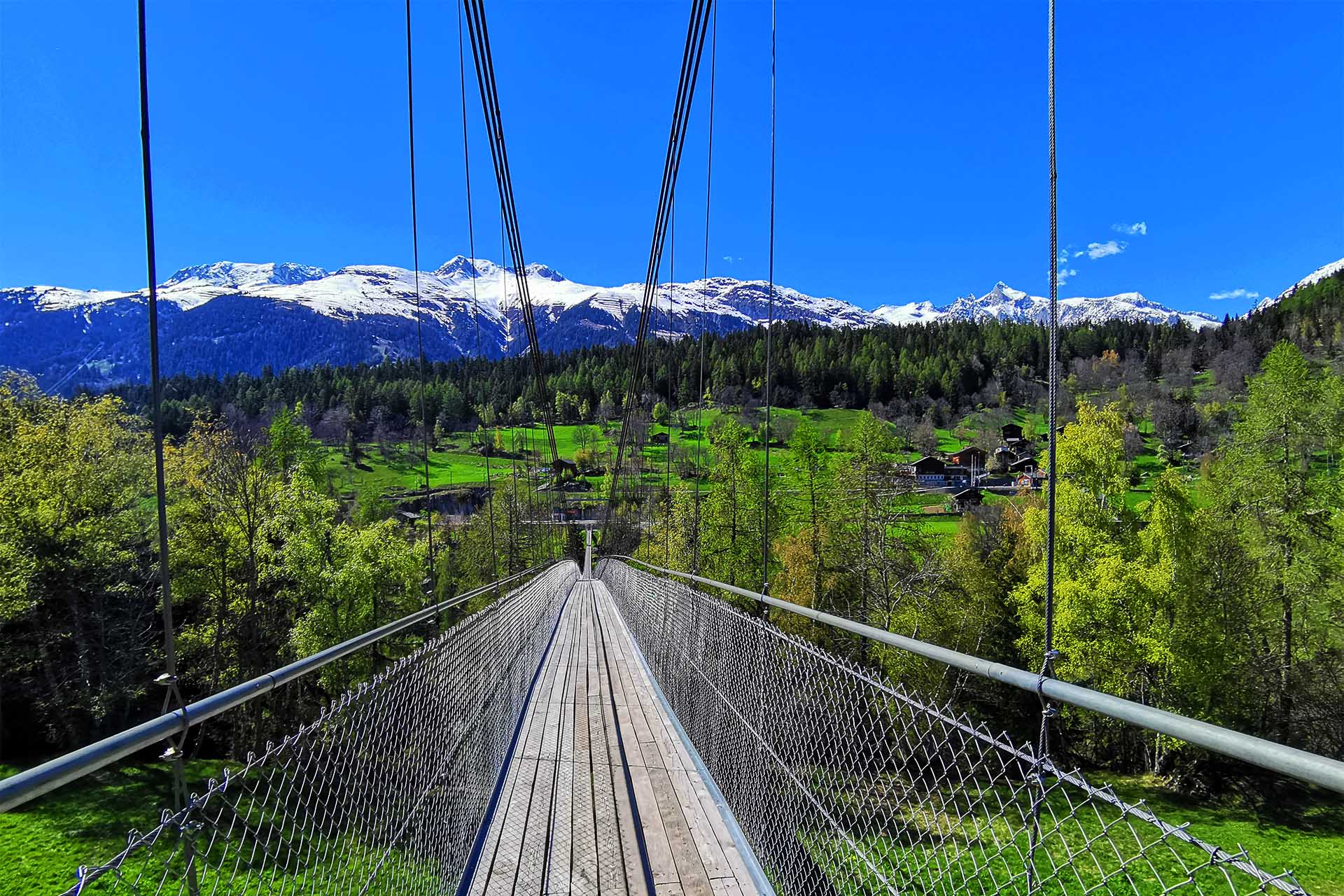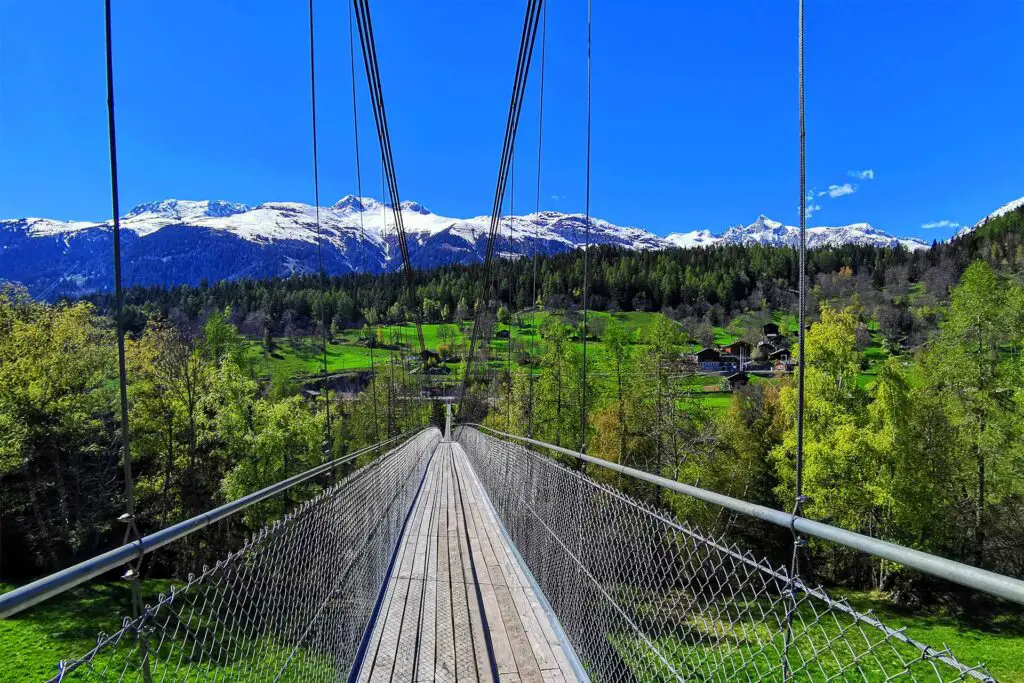 Mühlebach in a nutshell
Mühlebach in Goms is highly recommended for people interested in cultural history thanks to the oldest wooden village center in Switzerland and the chapel. With the suspension bridge and the nice cake (Café Hängebrigga), adventurers and gourmets will also get what they love.
But not only Mühlebach is worthwhile, the whole of Goms valley is beautiful. It is also the perfect place for gourmets, as various restaurants have won "Gault Millau" or "Guide Michelin" awards. Getting to Mühlebach is easy: by post bus to Mühlebach Bridge or by car to "Bi der Brigga" in front of the village entrance.